Roll Out 5th-Generation Wireless Systems
Infrastructure for the commercial 5G services launched in March 2020 had been installed in 92 cities across Japan as of June 30,2020. NTT will expand upon this infrastructure going forward, working to install infrastructure in 500 cities, including all ordinancedesignated cities in Japan, by March 2021, and then to build 20,000 base stations throughout Japan by March 2022. Through the installation of this infrastructure, we will spread use of 5G, a new transmission frequency that can offer highspeed, high-capacity communications. One characteristic of 5G services is their low latency.
We aim to achieve this low latency by employing multi-access edge computing (MEC) and other technologies for reducing latency throughout network structures, including wired portions. NTT also intends to utilize network slicing technologies that can flexibly supply low latency and other 5G benefits on an individual application and service basis.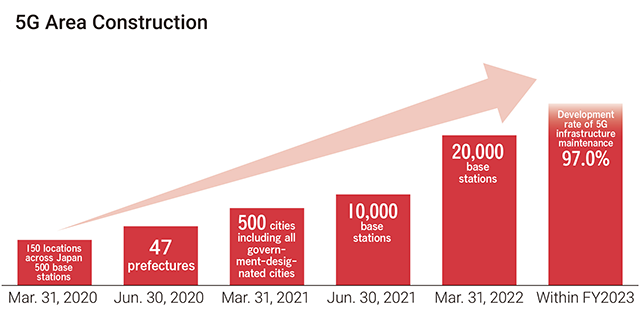 Major 5G Initiatives in Fiscal 2020
Development of the world's first real-time live video distribution cloud system compatible with 360-degree 8K virtual reality, 8K wide, and multi-angle viewing to provide new video viewing experiences for the 5G era (February 2020)
Announcement of launch of 22 solutions as a co-creative initiative through the DOCOMO 5G Open Partner Program
- Commencement of provision of comprehensive manufacturing equipment analysis solution for supporting productivity improvements and automation in equipment failure prediction and image inspection (June 2020)
- Launch of remote work support solution offering real-time support to workplaces from offices via augmented reality smart glass (July 2020)
Release of a new function for 5G-compatible smartphones that allows multiple channels to be viewed at once through the TV services of NTT DOCOMO (June 2020)
Japan's first virtual communication experience event using 5G technologies and Magic Leap 1 wearable devices held at special event site in front of Takanawa Gateway Station (July 2020)
Start of verification test of Japan's first commercial 5G-powered system for supporting remote surgeries performed by specialists while viewing high-definition video of surgeries (July 2020)
COLUMN
DOCOMO Open Innovation CloudTM
DOCOMO Open Innovation CloudTM is an MEC cloud service boasting the low latency and high security expected in the 5G era. This service is made possible by installing cloud platforms in the equipment comprising NTT DOCOMO's network, which allows for the use of virtual machine instances and virtual networks.
In May 2020, we began supplying the DOCOMO Image Recognition Platform for use with image recognition solutions as well as facial recognition-based entry management solutions through DOCOMO Open Innovation CloudTM. Both of these offerings are powered by AI technologies. We have also been expanding our network of bases for supplying DOCOMO Open Innovation CloudTM. Furthermore, the Cloud Direct service was launched in June 2020 as an open service for delivering low latency and high security.