NTT Group will accelerate the B2B2X model and provide value to end users (X) by supporting the digital transformation of the "Center B," a service provider in various fields, while leveraging digitization of information, IoT, AI, and other social and technological trends. As of June a year earlier, representing smooth progress toward our target of taking part in 100 projects by the fiscal year ending March 31, 2022.
NTT's B2B2X models are divided into four categories in line with the following objectives:
Evolution of industrial value chains
Invigoration of local economies and improvement of public safety and other city functions through the realization of smart cities
nhancement of customer contact point platforms (evolution of customer responses with regard to distribution, services, financing, etc.)
Development of mobile and cross-data platforms (enhancement of services and creation of businesses by combining mobile data with companies' data)
In order to further advance the B2B2X model, we have established the B2B2X Strategy Committee to formulate strategies, manage targets, and promote the business of NTT Group. Under this committee, we aim to increase the number of projects by promoting collaboration among the Group companies. For the foreseeable future, the Group will focus on developing new products. At the same time, however, we intend to improve profit margins by evolving digital technologies and increasing the economic feasibility of the scale and scope of digital data utilization.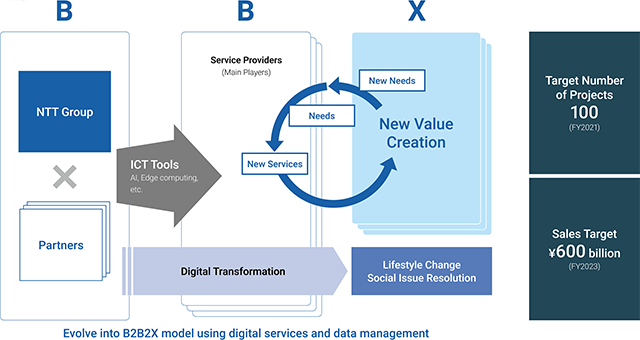 COLUMN
Alliance with Toyota for Creating Smart Cities
In March 2020, NTT formed an alliance with Toyota Motor Corporation aimed at building a long-term and continuous cooperative relationship that enables the commercialization of smart city businesses, with each company acting as a core partner sharing the same values and promoting social development, with the aim of realizing smart cities that continue to evolve in accordance with the needs of residents. The two companies have previously engaged in collaboration in the connected car field. However, in response to these changes in the business environment, the two companies believe that it is necessary not only to seek to strengthen the business foundations that they have been cultivating to date, but also, by further building upon the cooperative relations between them, to engage in the creation of new value that enables sustainable growth. In particular, the two companies have initiated activities related to smart cities, which can resolve various issues by improving the efficiency and sophistication of functions and services in cities and regions through the utilization of advanced technologies and create new value, including comfort and convenience, and which they view as being an important area of focus in the future.
Toyota is engaged in verification tests for realizing new urban solutions through coordination with various partner companies and researchers at Woven City, a project taking place at the soon-to-be former site of the Higashi Fuji Plant of Toyota Motor East Japan, Inc. (Susono City, Shizuoka Prefecture), which is scheduled to close at the end of 2020. Meanwhile, NTT Group is collaborating with municipalities in Fukuoka, Sapporo, Yokohama, and Chiba cities as well as with companies in an effort to resolve various city and community issues. The Group is taking part in a smart city project in Las Vegas, Nevada in the United States. The data collected through this project will become the property of the City of Las Vegas. The major characteristic of the Las Vegas project is how advanced AI, IoT, and ICT resource management technologies are being utilized to quickly detect, analyze, and predict incidents and accidents and to optimally manage ICT resources. NTT Group looks to promote initiatives for deployment of such practices in other cities. In addition, NTT Group is advancing initiatives in which it fully capitalizes on its assets to contribute to creation of smart cities. For example, the Group is promoting smart urban development by utilizing ICT to more effectively make use of NTT-owned real estate along with businesses in the smart energy field, which is an important component of smart cities.
During the course of advancing these initiatives, the companies came to the conclusion that it would be necessary for both companies to work closely in jointly building and operating the "Smart City Platform"* as a core foundation for realizing smart cities while also engaging in their own projects. This type of collaboration was deemed important in order to maximize the benefits of issue resolutions and value improvements from transforming cities into smart cities and to improve regional and national strength.
Through this alliance, both companies hope to deploy smart city platforms in various cities in Japan and worldwide. The two companies will work together to build smart city platforms that provide value to all domains from people, cars, and houses to everyday life, business, infrastructure and public services related to residents, businesses, and local governments. This platform will first be implemented in the Higashi-Fuji area of Susono City, Shizuoka Prefecture (Woven City) and in the Shinagawa area in Minato-ku, Tokyo (a part of the NTT block in front of Shinagawa Station), and will then be introduced to other cities in succession.
In the future, Toyota and NTT will target further growth through the enhancement of the competitiveness of smart cities while contributing to the development of a sustainable society
*The "Smart City Platform" furnishes a secure base for providing value to residents, businesses, and local governments and consists of smart city data management and information distribution functions, digital twins based on this data (urban development simulations), and peripheral function