Stable and Reliable Telecommunications Services in Preparation for Large-Scale Disasters
NTT Group has defined three key themes for disaster countermeasures—improving the reliability of communications networks, securing critical communications systems, and promptly restoring telecommunications services. We have been strengthening efforts based on these themes since the Great East Japan Earthquake.
Specifically, we are taking measures to improve the reliability of our telecommunications infrastructure. To ensure that our telecommunications services operate without interruption at all times, we employ transmission trunk line multi-routing, have enacted blackout countermeasures for communications buildings and base stations, and are making communications buildings more disaster resistant. In addition, we are expanding the assortment of power supply vehicles and other disaster response equipment that we have positioned throughout Japan and are continuously conducting training to prepare for major natural disasters. Furthermore, we are making a daily effort to guarantee that, in the event of a disaster, we are able to immediately set up a Disaster Countermeasures Office and other emergency preparations and make the necessary emergency and critical communications as a public institution as designated by the Basic Act on Disaster Control Measures.
In recent years, natural disasters have been becoming more frequent and causing wider, bigger, and more lasting damage. Recognizing the potential for natural disasters to have greater impacts on telecommunications facilities and services and for recovery efforts to be prolonged, NTT is increasing the resilience of its facilities and taking steps to expedite recovery efforts.
In the fiscal year ended March 31, 2020, no serious telecommunications disruptions*1 occurred at four telecommunications business companies (NTT DOCOMO, NTT East, NTT West, and NTT Communications), while service stability was maintained at 100.00%,*2 under normal circumstances.
Number of disruptions that led to a stop of or lowered the quality of telecommunications services and that fulfill the following conditions: Voice services usable for emergency reports (110, 119, etc.): Service impacted for more than one hour with more than 30,000 people affected
Voice services not usable for emergency reports: Service impacted for more than two hours with more than 30,000 people affected or service impacted for more than one hour with more than 100,000 people affected
Internet-related services (free): Service impacted for more than 12 hours with more than 1,000,000 people affected or service impacted for more than 24 hours with more than 100,000 people affected
Other services: Service impacted for more than two hours with more than 30,000 people affected or service impacted for more than one hour with more than 1,000,000 people affected
[1 - total hours under the impact of serious disruptions (number of affected users × hours of serious disruptions) / total hours of major service provision (number of users × 24 hours × 365 days)] × 100%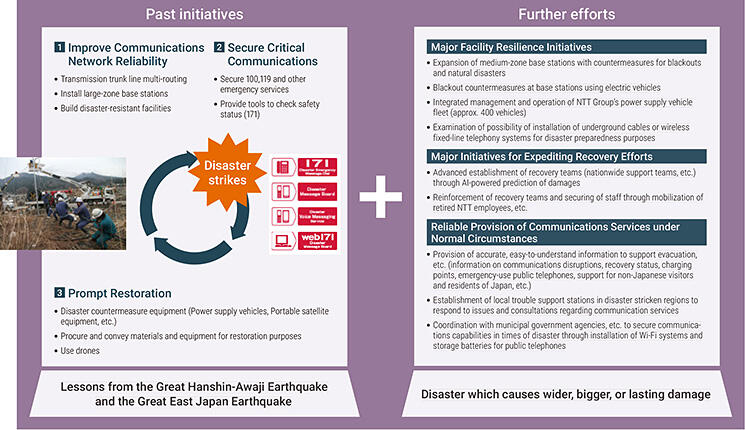 Support for Customers' Post-Disaster Restoration of Operations and Business Continuity
NTT Group has continued to provide telecommunications services in Japan, which cannot be allowed to be interrupted in the event of a disaster, for over 100 years.
We are leveraging our track record of reliability and the associated expertise accumulated over our history to develop a solution business for supporting customers in maintaining business continuity. We anticipate significant business opportunities to arise in this regard going forward.
Damage from natural disasters, such as heavy rains and more frequent typhoons, is becoming increasingly common due to recent climate change. As a result, there is a growing risk of water and lightning damage and power outages, which now threaten to cause extensive damage should they occur. Many companies need to take measures to ensure that, if emergency situations such as disasters occur in the future, the organizations are able to continue important operations and restore order quickly. These measures are necessary to provide support to disaster victims and facilitate swift recovery.
For this reason, NTT Group will help customers restore operations and maintain business continuity after disasters by developing business continuity solution operations in a wide range of fields. Specifically, NTT Communications Corporation and NTT DATA CORPORATION are providing data center services and cloud services, while NTT FACILITIES, INC., and NTT Anode Energy Corporation are providing technologies and services related to buildings and electricity.
Provision of Multilingual Information on Service Disruptions due to Disasters
To give visitors to Japan and non-Japanese nationals who live in Japan access to important information during disasters, we are proceeding with efforts to provide information in multiple languages. NTT West Corporation's official website provides information in six languages, including English, Chinese, and Korean, while the official websites of NTT DOCOMO and NTT East issue information in English. Moreover, respective Group companies use social networking services to issue information in English on service disruptions due to disasters. As a result, we are now able to swiftly release readily understandable information on the impact of disasters on communications, when services are expected to be restored, the introduction of free public telephone services, the installation of free public Wi-Fi, and the provision of disaster answering services. In this way, NTT Group is strengthening its responses to disasters.