Material ESG Issues 1—Reduction of Environmental Impact
Last updated : February 24, 2021
NTT Group has formulated its new Environmental and Energy Vision, which targets zero environmental impact, to clearly indicate its enhanced initiatives aimed at reducing its environmental impact. In addition to its own initiatives to reduce environmental impact, NTT aims to reduce the environmental impact of customers, companies, and society through its provision of green ICT services and social infrastructure.
In addition, in May 2020, NTT endorsed TCFD. We will continue to carry out disclosure of environmental information, with emphasis on our efforts to eliminate our burden on the environment.
Internal Factors

Large amount of electric power required for operation of telecommunications equipment, etc., accounting for close to 1% of Japan's commercial electric power consumption
Procurement of many products and materials required for global business operations

➡ Since global business operations use a large amount of energy and natural resources, they incur a significant cost and have a major effect on the Company's environmental load.

Social Demand

Climate change caused by global warming, resource depletion associated with global population increase and economic development, loss of biodiversity through global environmental changes

➡ Corporations are required to use energy efficiently, use resources effectively, and co-exist with nature. For the communications industry in particular, there is an expectation to promote services that will replace resource use, as well as a demand to make use of smart energy solutions

Relevant Laws, Regulations, and Global Trends

Transition to a carbon-free society with the adoption of the Paris Agreement by COP21 and the Paris Agreement Implementation Guidelines by COP24, etc.
Transition to a recycling-based society with the establishment of plastic resource recycling strategies, etc.
Business Risks
Arising from
Materiality Factors

Increase in costs due to rise in electricity prices and regulatory tightening around greenhouse gas emission
Increase in maintenance cost for telecommunications equipment and data centers due to temperature rise
Increase in expenses stemming from high resource prices

Business
Opportunities Arising
from Materiality
Factors

Expansion of smart energy business
Expansion of business continuity solutions business using ICT
Targets

Increase the proportion of our renewable energy use to 30% or higher
Increase power efficiency of the telecommunications business by at least 10 times
Convert 100% of fleet of general Company-use vehicles to electric vehicles
Contribute to reducing the CO2 emissions of society by at least 10 times more than the Company's own emissions
Final disposal rate for waste of 1% or lower
We disclose important information related to governance, strategy, risk management, and indicators and targets, as recommended by the Task Force on Climate-related Financial Disclosures (TCFD). The relevant items of information are marked with the TCFD symbol for confirmation.
TCFD
Governance /
Risk management
TCFD
Strategy
TCFD
Indicators
and targets
Formulation of the Environment and Energy Vision
In May 2020, NTT Group unveiled its Environment and Energy Vision, which targets zero environmental impact. The vision comprises four pillars: the promotion of renewable energy, reduction of societal environmental load through ICT, development of innovative environment and energy technologies, and realization of extremely low power consumption. By promoting business activities that reduce environmental impact and pushing the limits to create new innovation through R&D, we will help reduce the environmental impact of our customers, companies, and society as a whole.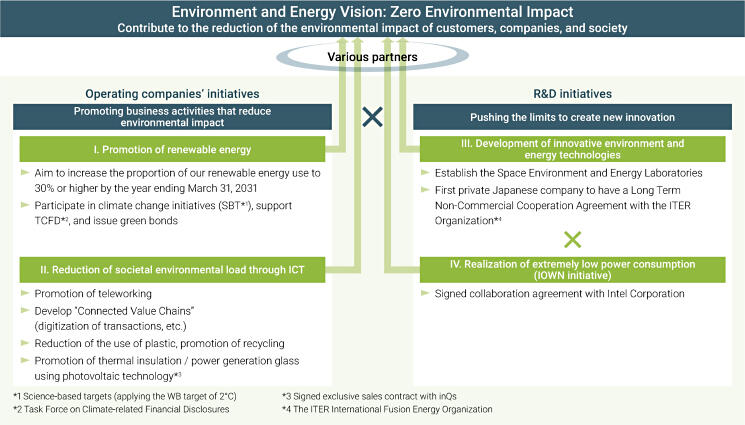 Initiatives for the Promotion of Renewable Energy
NTT Group endeavors to develop renewable energy resources itself, promote its own use of this energy, and provide it to other companies.
Promoting the development of renewable energy sources
We aim to secure renewable energy sources worth 4.5 million kilowatts by the year ending March 31, 2026. As well as investing itself, NTT Group will enter alliances with a wide range of business partners, promoting efficient investment. In addition to large-scale sources of electricity, such as solar and wind power, we plan to acquire smaller sources of electricity, such as biomass and geothermal generating facilities.
Examples of specific initiatives
Collaboration with Mitsubishi Corporation on businesses related to renewable energy and storage batteries (June 2020)
Capital alliance with Furusato Netsuden Co., Ltd. (headquarters: Oguni-cho, Aso-gun, Kumamoto Prefecture) in the geothermal power business (July 2020)
Capital and business alliance with Forest Energy Inc. (headquarters: Shinagawa-ku, Tokyo) in the biomass power generation business (August 2020)
Expansion in the wind power business (September 2020)
Promoting our own use of renewable energy
We are engaging in a variety of initiatives to raise our ratio of renewable energy use to 30% or more by the fiscal year ending March 31, 2031. To meet this target, NTT Group will develop renewable energy sources itself and promote the shift to renewable energy in Japan at office buildings, telecommunications buildings, data centers, and research laboratories.
Goals for the Reduction of Environmental Impact
In addition to reducing environmental impact through its business activities, NTT Group prioritizes the reduction of environmental impact within society through the use of ICT. Based on our analysis of materiality issues related to environmental problems, we have set targets for environmental activities to undertake by the fiscal year ending March 31, 2031, and we are working to reduce environmental impact accordingly.
*You can scroll horizontally
Goals

Quantitative Indicators

KPIs

Goal Achievement

Time Results (FY)

2017

2018

2019

Reduce
environmental
impact of business
operations

Working to increase our usage of renewable energy by developing green power sources and using our own green power

Our own ratio of renewable energy use

More than 30.0%

FY2030

-

-

7.9%

Improve power efficiency to reduce the environmental impact of business operations

Power efficiency of communications services

(Power efficiency per unit of communications volume)

At least 10 times higher than in FY2013

FY2030

3.6 times

4.5 times

5.4 times

At least 2 times higher than in FY2017

2025

-

1.2 times

1.5 times

Electric vehicles as a percentage of general vehicles in Japan

100%
50%

2030

2025

-

0.34%

1.45%

Use ICT to contribute

to the environment

While reducing CO2 emissions of the Company, contribute to the reduction of CO2 emissions of all society, including value chains, through the utilization of ICT

Amount of contribution to the reduction of CO2 emissions of all society

At least 10 times the Company's emissions

FY2030

10.1 times

10.8 times

12.5 times

Effectively use resources

Control the final disposal ratio of waste and work toward the effective use of resources

Final disposal ratio of waste

Zero emissions
(under 1%)

FY2030

1.18%

0.91%

1.17%
History and Engagement Policy of Environmental Activities
Since the inception of our business, we have continuously considered and acted in response to the environmental impact of our business activities along with ways to help address environmental issues.
Impact of Climate Change on Businesses
Climate change has the potential to affect the cost of electricity for providing communications services and other purposes, and may lead to large-scale disasters causing enormous damage to communications infrastructure. NTT Group takes the following perspectives on the risks of climate change in terms of business operation, measures to deal with those risks, as well as opportunities.
Potential Risks
The risk of an increase in costs due to changes in statutory laws and regulations, such as rises in power prices resulting from the feed-in tariff scheme for renewable energy (FIT) and environmental tax, is actualizing.
The FIT tax burden is increasing with each passing year. In addition, there is a risk that such natural disasters as torrential rain or typhoons could damage access networks, which could give rise to physical and economic losses. With respect to the aforementioned risks, we are implementing the following measures.
Our own use of renewable energy
Consolidating telecommunications equipment and facilities, which account for most of NTT Group's power use and upgrading to equipment with higher levels of energy efficiency (including carrying out upgrades ahead of schedule)
Installation of high-voltage direct current (HVDC) systems and systems for analyzing the status of electricity usage
Securing the stability and reliability of telecommunications services in anticipation of large-scale natural disasters
*Scale of assumed risks: Effect of increases in environmental tax (¥720 million per year), effect of FIT (¥19.1 billion–¥22.7 billion per year)
Potential Opportunities
A further increase in demand for the smart energy business in relation to its provision of ICT-enabled energy management and other services and for low-power-consumption data centers due to growing demand for efficient energy use in areas, buildings, and homes
Expansion of the business continuity solutions business leveraging ICT and cloud technologies in line with the corporate migration to the cloud and digitalization
Growing demand for ICT services as teleworking and remote working become more familiar and mainstream, and to support workstyle transformation due to digital transformation (DX), as well as to reduce environmental impact
Increasing demand for BCP-oriented ICT services addressing such factors as natural disasters and system failures
Organization for Environmental Management
To address climate change and other environmental issues, following deliberation by the Company's directors we introduced the Environment and Energy Vision in May 2020. This vision incorporates items deliberated by all members of the Board, including the outside directors.
We also established the NTT Group Global Environmental Protection Promotion Committee as an internal unit under the CSR Committee to discuss and determine the environmental activities policies for the entire Group.
The NTT Group Global Environmental Protection Promotion Committee, which meets regularly throughout a year, is chaired by the general manager of the NTT Environmental Protection Office (Head of Research and Development Planning) with membership comprising heads of environmental departments at major Group companies (NTT East, NTT West, NTT Communications, NTT DOCOMO, and NTT DATA, etc.). Also, this committee oversees the Climate Change Actions Committee, the Closed-loop Recycling Committee, and the Natural Harmony Working Group and drafts basic policies, manages targets, and addresses issues related to environmental protection.
Further, risks and opportunities identified as having a significant impact on business, such as laws, regulations, and systems related to the environment, are presented to the Business Risk Management Committee, which identifies Companywide risks, and to the Board of Directors.
In addition to working with the environmental departments, the committee cooperates with other departments to pursue related initiatives. Particularly with regard to electricity use, which accounts for more than 90% of NTT Group's CO2 emissions, the committee collaborates with the High Performance Energy Use Promotion Committee, which is responsible for promoting the Total Power Revolution (TPR) campaign, NTT Group's energy conservation activities. As for the risks and opportunities presented by environmental issues to our facilities and equipment, monitoring and assessment are conducted through a collaborative effort between staff in charge of environmental issues and those responsible for facilities, and these individuals are appointed for every Group company.
NTT Anode Energy Corporation Envisions Smart Energy Business
NTT Anode Energy spearheads NTT Group's smart energy business. The aim of this business is to establish a commercial business based on the new value resulting from the construction of direct current area grids. At present, alternating current is the power type used generally. In the telecommunications field, however, direct current is used for its efficiency and reliability. We aim to utilize technology and expertise developed in telecommunications to construct direct-current grids on an area basis that are controlled by ICT. In this way, we will build a system that supplements alternating current grids. These initiatives will enable us to supply power during blackouts caused by disasters and to use storage batteries for the enhancement of the stability of power supplies from renewable energy sources.
By maximizing synergies within NTT Group, NTT Anode Energy is working with partner companies to create a new framework for energy distribution, invigorating industry and aiming for a sustainable society.
Components of the Business
We conduct five projects in the three areas of power generation; power transmission and distribution and storage; and retail and wholesale. NTT Group aims to double the sales of its energy-related businesses by the fiscal year ending March 31, 2026.
*You can scroll horizontally
Power Generation

(1) Green power generation business: Power supply solutions using renewable energy
Power Transmission
and Distribution and
Storage

(2) VPP (virtual power plant) business: Supply and demand coordination solutions through control of dispersed power sources*

* Functions such as generation by solar, water, and wind power, power supply by electric discharge from storage batteries (including EVs), and control of supply and demand by power storage in storage batteries.

(3) New service business: Advanced EVs charging infrastructure solutions using storage batteries and chargers*

* Plan to provide services in the future combining power supply from EV to buildings and grids (V2B: vehicle to building; V2G: vehicle to grid)

(4) Backup power source business: Optimal emergency power supply solutions according to the type of disaster

Retail and Wholesale

(5) Electricity retailing business: Provision of electricity having a low environmental impact
Components of the Business