Human resources (employees) will play a central role in becoming "Your Value Partner" that customers continue to select, which is our vision. We will realize innovation by respecting and utilizing employees' diverse values, promoting diversity and inclusion, and providing an environment that will make the most of employees' capabilities.
As the scale of our business expands, so too do the opportunities for our employees to take active roles spread worldwide. We will work to provide equal opportunities for all, regardless of race, nationality, religion, creed, culture, place of origin, mental or physical challenges, sex, sexual preference, or gender identity, and will aim to become an organization where each and every one of our employees can work with peace of mind toward solutions to society's challenges.
While respecting individuality, we will hold common values as "One NTT" and go forth to achieve our vision.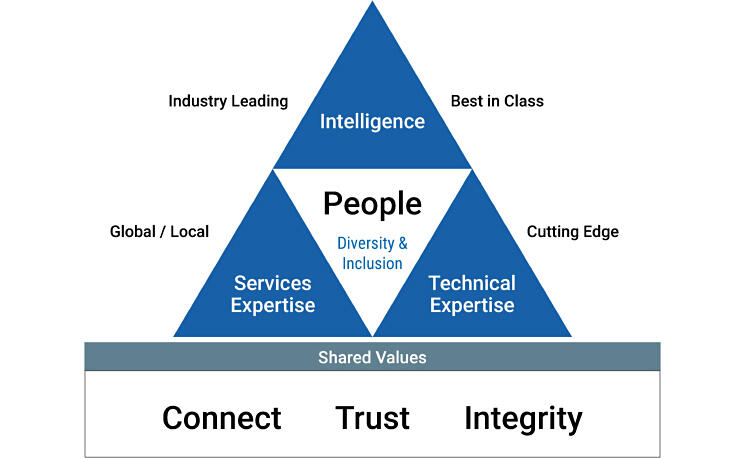 Ratio of female
managers*1

Target:

Ratio of female managers of 10% by the year ending March 31, 2026

Male employees using
childcare leave*2

Target:

80% of eligible male employees taking childcare leave by the year ending March 31, 2021

Working from home*3

Target:

90% of people making use of working-from-home system by the year ending March 31, 2021

Total work time*4

Target:

1,800 hours (first half)
by the year ending March 31, 2023

Employment of people
with disabilities*4

2.44%

(As of June 1, 2020)

Target:

2.2% or more
Domestic Group companies (29 companies)
Percentage of total number of male workers using paternity leave or leave for purposes of child raising (items disclosed by companies with "Platinum Kurumin Certification")
Number of employees with children entering grammar school by the fiscal year ended March 31, 2020, who took time off work for child raising / number of employees who gave birth (or whose partners gave birth) in the fiscal year ended March 31, 2020.
Only NTT (holding company) Percentage of employees who have worked from home at least once
Domestic Group companies (more than 45.5 employees)
NTT Group's Workstyle Reforms
NTT Group is undertaking a host of initiatives targeting increasing diverse workstyles. We are also improving compensation schemes and environments to support telework-centered workstyles.
"Family is part of the team"
As one of the many available workstyles, we recommend working from home. To enable employees to work at home stress-free, we have adopted "Family is Part of the Team" as our motto for fostering big-heartedness and a spirit of mutual cooperation.
Promoting Working from Home
In response to COVID-19, people throughout the Group have been working at home. In corporate and other departments where working from home was possible, even after June 2020 we set 50% as the maximum level for office work. To prevent the infection from spreading and in response to repeated government requests to refrain from going out, in July 27 we encouraged employees to take advantage of summer holidays and otherwise endeavor to keep the office-work ratio at 30% or less.
Expansion of Workstyle-Related Systems
To create an environment that encourages remote workstyles, in October 2020, we will begin providing an allowance for people working at home and in other remote locations, discontinue reimbursement for regular commuter passes, and introduce the Super Flex-time System. We will also review compensation to better reflect remote workstyles, address team management and the cultivation of human resources, and further review job-based and other compensation schemes.
*You can scroll horizontally
| Name of System | Details |
| --- | --- |
| Remote Work Allowance | The Company pays people working at home or in other remote locations under all forms of employment ¥200 per day of working remotely. |
| Introduction of Framework for Paying Actual Commuting Costs | For departments that are able to make use of remote working, the Company will discontinue reimbursement of commuter passes, instead paying actual commuting costs based on the number of times commuting. |
| Super Flex-time System | On an organization-specific basis, employees will have the option of not setting core working times (working at least three hours per day). |
Shift of Telephone Exchanges to Satellite Offices
To put in place an environment that encourages a shift in workstyles centered on remote work, we are swiftly creating satellite offices from telephone exchanges' station facilities. We are also making use of general satellite offices and otherwise working to make office facilities more dispersed. We plan to open our first satellite office at a station facility in October 2020 in Noborito, Kawasaki City. The facility is equipped with booths for online conferences and other facilities suited for working in a post-COVID world. Looking closely at employees' needs, such as those related to the areas where they live, we will consider expanding this initiative to Kansai and other regions outside the Tokyo metropolitan area.
Empowerment of Women in the Workforce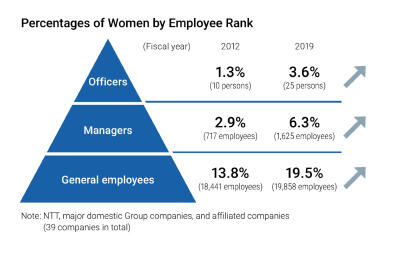 As one facet of personnel diversification, we are focusing on gender and taking steps to empower women. In the fiscal year ended March 31, 2013, when women accounted for 2.9% of our managers, we prepared a plan for a twofold increase in the number of female managers. The plan called for lifting this percentage to 6.0% by the fiscal year ending March 31, 2021. We reached this target one year early, in the fiscal year ended March 31, 2020. We have now set a new target, of raising the ratio of female managers to 10% or more by the year ending March 31, 2026.
Aiming for more proactive hiring of female employees, in the fiscal year ended March 31, 2014, we formulated our "At Least 30% Female New Graduate Hire" project, and have achieved at least 30% every fiacal year since then.
By advancing workstyle reforms through the establishment of workplace conditions and systems that help employees achieve a work-life balance, including the meeting of such commitments as child-rearing and family-care, we are creating an environment that enables even more women to play important roles in our organization. Further, NTT Group conducts career development training for women and promotes women to important positions so that business management reflects a wider variety of opinions.


Initiatives to Empower Women / Initiatives to Increase the Ratio of Female Managers
We are cultivating women for management positions in the aim of increasing the number of female employees in positions of leadership and their participation in management decision-making. Specifically, we are boosting the percentag of women we send on manager-oriented training programs in Japan and overseas an augmenting opportunities for growth. We set up a mentoring system for senior management positions and deploying women so they can gain an awareness of tough assignments. We are creating a new e-learning environment that managers who are on childcare leave can easily take part in and fostering stronger personal networks among women across NTT Group. In these ways, we are encouraging increases in both skills and awareness.
Formulation of an Employee Value Proposition
With a view to strengthening the competitiveness of its global businesses by securing and retaining talented personnel overseas, the Group is taking lateral measures across its organization.
In 2018, we examined the type of employee value proposition we could offer NTT Group employees based on the "One NTT" Shared Values, namely, "Connect," "Trust," and "Integrity." Through workshops, interviews, and surveys, the Group collected and consolidated feedback from employees working at its overseas companies. In light of this feedback, we defined a Groupwide Employee Value Proposition. Also, we prepared a video and a tagline to communicate the proposition to employees in a readily understandable manner.
NTT Group is using the video and tagline to ensure all Group employees fully understand the Employee Value Proposition. Further, we are incorporating the proposition into training for new Group employees.
The Employee Valued Proposition video can be viewed at the link below.
https://www.youtube.com/watch?v=7HiIEXBG6R0
Promotion of Global Diversity
Each year, we conduct Group training for senior managers of NTT Group in Japan and overseas, called Global Leadership Development Program Leadership Excellence and Accelerating Diversity (GLDP LEAD). This training is designed to foster leadership among managers aiming to move to higher positions, and female managers account for more than half of participants. This training emphasizes diversity and innovative culture as organizational capabilities of topmost importance. In the fiscal year ended March 31, 2020, 30 employees from 10 countries underwent this training in Switzerland.
Initiatives for Employing People with Disabilties
Utilization of OriHime-D, a Robot That Is Controlled Remotely by People with Physical Disabilities
We have begun using OriHime-D*, a robot that can be controlled remotely by people who have physical disabilities or find it difficult to go outdoors, to perform such tasks as receiving visitors and guiding them to conference rooms and reception areas. With this robot, we aim to provide more opportunities for people with disabilities to contribute to society, as well as to ensure social distancing when greeting people. We began trialing the robots in February 2020, followed by a full-fledged launch on July 1, 2020.
With COVID-19 prompting major changes in workstyles, ICT is being deployed in new ways to help maintain social distancing and provide employment opportunities for people with disabilities. This is the first example of OriHime-D being used to perform office work by people with disabilities.
*An avatar robot about 120cm tall developed by OryLab Inc., OriHime-D is controlled remotely and can be used for greeting guests or performing physical labor. "OriHime" is a registered trademark of OryLab Inc.
Lectures by Employees with Disabilities as Training for Group Companies on Maintaining a Barrier-Free Mindset
An employee who is also a para athlete is encouraging employees to have barrier-free hearts and supporting para sports at elementary and junior high schools. For these activities, NTT Group was cited as an exemplary company under the Tokyo metropolitan government's "Heart Barrier Free Project."
Participation in The Valuable 500
In December 2019, we joined "The Valuable 500," an international initiative to promote the participation in business of people with disabilities. Being in accordance with the purposes of The Valuable 500*, NTT promotes the following initiatives.
*"The Valuable 500" was launched at the World Economic Forum's Annual Summit in Davos in January 2019. This initiative aims to get global leaders to commit to accountable action on disability inclusion to bring the business, social, and economic value of people living with disabilities across the world.
By sharing values, the core principles that support our activities ("connect," "trust," and "integrity"), we will encourage a culture of diversity and inclusion by creating a workplace where all employees, including employees with disabilities, can feel that they belong and they can work as who they are.
We have set a target for the employment rate for employees with disabilities in our business goals.
We will actively share our activities regarding disability internally and externally.
We will aim to develop services and products that enable people with disabilities to become more integrated into society, and we will keep reviewing the accessibility we build and deploy.
We will keep educating our employees to learn about diversity and inclusion, including the understanding of people with disabilities, and to become more inclusive.
Respect for Human Rights in the Supply Chain
In recent years, a variety of problems have come to light across corporate supply chains, such as long working hours, child labor, inappropriate disposal of chemical substances, bribery, and other forms of impropriety. In their procurement activities, companies are being called upon to conform to social norms, laws, and regulations, and to meet their corporate responsibilities.
Given these circumstances, in 2013, NTT Group formulated its Supply Chain CSR Promotion Guidelines for working with its suppliers to ensure corporate responsibility in its procurement activities. The guidelines spell out specific requirements of suppliers in six areas: human rights and labor, health and safety, the environment, fair trading and ethics, quality and safety, and information security.
We have made these guidelines available in Japanese and English, and we disseminate them widely among suppliers across NTT Group, both in Japan and overseas. We request that suppliers comply with these guidelines, our basic policy on procurement and the Green Procurement Guidelines, which indicate NTT Group's fundamental stance on green procurement. Each year, we conduct supply chain CSR surveys of our suppliers. In the fiscal year ended March 31, 2020, these surveys uncovered no suppliers in the high-risk category. The surveys cover seven categories (human rights and labor, health and safety, the environment, fair trading and ethics, quality and safety, information security, and social contribution activities). In the category of human rights, for example we monitor such activities as respect for the rights to freedom of association and to exercise the right to collective bargaining, as well as such on child labor and forced labor.
Initiatives for Securing Personnel to Support R&D
With a view to producing innovative research results and securing and deploying personnel who will ensure that we can compete with other world-class research bodies and companies, in Japan we introduced a new compensation system in April 2019 that reflects medium- to long-term research results and revised career tracks. These changes will enable us to reflect strong research results in top-class researchers' compensation, helping us to retain talented research results and focus on fields that require medium- to long-term focus and decisions.
In addition to its existing in-house recruiting system, in 2020, NTT Group introduced Lab-Chale, an internal job-search site specifically for laboratories. This system gives employees easy access to internal job postings. Employees can also become internal "free agents," seeking out positions where they can pursue specific research themes. In these ways, we aim to create a more attractive workplace in which researchers can make the most of their capabilities. We also expect the system to help us retain talented research personnel engaging in budding research themes.
Also, overseas we have well-established compensation systems that flexibly reflect conditions in respective countries and the abilities of talented personnel.
Balance between Work and Childcare or Nursing Care
In addition to issuing five days of leave for every five years of continuous service, we conduct a Life Plan Leave Program, which enables employees to accumulate each year up to three days of annual leave that would otherwise become invalid (with an upper limit of 40 days). Also, this program allows employees to take leave, regardless of reason, that is separate from annual leave. NTT set having male employees take at least 80% of their child-rearing leave as a target for the fiscal year ending March 31, 2021. We are creating systems and conditions that make it easier for employees to take child-rearing leave. Moreover, we are encouraging not only female employees but also male employees to avail of leave.
In the fiscal year ended March 31, 2020, the ratio of childcare leave and child-rearing leave taken by male employees reached 112%, up 64 pt.s from the previous year.
*You can scroll horizontally
| | |
| --- | --- |
| Work | Special leave (childbirth, family care), life plan leave, nursing care leave, short-term leave for nursing care, childcare leave, long-term care leave, shorter working hours to provide childcare or nursing care, limit on or exemption from overtime work, shift work on an individual unit basis to provide childcare or nursing care, reemployment of employees who resigned to provide childcare or nursing care |
| Welfare | One-time payment for childbirth and nursing (health insurance), childcare and family care concierge, childcare and family care subsidy, office for advice on in-house systems |
Initiatives Related to LGBTQ
(1) Systems
With respect to the approximately 200,000 employees of NTT Group companies in Japan, in April 2018 we began the application, in principle, of all systems for spouses to same-gender partners who have the equivalent of spousal relationships with employees.
*You can scroll horizontally
| | |
| --- | --- |
| Salary | Allowance for dependent, allowance for working away from home, expenses of returning home, relocation expenses (family relocation expenses) |
| Work | Special leave (marriage, bereavement), life plan leave, nursing care leave, short-term leave for nursing care, childcare leave, long-term care leave, shorter working hours to provide childcare or nursing care, limit on or exemption from overtime work, shift work on an individual unit basis to provide childcare or nursing care, reemployment of employees who resigned due to childcare, nursing care, or the relocation of their spouse's job |
| Welfare | Congratulatory / condolence payments (special payments for marriage, condolence payments), company housing, NTT Benefits Package, M3PSP (health consultations with specialist physicians, "best doctor" referrals, and healthcare policy proposals) |
| Work overseas | Family members included in the calculation of cost-of-living in their home country, spouses in receipt of empty home allowance, handling of relocation expenses of family members of employees working overseas |
(2) Major Initiatives
Pride House Tokyo: Legacy*, which provides LGBTQ information, will be recognized for the first time as an authorized program in the Organizing Committee of the Olympic and Paralympic Games in October 2020. In addition to providing information on diversity and inclusion, including LGBTQ topics, we are collaborating with other companies and will sponsor events to strengthen LGBTQ initiatives.
*"Pride House Tokyo: Legacy" provides multipurpose spaces for the planning of off-line and online events, has individual spaces for counseling support, and has a free library housing Japan's LGBTQ Community Archives.