Overview of Corporate Governance Systems
Last updated : November 15, 2021
Overview
NTT strives to meet the expectations of various stakeholders, including its shareholders and other investors as well as customers, business partners, and employees. The Company also recognizes the need to strengthen its corporate governance system based on the intent of the principles of Japan's Corporate Governance Code. NTT has implemented all principles of the Corporate Governance Code as revised in June 2021.
A History of Strengthening Corporate Governance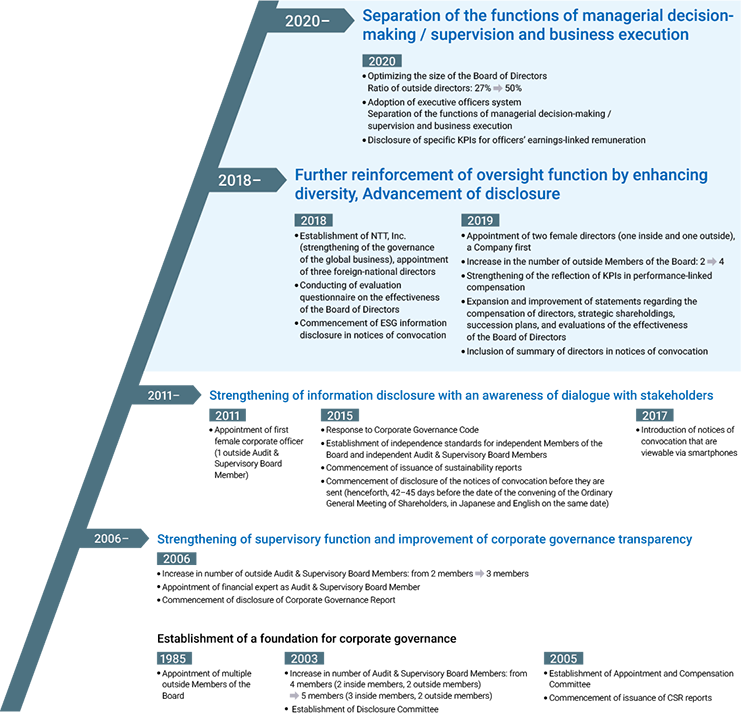 Corporate Governance System
NTT, in order to strengthen functions for appropriately supervising and auditing business execution, seeks to strengthen its auditing system by appointing several outside independent Members of the Board, and by establishing an Audit & Supervisory Board, of which outside independent Audit & Supervisory Board Members make up a majority. In addition, through its adoption of an executive officer system, NTT intends to clearly separate management-related decision-making and supervisory functions from business execution functions and improve its management flexibility. Additionally, NTT has voluntarily established a Nomination Committee and a Compensation Committee, each of which consists of five Members of the Board, including three outside independent Members of the Board, to further increase the objectivity and transparency of decisions relating to appointment and compensation. NTT has determined that governance functions based on a Board of Corporate Auditors (Audit & Supervisory Board) are sufficiently effective to achieve this purpose.
Business execution at NTT is conducted in accordance with the organizational regulations governing the functions and operations of each organization. Important decisions are made under the supervision of the Board of Directors and based on the responsibility regulations that define the responsibilities and authorities for the president, senior executive vice presidents, senior vice presidents and the head of each organization. In addition, NTT has established various meetings and committees as has been deemed necessary to discuss important business execution-related matters in order to ensure that appropriate decisions are made for facilitating effective Group management.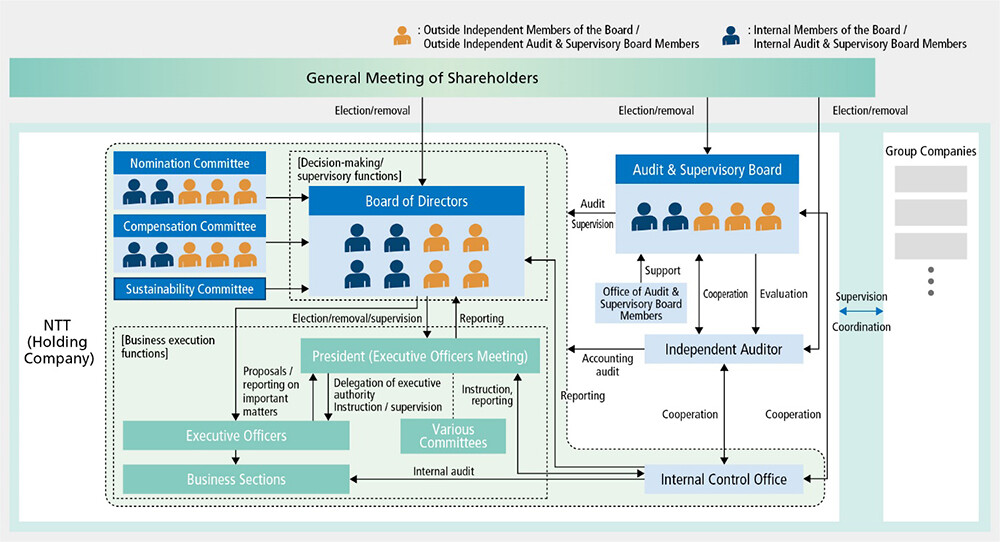 Executive Officers Meeting
In principle, important decisions are made by the Company after deliberation by the "Executive Officers Meeting" consisting of executive officers and other officers. The Meeting will convene approximately once a week.
Moreover, to enhance the transparency of decision-making, one corporate auditor will also participate in the Executive Officers Meeting.
Various Committees
A number of committees have been established under the Executive Officers Meeting to discuss important matters related to business execution. Major committees include the Technology Strategy Committee, which deliberates on the Group's R&D vision and technology development strategy; the Investment Strategy Committee, which examines investment projects that are larger than a certain scale; and the Finance Strategy Committee, which discusses basic financial strategies and financial issues. These committees, which are convened as necessary throughout the year, are, in principle, chaired by the president or a senior executive vice president and are attended by relevant executive officers and others.
Major Committees
| Committee name | Overview |
| --- | --- |
| Technology Strategy Committee | Formulates R&D vision, technology development strategy, and R&D alliance strategy |
| Investment Strategy Committee | Formulates investment strategy related to large investment projects, etc. |
| Finance Strategy Committee | Formulates basic strategies related to finance and policies for addressing financial issues |
| Disclosure Committee | Establishes policies for compiling yearly reports |
| Group CIO Committee | Coordinates matters including group-wide IT policy discussions and systems development for group-wide optimization |
| Group CISO Committee | Formulates of the Group's information security management strategies |
| Business Risk Management Committee | Undertakes crisis management for the handling of new business risks related to corporate management |
| Internal Control Committee | Provides support for and monitoring of matters related to group-wide internal control over financial reporting |