Dialogue with Shareholders and Other Investors
Last updated : November 15, 2020
NTT promotes management that prioritizes discussions with shareholders, which not only includes discussions at General Meetings of Shareholders but also involves senior management, including the president, actively promoting discussions with shareholders about medium-term management strategies, corporate governance, business performance trends, and other topics through one-on-one meetings with institutional investors and briefings targeting individual investors.
The opinions received from shareholders through such discussions are shared in the Company. NTT considered and formulated the medium-term management strategy, which was announced in November 2018 (and amended in October 2021), in light of shareholder opinions.
During discussions with shareholders, insider information is strictly controlled, and information is proactively disclosed with due consideration to fair disclosure (timely, fair, and impartial information disclosure). To increase convenience for overseas investors, we strive to release Japanese- and English-language disclosure materials at the same time. The Japanese- and English-language versions of the entire Notice of Convocation for the Ordinary General Meeting of Shareholders, including the business report, were released at the same time, more than one month prior to the date of the Ordinary General Meeting of Shareholders.
Policy for Constructive Dialogue with Shareholders and Other Investors

Initiatives to Enhance Dialogue
For institutional investors
Implementing quarterly financial results presentations
Participating in IR conferences in Japan and overseas
Holding NTT IR DAY (briefing for institutional investors)
Implementing one-on-one briefings in Japan and overseas (total of more than 350 times)
(Topics: medium-term management strategy, financial results, corporate governance, etc.)
For individual investors
Implementing Company briefings
(including company briefing by senior executives)
Implementing online Company briefings
Participating in individual investor fairs
Enhancement of Shareholder Relations Activities and Communication of Feedback within the Company
NTT is actively enhancing its shareholder relations activities. Specific initiatives with this regard include increasing the number of visits to the individuals entrusted with exercising voting rights on behalf of domestic and overseas institutional investors and holding additional meetings with institutional investors for discussing environmental, social, and governance (ESG) issues. We also seek to provide a wider range of opportunities to speak with investors on the topic of corporate governance.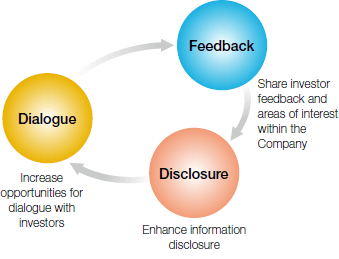 The investor feedback received and areas of interest identified through these shareholder relations activities are communicated to the Disclosure Committee, which is chaired by a senior executive vice president (the CFO), so that disclosure policies and strategies can be formulated based on this information. Based on the resulting disclosure policies and strategies, a wider range of information pertinent to the exercise of voting rights is included in notices of convocation (business reports), integrated reports, and other documents. For example, we seek to disclose more viable information in relation to corporate governance (revised the items included to incorporate those for which investor interest is high) and reworked the overall content of such documents to focus more on items related to increasing corporate value, such as Initiatives for Cybersecurity and Initiatives to Ensure Diverse Personnel Can Demonstrate their Talents.
We then visit the investors to verify the benefits of these improvements, utilizing their feedback to further enhance information disclosure. This process creates a plan-do-check-act cycle that continuously heightens the level of information disclosure by NTT Group.