Promote the B2B2X Model
NTT Group will accelerate the B2B2X model and provide value to end users (X) by supporting the digital transformation of the "Center B," a service provider in various fields, while leveraging digitization of information, IoT, AI, and other social and technological trends. As of June 30, 2020, NTT Group had engaged in 74 B2B2X model porjects, an increase of 8 from a year earlier, representing smooth progress toward our target of taking part in 100 projects by the fiscal year ending March 31, 2022.
NTT's B2B2X models are divided into four categories in line with the following objectives:
Evolution of industrial value chains
Invigoration of local economies and improvement of public safety and other city functions through the realization of smart cities
Enhancement of customer contact point platforms (evolution of customer responses with regard to distribution, services, financing, etc.)
Development of mobile and cross-data platforms (enhancement of services and creation of businesses by combining mobile data with companies' data)
In order to further advance the B2B2X model, we have established the B2B2X Strategy Committee to formulate strategies, manage targets, and promote the business of NTT Group. Under this committee, we aim to increase the number of projects by promoting collaboration among the Group companies. For the foreseeable future, the Group will focus on developing new products. At the same time, however, we intend to improve profit margins by evolving digital technologies and increasing the economic feasibility of the scale and scope of digital data utilization.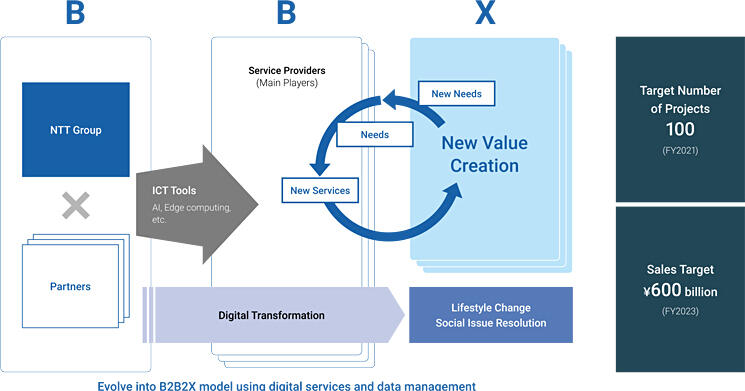 Enhance Research and Development
Initiatives for Realizing the IOWN Concept
IOWN is a concept for realizing new smart societies that are not yet possible with today's internet.
IOWN comprises three main technology components: "allphotonics network" that uses optical processing on not only networks but also device processing; "digital twin computing" that enables high-speed, realtime interaction between things and people in cyberspace; and Cognitive FoundationR, in which these and various other ICT resources are efficiently managed.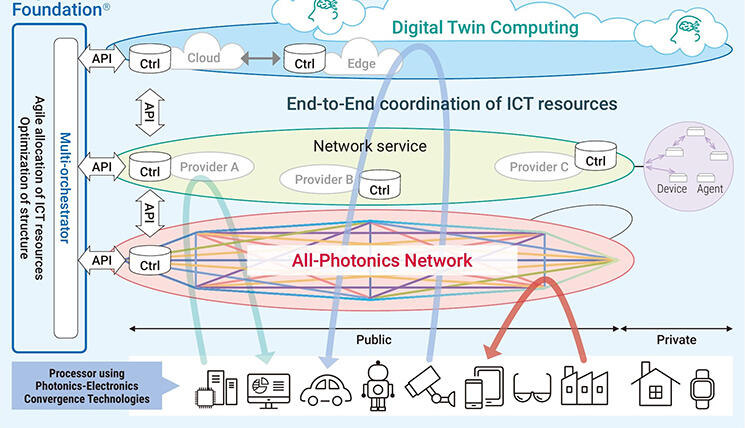 The all-photonics network incorporates new optical technologies at every level, from networks to devices, and even inside chips, to enable ultralow power consumption, ultrahigh speed processing that has not been possible until now. By allocating different wavelengths to different functions in a single optical fiber, it becomes possible to provide multiple functions that support social infrastructure without mutual interference, including information communication functions such as internet and sensing functions.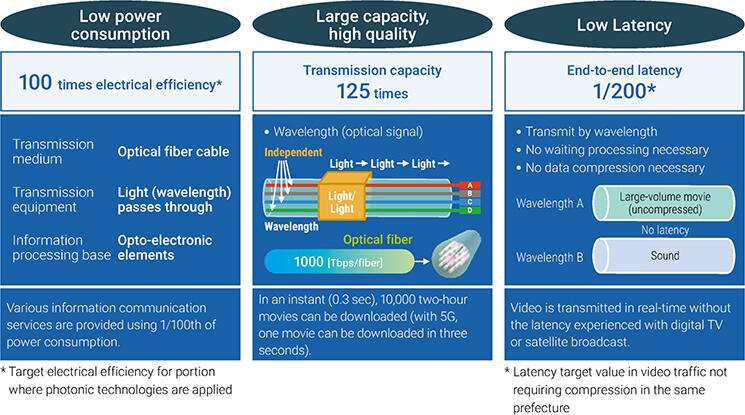 NTT Group aims to solve social issues by aiding the shift from electronics into the world of photonics.
Digital twin computing is a significant advance in existing digital twin technology. By performing calculations such as conversions, combinations, and replications for various digital twins representing things and people in the real world, and having those digital twins interact, this new paradigm allows for free interactions between people and things to be recreated and tested. This can be used to build virtual societies at a level of precision that has never been achieved before, enabling us to run predictions and testing on large-scale, highly accurate futures, and to provide high-level communications offering new value. The technology is expected to solve various social problems around the world and lead to the creation of innovative new services.
IOWN is set to change our world in new and exciting ways.
NTT has released a concrete technology roadmap for the development of its "Innovative Optical and Wireless Network" (IOWN) concept, and research and development are moving forward based on this roadmap. Starting in 2021, NTT will establish reference models for key IOWN constitute technologies, promote these to the IOWN Global Forum, accelerate examinations, and develop specifications. Specifically, four technological directions have been defined in the IOWN Global Forum whitepaper--full-stack communication acceleration; data-centric communication and computing; computing scaling across device, edge, and center cloud; and sustainable growth with energy efficiency. R&D projects are being advanced in accordance with these themes.
IOWN Global Forum, Inc., which was established together with Intel Corporation of the United States and Sony Corporation of Japan in January 2020, released a white paper describing four technological directions in April 2020. We have since commenced technological evaluations of these directions. As of September 10, 2020, the IOWN Global Forum, which is operated by IOWN Global Forum, Inc., had 29 member companies, including its three founders and 26 other companies from Japan and overseas. The first meeting of members of this forum was held in the form of an online conference in September. This meeting served as an opportunity for member companies from around the world to engage with each other and discuss use cases and technologies in working groups.
Going forward, NTT will continue to work with partners from various industries and regions with the aim of quickly making the IOWN concept a reality.
Research and Development for Realizing the IOWN Concept
4D Digital PlatformTM Integrates Various Sensing Data in Real-Time and Enabling Future Predictions
In recent years, the remarkable advancement in IT technology enables the collection of large volume of IoT data and their analysis.
Accordingly, the government of Japan as well as various companies are moving ahead with research and development for creating systems that merge cyber and physical spaces in a sophisticated manner, as advocated in the government's Society 5.0 vision. However, in the linkage of sets of statistical data or the matching of misaligned position and time data, there are cases in which the accuracy of future predictions cannot be heightened.
Our proposed 4D digital platform would resolve this by making it possible to precisely integrate position and time information from sensing data while also providing latitude, longitude, height and time data useful in future predictions. By applying this platform to various industries, we could contribute to the resolution of social issues and the creation of value.
The 4D digital platformTM integrates sensing data with highly precise position and time information in real-time into the Advanced Geospatial Information Database, jointly developed with ZENRIN Co., Ltd. to perform high-speed analyses and the construction of future prediction.
Development of the Advanced Geospatial Information Database as a control point for sensing data
Real-time sensing data collection with highly accurate position and time information
High-speed processing of large-volume data and future predictions with various simulations
By combining with various IoT data and industry platforms, it can offer various values such as increasing smoothness of road traffic flow, improving ease of use of urban assets, and enabling cooperative maintenance of social infrastructures.
As a cross-industry platform supporting people's lives, and as the one of the key elements of Digital Twin Computing, a part of NTT's IOWN initiative, we intend to leverage NTT R&D and NTT Group technologies and assets toward sequential commercialization beginning in FY2021, with future expansion through ongoing R&D efforts.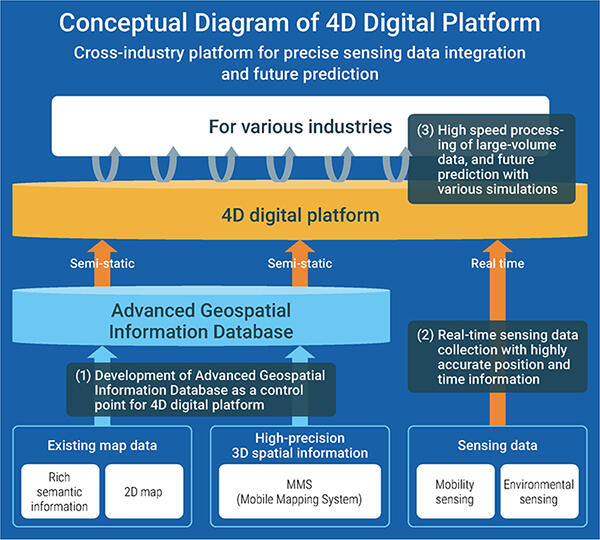 Initiatives for Realizing a Society Characterized by Remote Interactions
Cooperation with the ITER Organization
In May 2020, NTT concluded a comprehensive cooperation agreement with the ITER International Fusion Energy Organization (ITER Organization), which is working to be the first in the world to verify the effectiveness of fusion energy. NTT is promoting innovation through research and development and the reduction of environmental impacts through its business activities with the goal of lowering its environmental footprint to zero. As one facet of these activities, we are contributing to the plans of the ITER Organization with our IOWN and other advanced R&D projects as well as our global infrastructure development capabilities.
Specifically, we look to offer technical support for information distribution and control platforms. These platforms will be utilized for ultrahighspeed, ultralow-latency connections between the fusion reactor and control centers through all-photonic networks that use photonic (light)-based technologies for everything from networks to terminals. Another application of the platforms will be fusion reactor control simulations, using digital twin computing for projecting future trends by comparing the physical world with digital models.
Alliance with NEC for Joint Research and Development and Global Rollout of ICT Products Utilizing Innovative Optical and Wireless Technologies
NTT and NEC Corporation formed a capital and business alliance in June 2020 for the purpose of joint research and development and the global rollout of ICT products utilizing innovative optical and wireless technologies.
The companies aim to improve their corporate value by expanding sales of products applying jointly developed technologies. In addition, through these initiatives, the companies will contribute to the enhancement of the industrial competitiveness of Japan and to the improvement of the safety and reliability of communications infrastructure, playing leading roles in working with numerous communications equipment vendors.
To promote open architectures such as O-RAN and to give form to the IOWN concept, NTT and NEC will set up a research and development structure and focus their efforts on the following objectives.
By developing and utilizing cutting-edge technologies, the companies will develop and sell globally a compact digital signal processing circuit--featuring both world-leading performance and low power consumption as well as quality that meets market needs and greater convenience from the customer point of view--plus optical information communications equipment incorporating this digital signal processing circuit.
Working with global operators and communications equipment vendors, the companies will promote O-RAN Alliance specifications while developing and selling globally competitive products compliant with such O-RAN specifications. In the future, the companies aim to attain top global market shares under NEC's leadership. Moreover, the companies' development efforts will be aimed at realizing ultrahigh-speed processing, ultralow latency, and ultralow power consumption in these products at a level that has never been attained before, by applying innovative devices utilizing optical and wireless technologies to base station equipment.
The companies will develop innovative technologies and optical and wireless devices contributing to the realization of NTT's IOWN concept. As part of the development project, the companies will seek to enable greater-capacity, higher-functionality, and lowercosting submarine cable systems; high-capacity, low-latency, and automatic and autonomous space communication; and more sophisticated technologies to ensure infrastructure network security.
New Business and Regional Revitalization Initiatives
New Business Initiatives
Urban Solution Business
NTT Urban Solutions, Inc. is the sole developer of NTT Group's real estate business. The company utilizes NTT Group's telephone exchanges and other real estate while laterally drawing on the Group's real estate- and energy-related personnel and technologies.
Moreover, the Group makes maximum use of its assets in a concerted effort to advance collaborative urban development projects with companies and municipal authorities. Through these initiatives, we aim to grow the sales of the urban solutions business to ¥600 billion by the fiscal year ending March 31, 2026. Urban development projects in Japan are targeting the resolution of local issues across the country in areas such as Sendai and Fukuoka. Overseas, we are developing the River Valley Project housing sales project in Melbourne, Australia as well as a housing development project in Dallas, Texas in the United States. Having generated operating revenues of ¥426.0 billion in the fiscal year ended March 31, 2020, we are making smooth progress toward the aforementioned target.
Smart Energy Business
NTT Anode Energy Corporation, NTT Group's energy business operating company, announced its medium-term vision in November 2019. Guided by this vision, the company will seek to contribute to the realization of a sustainable society through the creation of new energy distribution frameworks that complement existing alternating current networks. These frameworks will be designed to address social issues pertaining to the environment and energy, such as global warming and the need to secure emergency power sources in preparation for large-scale natural disasters. Specifically, NTT Anode Energy will develop five businesses, including green power generation and backup power businesses, in the three fields of power generation; power transmission, distribution, and storage; and power retail and wholesale. Through these businesses, we will provide new value, such as improved energy efficiency and enhanced disaster resiliency in relation to coping with such eventualities as power blackouts during disasters.
NTT Group aims to double operating revenues from its energy-related businesses to ¥600.0 billion by the fiscal year ending March 31, 2026. This target will be pursued via smart energy business initiatives advanced through investment in NTT Group as well as through capital and business alliances with and investments in wide-ranging business partners. Operating revenues in the fiscal year ended March 31, 2019 were ¥257.0 billion, and we are making progress toward achieving the target.
Regional Revitalization
Agricultural Field
E-Sports Field