Value Creation Process
--A Cycle of Sustainable Corporate Value Enhancement--
Last updated : January 26, 2021
NTT's attributes include a solid customer base in Japan and overseas, global brand power, human resource capabilities, and world-class research and development capabilities. We will leverage these to sustainably increase our corporate value in a manner unique to NTT through digital transformation together with our partners.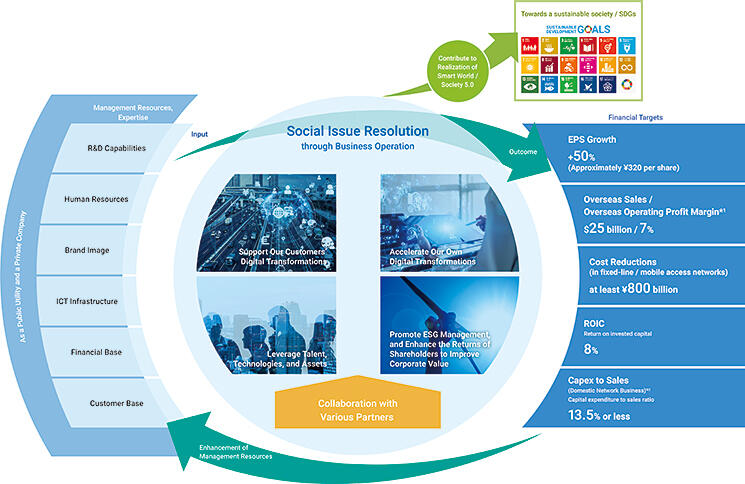 The target year for EPS growth, overseas sales / overseas operating profit margin, cost reductions, and ROIC is the fiscal year ending March 31, 2024 (regarding EPS growth*3 and cost reductions; the targets are compared with the fiscal year ended March 31, 2018).
The target year for capex to sales is the fiscal year ending March 31, 2022.
Including results from the global holding company, its subsidiaries and its affiliates. Operating profit excludes temporary expenses, such as M&A-related depreciation costs of intangible fixed assets.
Excludes NTT Communications' data centers and certain other assets.
Excludes the effects of the arbitration award received from Tata Sons Limited.
Medium-Term Management Strategy