NTT HEROES
Head for the world stage! NTT Athletes
Our Athlete
"Our rivals may be improving, but we will also continue to improve."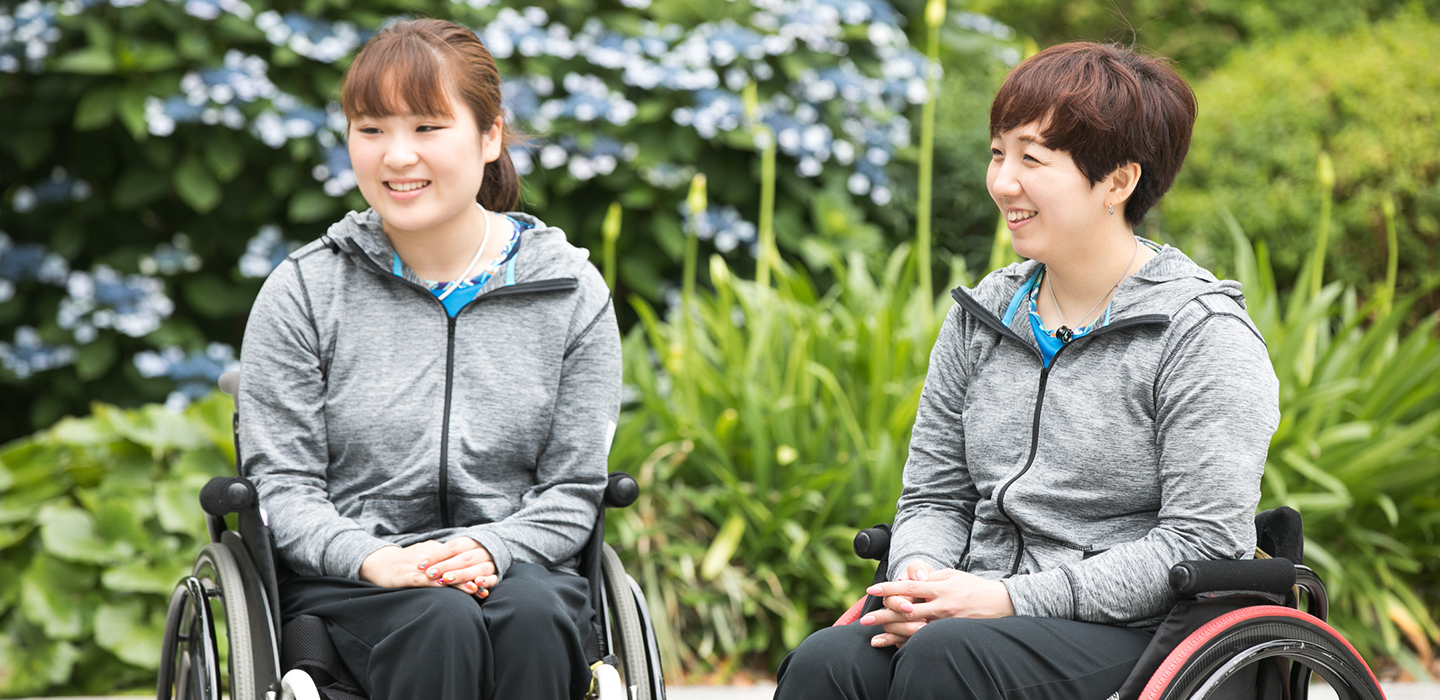 Yuma YAMAZAKI and Sarina SATOMI
Para-badminton
Yuma YAMAZAKI is currently ranked 3rd in the world in the para-badminton WH2 class (as of June 2019), and Sarina SATOMI has achieved remarkable growth as a para-badminton player, winning international tournaments despite having just two years' experience in competition.
We interviewed these two accomplished players, who are gaining increasing attention as expectations for them to play a prominent role in 2020 rise following the mangificent achievent of their remarkable victory over the veteran Chinese team in the final round of the WH1-2 Women's Doubles event at the 2nd Fazza-Dubai Para-Badminton International 2019, which was held in April 2019.
Combining a World No. 3 para-badminton queen and an incredibly talented young player, this pair is close-knit both on and off the court, and the interview overflowed with laughter.
"I was actually attracted to the difficulty of a sport that requires players to maneuver a wheelchair." (SATOMI)
Interviewer: You had both played badminton in the past; do you experience any great differences between playing badminton and para-badminton?

SATOMI: Well first of all, one major difference is that previously I would use my legs to go after the shuttlecock, whereas now I use only my arms.
YAMAZAKI: Yes, during a match you know where the shuttlecock is going to drop, but you can't get there. Even when you're in a wheelchair, even when you're watching your opponent and see where the shuttlecock is flying of the direction in which they're hitting it, and the methods for actually reaching the shuttlecock in time are "insufficient". YOU could have gotten to the shuttlecock with just one more push, but you couldn't make that push. That's the most difficult part. Also, when you're sitting in a wheelchair, your line of sight lowers, and so initially you can have trouble timing when to swing the racquet and miss the shuttlecock.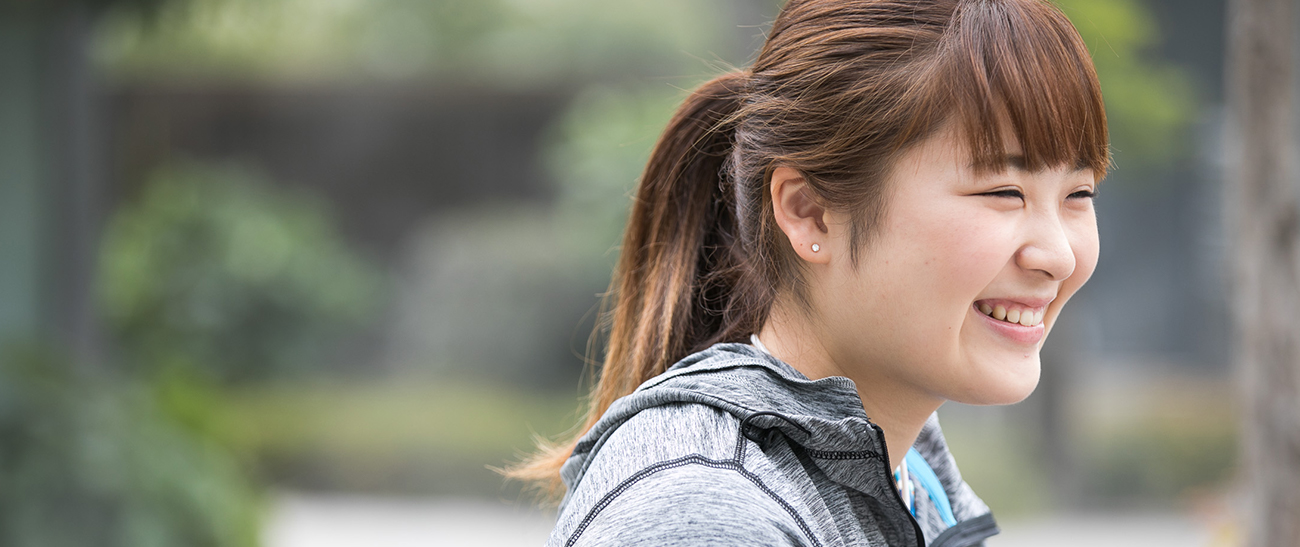 Interviewer: Ms. SATOMI, it's still early days in your career as a para-badminton player, isn't it?

SATOMI: I've been playing for exactly two years as of May of this year.

Interviewer: In your first international tournament, you were runner-up in the women's doubles, and you won both the singles and doubles at the Japan Para-Badminton International 2018.

SATOMI: When I was playing badminton, my performance wasn't especially good. When I began playing para-badminton, I was actually attracted to the difficulty of a sport that requires players to maneuver a wheelchair, and that motivated me to play. For me, the "difficulty" was enjoyable.

Interviewer: Age-wise you're still a young 21 years old, and I'm looking forward to seeing just how strong you become moving forward.

YAMAZAKI: Yes! I'm looking forward to it, too! (Laughs)
SATOMI: You'll have to wait and see. (Laughs.)
Functioning effectively as a pair with circular covering
Interviewer: You have been playing doubles together as a pair for exactily one year. At the Dubai Para-Badminton International 2019, you were magnificently victorious over the veteran Chinese team to win the tournament. What do you think is the secret to your strength?

YAMAZAKI: Even though in para-badminton doubles we are playing side-by-side, the way we complete is that we are both on both sides, with one covering one half of the court and the other covering the other half. Accordingly, a major prerequisite for this tactical style is the strength of the each of the two partners. Sarina and I both had a certain amount of strength, and so we have developed a style of communicating with each other where we say, "Cover that spot!" for example. I began as a doubles player in badminton, and I wanted to include rotation movement even when playing in a wheelchair, and so since Sarina and I teamed up, we have been practicing this technique together with our coach. At Dubai, our playing style gradually produced results with each game, with the result that we were able to win the competition.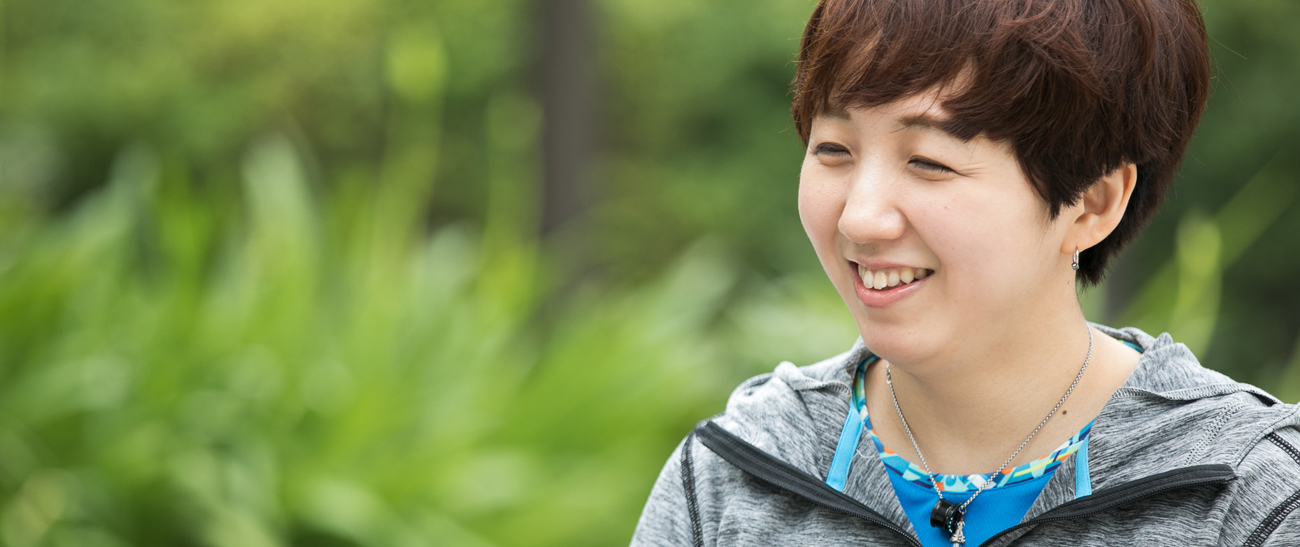 Interviewer: Specifically, what kinds of movement do you use?

YAMAZAKI: Well, for example, when Sarina rushes forward to catch the shuttlecock, in a wheelchair it is faster to keep turning rather than going back to your initial position. Rather than moving forwards then backwards, Sarina uses turning moves to go sideways while I cover the back half of the court instead.

Interviewer: Like you're drawing circles as if you were dancing?

YAMAZAKI: We cover the court in a circular motion, like we are drawing a circle. This also relies on timing. Initially we really had a hard time to get the timing right. At the Dubai tournament, I think we were able to function effectively together.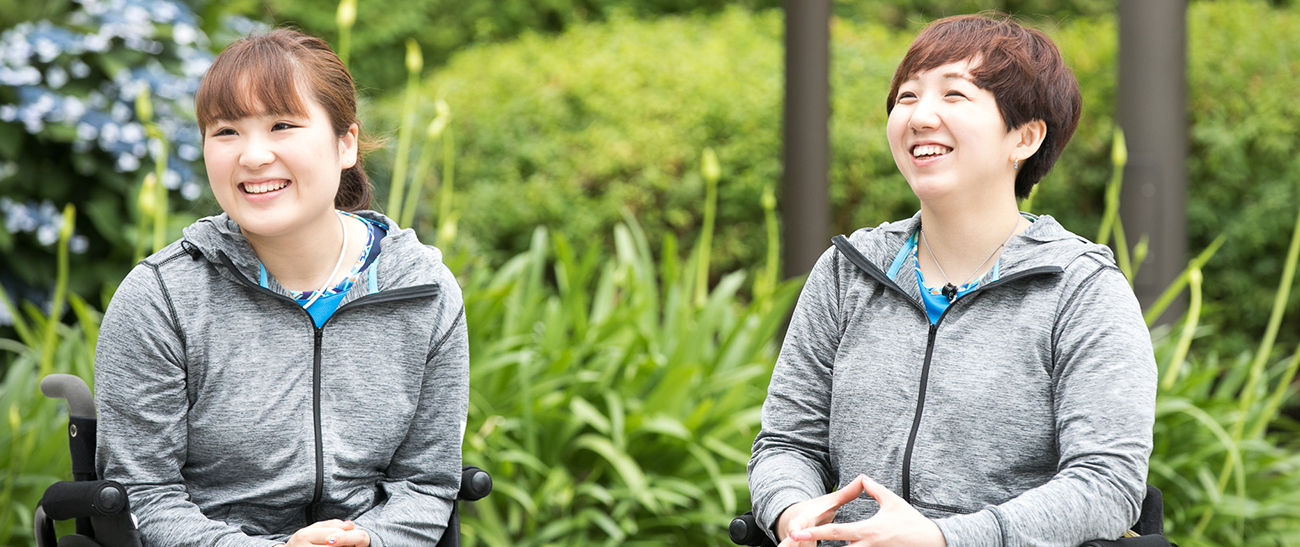 Sarina is my first junior partner, so I'm really fond of her. She's so precious! I'm always saying, "You're so cute!" (laughs) (YAMAZAKI)
Interviewer: I'm sure you like each other as players, but what do you like about each other off the court?

SATOMI: Hmm, what do I like…? Probably her kindness. And she's fun to be with, even when she's just being her normal everyday self. We spend quite a bit of time together, and I send her lots of e-mails. "Yuma, Yuma!" (Laughs)
YAMAZAKI: "How do we do this?" That kind of talk.
SATOMI: Even with issues that are quite difficult, Yuma is always there for me and I can ask her advice, so I am very thankful for her presence. I depend on her a lot.

Interviewer: It sounds like she's really like a big sister to you.

SATOMI: A big sister, definitely.
YAMAZAKI: Thank you. (Laughs)
SATOMI: Even when Yuma is not there and I'm practicing by myself, I'll ask our coach, "This is what Yuma how Yuma hits the shuttlecock; how does she do it?" or "I want to become like Yuma." She's been a huge role model for me.
YAMAZAKI: I think she's exaggerating. (Laughs) But seriously, in WH1-2 doubles, it's the WH1 player who's targeted by the opponent players, and so an important point is how well I can cover the areas that Sarina gets targeted for a lot. If Sarina isn't playing her heart out, there's no way that I can win, either. In that sense, her dislike of losing is truly amazing, and the way she works so hard is also incredible. She inspires me a lot, too.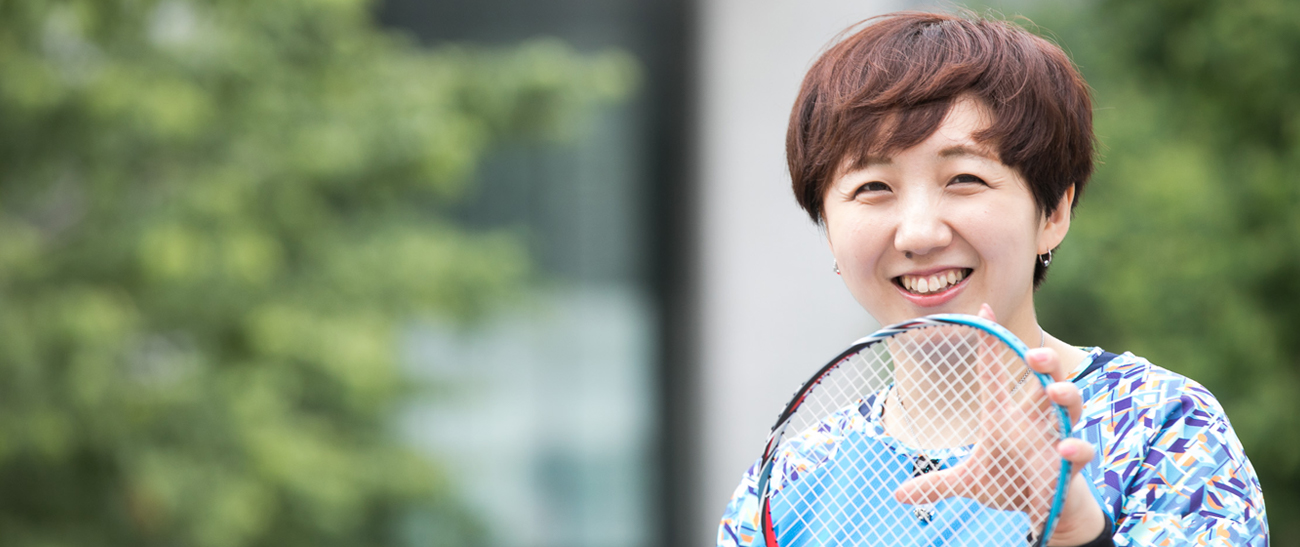 Interviewer: You seem to be the idea pair, wouldn't you agree?

YAMAZAKI: Sarina is my first junior partner, so I'm really fond of her. She's so precious! I'm always saying, "You're so cute!" (laughs)

Interviewer: You both have beautifully manicured nails.

YAMAZAKI: It's fun to be able to talk about those kinds of topics as well. Talking about what kind of nail art we should try next as we discuss para-badminton. We decide on a nail theme for each tournament. Play close attention when you're watching our games!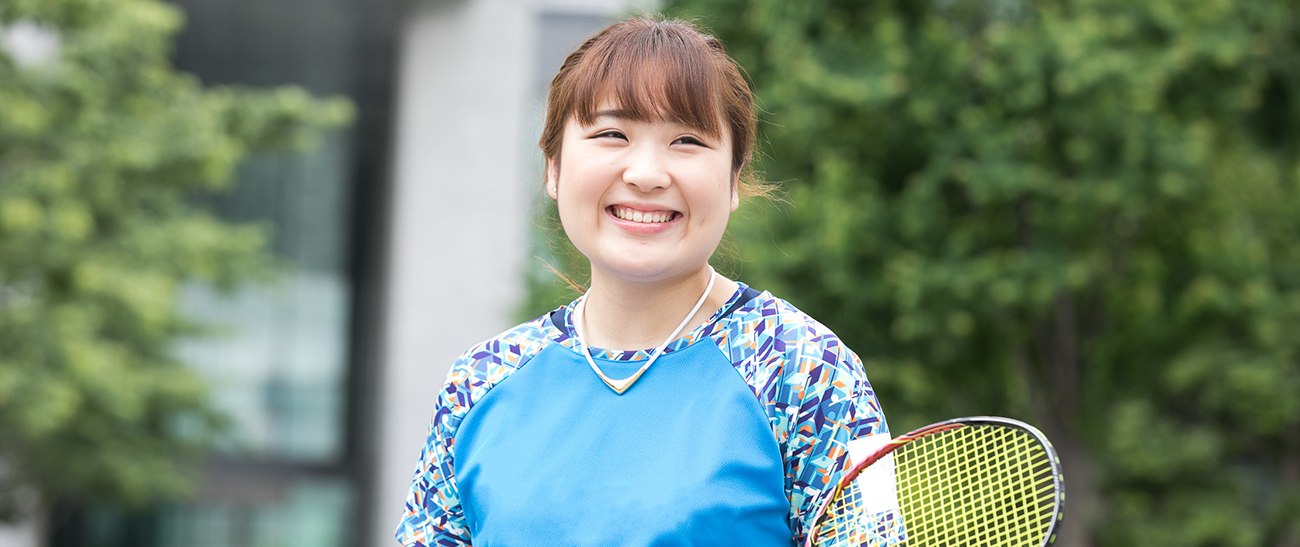 Interviewer: How much to do you practice and train?

YAMAZAKI: I practice and train four days a week on weekdays. I practice para-badminton on two days a week and train on three days a week, and then I also undergo physical care two days a week. Sometimes I train during the morning and undergo care in the afternoon, and sometimes I practice para-badminton all day. We tend to move around as we're piecing our training together. I have children, so I can't take part in training on the weekends very much.

Interviewer: In addition to training, you're also taking care of your children and housework, aren't you Ms. YAMAZAKI?

YAMAZAKI: That's right. In the morning, my husband drops the children off and so after I get home from training I go and pick them up, then prepare dinner. With the Paralympics taking place next year, we've started having my husband's parents come over on the weekends to help out so that I can train.

Interviewer: It sounds as if you have very little time to relax.

YAMAZAKI: Actually, my husband puts the children to bed and various chores at night, so I have some time to myself after the children have gone to sleep. I read, watch TV, or play on my tablet. (Laughs)

Interviewer: Ms. SATOMI, how about your week?

SATOMI: I'm the type of player who like to practice a lot, so I practice para-badminton four times a week and train for one or two days a week. On the weekends I basically like to go shopping and looking at cosmetics, etc.

Interviewer: Last but not least, could you both please tell us about your motivation and goals for the Tokyo 2020 Paralympics.

SATOMI: Well, you will be eligible for singles if you win in doubles. So, naturally I will work hard to both win in doubles and singles.
YAMAZAKI: This year, with 2020 in sight, my goals are to do my best to first of all to win in doubles and then also win in singles. Our rivals are improving more and more. I think that we were able to win in Dubai because our timing just happened to be spot on at that tournament. Our rivals are sure to do their homework and they will no doubt discover our weaknesses, and so we need to also continue to improve, and we are improving.

Interviewer: We have high expectations for you!

SATOMI: We'll do our best! (Laughs)
YAMAZAKI: Let's do it! (Laughs)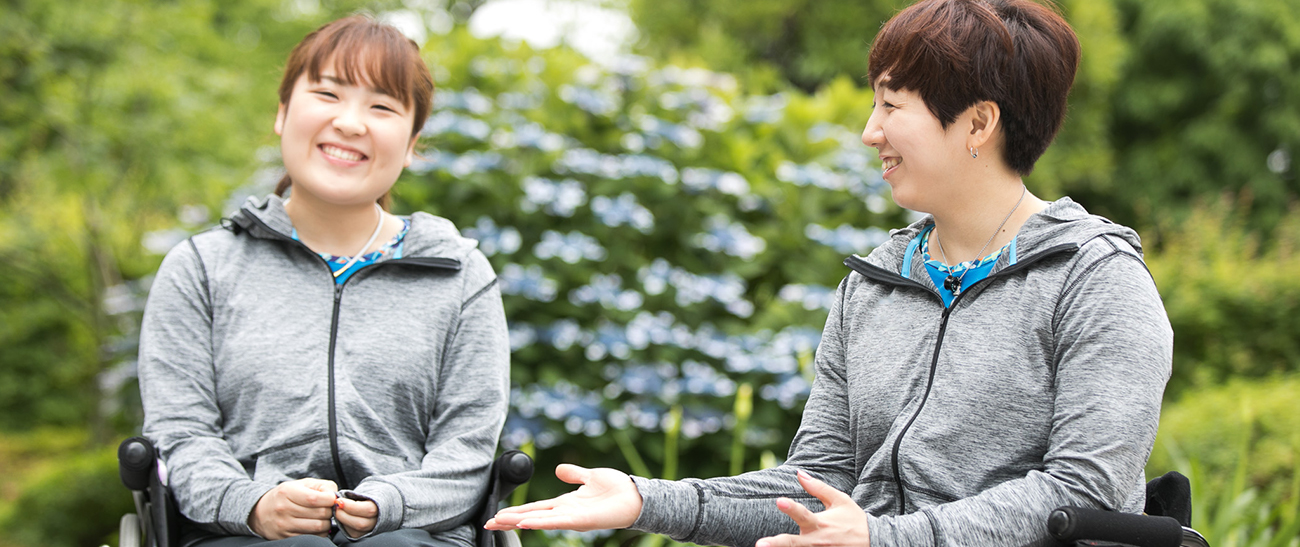 Truly as close as sisters, Ms. YAMAZAKI and Ms. SATOMI say feel joy in competing together as well as spending time together. The interview overflowed with euphoria. Also, the coincidence that their birthdays are only a day apart, even though there is a 10-year age difference, may also have played a part in bringing these two players together for them to make a joint effort at the Tokyo 2020 Paralympic Games.
We will continue to send loud voices of support to these two para-badminton players who continue to further improve and evolve as athletes.
Yuma YAMAZAKI

Para-badminton
(WH2 Class)

Born in 1988; Class WH2
Yuma became wheelchair-bound in a traffic accident when she was a first-year high school student. After watching para-badminton at the National Sports Festival of Japan in Tokyo, she set her heart on playing the sport. While raising two sons, she is training towards the Paralympics.
Sarina SATOMI

Para-badminton
(WH1 Class)

Born 1998; Class WH1
Sarina became wheelchair bound in a traffic accident and tried para-badminton as part of her rehabilitation therapy. She began playing in earnest in May 2017 and has achieved outstanding results in both domestic and international tournaments.
WH2 Class
Wheelchair Class 2: Functional disability in one or both lower limbs. No or minor functional disability of the trunk.
WH1 Class
Wheelchair Class 1: Functional disability in both lower limbs and the trunk.
(from Badminton World Federation classification regulations)