NTT HEROES
Head for the world stage! NTT Athletes
PROFILE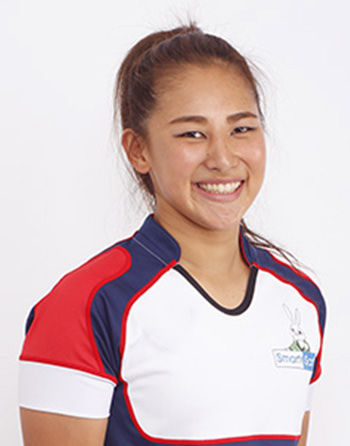 Misaki SUZUKI
Event:

Rugby (15-a-side, 7-a-side)

Hometown:

Aichi

Height:

164cm

My Favorites:

Cafes, the ocean, and movies

Affiliation:

NTT FACILITIES
I began playing rugby at the age of 13 after being introduced through tag rugby. In 2010, I was select to represent Japan on both the fifteens and sevens teams. Beginning with the Asia Rugby Championship, Universiade, and World Rugby Sevens Series, I have competed in numerous tournaments, including the 2013 Rugby World Cup Sevens and the 2017 Rugby World Cup (fifteens).
PURPOSE
Goals for this season
Starting from "0 (ZERO)".
I intend to absorb many things and not get caught up in fixed ideas, reinventing myself.
RESULTS
Main achievements
2017

Rugby World Cup 2017 Ireland (15-a-side): 11st Place

2017

HSBC World Rugby Sevens Kitakyushu (7-a-side): 12nd Place

2017

Okinawa Sevens (7-a-side): 5th Place

2016

Rugby World Cup 2017 Asia/Oceania qualifying round (15-a-side): Winner

2016

Asia Rugby Sevens Series Sri Lanka (7-a-side): Winner

2016

Asia Rugby Sevens Series Korea (7-a-side): Runner-up

2016

Asia Rugby Championship (15-a-side): Winner
PLAYERS INFO
*Japanese Version Only