NTT HEROES
Head for the world stage! NTT Athletes
Our Athlete
I want to show the world our speed and offensive power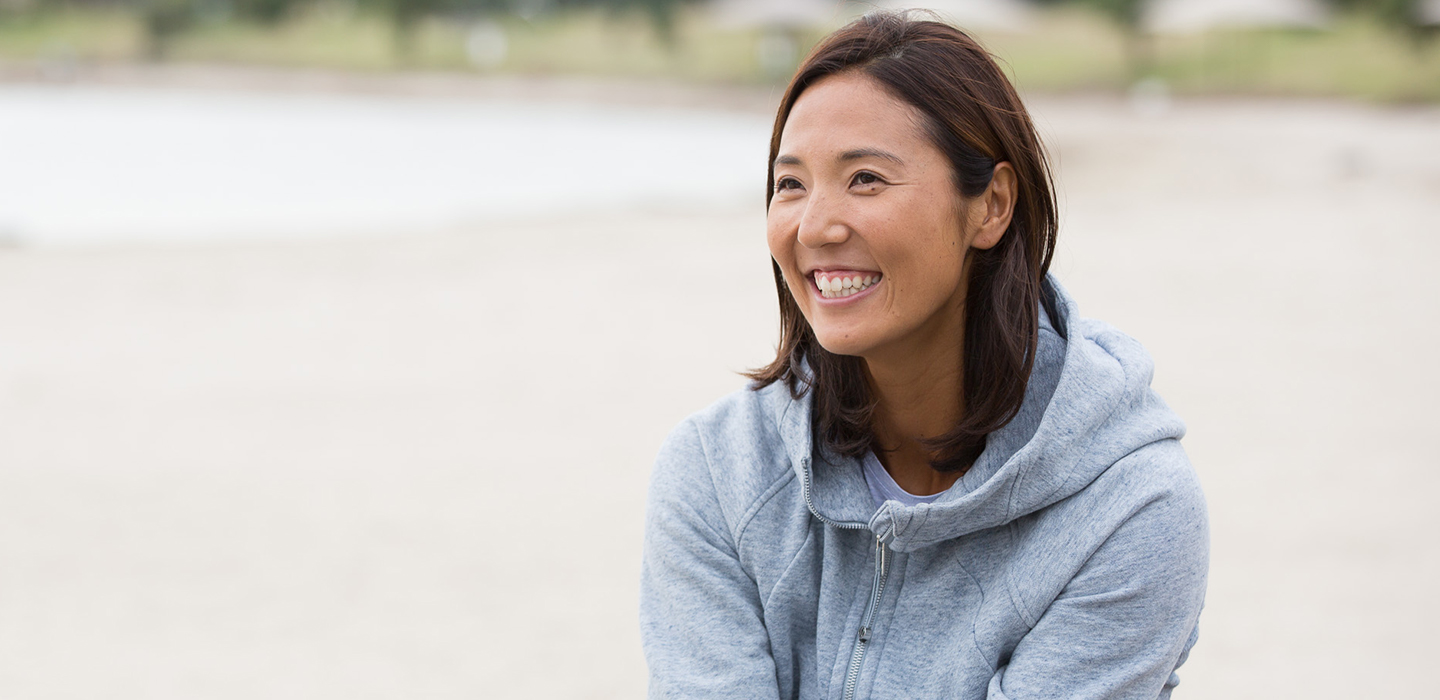 Akiko HASEGAWA
Beach Volleyball
Switching from being a top indoor volleyball players to being a beach volleyball player, Akiko HASEGAWA has long been active in volleyball championships both in Japan and overseas as a very fast receiver. Paired with Azusa FUTAMI since 2017, she has been training night and day in order to gain selection in 2020.
In this interview, we discussed many enjoyable topics including Ms. HASEGAWA's introduction to beach volleyball, her competitions and pair, and her private life with husband Yoshiumi HASEGAWA—who is also a beach volleyball player—as well as "ultraviolet ray countermeasures", which is a concern for women especially.
Runner-up at her first championship! Into the world of beach volleyball
You were previously active as an indoor volleyball player, even serving as captain of the NEC Red Rockets in the Volleyball Premier League. You retired from indoor volleyball in April 2014 and switched to beach volleyball the following year, but how was it that you began playing beach volleyball in the first place?

After retiring from indoor volleyball, I worked as an office clerk. I was not physically active; I was just a normal office worker.
About six months later, my body was beginning to stiffen a bit, and so I was thinking about taking up another sport. Around that time, I just happened to hear from a friend who was a professional beach volleyball player that she was entering an upcoming competition, and without thinking I suddenly felt, "I want to enter!" That competition was how I was introduced to beach volleyball.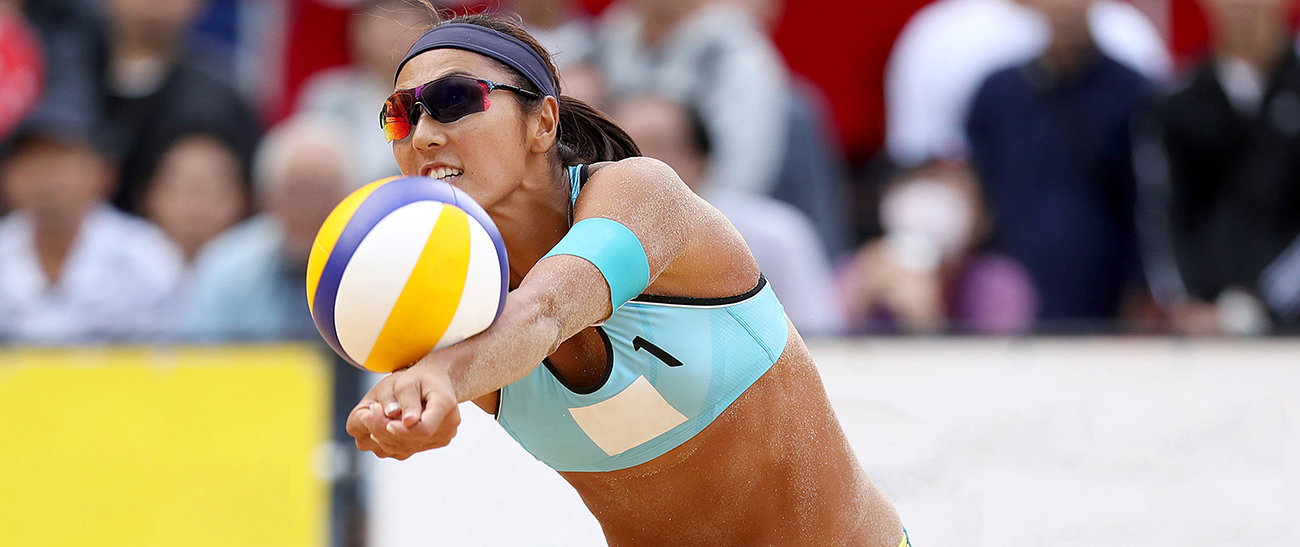 Despite the six-month blank, your first experience of beach volleyball was a competition? What was the result?

The competition was a Japan tour championship (the Kawasaki Mayor's Cup). I was paired with my friend, who was a professional player, and we were the runners-up.

That's amazing!

Participating in that competition showed me how fun and interesting beach volleyball is, so I decided that, if I was successful at the trials for national team selection being held the following month, I would take up beach volleyball in earnest.

So you were selected for the national team and decided to give beach volleyball your all.

I decided that I would take up beach volleyball seriously, and so I quit my job. The manager of the company's volleyball team was opposed to my decision, but I said, "It's now or never, so this is what I'm doing!" I kind of went my own way. (Laughs)
However, unlike indoor volleyball, for which I was able to practice and play in a good environment, beach volleyball is played in pairs and so if you don't get on well with your partner you can lose them and be left alone, which means that you cannot play in matches. The situation is hardly what you would call "blessed", and I think that that was what my former team's manager was worried about.
In contrast, however, beach volleyball has the attraction of allowing you to do whatever you want.

So beach volleyball excites your athlete's instincts?

Yes, it does. I think I'm probably the type of person who enjoys just about anything. Also, I wouldn't continue playing if I didn't enjoy it.
I enjoy having a place where I can work with all my might to do my very best. I think that when you make up your mind to do something, you can enjoy whatever that is accordingly. It just happened to be playing beach volleyball that appealed to me at that point in my life.
Rather than worrying about things before I embark on something, I would prefer to try various things and then feel, "Oops, that was a fail!"
The same goes for food, I think. I like to try foods and then feel, "Ew, I didn't enjoy that!" or "Mmm, that was delicious!" I'm the type of person who likes to "try and experience". (Laughs)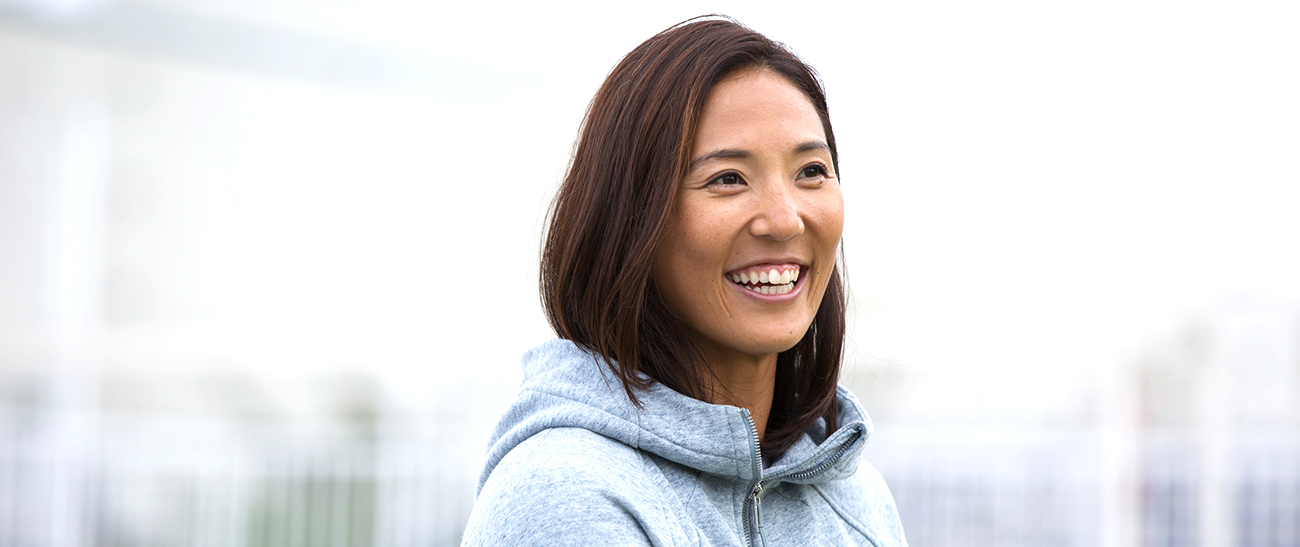 "We are an offensive team, but overseas teams are even more aggressive."
Tell us about your relationship with Azusa FUTAMI, who has been your partner since 2017. How did you come to form a pair with Ms. FUTAMI?

A large international competition had just finished, and I was thinking about sponsors and organization moving forward. It was during this time that Ms. FUTAMI approached me.
She is tall and powerful, and I also find her earnestness very appealing. When you form a pair, it's a one-on-one relationship, and so if you do not have a certain degree of respect for each other on a human level, it is difficult to sustain the pair in the future. In that respect, I thought that with Ms. FUTAMI we would be able to train and play together seriously.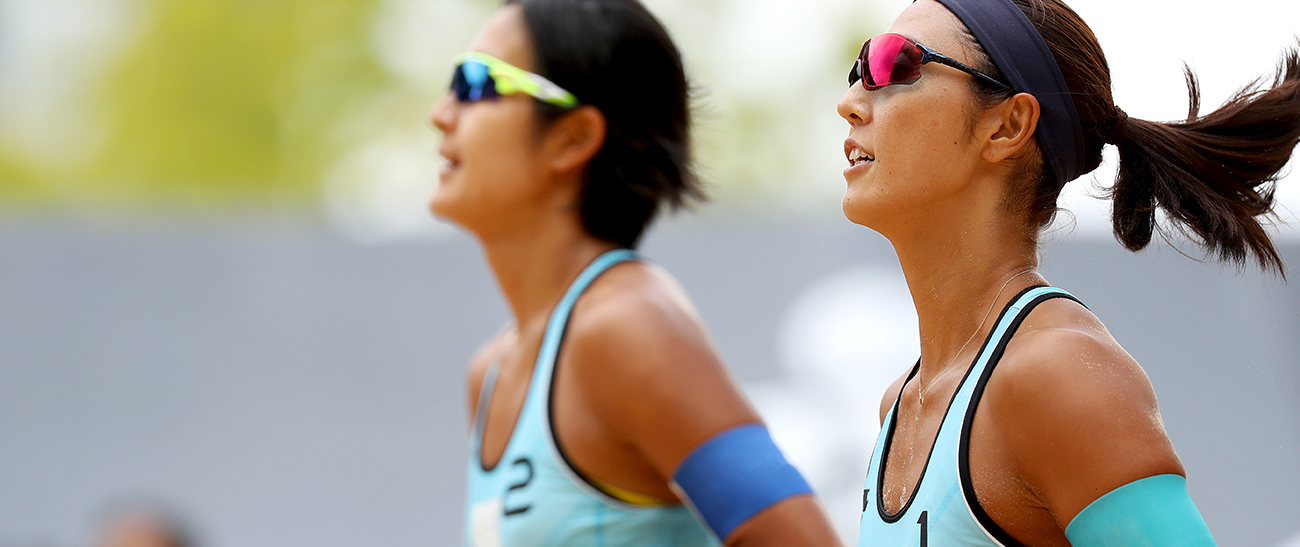 Watching the two of you play, I thought that you and Ms. FUTAMI made a very aggressive team.

That's right. We are an offensive team. However, overseas teams are physically much larger than we are and even more aggressive. It is not unusual for players to be more than 190 cm tall.

Is there any special practice or training that you do?

We train three or four times a week. Our policy as a pair is to focus heavily on training. Both Ms. FUTAMI and I feel that our bodies are sharper, and we move better when we've been training, and so we train continuously.
I am the type of person who proactively trains full-on, and I hold weights of around 120 kg when I do squats. I am also conscious of doing training that strengthens my back. Since it's easy to build muscle on the front of the body, you need to train the muscles on the back of your body, or they will weaken. If your posture is bad you cannot return the ball or move your body, and so it is extremely important to maintain good posture in order to be able to play fast and effectively.
Accordingly, I do a lot of training on the back of my body, such as my bottom, hamstrings, and back.

So when we're watching you play, we should pay attention to your back.

That's right. Please pay close attention to my physical beauty. (Laughs)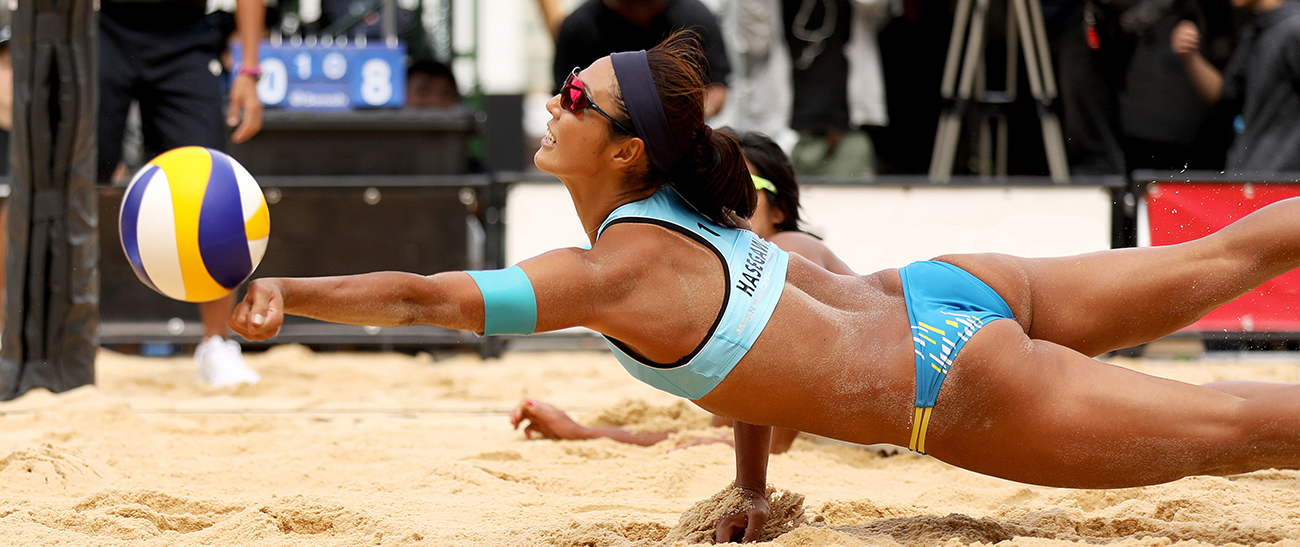 Age-wise, Ms. FUTAMI is seven years your junior; is your relationship like that of sisters, with you, the older sister, taking the lead?

I don't think that's the case. We don't have a hierarchical relationship. But since I am older, perhaps Ms. FUTAMI is a little respectful. I try not to act too much like an older sister.

Is your relationship also different from a friendship?

Since I think we are partners walking together towards the same goal, our relationship is probably a little different than that of two friends. In beach volleyball, it's not good for partners in a pair to be too close like friends.

There must be a huge difference between playing in a team of six and playing in a team of two in terms of relationships and communication.

There certainly is. In particular, with beach volleyball it is often the case that one player in the pair is targeted by the opposing team and you lose the match.
When the ball goes too much to one player and the person makes a lot of mistakes, the other player tends to blame the partner when the pair loses. I understand this from my past experience, and so I take care to ensure that does not happen.
Accordingly, it is not good to be over-mindful of your partner, and it is not good to be under-mindful of the one, either. We are currently building our team through a process of trial-and-error, testing various ways to do things.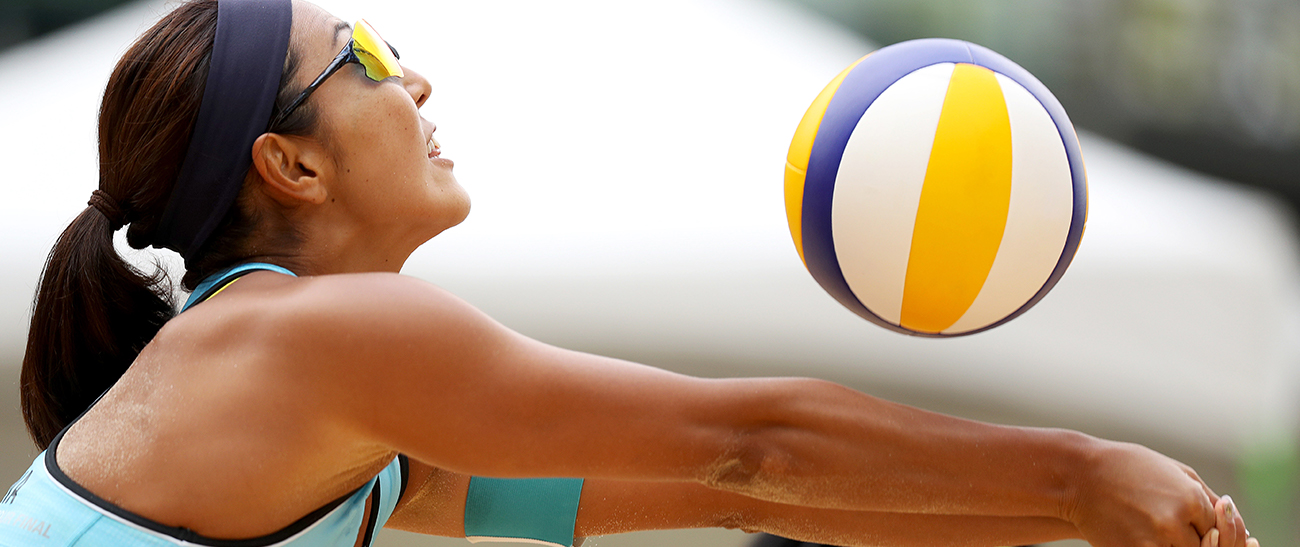 Selections will take place next May, won't they?

Yes! I'm really looking forward to it. Since our team is still at the development stage, I think that in around six months we will be a really great team, and I feel there is so much that we will be able to do. Sometimes we don't do so well, but if you look at our performance overall, I think we're improving.

In 2019, you won the Shinagawa Open tournament in May, the All-Japan Women's Beach Volleyball Championship in August, and the Miyakonojo tournament in September. Isn't it possible to say that your team is definitely improving?

Yes, I think we are improving, and so if we continue to train, I am sure that we can become a great team. Our team has already improved, and so we simply need to keep going.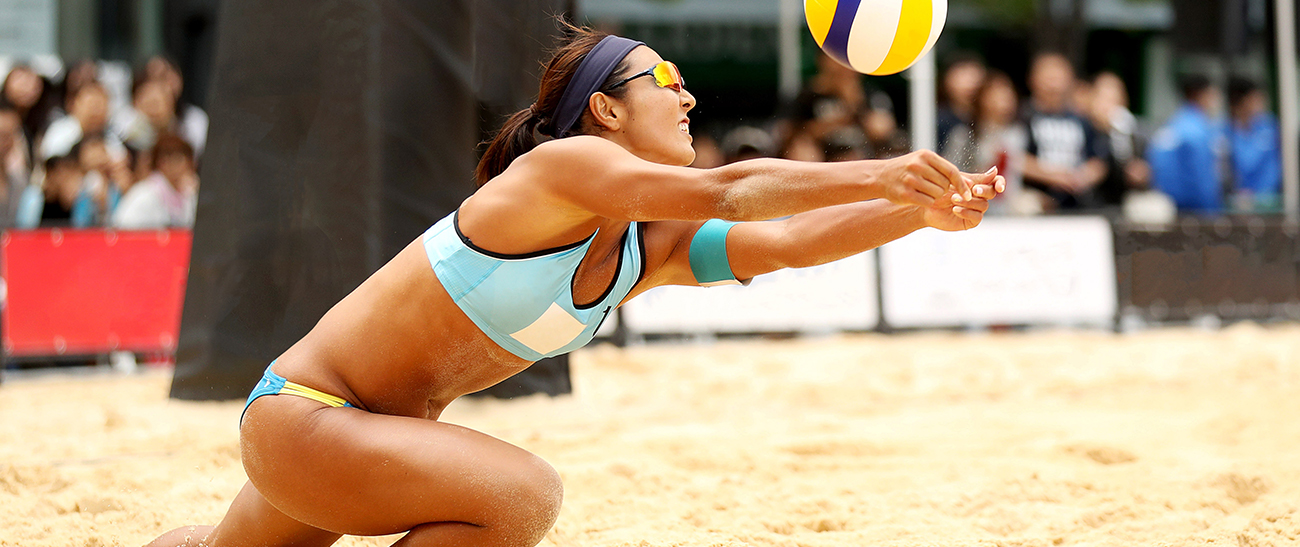 "Conversations with my husband are like information-gathering missions."
Your husband, Yoshiumi HASEGAWA, is also on Japan's national beach volleyball team. Do you talk about competitions at home?

We do! We certainly do! We watch videos of each other's matches.
When one of us is watching their own match, our conversations are like, "See, that was a good move, wasn't it? Take a look!" or "Look! I did this here, what do you think?"

That's marvelous. But don't you get into arguments when one of you is critical of the other's play?

No, we don't. That is, we play different positions. I'm a receiver and my husband is a blocker. And also, men's beach volleyball and women's beach volleyball are different.
In women's beach volleyball, there can be a lot of passing and rallies, but in men's volleyball power is extremely important as the players make lots of showy moves. Bam! That's probably why my husband and I can calmly accept each other's opinions and advice. We both know that we are doing our very best, and we respect each other as athletes.
Moreover, when I'm watching him made a play that failed and ask, "Why did you play like that?", he will say something like, "Well, the other team distracted me…" and it gives me hints for my own play. I think to myself, "Oh, I see. I think I'll try that against my rivals." Conversations with my husband are all like information-gathering missions.

When you are at home, do you cook?

Yes, I like to cook. My husband makes coffee for us every morning. We grind our coffee beans in a mill, and the coffee is delicious!

Since you are both athletes, I suppose you are both conscious of what you eat…

Protein, definitely. We are very conscious of the need to consume large amounts of protein. Apart from that, we are careful to eat a balanced diet.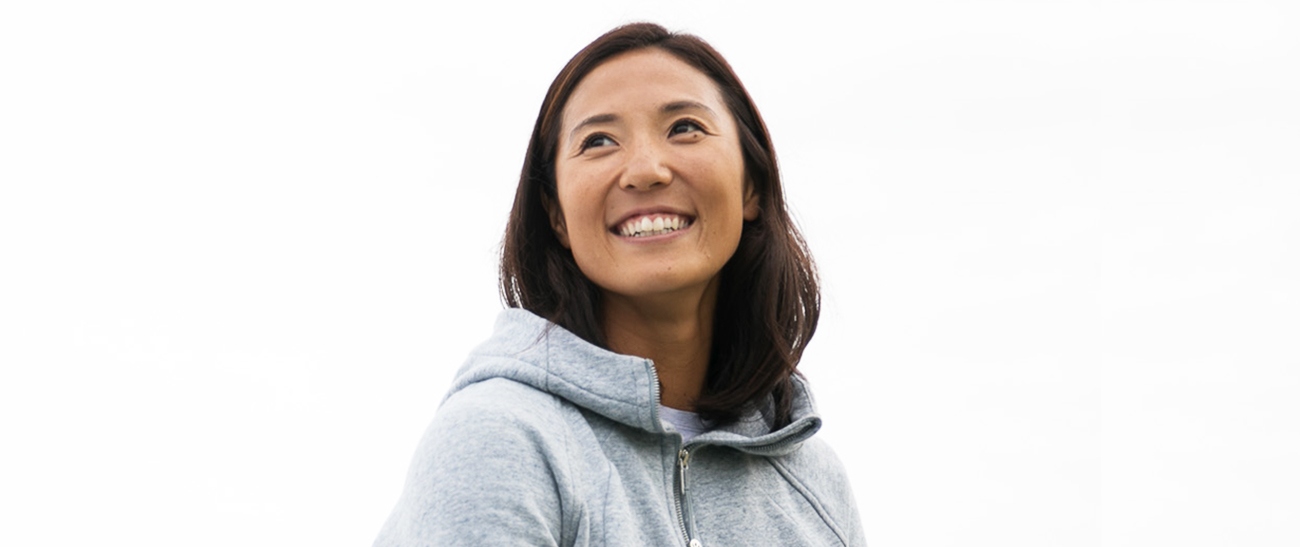 Neighborhood grandma's secret formula "homemade face pack"
Since beach volleyball is an outdoor sport, ultraviolet rays are a concern. Is there anything special that you do to care for your skin?

I always wear sunscreen. I am especially careful to slather my face with sunscreen. I also put sunscreen on my body, but  it quickly comes off with the sand and perspiration. Also, if you put on too much sunscreen, it gets on the ball, so it is difficult for the next person to toss. On days when the weather is really sunny, I wear sunscreen on my body, but when there is not a lot of sunshine, I give my body a miss.
However, I always wear sunscreen on my face (Laughs). My skin really dries out when I get even a little tanned. Oh, that's right! Recently I have using a homemade face pack to counteract dryness.

A homemade face pack?

An elderly lady in our neighbor with whom I am acquainted has beautiful skin, and when I asked her the reason, she told me about it. It's a homemade face pack containing sake lees and soymilk mixed with a hand-mixer. Mixed together these ingredients have a creamy consistency. I apply the pack after washing my face and leave it on for a few minutes before lightly washing it off. That's all!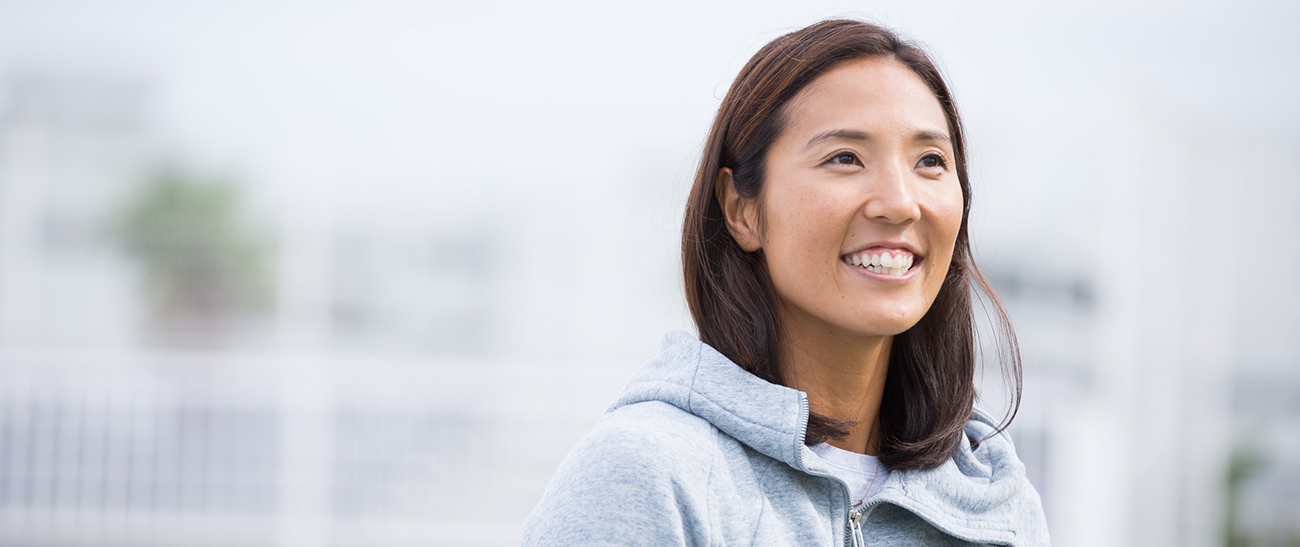 "I want people to experience the ambience of the sand flying about, and the sound and speed of spikes."
What are the highlights, the points to watch for, in a beach volleyball match?

 I think that beach volleyball is a sport in which the players and spectators can come together and enjoy as one. There is also music being played and a DJ, and so I think the main point is that spectators can also watch and enjoy the matches and excitement together with the players.

So, naturally you want people to come and watch

Of course. When people come and watch matches live, they can experience the ambience of the sand flying about and hear the players breathing, and so I think that they can enjoy the matches even more. There are many things that spectators can physically experience for themselves, such as the surprise at play ("Wow", how did they get to that ball?!" or the sound and speed of spikes.
Also, since beach volleyball is an outdoor sport,  I think that spectators can also sense, "Ah, the wind changes the movement of the ball!" when they can actually feel the wind blowing themselves. When spectators come to understand techniques using the wind to drop the ball or other highly calculated moves, I think that the sport becomes even more interesting for them.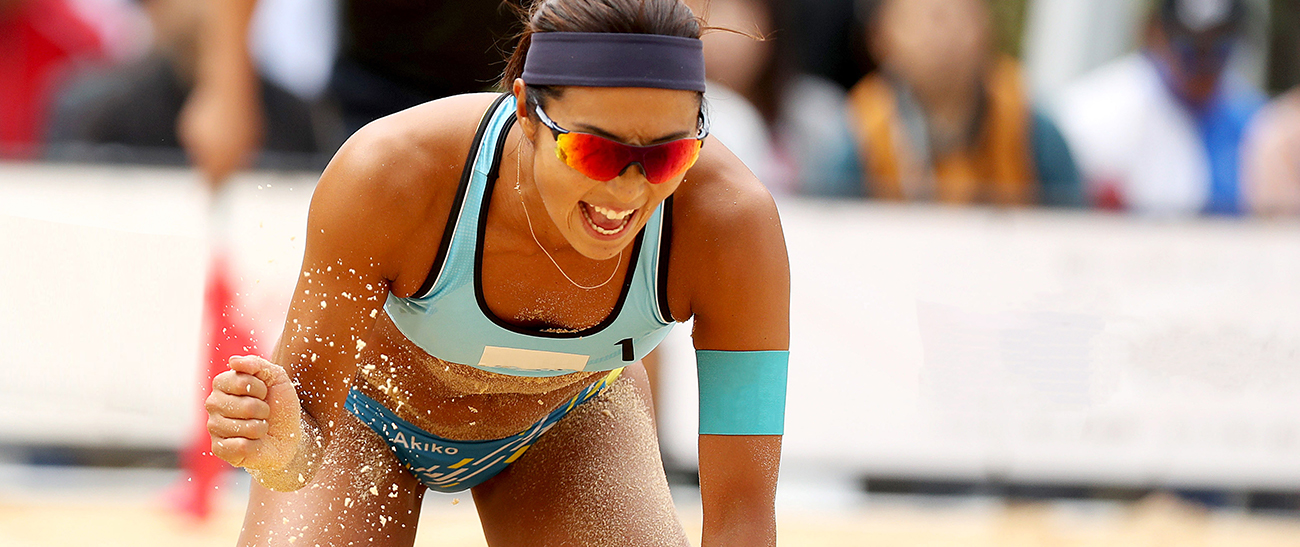 Are there any of your own moves or techniques in particular that you would like people to watch? 

Since I am a receiver, I go on the offensive after I receive the ball, and so I would like people to watch our aggressive play, our speed—the offensive power that is our team's strength. I am sure they will enjoy the matches even more!

And your back.

Ah, yes! My back! (Laughs) My body is in great shape, so by all means, please take a look!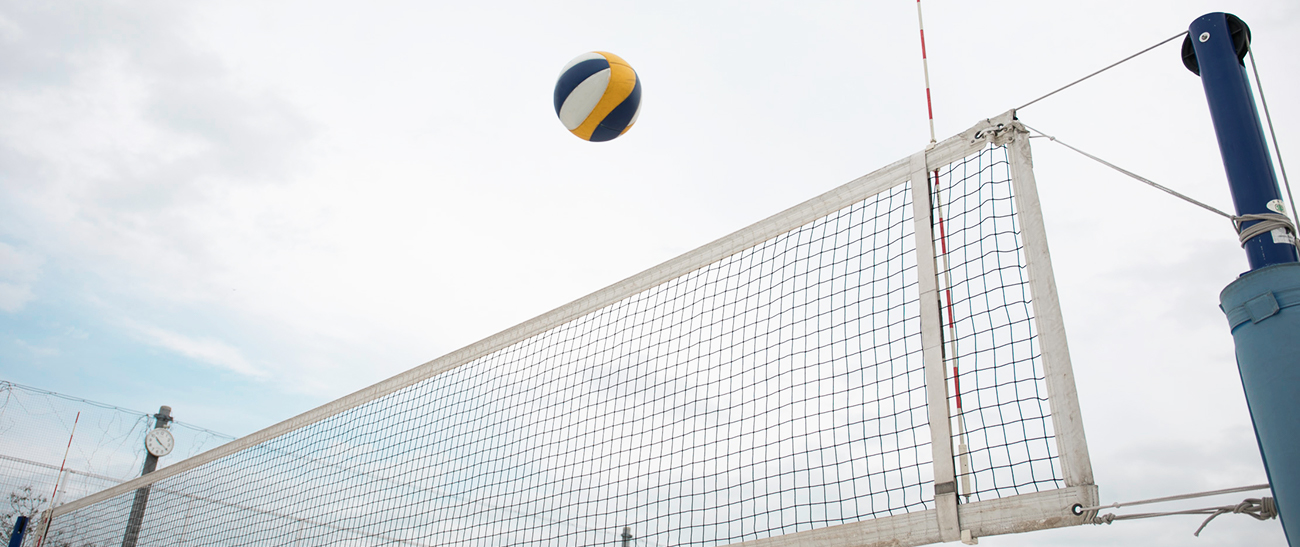 With her always-proactive outlook, Ms. HASEGAWA's comments and facial expressions were clear and positive. Her dynamism in immediately trying new things that seem interesting and attitude that constantly taking on new challenges is fun are encouraging for not only athletes but everyone.
In 2020, we definitely want to watch Ms. HASEGAWA's play as she goes up against the world's strongest players in Tokyo. In the lead up to that day, we want to give her our full support.
National team trials are being held in May 2020!
The Women's Beach Volleyball National Team Trials are scheduled to take place at the special venue in front of the JR Takanawa Gateway Station on May 23 and 24, 2020. Please give Ms. HASEGAWA your support.
She took up indoor volleyball at the invitation of a friend when she was in grade 3 of elementary school. After attending Bunkyo Gakuin University Girls Junior & Senior High School and Aoyama Gakuin University, she joined the NEC Red Rockets, contributing significantly to the team winning two consecutive titles in the Volleyball Summer League. In 2015, she switched to beach volleyball, winning several championships on Japan's top tour and placing in several championships on the international tour, standing alongside world champions on the podium.