Akira Shimada, President and Chief Executive Officer, Representative Member of the Board
Also in attendance:
Kazuhiko Nakayama, Senior Vice President, Head of Finance and Accounting Dept.
Takashi Taniyama, Senior Vice President, Head of Corporate Strategy Planning Dept.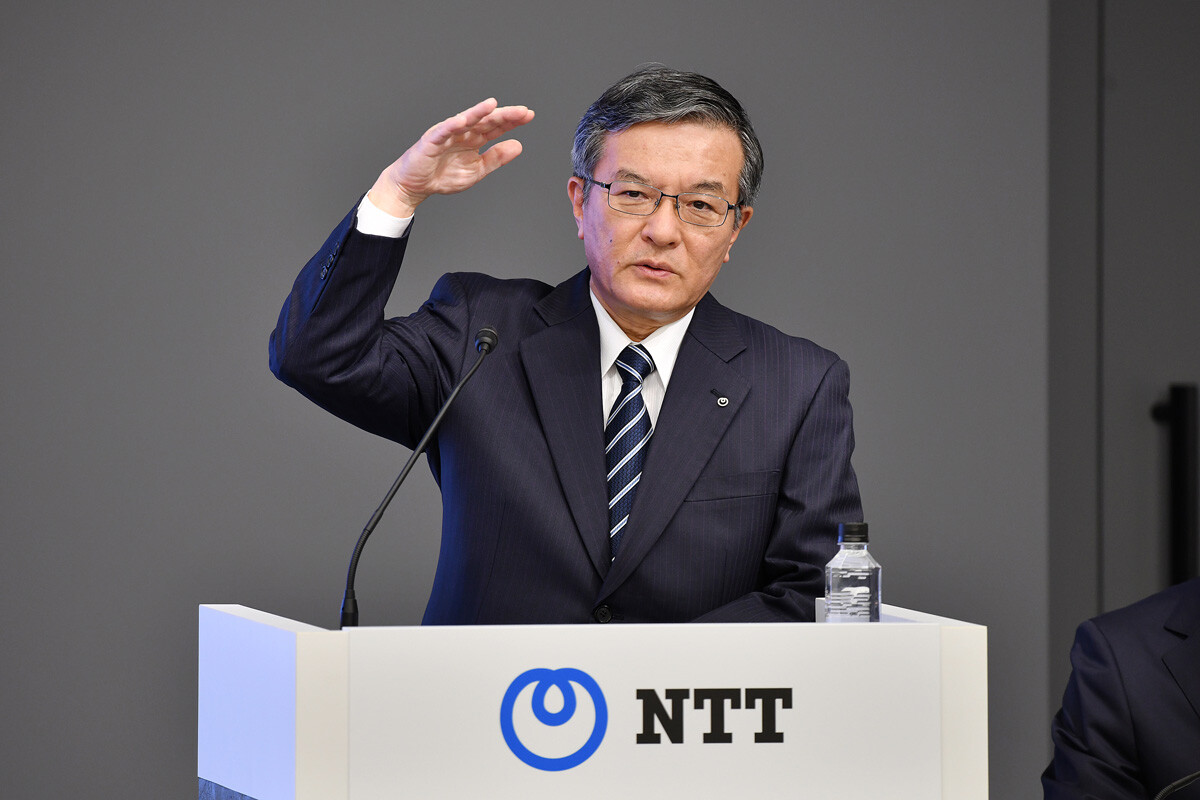 (Akira Shimada)
First of all, before I explain our financial results, I would like to once again deeply apologize for the inconvenience caused to many customers due to the recent failure of NTT West's telecommunications equipment. To fulfill its social responsibility, the NTT Group will continue to strive to provide reliable and stable telecommunications services and take measures to the prevent recurrence of such an issue.
Now, I would like to explain the Financial Results for the Second Quarter of the 2022 Fiscal Year.
Our operating revenues for the 2022 fiscal year increased year-on-year, our operating income decreased, and our profit for the period increased. Our operating revenues and profit for the period reached record highs for the second quarter. Our operating revenues increased by 398.5 billion yen year-on-year to 6,286.2 billion yen due to factors such as increased operating revenues in companies such as NTT DATA and NTT Ltd. Around 135 billion yen of that 398.5 billion yen was the result of a favorable exchange rate.
Operating income was 996.5 billion yen, a decrease of 12.7 billion yen year-on-year, as we were not able to outweigh the impact of factors such as soaring electricity charges, although there was an increase in operating income due to the increase in sales. Since the first half of the fiscal year, we have been promoting cost-reduction measures to cover the impact of rising electricity prices.
 Profit for the period increased by 20.8 billion yen year-on-year to 696.6 billion yen due to one-off factors such as corporate tax. The overseas operating income margin improved by 1.1 percentage points year-on-year to 5.8%, due to increased operating income accompanying increased sales at NTT DATA and NTT Ltd., as well as cost reductions through structural reforms at NTT Ltd., among other factors.
I'll now announce the operating revenues and operating income for each segment (which you can see on page 5).
In our Integrated ICT Business Segment, operating revenues increased. The impact of price cuts in the consumer business was offset by increased sales and cost reductions in the corporate business and smart life business, resulting in an increase in operating income compared to the previous year.
In our Regional Communications Business Segment, operating revenues and operating income decreased year-on-year due to the absence of temporary factors that increased sales compared to the previous fiscal year, as well as the impact of higher-than-expected increases in electricity prices. Going forward, we expect to achieve our annual plan of increasing sales and operating income year-on-year by accelerating efforts to improve cost efficiency and increasing operating revenues from SI and growth businesses.
In our Global Solutions Business Segment, NTT DATA recorded an increase in operating revenues and a decrease in operating income compared to the previous year due to increased investment in growth and the impact of unprofitable projects in Japan, although sales increased due to robust demand for digitalization. At NTT Ltd., operating revenues and operating income increased year-on-year due to increased revenues from the expansion of high-value-added services and cost reductions through structural reforms. In terms of segment total, both operating revenues and operating income increased year-on-year.
In the segment encompassing other businesses such as real estate and energy, operating revenues increased year-on-year due to an increase in electricity brokerage at ENNET and an increase in operating revenues from electricity charges, reflecting soaring fuel prices.
Next, I have five news items to share (outlined beginning on page 7).
First, I would like to explain our plan to increase salaries for the new graduates hired by our group. To acquire highly skilled human resources, we would like to raise hiring salaries at major NTT Group companies from April 2023. In addition, we will start hiring at a higher pay level according to the level of expertise held at the time of hiring. For example, in the case of university graduates, we would normally increase the monthly salary by 14% to 250,000 yen. I will refrain from providing a detailed explanation at this time, but as shown on the next page, from April 2023, we will review the personnel and salary system for regular employees and change it to a system that raises salaries and promotes according to performance and degree of expertise.
Next, I would like to explain our establishment of a new company in the human capital field (outlined on page 9). NTT HumanEX Corp. will be established in December 2022. This new company will provide everything from consulting to system solutions through the analysis of human capital data. Based on the NTT Group's pioneering knowledge of human capital reform, we will utilize the NTT Group's human resource data platform and AI analysis to create an environment that encourages corporate work style reform and improves engagement and career development for each employee.
I will now discuss our development of technology that can realize high-speed wireless communication under the sea (outlined on page 10). We have developed two technologies to realize high-speed stabilization of underwater acoustic communication: "spatio-temporal equalization technology" and "environmental noise immunity improvement technology". We have established a technology that suppresses the effects of delayed transmission waves caused by reflections from the sea surface and noise caused by marine organisms in shallow waters at a depth of about 30 meters. Additionally, we have successfully tested a transmission speed of 1 Mbps over a distance of 300 meters, which is more than 10 times faster than before. Using these technologies, we will realize a wireless-controlled underwater drone. In the future, we will proceed with demonstration experiments for practical use, aiming for utilization in the fisheries field, such as infrastructure inspections of port facilities and marine environment surveys in the aquaculture industry.
The next topic I will address is the progress of our medium-term management strategy (outlined on page 11). I would like to highlight three main points. First, NTT DOCOMO launched a new company in October, NTT QONOQ, INC., to further promote the XR business within the NTT Group. Second, based on the business integration plan of NTT DATA and NTT Ltd. announced in May of this year, NTT DATA, Inc. was established in October as an overseas operating company under NTT DATA. Third, NTT East and NTT West plan to reduce wholesale fees for Hikari services in fiscal 2023 and fiscal 2024 to stimulate further demand for Hikari services.
Finally, I would like to announce that today's Board of Directors resolved to buy back shares with an upper limit of 150 billion yen in total (outlined on page 12). This move should improve capital efficiency and enhance shareholder returns.
This concludes my presentation.
Q&A
I would like to know the reasons for increasing the salaries of new graduates by 14%.

First, our IT and ICT business fields are becoming extremely competitive. In addition, digital human resources are now in high demand not only within these fields but also in various others. In a sense, we have to make our company attractive to work for. Also, there is a general recognition within most companies that it will be necessary to raise the salary level of young employees a little. Based on these two recognitions, we are raising the hiring salary for fiscal 2023.

Even though you are raising the salaries of new hires by 14%, I would like to make sure that the company will not reduce the salary of young employees (for example, 2nd and 3rd-year employees) to compensate for that later on down the line. Will 2nd and 3rd-year employees also receive raises of the same amount?

Other young employees will also receive raises. We will not do anything to reverse the raises later on in an employee's career. Of course, there will be a new personnel salary system that will be introduced from April next year that is based on specialization. The salary for those who have joined the company, particularly in April 2023 or later, will be based on the criteria for promotion that focuses on specialization. So, in that sense, from April 2023 onwards, people with high abilities will be able to be promoted in October, and their salaries will increase accordingly.

You mentioned that the decline in operating income this time was partially caused because the company could not fully outweigh the impact of higher electricity charges caused by soaring energy prices. You said that measures are being considered in the future to address this issue, but what kind of measures are these and how do you see them taking effect in the second half of fiscal 2022?

As for the soaring price of electricity, if we look at the actual results, it was about 30 billion yen for the entire group in the second quarter. The reality is that electricity costs are about 40% higher year on year. Therefore, on an annual basis, we expect to see an impact of about 60 billion yen, which is about double what we usually pay for electricity. We can't do anything about the electricity bill, so naturally, we are thinking of absorbing it by reducing costs in various other fields and improving efficiency.

In terms of exchange rates, the depreciation of the yen had the effect of increasing operating revenues by 135 billion yen this time, but I wonder if there was an impact on the operating income. If so, if the yen weakens further in the future, it may affect operating income. Is there a possibility of further depreciation of the yen having a positive effect on NTT's profits?

As for operating income, both income and expenses are naturally affected by foreign exchange rates, so the impact on operating income is minimal. Of course, operating income would go up, but it would not have so much effect as operating revenues. Therefore, I think that it is fine not to think that there is too much of a positive effect.

Concerning roaming, at the previous Softbank conference on the "Summary of Earnings Results," President Miyakawa said that KDDI President Takahashi directly reached out to hold a discussion with him on addressing communication failures, such as the ability to switch to another company if a communication failure occurs and one company becomes unusable. I would like to know if NTT and NTT DOCOMO have received an offer to hold such discussions from KDDI and other companies and are currently considering this system.

This is kind of a stand-alone conversation, but when I met with KDDI President Takahashi and SoftBank President Miyakawa, it was clear that the roaming issue is very important, and the government is currently holding a review meeting to address it. At this review meeting, we are talking about cooperating so that we can take appropriate measures. Therefore, I would like you to think that this is not just a conversation between KDDI President Takahashi and SoftBank President Miyakawa.

Regarding roaming, I would like to know if there are any specific instructions to NTT DOCOMO, or if there are any specific actions on site.

Since NTT DOCOMO participates in government review meetings, I think that discussions regarding this issue will continue to evolve. However, roaming alone cannot solve the problem. For example, other than roaming, KDDI and Softbank also mentioned about offering services like dual SIM. I think it is also important to release new services such as products that skillfully combine MVNOs.

Corporations usually have an alternative backup on the network line, so I think it's quite possible that we will also support mobile. In the government's roaming review meetings, we are discussing the issue considering a wide range of perspectives, so I would like to keep an eye on how these discussions evolve. However, I think that the higher the specifications are, the more time it will take. Therefore, I think that it is necessary to solve the problem step by step.

The other day, SoftBank President Miyakawa stated that he would stop using 1-yen smartphones. I would like to know if NTT is trying to follow suit.

I completely agree with what SoftBank President Miyakawa said. I don't think it's a good business practice. Currently, the Japan Fair Trade Commission is investigating various matters, but I think that resale is the biggest problem, and it is not good for the society.

A member of the Japan Fair Trade Commission said that it was a bit strange that a new product was cheaper than a used one and suggested that something should be done about this. I would like to know if there is a specific initiative you have in mind to address this issue.

I don't have any concrete initiative in mind right now. Of course, I don't think it's a good condition for a new product to be cheaper than a used one.

Regarding the increase in hiring salary, it is said that it will be 250,000 yen for university graduates from April next year, but I think that there are some variations at present among major companies. Please tell me if my understanding is correct that the major companies will offer a new starting salary of 250,000 yen.

As for hiring salaries, each company decides according to the situation of the market. Therefore, we are planning to raise the base to 250,000 yen for these main companies this time, but if there is a company that wants to raise it further, it will be done at the discretion of that company. If we increase hiring salaries, the gap between the starting salary and the next highest pay grade will narrow, which will likely lead to a lack of motivation, so I think there is a limit to how much a given company can raise the starting salary.

I think there will be competition to secure human resources across industries, but I wonder if this increase in starting salaries and new salary system that will be implemented from next fiscal year will enable companies, including major overseas companies, to be competitive enough. If you feel there is something else that could be improved, please tell us about that as well.

I would like people who join our group in the future to evaluate whether it will be competitive with this amount of money, but it is important to promote DX in our IT field. Manufacturers, banks, and other trading companies are all focusing on this, so I think we are in a competitive environment. Therefore, we sent out a message that we would like to acquire excellent people amongst our competitors.

I would like to know what kind of organization NTT as a whole is aiming to become.

As I said when I became president, I want NTT to become a company that provides customers with new experiences, value, and excitement. For that reason, we recognize that boosting the motivation of our employees is the most important thing in creating services and products, so I think this increase in hiring salaries is one factor that will also increase employee motivation.

Right now, direct communication between smartphones and satellites is gaining momentum in the industry, and in the case of NTT, they have teamed up with SKY Perfect JSAT to create a company called Space Compass. Space Compass is saying that they will begin HAPS communication in 2025, but on the other hand, SoftBank's president Miyakawa has been skeptical about HAPS recently, saying that it might be quite difficult. I would like to know if NTT can achieve the HAPS business in 2025.

I want to achieve it, even though there are many challenges. Regarding the satellite business, it is still a challenging field. For example, Space Compass is currently trying to achieve broadband data communication between satellites, but I think this is also quite a challenging service development. As you say, there are quite a lot of issues with services in outer space. Therefore, I think that it is necessary to steadily commercialize it while the research and development team firmly backs it up. However, we cannot accomplish something great unless we set a goal and a timeline, so we want to do it in 2025.

I heard that the impact on electricity costs is about 60 billion yen a year, but is it still at a level that can be dealt with by reducing costs and improving efficiency in the first place? In addition to that, please let us know if there are initiatives or measures that you would like the government to take regarding rising energy costs.

Regarding this year's electricity bill, we would like to absorb it properly through our own business, so we are not thinking of raising the prices of our services. However, if we think that this trend will continue for many years, there will probably be a limit to what we can absorb through our business. In that sense, the power problem has a tremendous impact on the national economy. However, the background of this issue centers around the problem of importing energy, and of course the problem of nuclear power plants. We would be very grateful if the government would work hard on energy policies to ensure a stable supply of electricity.

Regarding salaries, I think that there is a background of high prices, but I would like to know your thoughts on salary increases that affect not only starting salaries but also all employees due to the high prices.

Today, when I was watching TV at noon, the news was about salary adjustments in response to inflation, but right now I don't think about what we are doing as offering inflation allowances at all. I believe that salary increases are extremely important. I think that one of the major issues is that salaries do not rise even amid Japan's economic growth. While thinking about it, I would like to have a sincere discussion with the labor union in the spring of next year. Therefore, I have no intention of saying that I will not raise salaries anymore, and since I have been raising salaries for many years, I would like to firmly continue to raise salaries. I would like to respond after considering the various pay grades.

I would like to know whether the level of salary increases will be greater than what has been achieved up until now, or whether you intend to increase them.

This is still being negotiated with the labor unions. I would like to have a serious discussion with the union.

The strong performance of NTT Ltd. was a factor behind the increase in operating income in the global solutions business. I would like to know about specific regions and businesses that performed well.

High-value-added services are growing considerably. Overall, we achieved the ratio of high-value-added services to total sales has reached 47%. Our target for this fiscal year is 42%, so we have exceeded that, but the biggest factor is the data center business. Compared to the previous year, the growth is about 160%, and the data center is the driving force.
Although we have not announced this, orders for data centers are currently at over 90% of our annual plan. Therefore, I think that we have to increase the scale of investment a little towards the third quarter. The fact that data centers are the driving force and are being taken over by other businesses is a major factor in NTT Ltd.'s revenue growth.