Overview
Business Activities:
Real estate, finance, construction / electric power, system development, advanced technology development, etc.
Main Companies
NTT Urban Solutions, Inc.

NTT Anode Energy Corporation
Composition by Segment for the Fiscal Year Ended March 31, 2020
Details of Major Initiatives
Real Estate Business
We promoted our mainstay office and commercial business, residential business, and global business through NTT Urban Solutions, Inc., a company managing NTT Group's real estate business. In Japan, we were involved in urban development projects in Fukuoka, Sendai, and other cities.
Finance Business
We have developed financial services such as leasing and financing to facilitate the popularization of ICT devices and resolve social challenges revolving around the environmental, educational, and medical fields. Furthermore, we provided billing and collection services for telecommunication service bills, and credit card transaction settlement services.
Electric Power Business
Led by NTT Anode Energy Corporation, which promotes smart energy business in NTT Group, we worked on initiatives for a safe and secure society that uses natural energy and finite energy resources efficiently without waste, and is resilient to natural disasters and other risks.
System Development Business
In preparation for digital transformation, we have begun developing and deploying a cluster of IT systems that will become the new service platform. We were also engaged in initiatives to develop solutions for resolving societal issues, such as urban security and the revitalization of regions.
FOCUS
Collaboration in Renewable Energy and Storage Battery Businesses
In December 2019, NTT Anode Energy Corporation reached an agreement with Mitsubishi Corporation to examine possibilities for collaboration in the energy field as part of their business alliance for the promotion of industrial digital transformations.
Specific Initiatives
1.Renewable Energy Projects
The companies will investigate the possibility of joint investment in domestic and overseas renewable energy projects and of supplying electricity to NTT Group companies.
2.Energy Management Businesses with Electric Vehicles and Storage Batteries
Mitsubishi Corporation and NTT Anode Energy are looking into the possibility of developing microgrid platforms* that incorporate electric vehicles and storage batteries, new decentralized power businesses that use microgrid platforms, and new energy solutions businesses that utilize the business networks of both companies.
Through these initiatives, we will combine NTT Group's ICT and direct current supply technologies with the Mitsubishi Corporation Group's power business insight and expertise to provide customers with clean power options and the kind of energy-management services that will make them more resilient to change in the energy landscape.
*Business platforms that provide optimal energy solutions to customers by organically linking storage batteries, electric vehicles, and chargers throughout a given area via ICT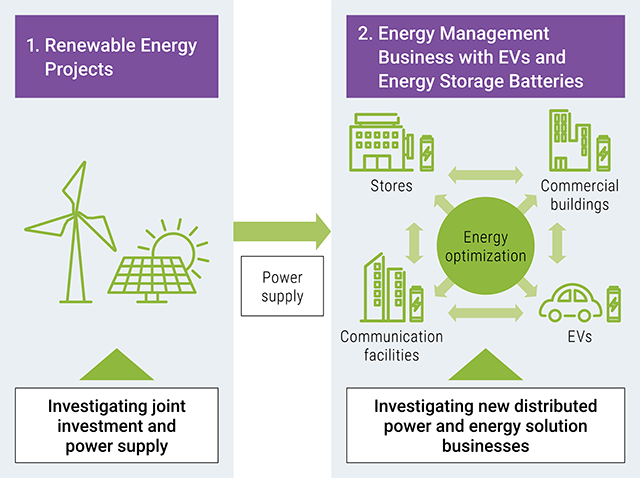 Launch of Corporate Wellness Support Service--Support for Health Management via Big Data Analysis
In April 2020, NTT Life Science Corporation launched Genovision, a new health management support service to help promote corporate health management and employee health.
As employee health is becoming an important issue for companies, there is an increase in need for health management that approaches employee health from a management perspective and implements it strategically.
To cater to the demand associated with this trend, NTT Life Science offers Genovision packages bundling Genovision Dock, a genetic testing service for employees; Genovision Action, a lifestyle habit improvement support service for employees; and Genovision Insight, a health management consulting service for companies. Based on the ICT and security technologies, NTT Group has developed thus far, these services combine big data analysis with healthcare data and genome data acquired through genetic testing to deliver lifestyle habit improvement support that is optimized for every employee.
We are rolling out these services for use by domestic employees via healthcare institutions operated by NTT Group, and we plan to gradually expand the scope of availability to the various healthcare institutions across Japan with which Group companies have contracts. These services will also be made available for external companies, and we aim to support the health improvement and health management efforts of companies nationwide and their employees through Genovision services.

Glossary
ICT solution
ICT is an acronym for "information and communication technology" and refers to forms of communication that utilize telecommunications technology. This term refers not only to information processing, but collectively to industries and services that utilize telecommunications technologies such as the Internet. A method that uses ICT to solve social issues in any field, such as industry, education, agriculture, or regional revitalization, is referred to as an ICT solution.
IoT
IoT is an acronym for the "Internet of things." Efforts to connect all kinds of things to the Internet, including cars, home appliances, robots, and equipment, and to exchange information will help promote the digitization of physical objects as well as automation based on this, thereby creating new added value.