Securing Critical Communications
We endeavor to restore communications in disaster areas as soon as possible.
Securing communications for people in disaster areas
Installing emergency use public phones, loaning out mobile phones and other equipment
To secure communications for people in disaster zones, we install free public phones (emergency use public phones) in evacuation centers and other locations, and loan out mobile phones and satellite phones.
Providing means for checking on the safety of people in disaster areas
Disaster message services
NTT companies provide Disaster Emergency Message Dial (171), Disaster Message Board Service, and Disaster Emergency Broadband Message Board (Web 171) as means for people to check on the safety of family and friends in disaster areas in the event of a powerful earthquake or other major disaster.
Guarding against damage to emergency service lines
110, 119, and 118 emergency call services
In order to increase the reliability of 110, 119, and 118 emergency call services, we provide measures to set up multiple communication network routes to command desks for police headquarters, fire departments, Japan Coast Guard headquarters, etc.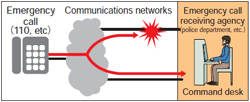 Providing means of communication to disaster response and other relevant organizations
Prioritized calling
We provide prioritized calling under Japanese law to assist in disaster response and recovery, and in the maintenance of public order.
Because prioritized calling transmissions are given precedence over ordinary calls, they are less likely to be affected by network congestion in the aftermath of the disaster.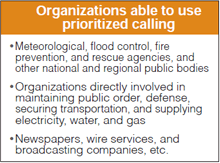 Providing smooth access to public phones at the time of a large-scale disaster
Free usage of public phones*
When a large-scale disaster occurs that triggers the application of the Disaster Relief Act, social turmoil such as transportation interruptions can be expected. At that time, by considering communication regulatory status for such services as mobile phones and fixed lines of each carrier in a comprehensive manner, we will waive charges* for public phones, such as call charges, if necessary.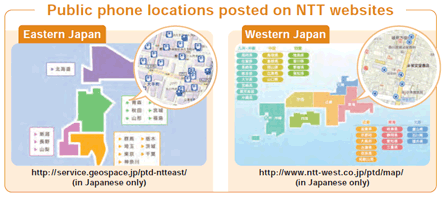 *We will waive call charges for carriers with fixed call charges, and connection charges are not to be settled among carriers with no fixed connection charges.
Please refer to the following URLs for a detailed list of carriers.
・For free usage of public phones in the NTT East Japan area.
http://www.ntt-east.co.jp/info-st/saigai/index.html
・For free usage of public phones in the NTT West Japan area.
https://www.ntt-west.co.jp/open/sonota/tokusetsu_ryoukin.html
http://www.ntt-west.co.jp/ptd/basis/disaster.html