Overview
Business Activities:
Regional telecommunications operations in Japan and related businesses, etc.
Major Services:
FTTH and other services
Competitive Advantages:
Secure, highly reliable, stable communication network
Provision of and support for ICT solutions with strong local ties
Large market share and stable customer base
Main Companies
Nippon Telegraph and
Telephone East Corporation

Nippon Telegraph and
Telephone West Corporation
Composition by Segment for the Fiscal Year Ended March 31, 2020
TOPICS
We established NTT AgriTechnology Corporation, NTT Group's first "Agriculture × ICT" specialist company, aiming to promote urban development through agriculture by utilizing IoT / AI. In addition, in order to promote such initiatives as contributing to the revitalization of local communities and regional economies, we established NTTe-Sports, Inc. as a joint venture with SKY Perfect JSAT Corporation and Taito Corporation.
NTT East and NTT West collaborated with many local governments nationwide, promoting a variety of initiatives aimed at utilizing ICT for urban development. Beginning in the Kyoto area, NTT West has started the staged deployment of a Local Revitalization Cloud service, which is a shared-usage cloud for universities and local governments.
In order to address the societal issues of how to save and pass on regional cultural and artistic assets, and to respond to our customers' expectation that we will help revitalize local communities and convey their appeal through culture and art, we promoted the collection of digital data related to local culture and art, and broadcasted information using cutting-edge technology to contribute to the revitalization of local communities through local artistic and cultural traditions. We also hosted the "Digital × Hokusai (prelude)" interactive exhibition as a means of expressing the concept of this initiative.
FOCUS
Opening of eXeField Akiba Facility for Creating New Culture and Communities through E-Sports and Provision of eXeLAB Comprehensive Communication Platform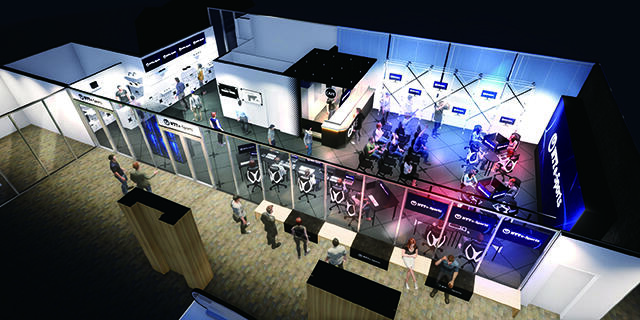 NTTe-Sports, Inc. opened eXeField Akiba, an e-sports facility located in Akihabara UDX, in August 2020. This facility will function as a pillar supporting NTTe-Sports' efforts to accomplish its mission of building communities and contributing to local economic invigoration through e-sports as well as the core that will organically link all of its various undertakings. Moreover, eXeField Akiba is equipped with cutting-edge equipment to allow for distribution of footage from online e-sports events from across Japan. By providing a venue for forming connections between different people and communities through this facility, we aim to help entrench e-sports culture, build communities, and evolve e-sports-related technologies.
In conjunction with the opening of this facility, the eXeLAB comprehensive communication platform for gamers was launched,
also in August 2020. The recent boom in the video game market seen has been due in no small part to communication between players in the form of nationwide tournaments and exchanges between e-sports teams and fans.
However, the differences in information available by region have led to disparities between the efforts of players. Event organizers, meanwhile, face issues with regard to the hassle of making all the necessary adjustments for arranging events, impeding the continuation of such events. To address these issues, eXeLAB provides forums for communication between gamers as well as tools for the management of tournaments and teams.
We hope that these features will help promote the expansion and acceleration of gaming events while making them more efficient. Through eXeLAB, we also aim to support the development of e-sports and contribute to the creation of new connections amid the new normal.
Establishment of New Company to Realize Sustainable Next-Generation Livestock Production and Dairy Farming and Circular Community Ecosystems
Biostock was established in July 2020 through joint investment by Biomass Research Co., Ltd., and NTT East for the purpose of realizing sustainable livestock production and dairy farming and invigorating regional economies.
The number of people engaged in livestock production and dairy farming is declining in Japan while the number of animals each farmer has to care for is increasing. Meanwhile, many farmers have expressed an interest in introducing biogas plants, which are a means of utilizing animal excrements while eliminating odors, but have been unable to do so because of the high introduction costs, which cannot be covered through their own capital or borrowings.
Given this situation, we are working to eliminate the high hurdle to introduction of biogas plants through a monthly payment model that requires no initial investment. This is made possible by combining the biogas plant introduction expertise of Biomass Research with the ICT capabilities of NTT East. We also intend to coordinate with a diverse range of partners to offer additional solutions, such as sophisticated IoT- and AI-powered control systems that can perform farm operation procedures other than excrement disposal remotely without human involvement and optimal growth management systems that analyze environment and growth data.
Going forward, we will promote digital transformations in livestock production and dairy farming through coordination capitalizing on NTT Group's assets and Biomass Research's expertise.
Glossary
Hikari Collaboration Model
The Hikari collaboration model is a business model where operators receive fiber access (FLET'S Hikari) and other services from NTT EAST and NTT WEST, and then combine their own services with this fiber access to be provided to customers.
FTTH service
FTTH is an acronym for "fiber to the home." By laying optical fiber cables to homes, it is possible to realize ultra-fast Internet access at speeds from tens of Mbps up to 1 Gbps.
ICT solution
ICT is an acronym for "information and communication technology" and refers to forms of communication that utilize telecommunications technology. This term refers not only to information processing, but collectively to industries and services that utilize telecommunications technologies such as the Internet. A method that uses ICT to solve social issues in any field, such as industry, education, agriculture, or regional revitalization, is referred to as an ICT solution.
OTT providers
OTT is an acronym for "over the top" and refers to content and services, such as messages, audio, and videos, that are delivered through the Internet without relying on carriers or internet service providers (ISPs). Operators that provide such services are called OTT providers.
IoT
IoT is an acronym for the "Internet of things." Efforts to connect all kinds of things to the Internet, including cars, home appliances, robots, and equipment, and to exchange information will help promote the digitization of physical objects as well as automation based on this, thereby creating new added value.