Shareholder Return
Last updated : November 10, 2021
Basic policy concerning Shareholder Return
The enhancement of shareholder returns is among NTT's most important management issues. Our basic policy is to pursue ongoing increases in dividend policies, and flexible share buybacks are conducted to improve capital efficiency.
For the fiscal year ending March 31, 2022, NTT plans to issue dividend payments of ¥110 per share, an increase of ¥5 per share from the previous fiscal year, making for the 11th consecutive year of dividend increases. This amount will also represent an increase of 8.8 times from the fiscal year ended March 31, 2004. Meanwhile, the Company authorized share buybacks in an aggregate amount of up to ¥250.0 billion in August 2021, and will conduct the buybacks through the end of March 2022.The aggregate total of shareholder buybacks conducted to date is approximately ¥4.5 trillion. Acquired shares of treasury stock are periodically cancelled, and the number of shares cancelled over the past 10 years has reached 30% of the total number of shares issued. These efforts have made large contributions to the growth of EPS, a main performance indicator of the medium-term management strategy.
Annual dividends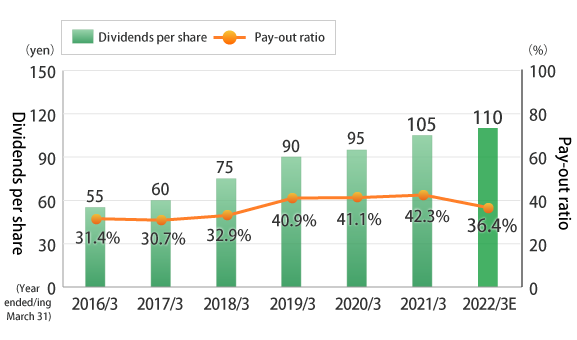 *FY2012-FY2017, financial statements are prepared in accordance with U.S.GAAP.
*FY2018-FY2019, the financial statement is prepared in accordance with IFRS.
*You can scroll horizontally
Interim Dividends
End-of-term Dividends
Annual Dividends
Thirty-Seventh Term (to March 2022)
¥55
¥55 E
¥110 E
Thirty-Sixth Term (to March 2021)
¥50
¥55
¥105
Thirty-Fifth Term (to March 2020)
¥47.5
[¥95]
¥47.5
¥95
[-]
* Stocks held by shareholders were split at a ratio of 1 to 2 with an effective date of January 1, 2020.
Thirty-Fourth Term (to March 2019)
¥42.5
[¥85]
¥47.5
[¥95]
¥90
[¥180]
Thirty-Third Term (to March 2018)
¥37.5
[¥75]
¥37.5
[¥75]
¥75
[¥150]
Thirty-Second Term (to March 2017)
¥30
[¥60]
¥30
[¥60]
¥60
[¥120]
Thirty-First Term (to March 2016)
¥25
[¥50]
¥30
[¥60]
¥55
[¥110]
* Stocks held by shareholders were split at a ratio of 1 to 2 with an effective date of July 1, 2015.
Thirtieth Term (to March 2015)
¥22.5
[¥90]
¥22.5
[¥90]
¥45
[¥180]
Twenty-Ninth Term (to March 2014)
¥20
[¥80]
¥22.5
[¥90]
¥42.5
[¥170]
Twenty-Eighth Term (to March 2013)
¥20
[¥80]
¥20
[¥80]
¥40
[¥160]
Twenty-Seventh Term (to March 2012)
¥17.5
[¥70]
¥17.5
[¥70]
¥35
[¥140]
Twenty-Sixth Term (to March 2011)
¥15
[¥60]
¥15
[¥60]
¥30
[¥120]
Twenty-Fifth Term (to March 2010)
¥15
[¥60]
¥15
[¥60]
¥30
[¥120]
Twenty-Fourth Term (to March 2009)
¥13.75
[¥5,500]
¥13.75
[¥55]
¥27.5
[ - ]
* Stocks held by shareholders were split at a ratio of 1 to 100 with an effective date of January 4, 2009.
Twenty-Third Term (to March 2008)
¥11.25
[¥4,500]
¥11.25
[¥4,500]
¥22.5
[¥9,000]
Twenty-Second Term (to March 2007)
¥10
[¥4,000]
¥10
[¥4,000]
¥20
[¥8,000]
Twenty-First Term (to March 2006)
¥7.5
[¥3,000]
¥7.5
[¥3,000]
¥15
[¥6,000]
Twentieth Term (to March 2005)
¥7.5
[¥3,000]
¥7.5
[¥3,000]
¥15
[¥6,000]
Nineteenth Term (to March 2004)
¥6.25
[¥2,500]
¥6.25
[¥2,500]
¥12.5
[¥5,000]
Eighteenth Term (to March 2003)
¥6.25
[¥2,500]
¥6.25
[¥2,500]
¥12.5
[¥5,000]
Seventeenth Term (to March 2002)
¥6.25
[¥2,500]
¥6.25
[¥2,500]
¥12.5
[¥5,000]
Sixteenth Term (to March 2001)
¥6.25
[¥2,500]
¥6.25
[¥2,500]
¥12.5
[¥5,000]
Fifteenth Term (to March 2000)
¥6.25
[¥2,500]
¥6.25
[¥2,500]
¥12.5
[¥5,000]
Fourteenth Term (to March 1999)
¥6.25
[¥2,500]
¥18.75
[¥7,500]
¥25
[¥10,000]
Thirteenth Term (to March 1998)
¥6.25
[¥2,500]
¥6.25
[¥2,500]
¥12.5
[¥5,000]
Twelfth Term (to March 1997)
¥6.25
[¥2,500]
¥6.25
[¥2,500]
¥12.5
[¥5,000]
Eleventh Term (to March 1996)
¥6.25
[¥2,500]
¥6.25
[¥2,500]
¥12.5
[¥5,000]
Tenth Term (to March 1995)
¥6.25
[¥2,500]
¥6.25
[¥2,500]
¥12.5
[¥5,000]
Ninth Term (to March 1994)
¥6.25
[¥2,500]
¥6.25
[¥2,500]
¥12.5
[¥5,000]
Eighth Term (to March 1993)
¥6.25
[¥2,500]
¥6.25
[¥2,500]
¥12.5
[¥5,000]
Seventh Term (to March 1992)
¥6.25
[¥2,500]
¥6.25
[¥2,500]
¥12.5
[¥5,000]
Sixth Term (to March 1991)
¥6.25
[¥2,500]
¥6.25
[¥2,500]
¥12.5
[¥5,000]
Fifth Term (to March 1990)
¥6.25
[¥2,500]
¥8.75
[¥3,500]
¥15
[¥6,000]
Fourth Term (to March 1989)
¥6.25
[¥2,500]
¥6.25
[¥2,500]
¥12.5
[¥5,000]
Third Term (to March 1988)
¥6.25
[¥2,500]
¥6.25
[¥2,500]
¥12.5
[¥5,000]
Second Term (to March 1987)
¥6.25
[¥2,500]
¥6.25
[¥2,500]
¥12.5
[¥5,000]
First Term (to March 1986)
-
¥12.5
[¥5,000]
¥12.5
[¥5,000]
*Dividend is adjusted according to the 100-for-1 stock split effective on January 4, 2009 and the 2-for-1 stock split effective on July 1, 2015 and the 2-for-1 stock split effective on January 1, 2020. ([ ]:It is before stock split)
Acquisitions of Treasury Stock (Cumulative)