Field Report
Fiscal 2019
Typhoons (No.15) Faxai and (No.19) Hagibis
When Typhoon (No.15) "Faxai" came ashore on September 9th in central Chiba Prefecture, severe winds caused widespread damage, as did the heavy rains that covered a vast area in eastern Japan resulting from Typhoon (No.19) "Hagibis". Recovery activities were undertaken to repair communication cables and telephone poles damaged by fallen trees and landslides. Additionally, disaster countermeasure equipment was used to restore essential communication services, and after the widespread blackouts lasting for extended periods, efforts were made to strengthen the response respond to the needs of affected customers by preserving power supply for communication facilities.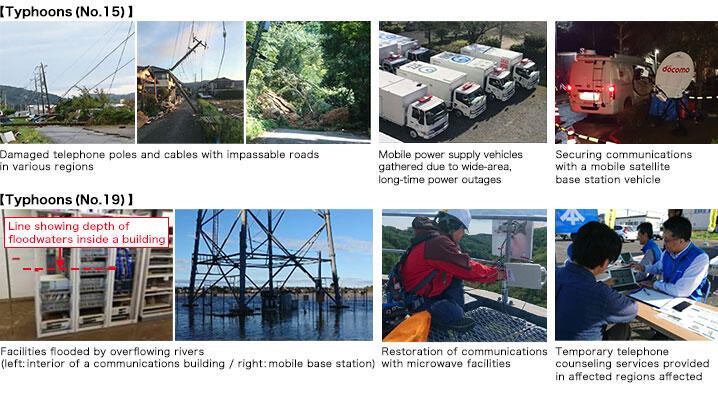 Fiscal 2018
The Heavy Rain of July, 2018
From June 28 through July 8, 2018, record-breaking heavy successive heavy downpours of rain resulting from weather fronts and Typhoon (No. 7) "Prapiroon" hit, centering in southwestern Japan. Recovery activities were undertaken to repair communication cables damaged by landslides and flooding rivers, and at the same time restoration of the communication services was carried out with anti-disaster measures equipment such as mobile entrance satellite base station vehicles.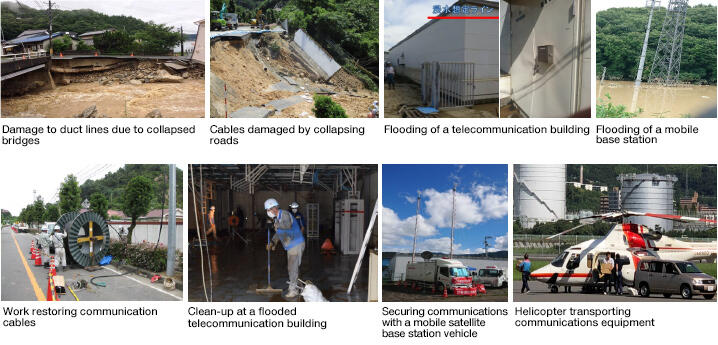 The 2018 Hokkaido Eastern Iburi Earthquake
On September 6th 2018, an earthquake with an intensity of 7 on the Japanese shindo scale hit Hokkaido at Atsuma-cho.Together with the restoration of the communication facilities which suffered damage from landslides, and wide support provided in response to power blackouts using mobile power supply vehicles. Additionally, the underwater cable-laying vessel - "Kizuna" was used to transport fuel, and etc.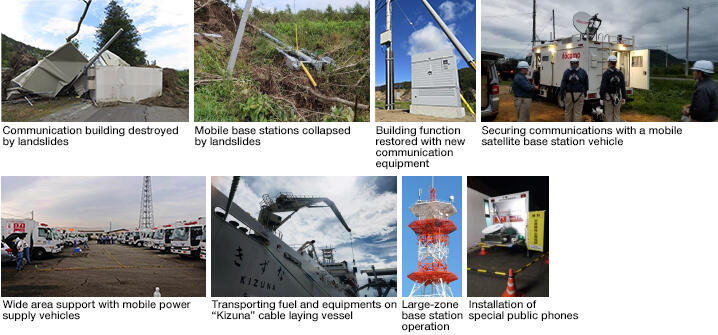 Fiscal 2017
We conducted restoration efforts in response to heavy rains in the northern area of Kyushu Island and after Typhoon "Talim" (Typhoon No. 18) in fiscal 2017. Despite landslides and power blackouts, we were able to secure essential communication lines, restore communication services, and provide support at evacuation shelters.
Heavy Rains in the Northern Area of Kyushu Island
On July 5th and 6th, 2017, the northern area of Kyushu Island was hit by record-breaking heavy rains.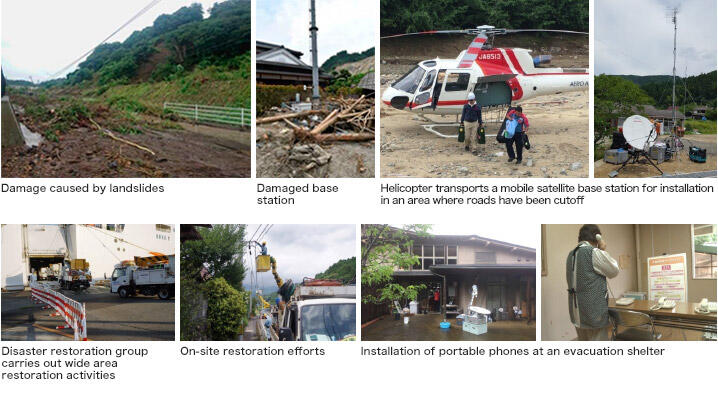 Typhoon Talim (Typhoon No. 18)
A typhoon which made landfall in Kagoshima Prefecture on September 17th, 2017, also resulted in heavy rains in the southwestern islands, in western Japan, and on Hokkaido Island.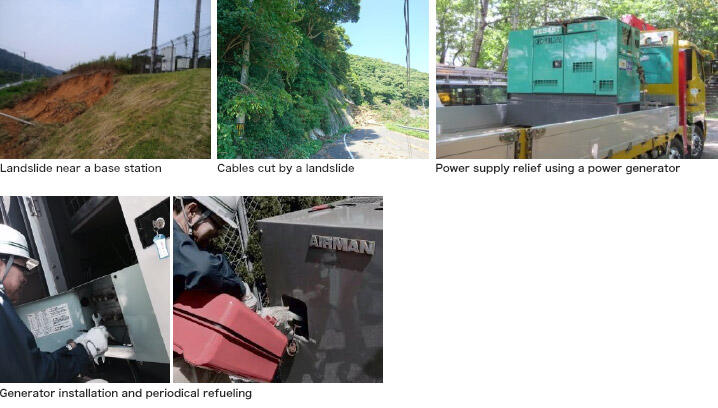 Fiscal 2016
The 2016 Kumamoto Earthquake
In April, 2016 two earthquakes each with a seismic intensity of 7 hit the Kumamoto district of Kumamoto Prefecture on the island of Kyushu.
Immediately after the disaster occurred, the NTT Group set about securing critical communications and the 110, 119 and 118 emergency call services and to restoring communication services. At the same time, emergency use public phones, free-of-charge Wi-Fi, and battery recharging service were provided. In addition, the NTT Group also offered support at evacuation shelters.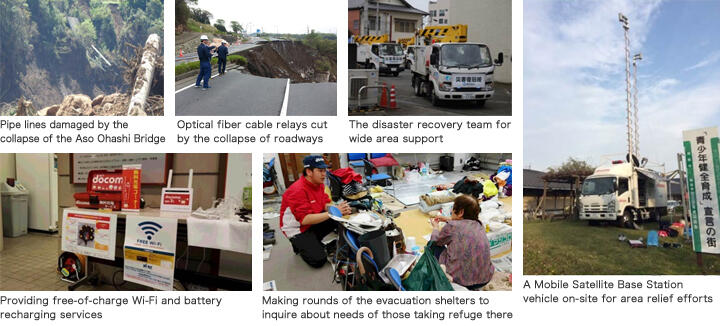 Typhoon Lionrock (Typhoon No. 10)
After following an unprecedentedly unusual path, Typhoon "Lionrock" made landfall in Iwate Prefecture on August 30, 2016, causing severe damage in Hokkaido and Iwate Prefectures.
The NTT Group worked assiduously to restore the communication facilities devastated by river flooding and landslides, and to secure power supplies for the communications equipment affected by the commercial power blackout.
Using such equipment as multirotor drones contributed to a swift restoration of the communications equipment.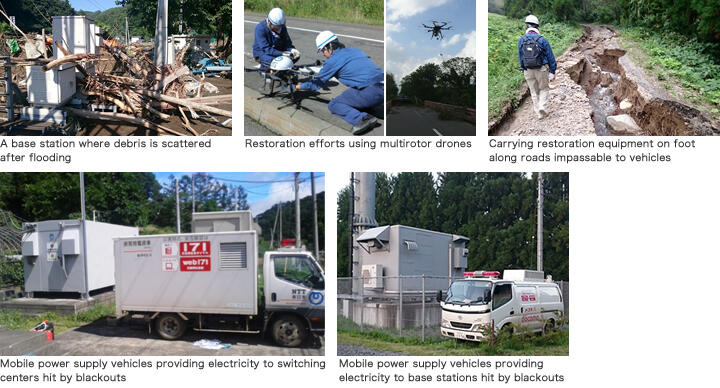 Fiscal 2015
Disaster measures activity for heavy rain, volcanic eruptions, etc.
There have increasingly been cases where communication facilities are hit by worse damage than had previously been assumed possible, caused by natural disasters such as heavy rain, volcanic eruptions, etc. In addition to taking measures during normal times, NTT group companies will carry out quick restoration activities of communication facilities and set up special public phones in shelters when damage occurs.

Fiscal 2013 , 2014
Mudslide damage caused by heavy typhoon rains
Heavy typhoon rains triggered mudslides on the island of Oshima (Tokyo) on October 16, 2013, and in the town of Nagiso in Nagano Prefecture on July 9, 2014, toppling telephone poles and severing communications cables. We strung temporary cables and took other steps to enable services to be restored promptly.

Snowstorm damage
In February 2014, parts of Japan suffered two heavy snowfalls in quick succession. The snowstorm of February 8 broke all previous records in the areas affected, with 27 cm of snow recorded even in the center of Tokyo. Communications services were severely affected by the heavy snow, but we used vehicle-mounted base stations and power supply vehicles to maintain services and secure communications in affected areas.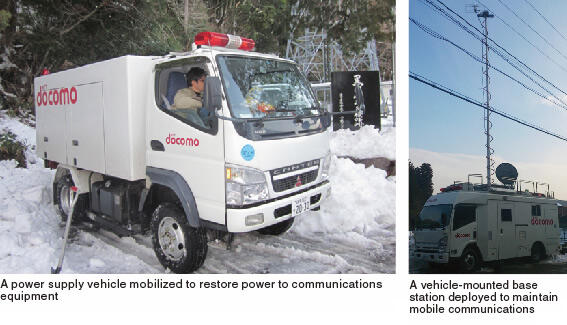 Fiscal 2012
In July 2012, communications services in northern Kyushu were seriously disrupted when heavy downpours caused large-scale landslides and destruction of roads and bridges, leading to extensive severance of communications cables and damage to telephone poles and other infrastructure.
Restoration of fixed lines
In locations in which trunk lines were severed as a result of damage to bridges, our field workers strung temporary cables above the bridges, and even carried heavy cables across mountainsides on their shoulders in mountainous areas that could not be accessed by vehicle. Prompt actions combined with the expertise and unstinting efforts of our field staff enabled the quick restoration of fixed line services in the area.

Restoration of mobile phone services
Mobile phone services were disrupted by wide-area power outages and the severance of communications cables. We used mobile base stations and portable satellite entrance base stations to restore services.

Fiscal 2011
Typhoons #12 and #15
In September 2011, a number of base stations were submerged during heavy typhoon downpours. Landslides also blocked roads, hindering efforts to reach the affected stations, but we used all the people at our disposal to lug the necessary materials on our shoulders to the affected stations and restore them.

Floods in Thailand
Many industrial estates were submerged when Thailand's Chao Phraya River overflowed its banks to flood a huge area in October 2011. We worked with local subsidiaries to move customer installations and provide alternative means of communication, as well as protect communications buildings with sandbags and flood barriers.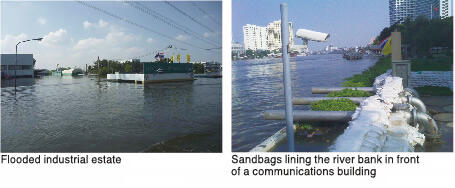 Severed submarine cables off the coast of Taiwan