An era that demands greater transformation in every area of society and the economy
Various social problems have emerged, such as population increase and resource and water shortage around the world, and a declining birth rate and aging population in Japan. In order to resolve these problems, it has become necessary in all circumstances to advance digital transformation utilizing ICT (information communication technology), as proposed under "Society 5.0."*1
Social Issues and Directions for Solutions
Resolution of social issues through digital transformation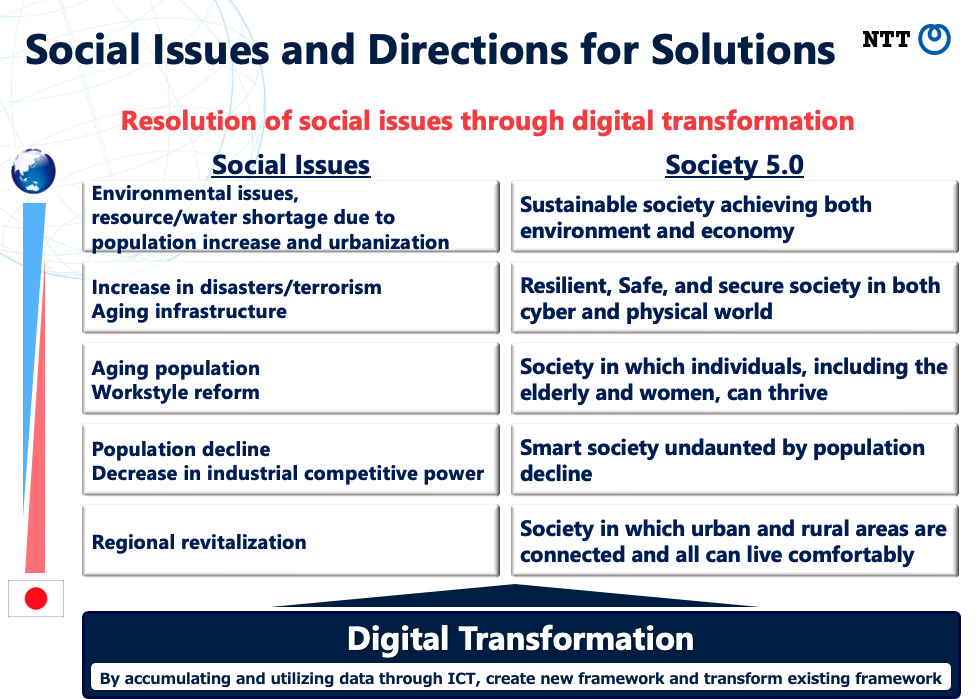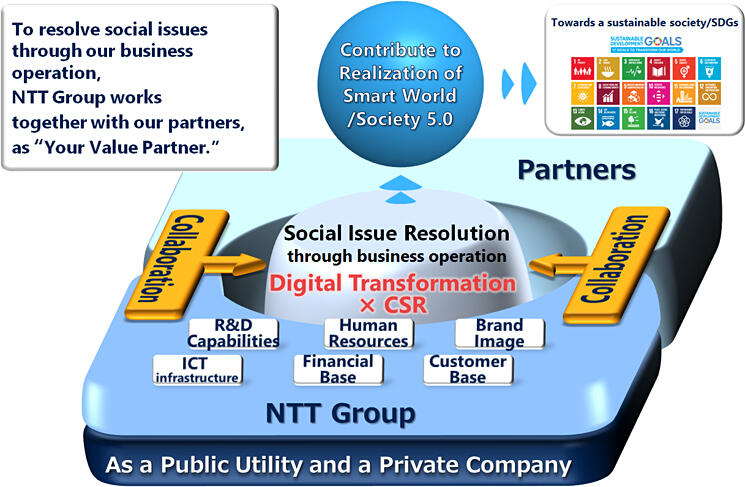 As "Your Value Partner," NTT Group will aim to resolve social issues by means of advancing digital transformation through its business activities, by utilizing its various management resources and capabilities, such as research and development, ICT infrastructure and personnel, while also collaborating with its partners.
NTT Group believes that the resolution of social issues will contribute to achieving a smart society utilizing ICT and to the sustainable development goals (SDGs)*2 proposed by the United Nations.
Society5.0
a human-centered society that balances economic development and the resolution of social issues through systems that highly integrate cyberspace and physical space, as proposed in the 5th Science and Technology Basic Plan of the Cabinet Office of the Government of Japan.
SDGs
17 goals to be worked toward by 2030, as adopted at the United Nations Sustainable Development Summit in September 2015. NTT Group announced its approval in September 2016.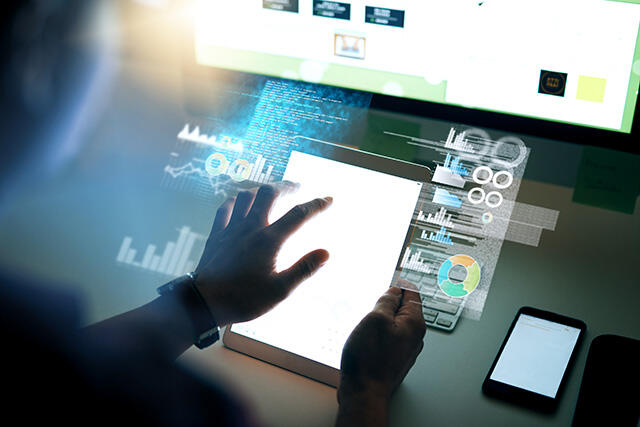 Our Capabilities for Resolving Social Issues
NTT Group's capabilities and initiatives for resolving social issues have already received high praise both in Japan and abroad. For example, for innovation, we were chosen as a top global innovator for the seventh consecutive year.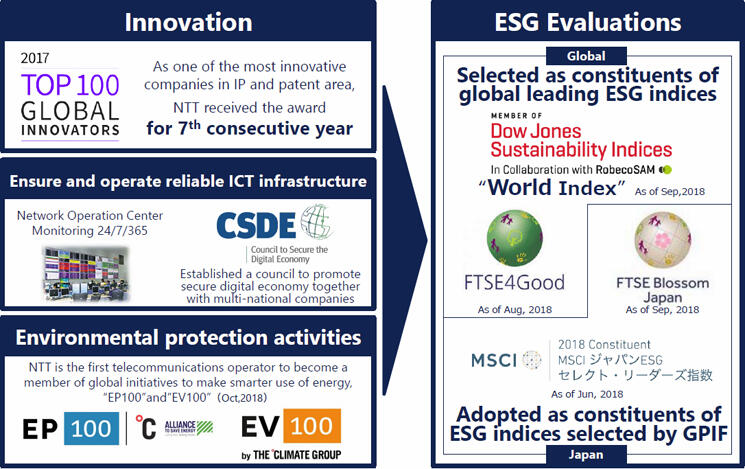 In addition, with respect to ensuring and operating reliable ICT infrastructure, we provide high-quality and reliable services, including maintenance and security based on strong networks.
Furthermore, in the area of environmental protection, in October 2018, we were the first telecommunications operator to become a member of global initiatives to make smarter use of energy, "EP100" and "EV100." These capabilities and initiatives have also received praise from an ESG perspective, as we have been selected as constituents of leading domestic and global ESG indices, including the Dow Jones Sustainability Indices and ESG indices selected by GPIF (Government Pension Investment Fund).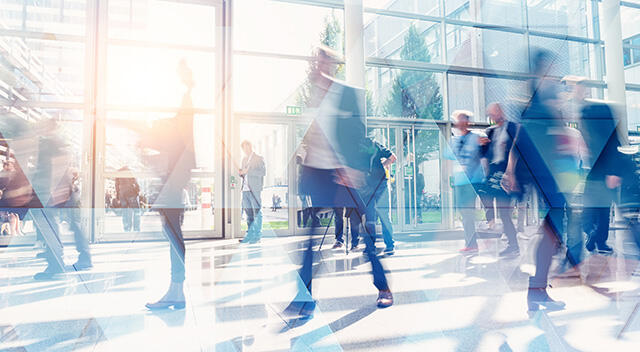 NTT Group: Contributing to the Realization of a Smart World
To promote the B2B2X model where NTT Group is focusing its efforts, in addition to promoting alliances with Toyota Motor Corporation, Mitsubishi Corporation, Microsoft Corporation, and other companies, we are advancing the development of smart cities in locations including the city of Austin, Texas and the University of California, Berkeley.
To ensure social distancing, we will strive to solve social issues through efforts to promote a remote-type society, such as working from home, remote healthcare, and remote education. We will support the development of online administrative procedures and business transactions, and provide security solutions that make it possible for corporate and individual customers to work remotely with ease.
In addition, we will utilize digital transformation as a trigger to reform work styles and business styles and enhance productivity. In industries such as agriculture, construction, and manufacturing, we will contribute to solving labor shortages by facilitating a shift to remote work through digital transformation.
As an initiative for technological development, we envision a future society and will promote the realization of the IOWN (Innovative Optical and Wireless Network) concept. To globalize research and development, we will promote the activities of the IOWN Global Forum.
For more information we will introduce in NTT Group Medium-Term Management Strategy.