NTT Group's vision
As an organization that has some elements of a public utility and some elements of a private company, NTT Group makes full use of various business resources and capabilities, including research and development, ICT infrastructure and personnel, to solve social issues by promoting digital transformation and CSR through collaborations with our partners.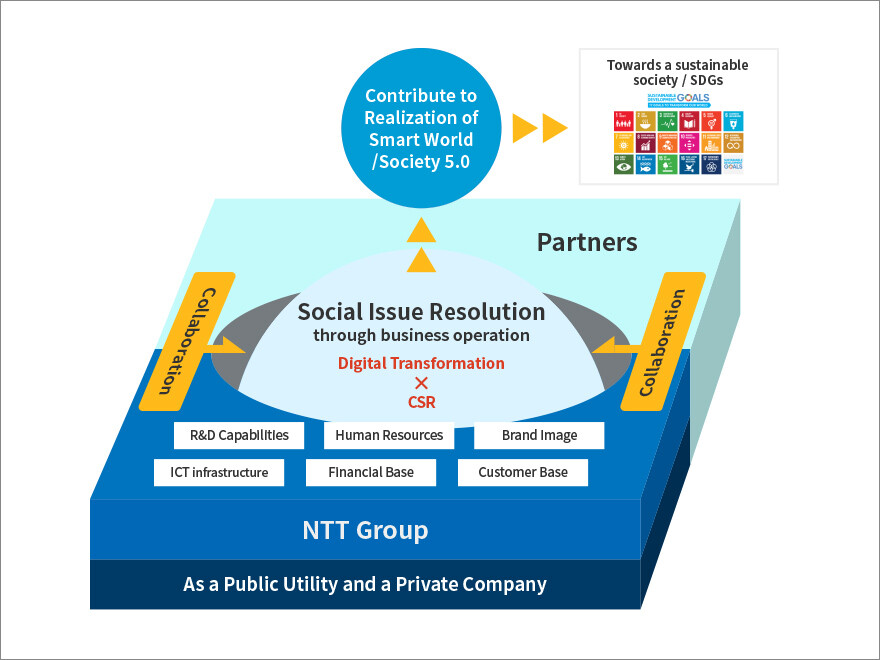 In NTT Group, we believe that people are at the center of everything we do, and we look for a high level of service expertise, technical expertise, and intelligence. We also have shared values that are our DNA: Connect, Trust and Integrity. Our vision and aims are the foundation of the common dream for the future shared by our 300,000 personnel working in around 90 countries and regions.
We strive to be a valuable presence for our customers, shareholders, communities, employees and all of our other stakeholders by accelerating our internal reforms for a new and more open, global and innovative NTT so that you will continue to choose us as Your Value Partner.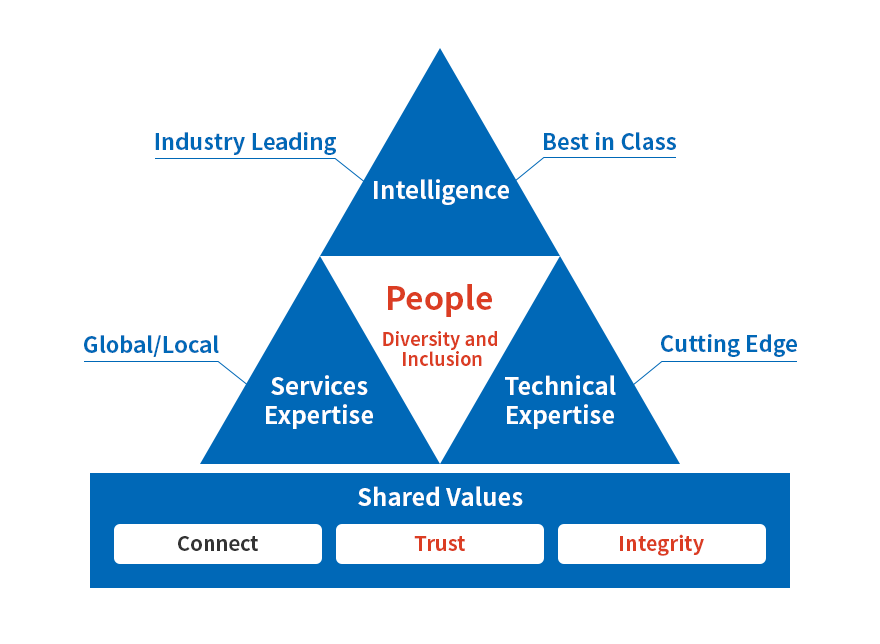 Refinement of the Medium-Term Management Strategy
Due to the spread of the COVID-19 pandemic and other factors, the division of the world has been accelerating and remote/decentralized society has been expanding. As a result of these factors, while digitalization/digital transformation (DX) is advancing, negative aspects of digitalization, such as the emergence of a surveillance society, are becoming problems. Furthermore, the environment is changing greatly, including the growing importance of economic security and increasing intensity of natural disasters on a global scale.
Consistent with this directionality of society and the economy, we refined the NTT Group Medium-Term Management Strategy in October 2021 to advance our initiatives under a new strategic framework while also following the framework of our existing Medium-Term Management Strategy.
Consistent with the directionality of society and the economy, we aim to contribute to the achievement of a sustainable society through transformation to a new management style that is suitable for a decentralized network society both during and after COVID-19, the enhancing of our domestic and global business in line with the progress of the digitalization/DX of society and the economy, and the enhancement of corporate value through ESG initiatives in furtherance of realizing a "Well-being Society."
Directionality of NTT Group's Transformation
Pillars of the Refinement of the Medium-Term Management Strategy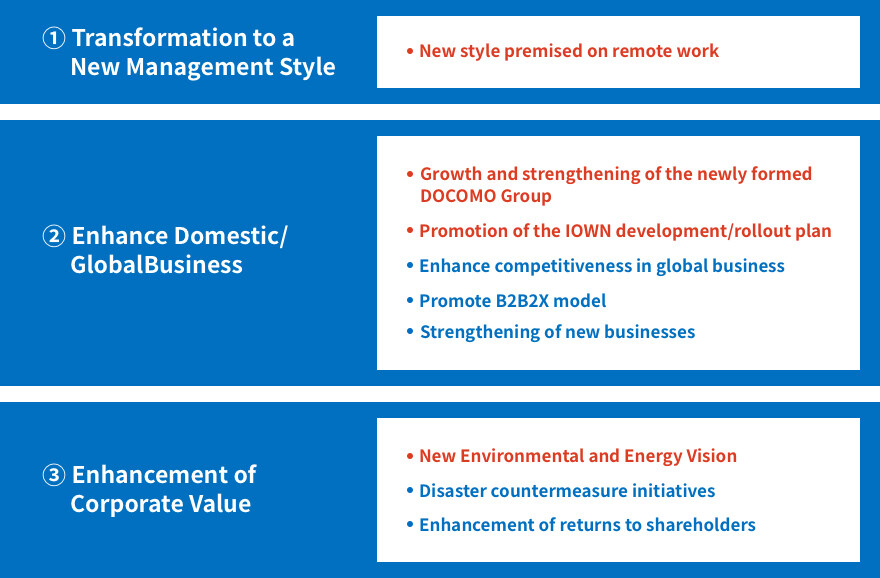 Initiatives to Achieve our Strategy
①Transformation to a New Management Style
By advancing business transformations, DX, re-examinations of systems and improvements of the IT environment, we will transform to a new management style premised on remote work and applicable to society both during and after COVID-19.
Transformation to a New Style Premised on Remote Work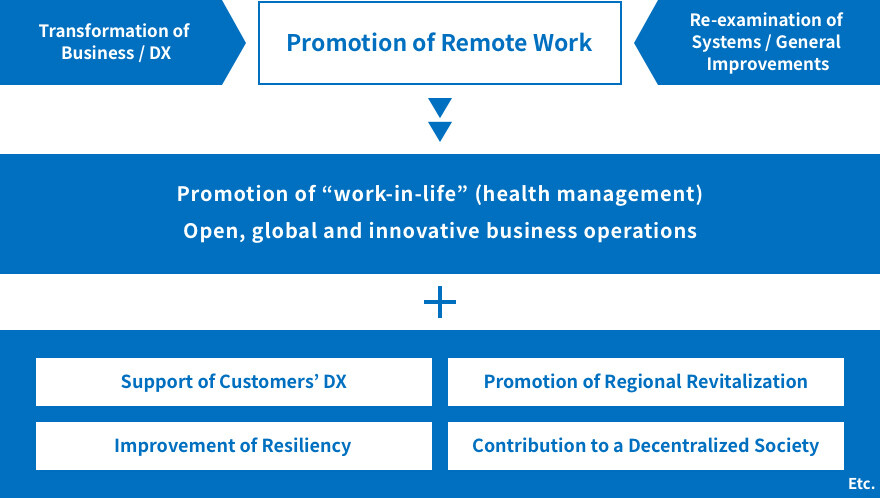 Business Transformation/DX
As a basis for promoting remote work, we will create an environment where anyone can work from any place at any time. Furthermore, we will promote automation/standardization through digitalization and the expansion of our sales approach through digital marketing, provide our own DX to customers and contribute to the DX of society as a whole. In addition, in consideration of conduct risks and other factors, we are working to build appropriate relationships with stakeholders and to improve our risk management capabilities. Furthermore, through these business transformations/DX, NTT Group as a whole will go paperless by 2025.
Refinement of Systems/Environmental Improvements
We will systematize information security to be appropriate for the remote environment, conduct a re-examination of the office environment and promote the development of core DX personnel. Furthermore, while securing diverse personnel, such as by expanding support programs for the promotion of female managers and officers, actively hiring foreign and external personnel and expanding the job-based personnel system for all managers, we will also promote the development of systems and environments to be successful.
Promotion of Work-in-Life, and Open, Global and Innovative Business Operations
Employees' work will be premised on remote work, and by having employees being able to choose their own workplace, we will promote work-in-life through workplace-residence proximity and will also consider decentralizing organizations (including head offices and back-offices) to regional areas. In addition, we will continue to advance initiatives for the development of resilient infrastructure and disaster mitigation against increasingly intense natural disasters.
②Enhance Domestic and Global Business
Consistent with the advance of digitalization/DX in society and the economy, we will work towards the growth and enhancing of the newly formed NTT DOCOMO Group, and will also work to progress the development and roll-out of IOWN, strengthen the competitiveness of our global business and promote the B2B2X model.
Growth and Strengthening of the Newly Formed DOCOMO Group
In December 2020, NTT DOCOMO ("DOCOMO") became a wholly owned subsidiary in order to strengthen and grow the competitiveness of NTT DOCOMO and to grow NTT Group as a whole. In the future, as the newly formed NTT DOCOMO Group, NTT Communications ("NTT Com") and NTT Comware ("Comware") will be made into subsidiaries, with functions being integrated and business responsibilities being delineated, and initiatives based on the new NTT DOCOMO Group's medium-term strategy will be supported by NTT Group.
As a result of the effect of synergies from the integration of DOCOMO, NTT Com and Comware, we are aiming to generate profit of ¥100.0 billion in FY2023 and ¥200.0 billion in FY2025.
Challenge of the New DOCOMO Group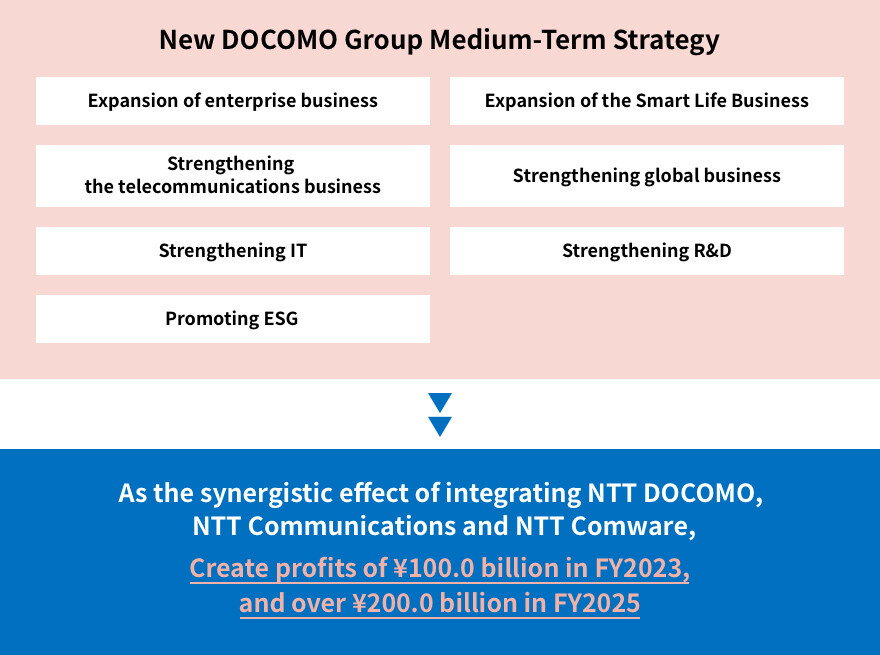 Promotion of the IOWN Development/Rollout Plan
The IOWN concept is an initiative for a network and information-processing infrastructure that can provide high-speed, high-capacity communication utilizing innovative technology focused on optics.
Through the game-change that will be achieved through the realization of the IOWN concept, we will promote urban development in rural areas and the development and implementation of new social infrastructure, contributing to the achievement of a sustainable society.
Enhance Competitiveness in Global Business
To enhance the competitiveness in global business, we will enhance our digital consulting at One NTT. We will promote joint sales and marketing on the basis of the One NTT value proposition, including the launch of Smart City solutions in North America.
Furthermore, as a global business to aim for with O-RAN/vLAN, we will collaborate with partners and, from the end of FY2022, develop a global business in the RAN field and offer multi-vendor integration, maintenance monitoring, intelligent control software, development, and maintenance and operation services, among other things. After FY2023, we will expand from the RAN field to the network field, and as the foundation for future IOWN business, will aim to further promote openness and the expansion of our business areas.
③Enhancement of Corporate Value through ESG Initiatives
New Environment and Energy Vision
We created "NTT Green Innovation toward 2040" as our new environment and energy vision, and aim to realize the paradoxical goals of achieving both zero environmental impact and economic growth at the same time, by reducing our environmental impact through our business activities and through our creation of breakthrough innovation.
Specifically, in FY2030 we will reduce greenhouse gas emission volumes of NTT Group as a whole by 80% (compared to FY2013), and our mobile business and data centers will reach carbon neutrality first, with NTT Group as a whole aiming to reach carbon neutrality in FY2040.
In order to reach carbon neutrality in FY2040, we plan for 10% of greenhouse gas emission reductions to be from continued energy saving initiatives, 45% of reductions to be from the expanded use of renewable energies and 45% of reductions to be from lower energy consumption made possible through the adoption of IOWN, which enables energy savings.
※All numbers are compared to FY 2013.
NTT
Green
Innovation toward 2040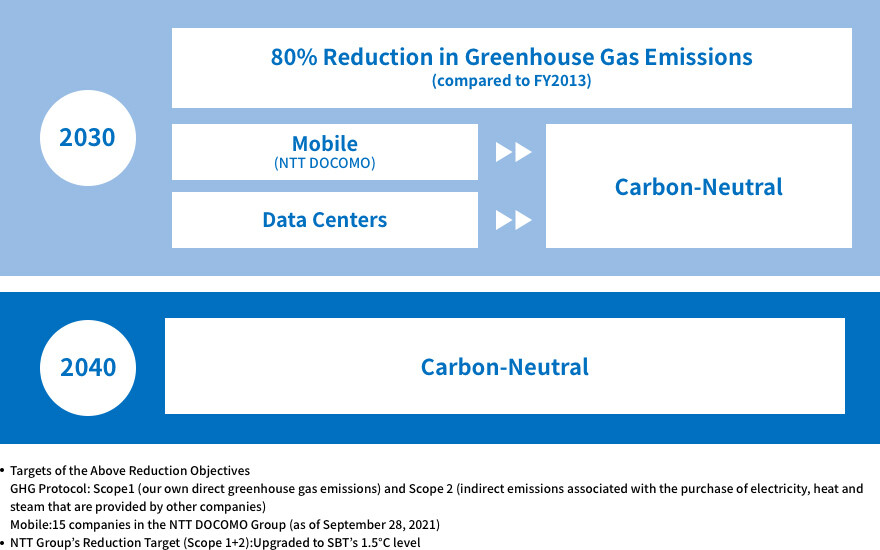 Furthermore, at NTT Group, we are expanding our own initiatives to reach carbon neutrality to society as a whole, such as by spreading and expanding IOWN from the telecommunications field to various other industries, providing new services, and strengthening the development and expanding the adoption of renewable energies, and will contribute to the reduction of greenhouse gas emissions in society as a whole.
NTT's Contributions to Reducing Society's Environmental Impact
Please click here for additional details about the environment and energy vision.
Refinement of the Medium-Term Financial Targets
For our medium-term financial targets, we have refined the EPS and cost reduction targets that had been set for FY2023.
The new EPS target is ¥370 (an upward revision of ¥50) for FY2023, reflecting the effect of synergies in the newly formed NTT DOCOMO Group and further cost reductions, among other factors.
The cost reductions target is ¥1.0 trillion (a revision of ¥200.0 billion of reductions) in FY2023, reflecting the further promotion of DX in furtherance of the transformation to a new management style, among other factors.
We will continue to work to achieve the current targets for overseas operating income margin, ROIC and capex to sales.
Furthermore, overseas sales have been excluded from the target setting as a result of changes in accounting treatment at overseas subsidiaries and the impact of the COVID-19 pandemic, among other factors.