NTT Group's Vision
Various social problems have emerged, such as population increase and resource and water shortage around the world, and a declining birth rate and aging population in Japan. In order to resolve these problems, it has become necessary in all circumstances to advance digital transformation utilizing ICT (information communication technology), as proposed under "Society 5.0."*1
As "Your Value Partner," NTT Group will aim to resolve social issues by means of advancing digital transformation through its business activities, by utilizing its various management resources and capabilities, such as research and development, ICT infrastructure and personnel, while also collaborating with its partners.
NTT Group believes that the resolution of social issues will contribute to achieving a smart society utilizing ICT and to the sustainable development goals (SDGs)*2 proposed by the United Nations.
NTT Group's capabilities and initiatives for resolving social issues have already received high praise both in Japan and abroad. For example, for innovation, we were chosen as a top global innovator for the seventh consecutive year.
In addition, with respect to ensuring and operating reliable ICT infrastructure, we provide high-quality and reliable services, including maintenance and security based on strong networks.
Furthermore, in the area of environmental protection, in October 2018, we were the first telecommunications operator to become a member of global initiatives to make smarter use of energy, "EP100" and "EV100." These capabilities and initiatives have also received praise from an ESG perspective, as we have been selected as constituents of leading domestic and global ESG indices, including the Dow Jones Sustainability Indices and ESG indices selected by GPIF (Government Pension Investment Fund).
Society 5.0: a human-centered society that balances economic development and the resolution of social issues through systems that highly integrate cyberspace and physical space, as proposed in the 5th Science and Technology Basic Plan of the Cabinet Office of the Government of Japan.
SDGs: 17 goals to be worked toward by 2030, as adopted at the United Nations Sustainable Development Summit in September 2015. NTT Group announced its approval in September 2016.
Our Vision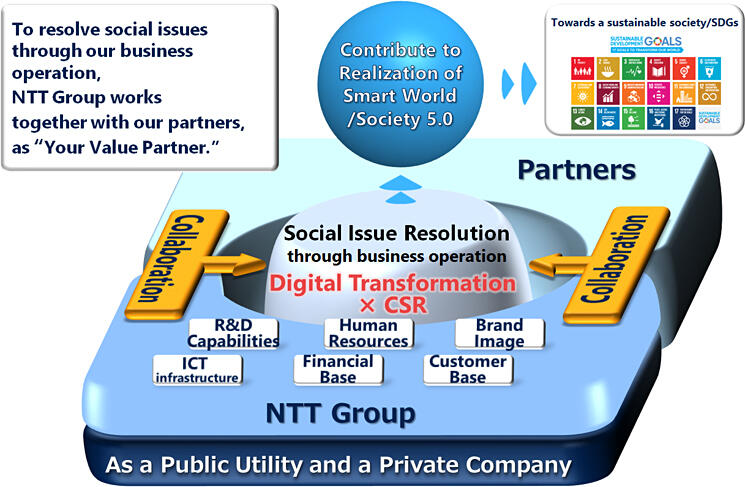 Our Capabilities for Resolving Social Issues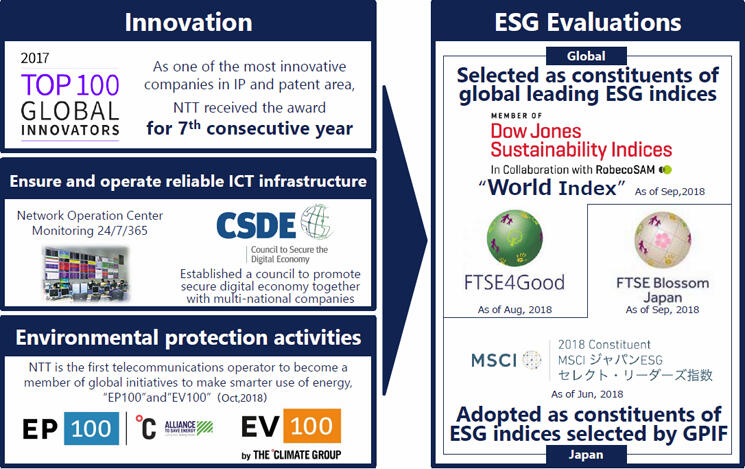 Pillars of the Medium-Term Management Strategy
In order to realize NTT Group's vision, we will promote measures based on the pillars of our medium-term management strategy, and will work to achieve the newly established medium-term targets.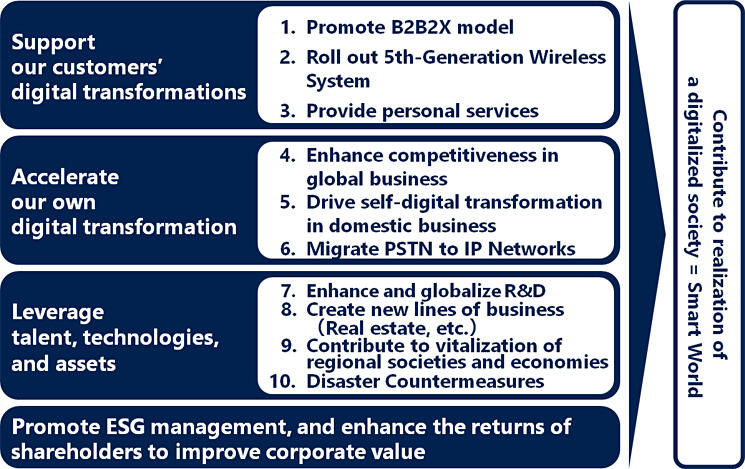 Support Our Customers' Digital Transformations
Promote the B2B2X*1 Model
One of the major pillars of the initiatives that NTT Group has contributed toward the achievement of a smart society is the promotion of the B2B2X model.
The B2B2X model is not a service that NTT Group provides directly to customers, but rather, is a model in which NTT Group, by providing service providers a variety of ICT tools, such as AI and IoT, helps service providers to provide their customers various value-added services.
NTT Group has worked on the B2B2X model with many partner businesses and local governments thus far, but will further accelerate these efforts to promote a model that utilizes digital services and data management.
Through these types of initiatives, we will expand the number of projects that are established as B2B2X model business from 13 in the current fiscal year to 100 by the fiscal year ending March 31, 2022.
B2B2X: Operations to support and promote businesses for clients of other companies. "B" refers to a company, and "X" refers to a client, whether an individual, a corporation, an employee, a government agency or other entity.
Rollout of the 5th-Generation Wireless System
Through services that leverage the "high presence" and "interactive" characteristics of 5G, we will create new value that did not previously exist. We plan to launch pre-commercial service from September 2019, and commercial service from Spring 2020.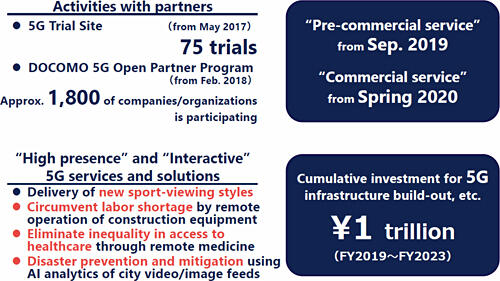 Provide Personal Services
We will realize "personal solutions" that are tailored to each individual customer, led by NTT DOCOMO, and support customers' lifestyle changes. Rate plans have been significantly revised to provide great value and simple rates, and with respect to services, we plan to make upgrades to electronic payments and personal contents. Furthermore, by leveraging AI and big data, we plan to improve communication with each individual customer.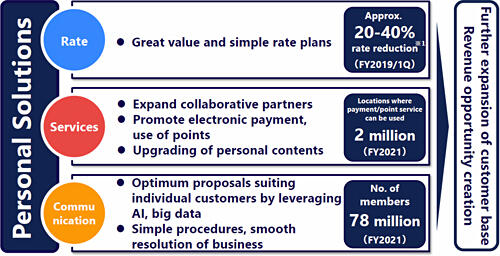 The actual level of reduction may be different from the description herein depending on customer's usage behavior.
Accelerate Our Own Digital Transformation
Enhance Competitiveness in Global Business
By combining the global talent development and branding of NTT Group, and at the same time combining integrated capabilities that drive customers' digital transformations and innovative initiatives that utilize cutting edge technology to enhance synergies, we will accelerate the improvement and growth of our global business competitiveness at OneNTT.
In order to achieve this, by November 2018, we have established a new global holding company under NTT called NTT, Inc., and NTT Communications, Dimension Data, NTT DATA and NTT Security have been transferred to NTT, Inc. and have aligned together under its new leadership. In addition, we created a new global innovation fund called NTT Venture Capital L.P., and also created a global procurement company called NTT Global Sourcing in order to reduce groupwide procurement costs.
With this reorganization, while making NTT Group more competitive and profitable, our global governance will also benefit from embracing and integrating our people's diverse talents, skills and management experience in global markets.
In addition, we are planning to reorganize the business operations of the three companies of NTT Communications, Dimension Data and NTT Security into a Global OpCo and Japan OpCo by July 2019.
Furthermore, to accelerate innovative initiatives, in addition to the global innovation fund, we plan to newly establish a disruptive innovation approach group and a research center outside of Japan called NTT Research, Inc., and also are considering establishing a data center asset firm for the purpose of optimizing our data center business.
Organization chart for Enhance Competitiveness in Global Business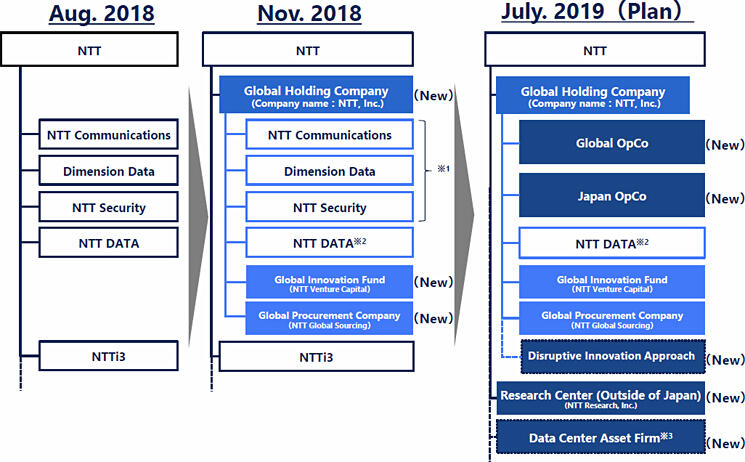 NTT Communications, Dimension Data, NTT Security are integrating into Global OpCo and Japan OpCo
NTT DATA will continue to collaborate with other companies in the Group while retaining its present management structure, status as a listed company, and brand
NTT Communications plans to create this company, then it will be transferred to NTT(under discussion)
Drive Self-Digital Transformation in Domestic Business
In August 2018, we appointed CDOs (Chief Digital Officers) at each primary company, and will powerfully advance digitalization measures that have been considered through inter-company working groups. We will make NTT Group's business processes more efficient through digitalization that leverages AI and other technologies and create a "Connected Value Chain" that connects business processes even with outside partner companies, which will bring about smart operations not requiring labor in a variety of processes.
Furthermore, based on our own self-digital transformation, we will bring about the "Cognitive FoundationR," which enables unified and optimized management of ICT resources for enterprise customers, and new services for individual customers, such as personal solutions that leverage digital marketing.
Efforts for Drive Self-Digital Transformation in Domestic Business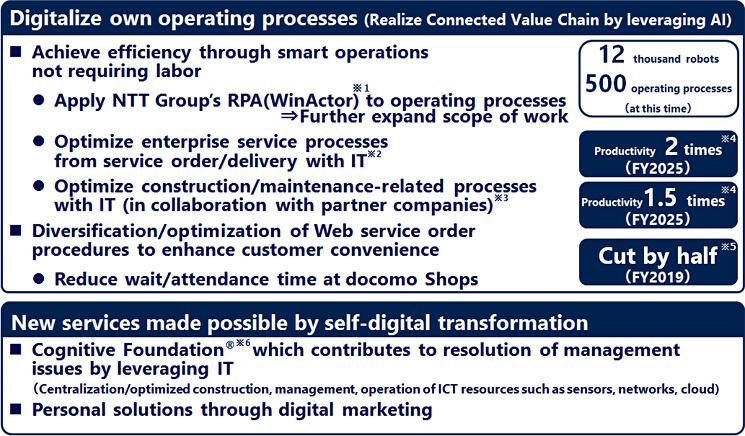 Companies introducing WinActor have surpassed 2,000 (as of Oct. 2018, including NTT Group), RPA = Robotic Process Automation
NTT-East, NTT-West, NTT communications
NTT-East, NTT-West, NTT communications, docomo
Compared to FY2017
Reduced by half during FY 2019 compared to 2018 survey
Applies beginning with global service
Leverage Talent, Technologies and Assets
Enhance and Globalize R&D
We will promote disruptive R&D to transform the world while at the same time reinforcing basic research at our overseas bases. Specifically, we will establish a research base overseas and advance the global development of research achievements and the globalization of research targets. Furthermore, in addition to strengthening our joint R&D with various research institutes and proactively using the latest external technologies, we will work to increase our R&D investment into new growth areas.
The scope of our R&D investment over the next five years into new growth areas will be \2 trillion and an additional \1 trillion of cumulative investment for 5G infrastructure build-out, etc., which will accelerate our business growth.
Utilization of Real Estate (Promote Urban Solutions)
We will maximize the utilization of NTT Group real estate, ICT, energy, environmental technologies and other resources and promote a new style of urban solutions beyond conventional real estate development.
Promoted ESG Management and Enhance the Returns to Shareholders to Improve Corporate Value
Promote ESG Management
By promoting ESG management that is appropriately responsive to "environment," "social" and "governance"-related issues, we will be able to both capture business opportunities and minimize business risks, leading to ongoing improvements of corporate value.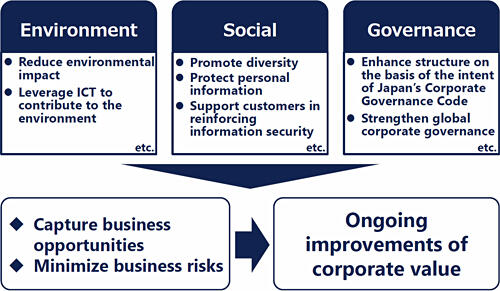 Enhance Returns to Shareholders
With respect to dividends, our basic policy is to have steady dividend increases. Furthermore, with respect to share buybacks, we plan to continue to carry out buybacks flexibly to improve capital efficiency going forward.
Set New Medium-Term Targets
For our medium-term targets, we have set EPS growth as our main index, and will promote both profit growth and shareholder returns. Our target level is an increase to approximately \640, which is a 50% increase compared to the fiscal year ended March 31, 2018, by the fiscal year ending March 31, 2024.
In order to grow EPS, we will work towards steady cost reductions and aim for further income growth in domestic growth areas and in overseas businesses. Furthermore, we will strive to improve capital efficiency through the steady acquisition of outstanding common stock.
For our overseas businesses, we set targets at the level of the group under the umbrella of the newly established global holding company in order to show the results of our initiatives to strengthen our competiveness. Specifically, in terms of overseas sales, we are targeting an increase from approximately U.S.$18 billion in the fiscal year ended March 31, 2018 to U.S.$25 billion in the fiscal year ending March 31, 2024, and in terms of overseas operating income margin, we are targeting an increase from approximately 3% in the fiscal year ended March 31, 2018 to 7% in the fiscal year ending March 31, 2024.
In addition, we will implement cost reductions of at least \800.0 billion by the fiscal year ending March 31, 2024. Furthermore, we will focus on capital and investment efficiency. In terms of ROIC (returns on invested capital), we are targeting an increase from approximately 7% in the fiscal year ended March 31, 2018 to 8% in the fiscal year ending March 31, 2024, and in terms of capex to sales (the ratio of capital investments to sales) in our domestic network businesses, we are targeting a change from approximately 14% in the fiscal year ended March 31, 2018 to 13.5% in the fiscal year ending March 31, 2022.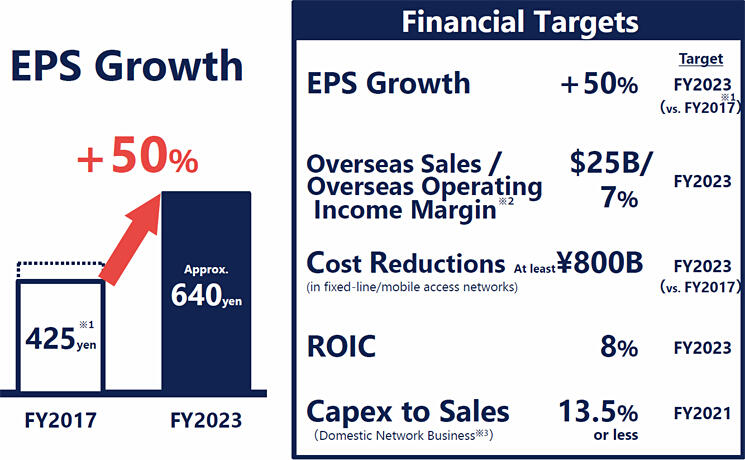 Excludes the effects of the arbitration award received from Tata Sons Limited.
Including results from the global holding company, its subsidiaries and its affiliates. Operating Income excludes temporary expenses, such as M&A-related depreciation costs of intangible fixed assets.
Excludes NTT communications' data centers and certain other assets.
For more information about NTT Group's medium-term management strategy, "Your Value Partner 2025," please click here.

Your Value Partner 2025