There are many moments when we want to use Wi-Fi when we are out, going somewhere for work, and on our days off.
Japan Wi-Fi auto-connect
is a safe and secure Wi-Fi connection app for smartphones that is just right for such instances!
Let's take a look at "Japan Wi-Fi auto-connect," an official app employed also at international sports events!
Use safe Wi-Fi in town with "Japan Wi-Fi auto-connect"
We see many Wi-Fi spots across Japan, from convenience stores to airports and on-board trains, but many of you are probably not using them very much as you might imagine that connecting is a bother, or you might be concerned about security.
Installing "Japan Wi-Fi auto-connect" will automatically connect you to a Wi-Fi spot when you happen to be there! It is safe as it only connects to access points whose provider is known and trusted. As for the usage charge, it's free of course!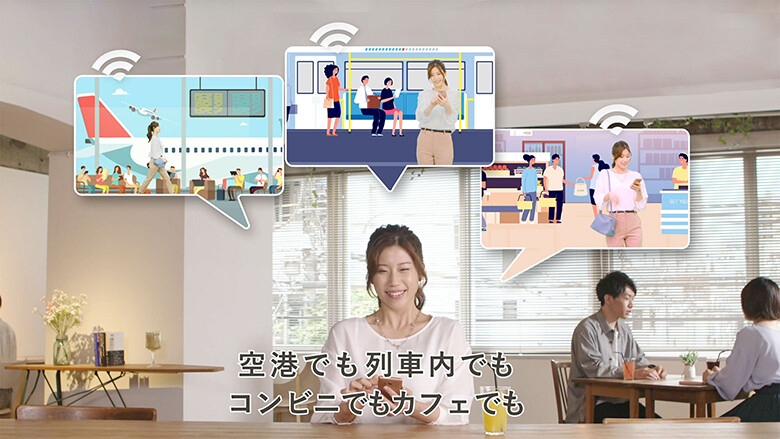 Enjoy live streaming and videos, live sports programs and digests, checking results. Reply to emergency business emails and join remote meetings. Communicate with friends and others from around the world through social media...
"Japan Wi-Fi auto-connect" enables you to use Wi-Fi right there and then, effortlessly, conveniently and securely.
We are going to show you how it works, as well as how it will develop in the future.
Automatically connects and authenticates without any lengthy operations
The most attractive thing about "Japan Wi-Fi auto-connect" is that it only requires you to do initial user signup once, and then you can connect automatically thereafter to free Wi-Fi spots across Japan.
Just install it on your smartphone and your smartphone will automatically detect and connect to the Wi-Fi you need, even doing user registration and authentication automatically for each Wi-Fi, freeing you from the hassle of all the setup.

"Japan Wi-Fi auto-connect" launched in December 2019 but has become dramatically more user-friendly than the free-Wi-Fi connection app that was provided before.
By shifting to development that simply specialized in connecting automatically, the app screen design has become simpler and the app itself also uses very little power.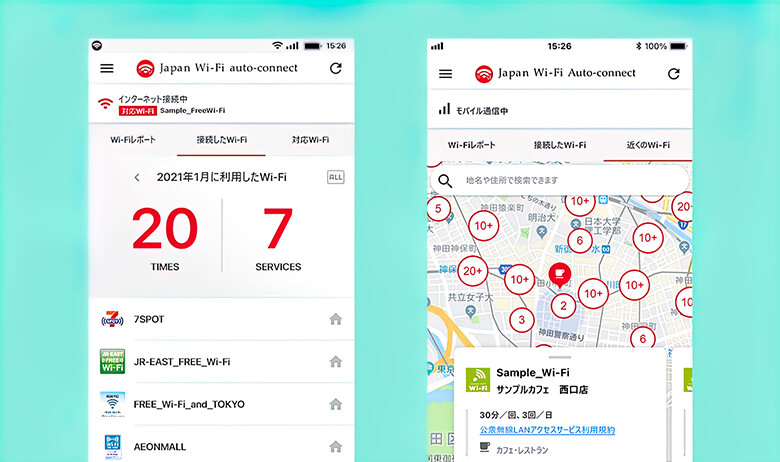 It also allows you to connect to Wi-Fi seamlessly, so much so that even when you are enjoying a video or a streaming app, you will even switch from one access point on a station platform to another inside the train without your contents breaking up. Also, by using free Wi-Fi appropriately, you can save on data charges on your smartphone, too.
The development team worked on this user-friendliness, as well as on eliminating security concerns.
Security concerns: the hurdle of using free Wi-Fi. Now there's no need to worry!
A survey on people's data usage on their communication devices (*1) revealed that 70% of the people were concerned about connecting to free Wi-Fi. Asked what they were worried about when using free Wi-Fi, the highest proportion of the answers was also security concerns.
"I don't know which Wi-Fi I am connecting to"
"I feel nervous about giving out my email address"
were answers that were seen frequently.
It seems quite many people have negative impressions of free Wi-Fi.
In fact, there have been reports of fake Wi-Fi lately disguised as official free Wi-Fi but that are targeting users' personal information. These reports warn people to watch out for such Wi-Fi.
"Japan Wi-Fi auto-connect" detects such suspicious Wi-Fi in advance. The app displays a warning on the screen to help users avoid connecting to risky Wi-Fi hotspots.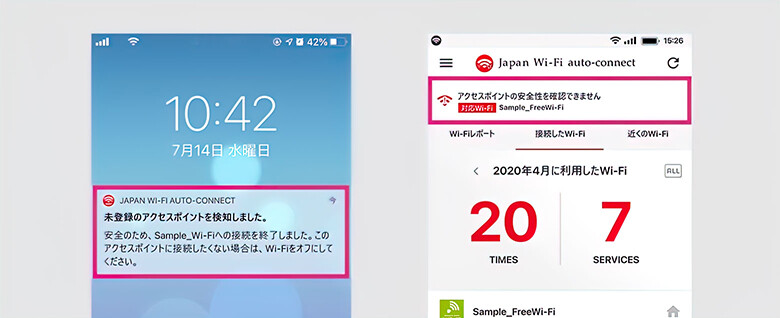 Basic smartphone features alone cannot distinguish between suspicious and legitimate Wi-Fi, even if the user is fairly knowledgeable about communication. So, it is safer to install the app.
"Japan Wi-Fi auto-connect" also connects only to official access points provided by municipalities, official public transport, convenience stores and commercial facilities.
The user-friendly design mentioned earlier enables you to instantly see which Wi-Fi you are connected to, enabling you to use the Wi-Fi hotspot without worrying.
※1:"Survey on people's views on using data on their communication devices"
(by NTTBP, January 25, 2021) (*Japanese Version Only)
Wi-Fi environment expands every year along with the apps, becoming the most familiar legacy of the Olympics to us
It's user-friendly because it automatically connects and authenticates. It's safe and secure because it only connects to trusted access points.
In addition to these two key features, "Japan Wi-Fi auto-connect" also has another important feature, its multi-lingual ability.
"Japan Wi-Fi auto-connect" caters to as many as 16 languages, including Japanese.
Sadly, the spread of COVID-19 has made it difficult for foreign tourists to visit Japan, and for us to travel inside Japan.
With all large events scheduled from 2020 in sight, the Metropolitan Government of Tokyo, municipalities including Tokyo's 23 wards, and private sector companies had been working on organizing and introducing many Wi-Fi hotspots.
In full support of this development, NTTBP became compatible with 14,000 Wi-Fi hotspots in Tokyo by June 2021, a significant increase from the 400 in 2016.
If it hadn't been for COVID-19, "Japan Wi-Fi auto-connect" would have been such a great show of hospitality to foreign tourists to Japan, estimated to be one million, with its great coverage of Wi-Fi spots and multi-lingual response.
Changes in the number of app-enabled Wi-Fi spots in Tokyo.
January 2016

June 2021
However, this free Wi-Fi environment and the "Japan Wi-Fi auto-connect" app are not temporary infrastructures for "2020." They are infrastructures that have been continuously developed to address social needs such as people using the Internet away outside their home and for emergency uses during natural disasters.
Going forward, we hope that they will become the most familiar legacy of the Olympics to us that will stay close to us in all areas of life, whether at work or in our private lives.
Once COVID-19 dies down and our activities and travel become less restricted,
"Japan Wi-Fi auto-connect" is certain to demonstrate its true potential.