1.

Background

The ongoing digital transformation in a wide range of fields is driving changes affecting the service economy, open systems, social networking, and smart systems. At the same time, the accumulation of cross-sector data and the use and application of that data are expected to foster innovation and promote development and economic growth in diverse fields. However, the expanded use of data is hindered by the risk of incidents and the high social responsibility associated with data management, the need for data security measures to protect corporate strategy, and other factors.
To help eliminate such hindrances to data usage, NTT has become a world leader in the research and development of secure computation technology that enables data processing while keeping the data encrypted. This technology enables data computation with only the results being visible (Fig. 1). Thus, for the first time, integrated analysis of data that have traditionally been difficult for organizations to release can be performed. NTT has been developing this technology as Secure Computation System San-Shi and has been demonstrating its effectiveness in various fields through application examples such as multi-facility clinical research data analysis(1) and genome data analysis(2). NTT has also been making improvements to San-Shi such as expanding operations and functions and increasing operation speed.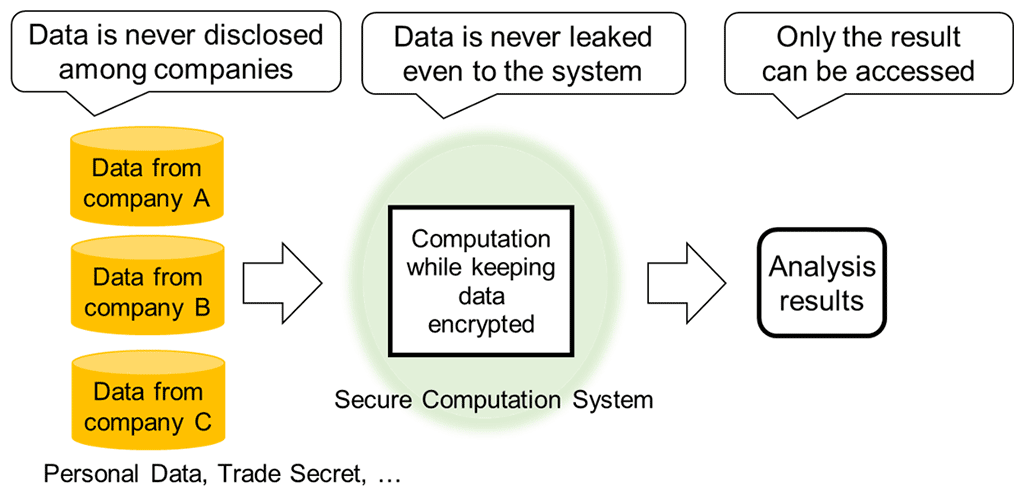 Fig. 1 Advantages of secure computation technology
2.

Key Points of Trial Service

Secure Computation System San-Shi features secure computation technology that supports integrated analysis of data from multiple sources beyond company boundaries without the data being disclosed. NTT is commencing trial service of San-Shi so that users can experience for themselves the value of this system.
Users who participate in this trial can try out the San-Shi functions for performing aggregation and statistical processing of target data while keeping the data encrypted by using a San-Shi system implemented on the cloud. Three typical analysis scenarios and associated trial data have been prepared to make it easy for users to experience San-Shi (Fig. 2). Additionally, for users who wish to experience San-Shi beyond those typical scenarios, NTT plans to support the trial use of individual analysis scenarios based on data that users themselves possess.
Users who wish to try out the San-Shi system during this trial period should contact the inquiry desk with their contact information (company name, personal name, mail address, and telephone number). NTT will then forward the documents and materials needed for submitting an application. The overall flow of the San-Shi trial service is shown in Fig. 3, and the trial service conditions are listed in Fig. 4. (3)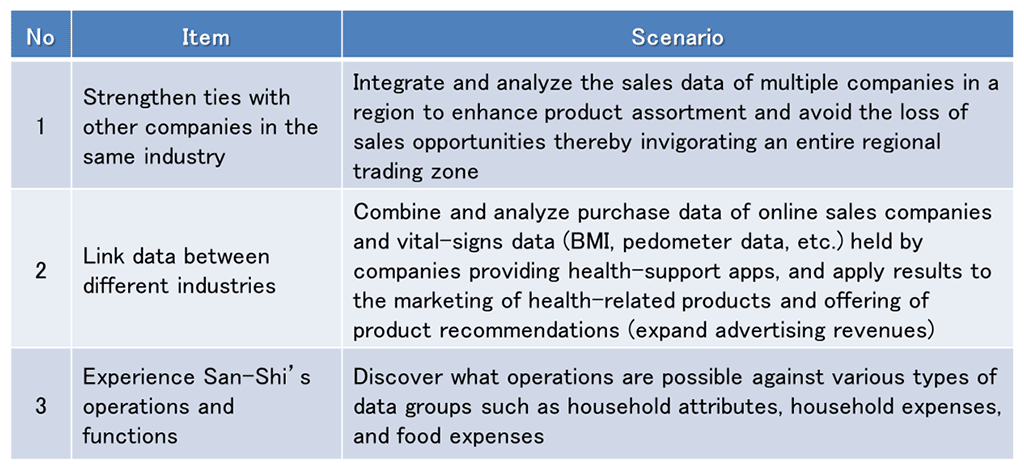 Fig. 2 Typical analysis scenarios provided during trial service

Fig. 3 Overall flow of trial service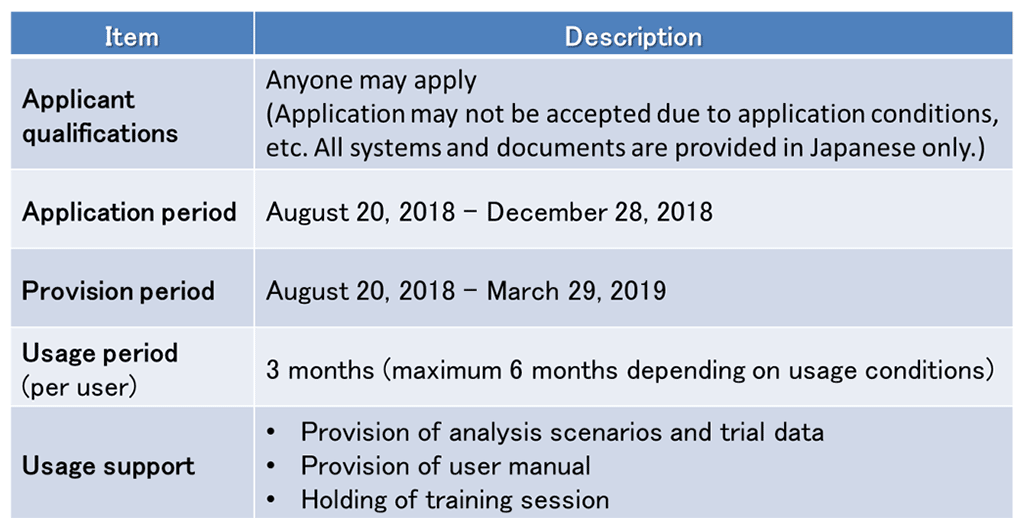 Fig. 4 Trial service conditions
3.

San-Shi Features

NTT's Secure Computation System San-Shi(4) dramatically improves processing speed, which has long been a technical problem in the field of secure computation. It achieves the world's highest level of secure computation with the ability to tabulate and statistically analyze data on a scale of 100 attributes × 10,000,000 items within a practical length of time. San-Shi is equipped with abundant aggregation functions and basic statistical operations, each of which can be executed at high speed.
(1) Extensive operation variation
With San-Shi, the user can execute the operations shown in Fig. 5 via a graphical user interface (GUI) on a web browser or an interface to 'R' statistical analysis software without viewing the original data. The user can create simple programs with 'R'to carry out analyses such as regression analysis and principal component analysis in accordance with the current application.
The San-Shi trial service enables partial use of these interfaces.

Fig. 5 San-Shi basic operations
In particular, San-Shi's "table join" function (a function that enables multiple tables of data to be joined without leaking the join key) makes it possible to integrate data between different companies and different industries and to obtain only the results of cross analysis without having to mutually release individually held data. In this way, supply chains or customer data that overlap multiple companies can be analyzed as needed, which contributes to the creation of new value in data usage that up to now could not be achieved within a single company or industry.
(2) High-speed processing sufficient for practical use
In addition to adopting a secret sharing scheme,(5) San-Shi provides both extensive operation variation as described above and faster processing through a proprietary speed-boosting algorithm and fast implementation method.
Secure computation technology based on secret sharing has two outstanding advantages: the size of the processed data is small, and both addition and multiplication, which are frequently used operations, can be executed at high speed. As a result, San-Shi is capable of executing a variety of operations at high speed compared with secure computation technologies based on other types of encryption schemes.
Additionally, by developing a basic algorithm for secure computation having extremely low computational and communication costs and applying this algorithm using a fast implementation method, NTT has dramatically improved processing speed and achieved the world's highest speeds in executing operations.
4.

Future Plans

NTT aims to leverage the trial service of Secure Computation System San-Shi to further promote the safe and secure use of corporate secrets and personal data while endeavoring to develop and popularize data usage techniques including secure computation technology on a global basis.
Glossary and References
NTT Press Release: World's First Verification of Secure Computation Technology Applied to Medical Statistical Processing (in Japanese)
http://www.ntt.co.jp/news2012/1202/120214a.html
NTT Press Release: Development of Technique for Analyzing Genome Data Held by Multiple Research Institutions Without Mutual Release of Data (in Japanese)
http://www.ntt.co.jp/news2016/1607/160712a.html
Trial service
The trial service period runs from August 20, 2018 to March 29, 2019. NTT will send out an explanatory booklet, usage application form, and other documents after receiving a request for trial use. After receiving and checking the contents of the application form and other documents, NTT will contact the applicant to provide account information and other information needed to use the trial system. Please note that we may not accept an application for trial use of this system in certain cases.
NTT Secure Platform Laboratories: Introduction to Secure Computation Technology
http://www.ntt.co.jp/sc/project_e/data-security/secure_computation.html
Secure computation technology based on secret sharing
Secure computation based on secret sharing safely stores data by encrypting the data, dispersing the data into fragments called "shares," and sharing the storage of those shares. This scheme enables computation of that data without decryption while storing the data on multiple servers in a dispersed manner. San-Shi adopts a safe and secure secret sharing scheme recognized by the International Organization for Standardization (ISO).
NTT Press Release: Selection of NTT Secret Sharing Scheme as the First International Standard for Secret Sharing (in Japanese)
http://www.ntt.co.jp/news2017/1710/171023a.html
San-Shi® is a registered trademark of Nippon Telegraph and Telephone Corporation