NTT has released the simplified English version of "Cybersecurity for Business Executives", where the Japanese edition NTT published in October 2015.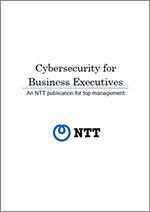 This English translated version was developed for readers in both the public and private sectors.
It is our thought on cybersecurity challenges from a business management point of view and the information about our public advocacy activities for discussing collaborative public advocacy that align with international norms and practices.
NTT will continuously contribute to build-up global cyber resiliency.
Cybersecurity for Business Executives
(PDF: 1.1MB)