NTT ranked 15th in "Brand Finance Global 500" on February 2017.
This ranking is released as the annual report of Brand Finance, the world's leading brand valuation and strategy consultancy with offices in over 20 countries and they evaluates global companies of wide-ranging business category as corporate brand ranking. In the ranking, NTT got higher than last year's 23rd.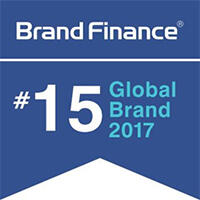 Brand Finance CEO, David Haigh comments,
"NTT is driving towards its vision of a connected world by leveraging its long heritage to create technology solutions and services for its global clients. A clear indication of its success is an increase in its brand strength index score of 4 points, reflecting improving customer perceptions on metrics such as consideration, preference and satisfaction. The financial value of its strategy is even more apparent however; NTT's brand value has risen 28% to US$40.5 billion. This means that it is now challenging Toyota for the title of Japan's most valuable brand and one of the world's most valuable ICT brands in the world."
NTT will continuously approach to increase brand awareness in global market.
[Reference]
Brand Finance Global 500 (The most valuable brands of 2017)