NTT has joined an open source project "Akraino" for edge computing systems and applications under The Linux Foundation *1
Akraino integrates open source software (OSS) into a whole platform optimized for edge computing*2. The Akraino Edge Stack is designed to meet the requirements of edge cloud infrastructure for enterprise edge, OTT edge, and carrier edge networks. It will support a broad range of Telco, Enterprise, and Industrial Edge uses, focused on creating blueprints with CI/CD (Continuous Integration/Continuous Delivery) that will consist of validated hardware and software configurations against a defined use and performance specifications.
Our aim is to ensure the acceleration of the edge computing strategy, digital transformation through R&D and collaborative development within the Akraino project.
About Akraino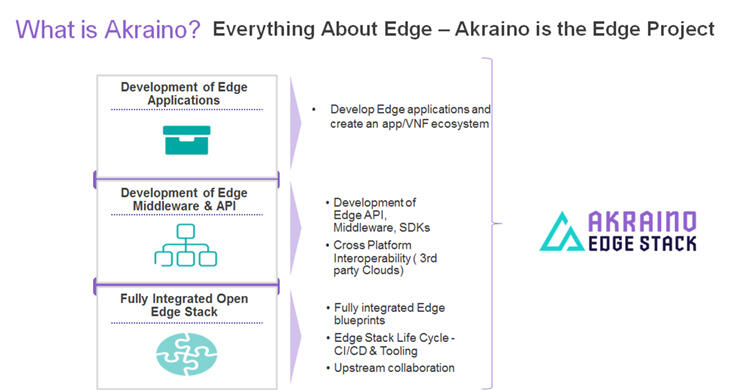 A nonprofit organization founded in 2000 involved in promoting technology development and commercial use of OSS projects. Hundreds of companies from every part of the world have become members.
A concept to realize distribution of functions and processes and various new services by processing data with facilities close to terminal devices in addition to terminal devices and clouds
Contact information
NTT Information Network Laboratory Group
Public Relations, Planning Department
Email: inlg-pr-pb-ml@hco.ntt.co.jp