FJun Sawada, President and Chief Executive Officer,
Representative Member of the Board
Also in attendance were:
Takashi Hiroi, Senior Vice President, Head of Finance and Accounting Dept.
Ryota Kitamura, Senior Vice President, Head of Corporate Strategy Planning Dept.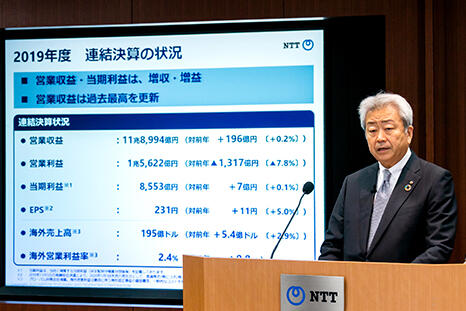 Summarized below are the key points of the explanations and comments given at the press conference.
(Jun Sawada, CEO)
I would like to offer my heartfelt sympathy to the people who have been infected with the novel coronavirus (COVID-19), and the people whose lives have been affected by the novel coronavirus pandemic.
At NTT Group, 69 employees in Japan and 356 employees around the world have been infected with the novel coronavirus. I am praying for their quick recovery and hope that the prevalence of this infectious disease will be resolved as soon as possible in countries around the world.
Simply put, both operating revenues and net income increased. The earnings forecast was also achieved.
Operating revenues amounted to 11,899.4 billion yen. This results in three consecutive fiscal years of operating revenue growth at record high levels.
Operating income decreased due to a drop in revenues from NTT DOCOMO resulting from price reductions of its mobile communications services, as well as cost increases resulting from ongoing restructuring of our overseas operations. However, the earnings forecast could be achieved.
Net income has surpassed our earnings forecast. Despite a decrease in operating income, net income increased partly due to valuation gains of ENNET Corporation, which was consolidated as a subsidiary into NTT Group.
As a result, earnings per share (EPS) amounted to 231 yen, up 11 yen, reflecting the repurchase of our own shares.
Overseas operating income decreased by 16.5 billion yen from the previous fiscal year due to business reorganization resulting from changes in the external environment of NTT DATA in Brazil, recognition of impairment at NTT Ltd., and a delay in shifting to high-value-added services, and the overseas operating income margin lowered by 0.8%. However, overseas sales remained positive.
The impacts of the novel coronavirus pandemic on earnings for FY2019 include reduction in new SI orders mainly in North America and Asia. In total, those impacts are immaterial thanks to certain factors contributing to revenue growth such as a decrease in domestic sales cost, although our earnings have started to decrease to a certain extent due to those impacts.
Next, I would like to explain the financial condition by segment.
Operating revenues increased, driven by the data communications business and other business segments. Increase in revenues from the other business segment resulted principally from the consolidation of ENNET Corporation as a subsidiary into NTT Group.
Operating income decreased over the previous fiscal year, as the mobile communications business segment was largely affected by a reduction in income from mobile services due to the impact of introducing new billing plans.
Operating income from the regional communications business segment increased, as no loss related to metal cables was recognized (this was recognized in the previous fiscal year).
Revenues from the long distance and international communications business segment increased over the previous fiscal year, reflecting favorable conditions of NTT Communications, although the segment recognized an increase in reorganization-related costs.
Revenues from the data communications business segment decreased over the previous fiscal year, due to business structural reform costs in EMEA and Central and South America, and business reorganization initiatives resulting from changes in the external environment in Brazil, although the segment expanded its business scale.
NTT Group ensures a stable provision of communications to our customers and subscribers even under the influence of the novel coronavirus pandemic, and is taking measures to reduce or exempt our charges, or give a grace period of payment. In order to include the meaning of enhancing returns to our shareholders, we are considering increasing the dividend amount based on our fundamental philosophy of returns to shareholders. As a result, we plan to increase the dividend amount to 100 yen per share per year, up 5 yen from the previous fiscal year. This shows that NTT has achieved dividend increases for ten consecutive years.
I will explain some key topics.
The first topic is about our major approaches to the novel coronavirus pandemic. We have been taking several measures, including stable provision of communications, measures for support to our customers and subscribers, and renewal of expired points. Among those measures, I would like to refer to the project to assist municipalities in processing the support special cash payments that we started on May 1. Payment operations are processed by municipalities, and we have started to provide a royalty-free solution for automation of this operation process. We now have received orders from nearly 130 municipalities, and the Ministry of Internal Affairs and Communications recommends the use of this solution.
The second topic is about our measures to assist the education field. NTT Communications, NTT East, NTT West, and NTT DOCOMO have taken various measures, for example, the cloud-based "Omakase Kyoshitsu" service and charge-free provision of certain amounts of data communications capacity to our subscribers aged 25 years old or younger. . We are also considering taking new measures, such as free-of-cost development and maintenance of online learning environments for schools for a limited period of time. NTT East is moving forward to provide those services.
Thinking of society after the coronavirus pandemic, there are the four points I mentioned.
The first point is to maintain social distancing. I believe we must continue to observe this. I imagine that a remote-based society will be fixed over time. We wish to support this. We also wish to support deployment of online systems for e-government administrative processes, as well as for corporate transactions. What is important to fully realize online working and Work from Home is security. We plan to provide security solutions our customers and subscribers can use safely.
The second point is to carry out work-style reforms and operational reforms through digital transformation to improve productivity. We would like to help, among other industries, the agricultural, construction and manufacturing industries to resolve labor shortages. In fact, those industries face labor shortages and require labor-intensive workforces, even though they are forced to maintain social distancing.
The third point is, in my opinion, the rise of a bloc economy. Some aspects of globalization will be transformed by the impacts of the novel coronavirus pandemic. As a result, companies will consider reshoring industries from overseas. If so, it will become necessary to digitalize and connect domestic supply chains and value chains. We wish to assist this movement. Now we have just started to launch 5G services, and want to accelerate promotion of open wireless systems as a next system. When supply chains are built up for that purpose, we would like to recommend that reshoring be promoted. In addition, more attention may be paid to the term economic security. If this is the case, food or energy autonomy will be important to Japan. Given this, we would like to expand our renewable energy business.
The fourth point is to develop game-changing technologies. At NTT, we wish to promote the IOWN (Innovative Optical & Wireless Network) initiative.
Next, I would like to talk about the progress of our Medium-term Management Plan.
The number of B2B2X projects increased to 53 from 13 in the Q2 of FY2018 when we started to count the number of projects. Our goal is to reach 100 projects in 2021. The number of projects has increased smoothly: now 66 projects, achieving two-thirds of the goal.
Now we are considering adopting the executive officer system. At the same time, we plan to change the composition of the Board by reducing the number of members and increasing the number of independent outside members to half of the Board, with the aim of making the Board an effective forum for discussion.
We are formulating our Environmental and Energy Vision. We are striving for zero environmental impact. We are considering taking four measures to contribute to helping customers and subscribers, companies and society to reduce environmental impact.
The first measure involves green electricity. A total of 4.5% of the electricity NTT Group as a whole is now using is from renewable energy. We plan to increase this ratio to over 30% by 2030. We also want to endorse and join various projects such as SBT (Science Based Targets) and TCFD (Task Force on Climate-related Financial Disclosures), or issuance of green bonds, in an attempt to improve the environment.
The second measure is to reduce environmental impact through the use of ICT technology itself. One of them is Work from Home. In addition, we believe that we can reduce energy consumption through digitalization or computerization of value chains. This includes the reduction of use and recycling of plastics, and solar quartz photovoltaic (SQPV) technology, which is a transparent glass product developed by inQs, a Japanese venture company with which a member of NTT Group has a contract. This product can be used as a heat-shielding and power-generating glass material and will be sold by NTT Advanced Technology Co., Ltd. on an exclusive basis. We plan to provide a variety of technologies like this to society.
The third and fourth measures relate to the future. The third measure is to develop environment and energy technologies. New laboratories called "Space Environment and Energy Laboratories" will be formed in July this year. NTT Corporation concluded a Long-Term Non-Commercial Cooperation Agreement with International Fusion Energy Organization (ITER) for the first time as a private-sector company in Japan. Nuclear fusion is a 'dream energy' of the future. We wish to contribute to these energy management technologies and communications technologies through IOWN. The experimental hydrogen fusion reactor will be launched aiming at achieving initial plasma production in 2025. We wish to simulate this by using Digital Twin Computing, and will support this study through the new laboratories.
The fourth measure is to make chips through integration of photonics with electronics in collaboration with Intel. Both Intel and NTT are members of IOWN Global Forum, and concluded a 3-year joint research agreement.
The Medium-term Management Plan is progressing almost as planned. So I will skip explanations about specific figures.
President and Mr. Kazuhiko Matsubara, Executive Vice President, will be appointed as Mr. Ichihoshi's successor.
With respect to the executive changes of the holding company, as we announced on March 27, we decided to reevaluate the size of the Board to invigorate discussions at the Board of Directors, and will increase the ratio of outside independent Members of the Board to 50%. Mr. Motoyuki Ii, Senior Executive Vice President, will become Senior Executive Vice President of NTT DOCOMO, Inc and Mr. Naoki Shibutani, Senior Executive Vice President of NTT East, will be appointed as Mr. Ii's successor. We will submit our proposal on these executive changes before the General Meeting of Shareholders.
That concludes my explanations.