Delivering innovation through collaboration
To further promote greater collaboration with a variety of businesses in the field of artificial intelligence (AI), the NTT Group has adopted the unified brand name of "corevo" for all of its initiatives that utilize the various AI-related technologies that the group has developed through its R&D.
The brand name expresses our desire to innovate together with others through collaboration ("collaborative revolution"). corevo provides AI technologies that can substitute for and assist with certain human activities to complement and enhance human capabilities.
Going forward, the NTT Group will utilize corevo across multiple sectors to create new value in collaboration with its partners and the local municipalities.
The corevo logo illustrates how value with unlimited potential
can be produced using corevo through collaborations
involving many different players.
Revolutionary technologies offered by corevo
In the fast growing field of AI technologies, the NTT Group has delivered results that lead the world in areas such as various types of Japanese language analysis as well as speech and acoustics processing.
1. Voice recognition technology that was recognized as offering the world's highest accuracy at an international technology assessment event
At the 2015 edition of the CHiME-3 Challenge, an international technology assessment event, NTT came first among the 25 participating teams for having delivered the highest accuracy with its proprietary new voice recognition technology based on distortion-less voice enhancement and deep learning.
2. Natural language and knowledge processing technologies backed up by over 40 years of accumulated research results
NTT has been participating in an AI project being run by the National Institute of Informatics called "Can a Robot Get into the University of Tokyo?" We are responsible for handling the English section of the various exams, which is the weakest subject for computers because it requires deductions to be made based on common sense. Taking full advantage of NTT's natural language and knowledge processing technologies, we managed to get an above-average score in 2014 in the very first mock test we attempted.
3. NTT's research into human sensory information processing, which has been selected as an outstanding Japanese content technology
NTT has been conducting research into human sensory information processing for many years. Japan's Ministry of Economy, Trade and Industry (METI) selected the following two technologies, both of which were developed through this research, as outstanding content technologies for Innovative Technologies 2014 and 2015: Buru-Navi 3 (which creates the sensation that you are being pulled along when you hold it) and HenGenTo.
Working with the four AI technologies that constitute corevo
The NTT Group positions the four AI technologies listed below as the constituent parts of corevo.
Agent-AI
AI that understands human intentions and emotions and plays a key role in contact centers and support for the elderly
Heart-Touching-AI
AI that helps to improve sporting skills and mental wellness and sheds light on the true nature of humanity
Ambient-AI
AI that lies at the heart of healthcare and traffic control and, as the brains behind the IoT, manages intelligent sensors
Network-AI
AI that supports mega-systems, such as total optimization on a global scale, by using super-distributed real-time processing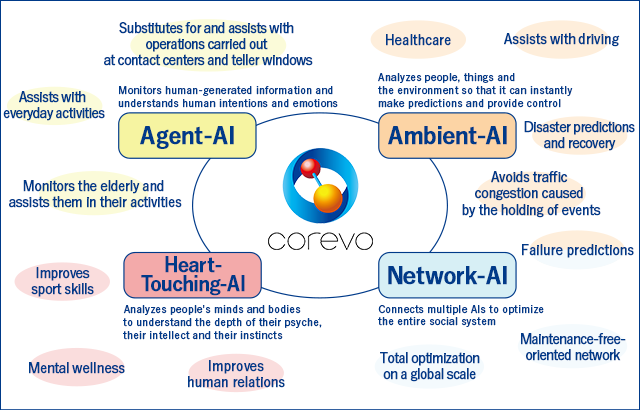 Expanding corevo to actualize its four AI technologies
With the aim of actualizing the four AI technologies that form the basis for corevo, we are actively incorporating not only the latest NTT Group technologies, but also the latest outside technologies. One example of this is the utilization of the latest big data-based deep learning technology from Preferred Networks, Inc. To develop a technology that is able to instantly locate a person with any attributes in real space, we are working to improve the technology's detection accuracy and processing performance.
Facilitating collaborations with corevo
Through our corevo-based initiatives, we are working together with municipalities and various local businesses involved in sectors such as manufacturing, automotive, and medical care. By tackling themes such as resolving social issues and strengthening industrial competitiveness in the age of IoT and big data, we aim to achieve a stress-free, safe and affluent society.
corevo-based initiatives in a broad range of areas
As part of their global activities, NTT Group companies will be with their overseas counterparts to employ corevo in a variety of situations and fields.
In the field of business, we employ corevo for the efficient control of costs by using it to substitute for and assist with operations carried out at contact centers and teller windows, as well as screening, analyzing and monitoring duties. In the field of traffic, we apply corevo to implement traffic control activities to help ensure that driving is an accident-free, stress-free and safe experience. In the field of infrastructure, we use corevo as part of our efforts to improve the efficiency of network system operations.
We also pursue various corevo-based initiatives in a broad range of other areas, including an initiative for extending healthy life expectancy in a society with an ultra-low birth rate and rapidly aging population as well as a service that facilitates communication with natural voice interaction.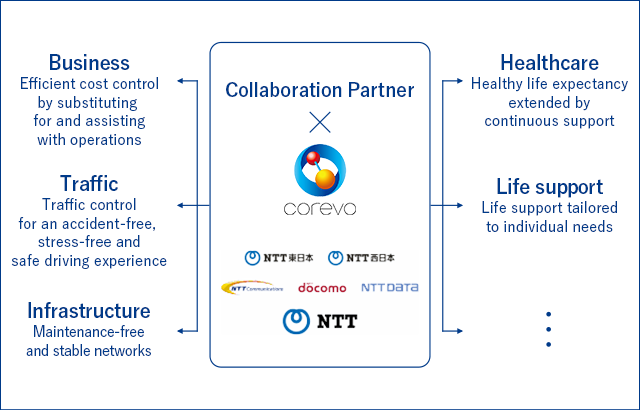 corevo case studies
Currently, corevo is used in variety of fields. Some of the corevo initiatives that are already underway in the fields of business, traffic, infrastructure, healthcare and life support are described below.
Business
Traffic
Infrastructure
Healthcare
Life support