Piercing blue skies and athletes' passionate spirits
With the 2020 only two years away, the Kanto Para Athletics Championships is also positioned as an important event in the sense of predicting how athletes will perform in the future. NTT Blues' supporters gathered at the Championships venue, Machida Stadium in Nozuta Park, Machida City, Tokyo, passionately supporting their athletes as they strove to join the ranks of the world's best.
Tokyo's weather on the day was perfect with clear blue skies.
The long-awaited Championships are about to begin!

Many NTT employees and their family members
came to the venue to cheer on Tadashi Horikoshi.
At last it was 13:50, and Tadashi Horikoshi was competing in the final of the Men's T12 Class 1500 m final. Making a beautiful start with the signal to race, Horikoshi took the lead with smooth running, maintaining his clear lead throughout. Surrounded by loud cheers of encouragement, he crossed the finish line in a time of 4:13.48. Although he did not break is own Japan and Asian record of 4:04.62, he showed a strong race performance.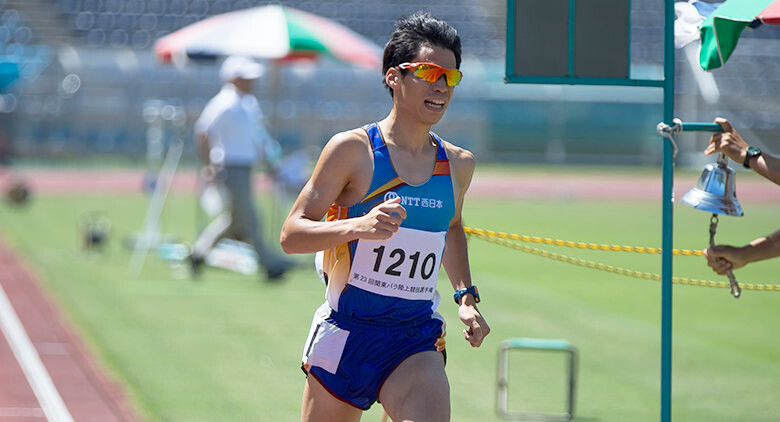 Tadashi Horikoshi makes a last spurt on hearing the bell ring for the last lap of the 1500 m race.
Revving up the pace, he powers home to win the event.
Track performance leading to the next step with eyes on 2020
Reflecting on his performance, Horikoshi said, "Although there are things I could have done better, I'm please that I was able to beat my target time of 4:15 and push through to the very end."
In fact, following the Rio Paralympics, Horikoshi had been suffering from poor health and injuries.
Speaking of his motivation going forward, he declared, "I hope I can thoroughly dispel my frustration this year and next year. If I am fortunate enough to be selected for the Asian Para Games 2018 (to be held in Jakarta, Indonesia, in October), although it's a tough competition where lots of new records are set, I will aim for a top placing, leading to the 2020. I intend to train hard with my eyes on the long-term."
T12 Class
Vision is between LogMar 1.5 and 2.6 (Decimal visual acuity conversion: 0.0025- 0.032) and/or range of vision is within a diameter of 10 degrees.
(Source: Class Division Explanatory Table [2018 Edition] (Japan Para Athletics))
Everyone cheered on the all athletes competing
in the Championships alongside the children

Tadashi Horikoshi happily answers interview
questions after the race
Kids' Reporters in action! Including questions only kids could ask...
After his race, Tadashi Horikoshi came to the cheering section to say hello to his supporters.
Given this precious opportunity to talk directly with a top athlete, we had the children who had come to support the athletes ask Horikoshi questions regarding matters that they were curious about.
How come you can run so fast? (boy named Harumichi, aged 4)

First of all, I eat a lot and sleep a lot, so I can make my body strong and healthy. After that, it's important to train with all your might.

What aspects of your diet do you take special care with? (girl named Momoka, grade 5 elementary school)

I take care to eat a balanced diet including vegetables, fish, and a range of other foods, not just my favorite foods like meat.
Marathon runners need a lot of energy, so I make sure that I eat a lot of white rice.

How do you build up the physical strength to run long distances? (Boy names Yuki, grade 6 elementary school)

To become able to run long distances, you can start by running for short periods of time, such as for 10 minutes, and then extend the distance little by little.
It is also important to rest, and so I take one day to rest when I have been training for three days straight. Resting is also a part of training.

How much do you usually train? (girl named Saori, grade 1 elementary school)

In months when I don't train so much, I usually run around 700 km. In months when I'm training a lot, I run around 1,100 km, which is around 70 km per day.
As Tadashi Horikoshi happily answered each question, the slightly nervous children began to relax and smile.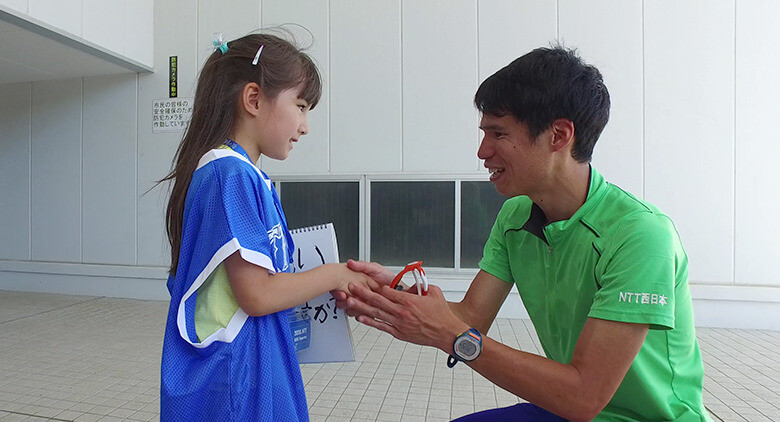 The children interviewed Horikoshi about the secret to his strength and other matters they were curious about,
their eyes bright with the excitement of meeting a top world athlete.
Aiming towards 2020, careful to remember gratitude and smiles
"The reason I am running now is not only because of my own capabilities but also the people around me providing support and people taking an interest and watching me perform. I am immensely grateful. In future, I will hold this feeling close to my heart as I compete", Horikoshi said.
Horokoshi's challenge is continuing, with him scheduled to compete in the Hokkaido Marathon in August, and his beaming smile suggested he will be making even greater leaps forward towards 2020.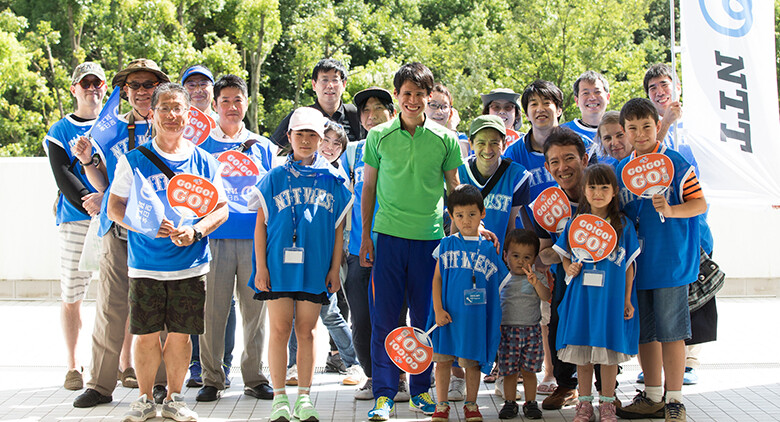 The athlete support volunteers who are sending athletes one more push.
"Let's all boost para sports together!"