We are supporting the challenge of NTT-affiliated athletes with an eye to 2020! This report introduces the passionate battles of athletes aiming to be the world's best as well as supporters sending power to these athletes through the example of para swimmer Takuro Yamada and his supporters.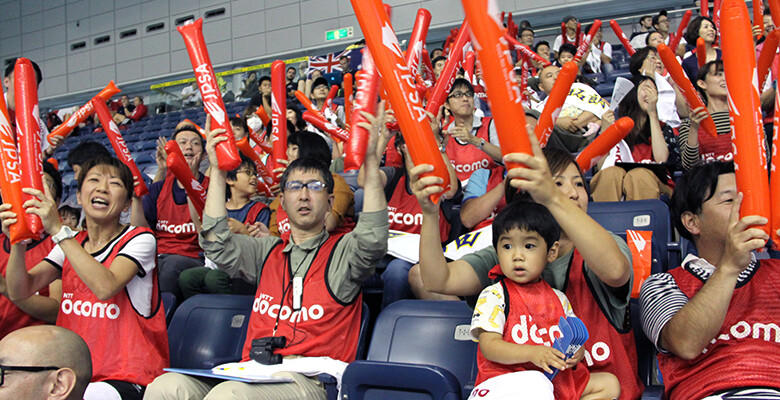 Tacking the prelude to the Asian Games!: Takuro Yamada (Para Swimming)
The 2018 Japan Para Swimming Championships were held at the Yokohama International Swimming Pool (Kanagawa Prefecture) from September 22 (Sat.) to 24 (Mon./public holiday), 2018. Bringing together top para swimming stars, including 41 swimmers from overseas, this attention-drawing event was attended by NTT DOCOMO affiliated para swimmer Takuro Yamada.
Takuro Yamada, a shining star of the swimming world,
competed in the Men's 50-meter Freestyle (S9 Class).

The championship's venue,
the Yokohama International Swimming Pool,
has hosted many international events.
On Day 1 of the championships, Yamada competed in the Men's 50-meter Freestyle (S9 class). Yamada holds the national record of 26:00 seconds in this event.
S9 Class:
Disability related to physical function (amputation, spinal cord injury, cerebral palsy, or other physical disability) Swimmers are divided into ten classes, from S1 to S10, based on degree of functional disability, with Class S1 having the most sever level of disability (source: J-FCS classification regulations)
Decked out in bright DOCOMO red, supporters started cheering as soon as the race began, with Yamada smoothly proceeding to the final. In the lane beside him was his actual rival for the 2020 Tokyo Olympics, Timothy Disken (Australia). The arena quietened to silence as all eyes focused on the start.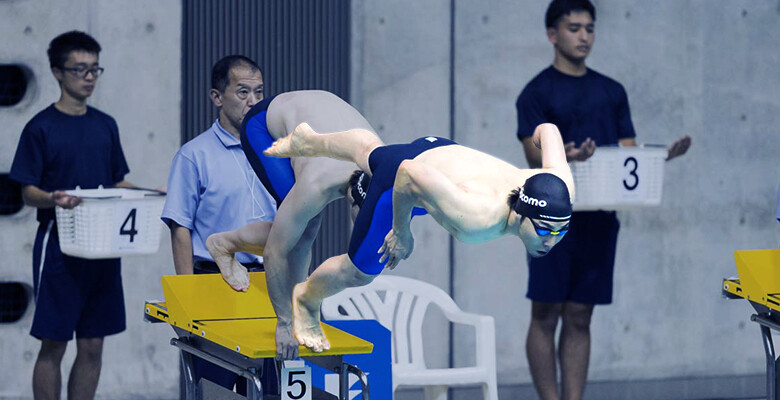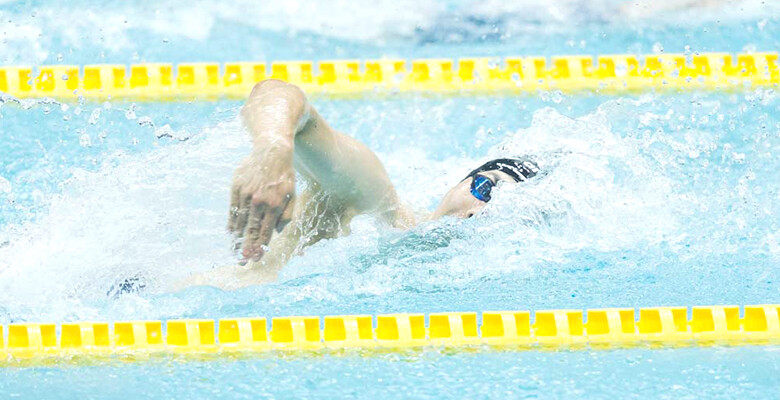 In the final, with a reaction time of 0.72 seconds, Yamada hit the water third out of the eight swimmers. Timothy Disken had a slight lead. Riding his momentum, Disken powered ahead to finish first, setting a new championship record of 25:54 seconds. Yamada surged after Disken, but was unable to better his time, finishing in second place with a time of 26:46 seconds to win the Silver Medal.
After the race, Yamada spoke about his motivation for future competitions, saying, "Today I made some mistakes, and so I was unable to achieve the results I had been aiming for. I would like to produce good results at the Asian Para (2018 Asian Para Games; held in October in Jakarta, Indonesia)."
Yamada finished with a time of 26:46 seconds,
just missing out on first place to win the Silver Medal.

Yamada smiles as he stands on the podium,
a shining Silver Medal around his neck.
Men's 50-meter Freestyle (S9 Class) Final Results (to Third Place)
1st Timothy Disken (Australia) 25:54 seconds (new championship record)
2nd Takuro Yamada (NTT DOCOMO) 26:46 seconds
3rd Christopher Arbuthnott (New Zealand) 27:24 seconds
TOPICS
What to Watch for in Para Swimming
Para swimming is an event carried out in three categories according to type of impairment: physical, visual, and intellectual.
Swimmers are divided into categories and classes according to their type and level of impairment, but in actuality there are swimmers with various different physical conditions in each class. With the simple goal of "swimming faster than everyone else," swimmers search for the best swimming style for their own bodies and polish their swimming skills. Accordingly, it is possible to see a range of different individualistic and innovative techniques in the one race.
Furthermore, because it is difficult for sight-impaired swimmers to judge where the pool wall is, when the swimmers are getting close to the wall an assistant (their coach) signals them using a pole called a "tap stick". This is called "tapping". Because even a small mistake in timing can result in time loss, sight-impaired swimmers and their coaches practice tapping repeatedly. At para swimming events, it is possible to see this finely honed superb teamwork in action.
(Source: Japan Para Championships website)
Excitement in the eyes of Kids' Reporters. Some even asked for swimming tips!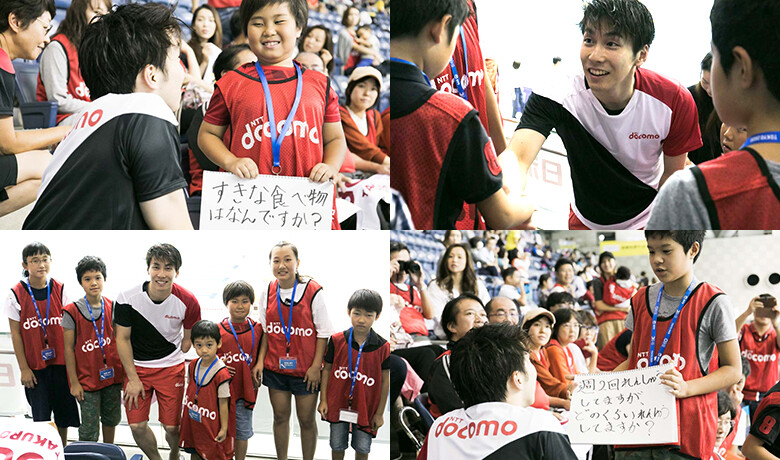 Yamada kindly answered the children's enthusiastic questions.
After the medal presentation ceremony, Yamada visited the spectators' seats were the NTT supporters were waiting and spoke with six Kids' Reporters. Having watched the medalist's race before their eyes, and with many of them taking swimming lessons, the children asked a flurry of quite specific questions.
Kids' Reporter: What is your favorite food?

My favorite food is gyoza (dumplings stuffed with minced pork and vegetables). I love gyoza!! (Laughs)

Kids' Reporter: Can you give us some swimming tips for how to swim breaststroke fast?

Make sure that you fully stretch you back. You will swim faster if your back is extended.

Kids' Reporter: I just started taking swimming lessons. How do you swim fast?

You need to train a lot. Just swim and train lots and lots.

Kids' Reporter: I train twice a week. How often do you train?

I do swim training five days a week, and I also do track training two days a week.

Kids' Reporter: What is your next goal?

Achieving a good result at the Asian Games!
Yamada was also entered in the Men's 100-meter Freestyle (S9 Class), which was held the following day, September 24 (Mon./public holiday). He placed second with a time of 58:14 seconds, winning his second Silver Medal.
For this event, a total of more that 100 supporters came to cheer Yamada on. Empowered by the cheers and calls of encouragement from the dedicated "cheer squad", Yamada achieved the excellent result of two silver medals. With Yamada setting his sights on this season's goal of the Asian Games and then the 2020 Tokyo Olympics in two years time, high expectations are held for his performance in the future.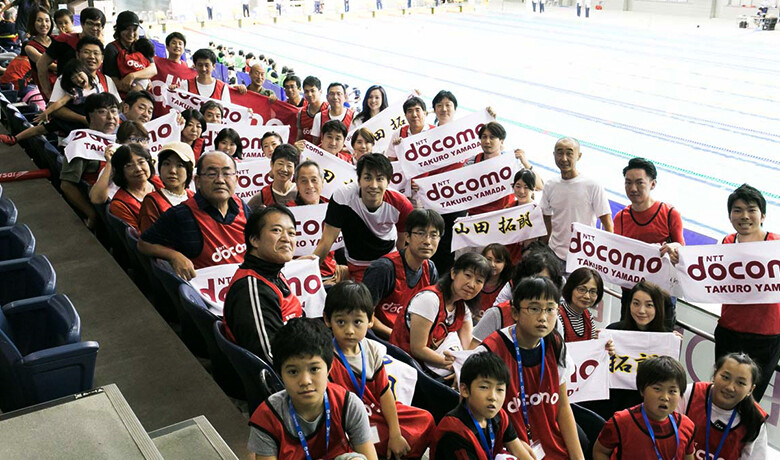 Everyone cheered on Yamada with all of their might.