As the year 2020 draws near, many sporting events in a range of sporting fields are being held across Japan. In particular, from the perspective of regional vitalization, it is anticipated that local EKIDEN road races, marathons, and bicycle races will be proactively held in regional areas.
Fulfilling fans'desire to "support my favorite athlete from a distance"
"Road races" that take place over long distances, such as EKIDEN relay races, marathons, and bicycle races are an extremely popular type of event. Crowds of spectators lining the road and cheering on the athletes is a familiar sight.
However, such races present the problem of spectators being unable to have a bird's eye view of the entire race because the athlete they are cheering on moves over a long distance, making it difficult for their supporters to follow them. Many supporters have voiced the desire to be able to "cheer on my favorite athlete from a distance".
Moreover, for team events such as EKIDEN relay races, in strategic terms, staff want to be able to keep a constant check on each runner's condition, and in actual fact, team mangers and support staff have voiced the desire to be able to "accurately know position information".
NTT East Japan realizes "race visualization" using ICT at the Kansai Men's Corporate Team EKIDEN
Held in Ryujin Village in Wakayama Prefecture, the "Kansai Men's Corporate Team EKIDEN (Ryujin EKIDEN)" is an important road relay race that also serves as a selection meet for Kanto region representatives to compete in the All-Japan Men's Corporate Team EKIDEN ("New Year's EKIDEN") held on January 1 of the following year. Surrounded by abundant nature, the Ryujin Village course has many undulations, with a difference in altitude of some 200 m! Thrilling-to-watch dead-heats take place in various sections of the course.
For this race, NTT East Japan used ICT to provide support for "EKIDEN visualization".
Specifically, the world's smallest lightweight device with built-in GPS was developed, and this device was attached to runners' sashes during the race. At 10-second intervals, the device acquired and updated information about each runner's position, and the position data for each runner was displayed on the screen of a smartphone, tablet or PC. This small lightweight device with built-in GPS measures 85 x 52 x 7 mm and weights 38.6 g, and it can transmit for upward of 6 hours when fully charged. Moreover, the transmission interval from the small terminal can be adjusted from 10 seconds up to 3,600 seconds.
A small, lightweight device with built-in GPS is
attached to the runner's sash

Public viewing at the Ryujin Village gymnasium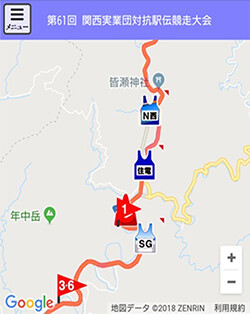 Image of race visualization screen
The IMADOCO + ("Where are you?") positioning information service function was added to the device and customized for the Ryujin EKIDEN.
1. Predicted movement display function
This function calculates average speed from the positioning information obtained by the device.
Using this speed, the runner's movement is shown on a map in two-second intervals using predicted positioning information.
2. Advance start display function
Advance starts occur frequently in this race, and so this function was added to enable two runners from the same team to be tracked simultaneously when this situation occurs.
3. Follow and display selected team function
When a certain team is selected, this function displays the movements of the team's members in the center of the map, as well as automatically follows and displays the team's movements.
4. Direction of travel display function
This function displays runners' direction of travel positioning using arrows in 8 directions.
5. Altitude difference display function
Surrounded by abundant nature, the Ryujin course has many ups and downs, and so in addition to showing the runners' positions, this function has been added to display differences in altitude.
6.The group crowding function
Organizes runner icons so that each can be easily seen when icons are overlapping due to the display scale being reduced.
"ICT x EKIDEN" raises new possibilities for EKIDEN viewing
Visualization of positioning information for the Ryujin EKIDEN was an experimental trial for mechanisms displaying positioning information acquisition data using small devices with built-in GPS based on "IMADOKO+" positioning service technology.
Based on know-how for providing positioning information in real time, NTT East Japan will continue to pioneer new possibilities for sports viewing in the future, such as using utilizing these technologies for EKIDEN road relay races, marathons, bicycle road races, and various other sporting competitions as well as walking rallies and other events.