In recent years, there has been a "revolution in competitive methods" in soccer, baseball, and various other sporting fields, with training methods being revised from a scientific perspective, data being used to enhance athletes' physical skills and capabilities, new battle strategies being formulated based on analysis data, and various other competitive strategies. Undoubtedly, behind this trend lies rapid advances in technology and the broadening of the base for application of core technologies.
Verification testing in America's IndyCar Series
We are now able to visualize the condition and know-how of individual athletes--which up until now tended to be reliant on human senses and intuition--by accumulating and analyzing data from multiple perspectives. One of the reasons that this has become possible is the acceleration of data acquisition, aggregation, and analysis utilizing information technology and beyond that, the development of solutions through the utilization of data.
Anticipating this flow of the times, NTT DATA has taken on the challenge of conducting verification testing during the IndyCar Series held in the Unites States between March and August 2015. This testing was a ground-breaking experiment in obtaining biometric information from racing car drivers driving in the world of high-speed car racing.
For this verification testing we used sensing fabric hitoe® that were born through cross-industrial collaboration between NTT and Toray Industries, Inc. By impregnating knitted fibers with conductive polymers, hitoe® technology enables the detection of biometric signals with a high degree of sensitivity despite the use of non-metallic materials. By closely fitting this material over the body surface, it is possible to obtain biometric information such as the wearer's heart rate, electrocardiographic wave forms, and degree of relaxation (measured using R-R intervals).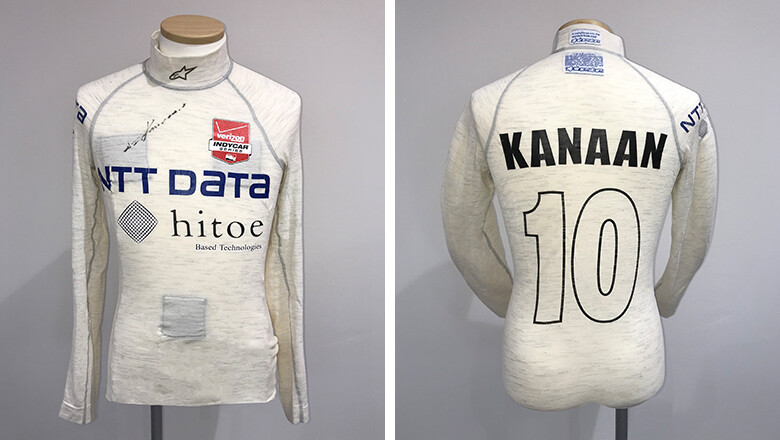 Driver's undershirts made using hitoe® technology
hitoe® technology enables you to know the wearer's physical condition instantaneously
Covering a wide area, providing high adhesiveness, and enabling acquisition of stable biometric information, hitoe® is a cloth-like material that can be processed and also washed freely; able to be worn exactly the same as ordinary clothing, hitoe® clothes enable sensing of a person's biometric information simply by the person wearing them.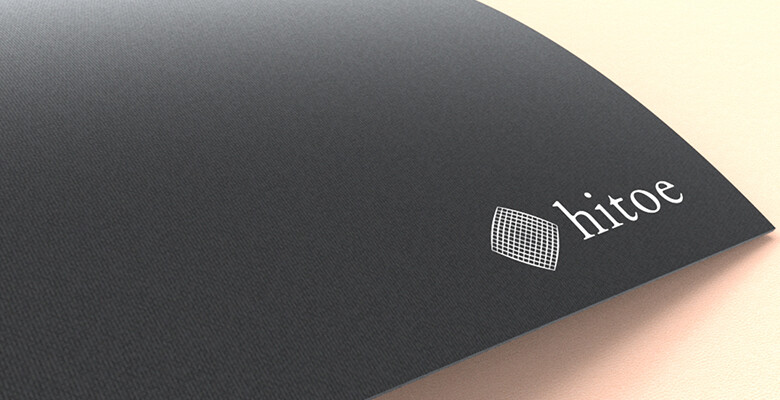 hitoe® cloth
Accelerating from zero to 200 km/h in 30 seconds and reaching a speed of 320 km/h in one minute, IndyCar Series drivers can reach a maximum speed of 378 km/h, placing this race series at the pinnacle of North American motor sports that use "formula cars".
NTT DATA created a new material in accordance with race safety management regulations by using hitoe® technology, and took on the challenge of obtaining biometric information such as electrocardiographic wave forms (ECG), heart rate, and chest electromyogram (EMG) activity for racing car drivers competing under these rigorous conditions.
We were successful in visualizing the relationship between the car's driving status and the driver's physical condition. For example, the driver's posture control and muscle contraction as their body resists G forces pushing them towards the outside while steering, or the increase in the driver's heart rate when they are decelerating compared to when they are accelerating. This verification testing enabled visualization of the extremely high physical capabilities of drivers in high-speed car races and the conditions under which these drivers are driving, which were not visible until now. These results are expected to be used in drivers' physical training and for improving their skills, as well as in preventing accidents.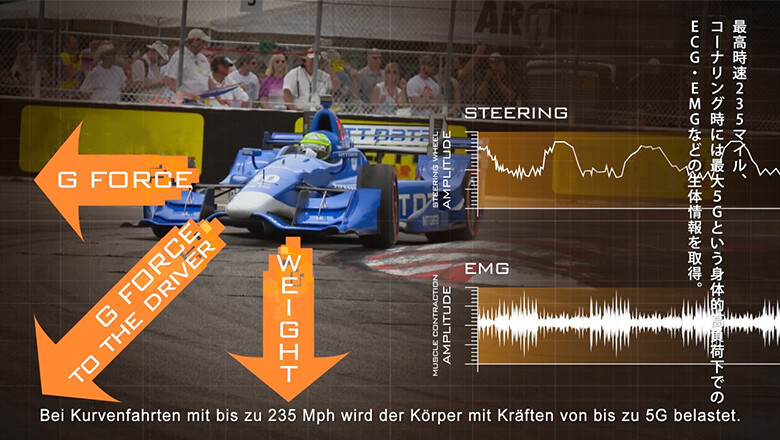 Image of the physical load sustained by racing car drivers
Expectations for resolutions using biometric solutions
The technology for acquiring and analyzing biometric information through the subject wearing hitoe® cloth is expected to have applications in not only sports but also other fields such as medicine and healthcare. For example, in the field of medicine, it is thought that monitoring the heart rate and activity information for rehabilitation patients over a 24-hour period would enable the results to be measured objectively, contributing to more appropriate medical intervention and faster recovery. Furthermore, in fields such as logistics and transportation, applying the technology to industrial drivers could contribute to the early detection of driving risks and safety management.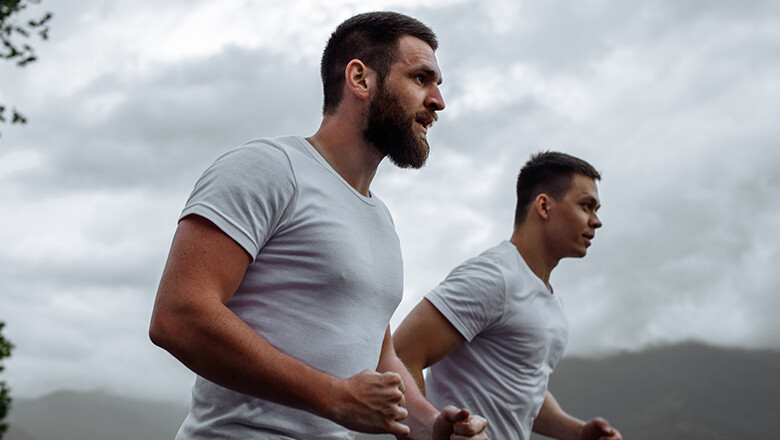 Of course, as we look towards quickly approaching 2020, it is also possible that these biometric information solutions will spread to other sporting fields besides car racing, leading to the realizing of training based on scientific evidence, which in turn can be expected to further boost the performance and activity of Japanese athletes.
Based on the technology and knowledge we have obtained through our initiatives in the IndyCar Series, NTT DATA will continue to advance the development of new biometric information solutions and generation of new services while promoting the expanded application of this technology in projects in a range of genres, such as the development of new solutions utilizing biometric information that can be applied in sporting fields.
【News Release】
January 15, 2019
INDYCAR NAMES NTT AS ENTITLEMENT SPONSOR OF INDYCAR SERIES