Use everyday items to get a sense of how world-class athletes experience their sport. Take a peek into NTT's initiatives to share the essence of sports with everyone.
Pick up a wooden alphabet instead of a sword!
The players start all at once when the timekeeper yells "3...2...1...Allez!" Two players go up against each other. They face each other and pick up a wooden alphabet. They entangle the alphabets, then pull, push, or twist. So what exactly are they doing? This new game is called "Alphabet Fencing" and it encompasses all the fun aspects of fencing. It has been designed in a way so that everyone can play. The two alphabets are intertwined like a wire puzzle. One player tries to take it apart while the other tries to keep it together. The winner is the player that can accomplish their goal within the 10-second limit. The players play with their eyes closed so they have to rely on their fingers. It doesn't require much physical force, and since it is played in a seated position, it is inclusive for all ages, including those who have visual impairments, as well as wheelchair users. At an Alphabet Fencing event, the venue was bursting with energy every time a game ended, with players lamenting "I lost!" or "Better luck next time!" It was filled with laughter and cheers, making it almost hard to hear the timekeeper's shouts of "Allez!" It seems like Alphabet Fencing is a game for everyone to enjoy.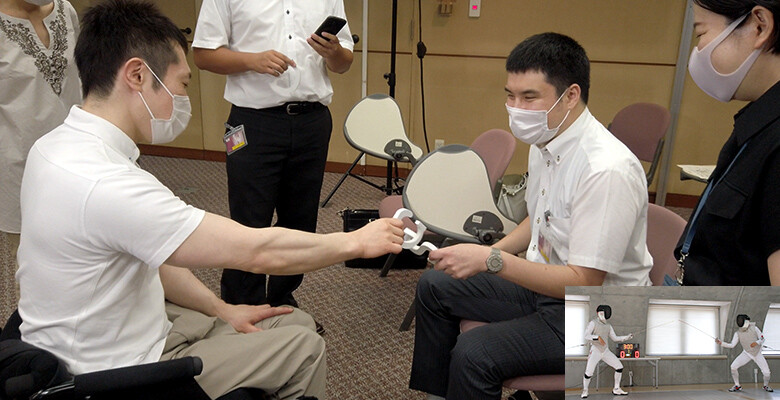 The wooden alphabets are held lightly with the thumb and forefinger to imitate the sensation of fencing.
"Translating" sports
Alphabet Fencing is the brainchild of Mienai Sports Zukan (Blind Sports Encyclopedia), a collaborative research project between NTT and the Tokyo Institute of Technology. By using familiar objects, the project "translates" various sports into activities that anyone can take part in. For example, baseball was translated into an activity where the player acting as the batter holds on to the pitcher's shoulder. Instead of using a ball, the pitcher pulls a stocking. By feeling the movement of the pitcher's shoulder muscles, the batter gets a sense of the right time to hit. This helped recreate the strategies and movements that exist in baseball. Judo was translated by having two people hold a hula hoop and try to destabilize their opponent's center of gravity. The feature of sailing, where you lose balance because of waves, was recreated by using a ball tied to a string. Players have to make sure it doesn't fall off aboard. At first sight, these activities may look like they have nothing to do with the original sport, but their purpose is to recreate the true essence of the sport.
Mienai Sports Zukan: https://mienaisports.com/
"This project originally started with the idea of how we can explain sports to blind people," says Junji Watanabe, a senior distinguished researcher who specializes in haptic communication at the NTT Communication Science Laboratories' Human Information Science Laboratory. The Mienai Sports Zukan Project was launched in 2018 by Watanabe, along with Akiko Hayashi, the chief researcher of NTT Service Evolution Laboratories' 2020 Epoch Making Project, and Asa Ito, an associate professor at the Tokyo Institute of Technology's Center for Liberal Arts.
Brainstorming with objects
Mienai Sports Zukan translation process involves inviting sports experts for discussions about the essence of each sport. For Alphabet Fencing, the project brought in Japanese fencer Kenta Chida, who had won the silver medal for men's foil at the 2012 London Olympics. According to Chida, players use the sensory information transmitted from the weapon to the fence with the opponent. However, if the translated version just uses a pointy sword, it may end up failing to convey the true essence of the game. Brainstorming about everyday objects helped bring out a solution.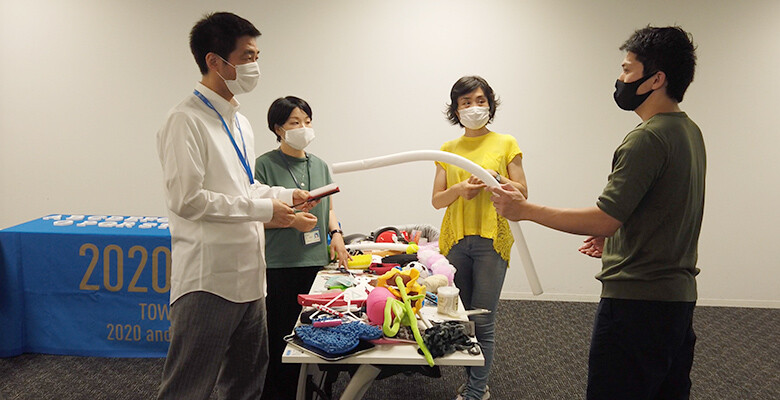 The group exchanged ideas while getting hands-on with objects like hairbrushes and urethane rods.
*From the right: 2012 London Olympic Men's Foil silver medalist Kenta Chida, Tokyo Institute of Technology Center for Liberal Arts Associate Professor Asa Ito,
NTT Service Evolution Laboratories Akiko Hayashi, NTT Communication Science Laboratories Junji Watanabe
It has become a ritual for Mienai Sports Zukan to have a brainstorming session by placing a variety of store-bought objects on the table, and getting hands-on with them while drawing similarities between sports and everyday movements. The wooden alphabets had been originally bought with the intention of using them for another sport, but when Watanabe picked them up, Kenta had an instant reaction. "These are fascinating," he said. This sparked a conversation. Incorporating the delicate finger movements used in fencing to move the weapons, the members started developing the rules for Alphabet Fencing, which needs varying tactics depending on the shape of the alphabets picked up.
"This project helped me to dig deeper into the sport of fencing and look at it from various perspectives. I feel that it gave me a chance to get a fresh look at the appeal of fencing," said Chida. Ito, who as an aesthetic researcher, is delving into the theme of how blind people experience the world, commented "I had the chance to run in a blind marathon. The information you acquire from the rope that tethers two people is amazing. In daily life, we use words to convey our thoughts and listen to people. However, I realized that a tremendous amount of information is contained in sensation." Hayashi talked about the various kinds of information that are transmitted through objects and bodies from the viewpoint of a user experience design researcher. "Through this brainstorming session, we were able to exchange tacit images that cannot be verbalized. This can serve as a hint for the development of a new kind of interface," she explained. With haptics in the spotlight, researchers from different fields gathered to share the essence of various sports.
Medalists and kids face off!
An Alphabet Fencing event was held in Tokyo. Among the participants were elementary school children, people with visual impairments, and wheelchair users. World Fencing Championship gold medalist and president of the Japan Fencing Federation Yuki Ota also joined the event. People of all ages, from all walks of life, including disabled individuals and athletes, competed in the game. It was a rare experience. As mentioned in the beginning, the venue was filled with excitement. Everyone got together and had fun, regardless of their age or physical condition. In some games, the kids managed to beat the adults, and even professional fencers. One visually-impaired participant commented with a laugh, "It was easy to get a hang of it because we could easily visualize the alphabets, but that doesn't guarantee a win!"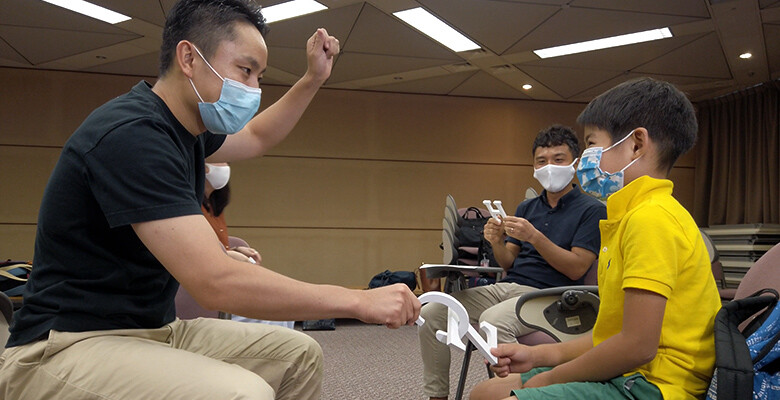 A heated game between a medalist and a toddler.
Athletes enjoying Alphabet Fencing with beaming smiles
(Left: Kyosuke Matsuyama, Right: Saito Toshiya)

A fun game for everyone, disabled or not.
Realizing an inclusive society through sports
"This is a wonderful game that anyone can play, within the same conditions. Members of the Japan Fencing Association usually visit schools and have trial games with top athletes to promote fencing, but we haven't been able to do that because of the COVID-19 pandemic. In the future, perhaps we can try using Alphabet Fencing to share the appeal of fencing with small groups. We hope to look into new kinds of promotional activities," commented Ota.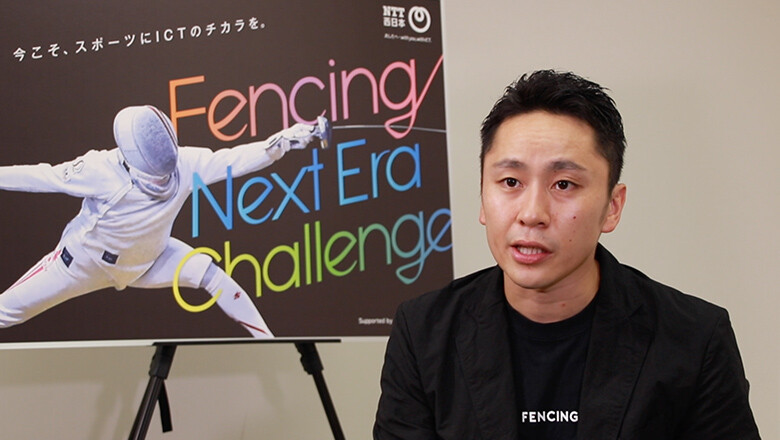 President of the Japan Fencing Federation and Japan's first fencing gold medalist, former fencer Yuki Ota shares his expectations for Alphabet Fencing
"Ordinary people were able to compete against medalists without barriers in a way that exceeded my expectations. It was rare to see Mr. Ota losing (laughing). Seeing such a diverse group of people, including disabled individuals, wheelchair users, able-bodied individuals, and kids, playing together was such a valuable experience," Watanabe recalled.
NTT utilizes various technologies, with a focus on ICT, to carry out initiatives, research, and development towards an inclusive society. We hope that the activities of Mienai Sports Zukan inspire new technologies and ideas that help realize an inclusive society.