In the field of professional sports, use of ICT technologies such as AI, IoT, and VR (Virtual Reality) in athlete strengthening/condition management and tactical analysis of opponents began several years ago.
Baseball in particular is a world where performance data and image data has been actively used. Initially, utilization of data stopped at analysis of comparatively simple statistical information such as dash speed and number and ball retention time, but this sporting field has responded sensitively to technological developments in recent years. NTT DATA has been incorporating advanced data analysis utilizing the very latest ICT technology.
A world-first experiment: Professional baseball team x VR
A training system for professional baseball players that utilizes VR technology developed by NTT DATA has been adopted by numerous baseball teams, both in Japan and overseas, beginning in 2016 with Rakuten Baseball, Inc., which operates the Tohoku Rakuten Golden Eagles baseball team, and MLB, contributing to the improved performance and skills of many baseball players.
This training system for professional baseball players incorporates "Sports FPV Synthesis Technology" developed by NTT Media Intelligence Laboratories. This technology makes it possible for players to physically experience information obtained from enormous quantities of sensor data with an extremely high sense of presence, giving batters the simulated experience of being pitched at by an opponent pitcher existing in a VR space.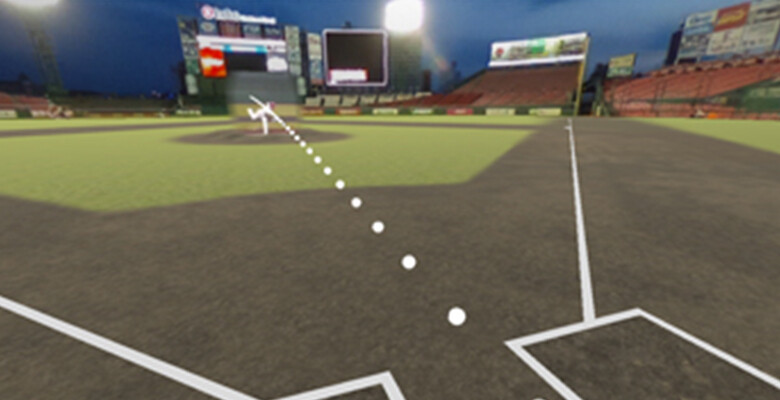 Image of the view from the batter's box in a VR space
Based on all-surroundings image data, "Sports FPV Synthesis Technology" recreates baseball stadiums in 3D from viewpoints that are impossible to film during a baseball game. Live image data for the player is shown in this 3D space. By standing in the batter's box wearing a head-mounted display, the player is able to repeatedly view the opponent pitcher's pitching motion and the ball's trajectory.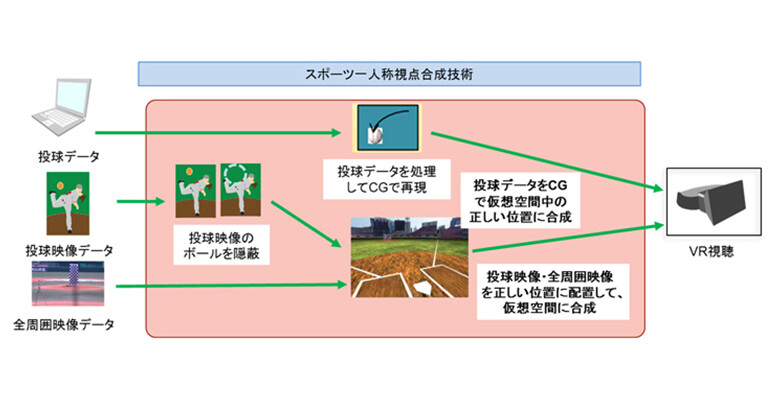 Overview of "Sports FPV Synthesis Technology"
Adding regular game data acquired exclusively by the baseball team to this training system enables recreation of the pitching characteristics of actual individual opponent pitchers in fine detail. By repeatedly viewing these images in training, it is possible for batters to discern the pitcher's strategy.
Furthermore, because this training system enables VR content to be created extremely easily, the data content used in the system can be updated even during the baseball season, making it possible to improve players' performance and skills quickly.

Examples (samples) of data measuring course, ball speed, ball course, number of rotations,
and other factors using the most up-to-date ball trajectory measuring devices.
Images are completely recreated using objective numerical data such as "late-life fastball" and "sharp ball".
During the 2016 season, NTT Data conducted verification experiments together with the Tohoku Rakuten Golden Eagles baseball team. There experiments provided positive proof that the training system can even be used during actual baseball games. These experiments were a world-first initiative in combining data owned by a professional sporting team and VR technology and utilizing this data in players' training.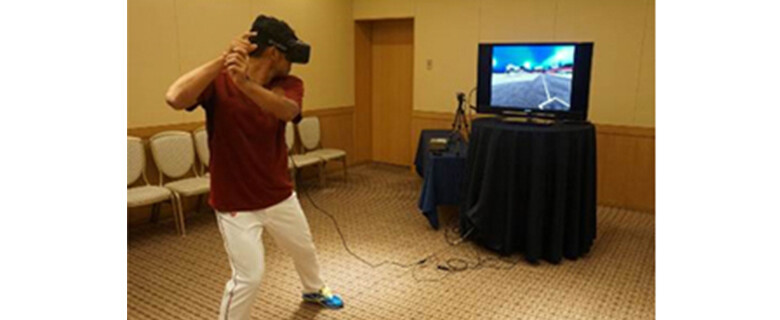 Tohoku Rakuten Golden Eagles baseball team member Toshiaki Imae training using VR technology
Anyone can experience the world of professional sports!
Furthermore, the incorporates "Sports FPV Synthesis Technology" for professional athletes has also been adapted for the amusement sector. In 2018, "Real Data Batting" that completely recreates pitchers' actual pitching using regular baseball game data was launched at Rakuten Seimei Park Miyagi. This game soon became the talk of the town due to its ability to enable any one to casually experience the world of professional sports.
Rakuten "Real Data Batting" game

Perspective of the player during a game of "Real Data Batting".
The game recreates authentic ball trajectories
that conventional baseball video games do not provide.
Looking towards soon-to-arrive 2020, high expectations are held for the further evolution and application of "Sports FPV Synthesis Technology". Using VR spaces can not only enable players to physically experience realistic ball pitching that cannot be understood with two-dimensional videos, but also promote visualization of the player's performance skills in response to the VR pitching, thereby contributing to the improvement of professional athletes' capabilities.
High expectations are also held for VR as an entertainment tool. Since each game has a short duration, preventing VR motion-sickness, this technology can be enjoyed by many people of all ages, making it possible to attract new users. Moreover, there is potential for this technology to spread throughout not only the world of professional sports, but also the world of amateur sports, enabling anyone--including people with disabilities and people with physical fitness concerns--to casually experience the world of professional sports at any time. Just such a future is before our very eyes.
In order to realize this wonderful world view, NTT DATA, will continue to collaborate with various professional sports teams and promote the advancement of VR technology.