Nippon Telegraph and Telephone Corporation (NTT; Head Office: Chiyoda-ku, Tokyo; President and CEO: Jun Sawada) has reviewed its Procurement Policies, restructured various guidelines and established the new "NTT Group Guidelines for Sustainability in Supply Chain".
 In all our business activities, we will, under high ethical standards, fulfill our responsibility to build and maintain safe and secure supply chains in terms of human rights protection, the global environment, and others, and we will also request our suppliers to act responsibly in their corporate activities.
1. Background
Having established "NTT Group Global Sustainability Charter" and the "NTT Group Global Human Rights Policy", the NTT Group is promoting various efforts to address human rights problems and other issues in order to achieve corporate growth, solve social challenges, and realize a sustainable society. Meanwhile, as our supply chain is becoming increasingly global and more complex, appropriate responses to global-scale issues such as human rights, environment, security, and disasters/pandemics have become important issues.
2. Revision of the NTT Group Procurement Policies
In response to various issues involving supply chains, we will continue to build relationships of mutual understanding and trust with all suppliers in our supply chain, working with them under high ethical standards to establish and maintain safe and secure supply chains in terms of human rights protection, global environmental conservation, and the like.
 To achieve this purpose, our procurement will be based on the following "NTT Group Procurement Policies".
NTT will strive to provide competitive opportunities with fairness to both domestic and foreign suppliers, and to build mutual trust and understanding.
NTT will conduct economically rational procurement of competitive goods and services that meet its business needs, deciding suppliers based on quality, price, delivery times, and stable supply in a comprehensive manner.
NTT will contribute to realizing a sustainable society by doing procurement with an emphasis on human rights, the environment, safety, and other critical issues, in compliance with laws and social norms.
3. Establishment of the NTT Group Guidelines for Sustainability in Supply Chain
Envisioning an ideal supply chain today and in the future in light of issues concerning human rights, the environment, security, disasters, pandemics, and others, we have revised the compliance requirements to our suppliers. To this end, we have reviewed and restructured the existing "NTT Guidelines for CSR in Supply Chain", etc. and formulated "NTT Group Guidelines for Sustainability in Supply Chain" as a new document.
 At the same time, we have revised our former "NTT Group Green Procurement Guidelines" by integrating the content of the "NTT Group Energy Efficiency Guidelines" to supplement the environment-related content in the "NTT Group Guidelines for Sustainability in Supply Chain" and renamed the document "NTT Group Green Procurement Standards". These documents apply to all group companies, including those overseas.
 We would like to ask our suppliers to understand the contents of these guidelines, etc., before doing business with the NTT Group.
4. Establishing and Maintaining Trusted Supply Chains to Realize a Sustainable Society
The NTT Group will conduct supplier engagement activities to ensure that each supplier in our supply chains complies with the revised basic procurement policies and guidelines.
 By continuing these activities, our group, together with our suppliers, will proactively accelerate solutions to social issues through the establishment and maintenance of trusted supply chains, thus contributing to the realization of a sustainable society with the understanding and cooperation of our suppliers.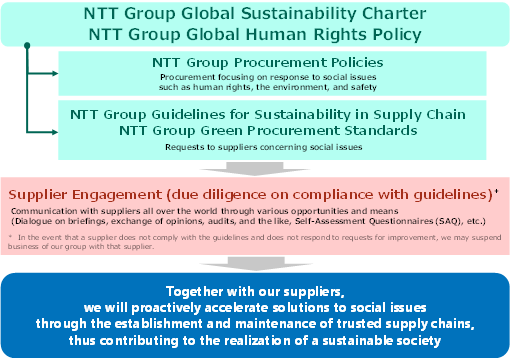 5. Looking Ahead
From April 2022, the NTT Group plans to gradually implement procurement and outsourcing contracts for goods and services that incorporate compliance with these guidelines.
6. Related materials