TOKYO, JAPAN, February 27, 2023 --- NTT DOCOMO, INC. (DOCOMO) and Nippon Telegraph and Telephone Corporation (NTT) announced today that they will expand their 6G experimental trials1 with five world-leading vendors, including with newly added Ericsson and Keysight Technologies, Inc. (Keysight Technologies) as well as existing collaborators Fujitsu, NEC and Nokia.
In preparation for the future launch of 6G services, DOCOMO and NTT are actively engaged in the verification of various mobile communication technologies for purposes including the use of millimeter and sub-terahertz (above 6 GHz) frequency bands,2 in addition to bands currently used for 5G. DOCOMO and NTT have been collaborating with Fujitsu, NEC and Nokia on trials3,4 of such technologies as well as related AI technologies since June 2022.
DOCOMO, NTT and Ericsson have now formally agreed to begin testing new 6G wireless interfaces for mid-band 6–15GHz frequencies as well as sub-terahertz 100GHz bands capable of ultra-fast data transmission. Also, DOCOMO, NTT and Keysight Technologies have agreed to test radio propagation for ultra-wideband communication using sub-terahertz bands.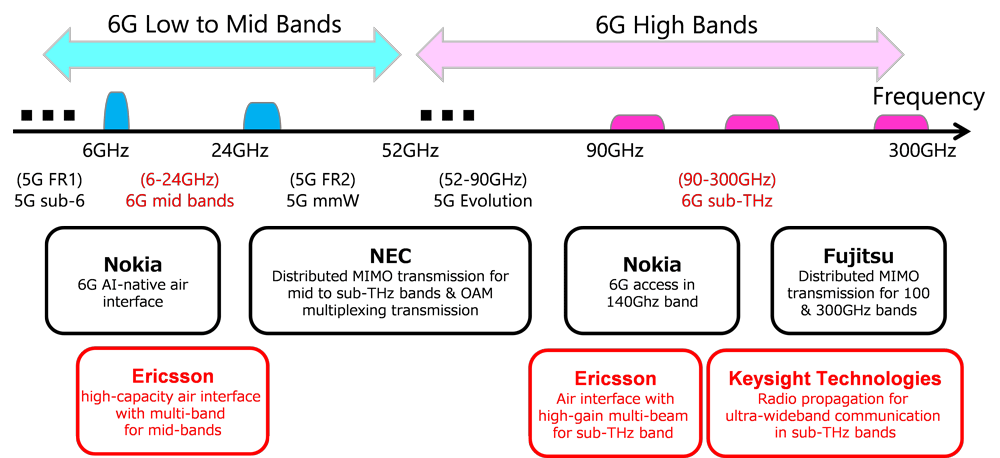 Trials to be conducted with five mobile technology vendors
Going forward, DOCOMO and NTT will conduct further trials under this newly expanded structure as well as pursue the development of mobile communication technologies with other vendors who possess special expertise. By steadily accelerating such R&D initiatives, DOCOMO and NTT aim to contribute to the early standardization and commercialization of 6G worldwide.
The newly announced initiatives will be introduced at DOCOMO's booth during MWC 2023 in Barcelona, Spain beginning on February 27.
1NTT DOCOMO and NTT to Collaborate on 6G Experimental Trials with World-leading Mobile Technology Vendors
https://www.docomo.ne.jp/english/info/media_center/pr/2022/0606_00.html
2Sub-terahertz bands are between 90 and 300 GHz, which is higher than frequencies envisioned for 5G Evolution. Compared to millimeter bands, these bands are more linear and more susceptible to shielding by obstacles.
3World's first successful demonstration of distributed MIMO that continues wireless connections in the 28 GHz band by eliminating shielding issues
https://www.docomo.ne.jp/english/info/media_center/pr/2022/1031_00.html
4Nokia, DOCOMO and NTT make two key 6G advances #MWC23
https://www.nokia.com/about-us/news/releases/2023/02/15/nokia-docomo-and-ntt-make-two-key-6g-advances-mwc23/
About NTT DOCOMO
NTT DOCOMO, Japan's leading mobile operator with over 86 million subscriptions, is one of the world's foremost contributors to 3G, 4G and 5G mobile network technologies. Beyond core communications services, DOCOMO is challenging new frontiers in collaboration with a growing number of entities ("+d" partners), creating exciting and convenient value-added services that change the way people live and work. Under a medium-term plan toward 2020 and beyond, DOCOMO is pioneering a leading-edge 5G network to facilitate innovative services that will amaze and inspire customers beyond their expectations.
https://www.docomo.ne.jp/english/
About NTT
NTT believes in resolving social issues through our business operations by applying technology for good. We help clients accelerate growth and innovate for current and new business models. Our services include digital business consulting, technology and managed services for cybersecurity, applications, workplace, cloud, data center and networks all supported by our deep industry expertise and innovation. As a top 5 global technology and business solutions provider, our diverse teams operate in 80+ countries and regions and deliver services to over 190 of them. We serve over 80% of Fortune Global 100 companies and thousands of other clients and communities around the world. For more information on NTT, visit www.global.ntt/
.