Nippon Telegraph and Telephone Corporation (NTT, Tokyo) received an award for the Thomson Reuters (New York) Top 100 Global Innovator 2015 program , for the 5th consecutive year.
This program launched by Thomson Reuters is an initiative that analyzes patent data and related metrics in a proprietary methodology based on four principle criteria (overall patent volume, patent grant success rate, global reach of the portfolio and patent influence as evidenced by citations) to identify the companies and institutions that lead the world business via innovative ideas, intellectual properties and their commercial success.
NTT understands this award certifies that R&D activities of NTT Group are pioneering and inventions are valuable in a global market.
NTT will make every effort to promote obtaining patents based on the outputs of R&D activities as well as to make the most use of its owning intellectual properties.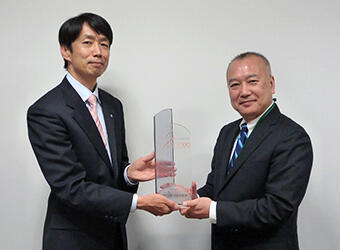 Mr. Yukio Okazaki(left-side), Managing Director,
NTT Intellectual Property Center, is receiving a trophy
from Mr.Hirofumi Hino (right-side), Vice President,Head of
Japan Professional ServicesIP & Science, a Thomson Reuters Company.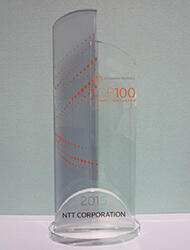 trophy
[Thomson Reuters press release]
Thomson Reuters Names 2015 Top 100 Global Innovators