NTT has released the English version of "Business Management and Cybersecurity - Digital Resiliency for Executives", where the Japanese edition NTT published in March 2018.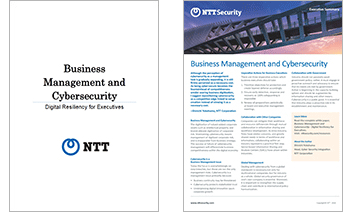 This English translated version was developed for readers in both the public and private sectors.
The perception of cybersecurity as a management task is gradually expanding. However, it is still firmly perceived as a necessary cost. As being cyber-secure becomes the fountainhead of competitiveness amidst soaring business digitization, it is suggested repositioning cybersecurity as a competitive edge linked to value creation instead of viewing it as a necessary cost.
NTT will continuously contribute to build-up global cyber resiliency.
Business Management and Cybersecurity (PDF: 1.2MB)
[ Summary ] Business Management and Cybersecurity (PDF: 589KB)