Jun Sawada, President and Chief Executive Officer,
Representative Member of the Board
Also in attendance were:
Takashi Taniyama, Senior Vice President, Head of Corporate Strategy Planning Dept.
Kazuhiko Nakayama, Senior Vice President, Head of Finance and Accounting Dept.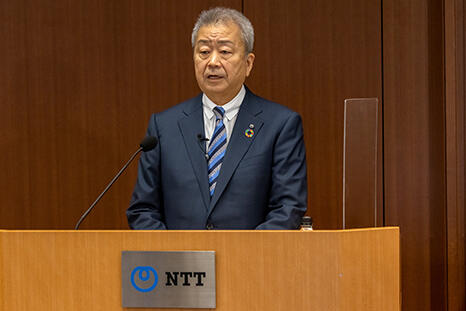 (Jun Sawada, CEO)
I would like to offer my heartfelt sympathy to the people who have been affected by the spread of the novel coronavirus (COVID-19).
For the second quarter ended September 30, 2020, operating revenues decreased while operating income increased. At the current moment, we are making good progress. However, as the situation ahead is somewhat unpredictable due to reasons such as the second wave of COVID-19 chiefly affecting Europe and the United States, we will conduct business without changing our annual plan.
Operating revenues decreased by 178.2 billion yen year-on-year due to a decrease in NTT DOCOMO's revenues from sales of terminal devices owing to the negative impact of COVID-19, and a fall in revenues from the SI services overseas.
Despite decreased revenues resulting from COVID-19, operating income improved on an increase in revenues from the smart life business of NTT DOCOMO and cost structure reforms in overseas operations. Accordingly, operating income in the quarter turned to an increase of 25.8 billion yen from a decrease of 7.6 billion yen year-on-year in the previous quarter.
Profit decreased by 6.2 billion yen year-on-year on the basis of a gain on valuation that was recorded as ENNET became our consolidated subsidiary during the previous fiscal year.
Overseas operating revenues fell from the previous fiscal year due to COVID-19 as well as a change in the accounting processing method of recording revenues from some solution services such as goods sale and maintenance from gross basis to net basis. On the other hand, the overseas operating income margin improved by 0.7 points after cost improvements, including the streamlining of NTT Ltd.
The negative impact of COVID-19 caused operating revenues and operating income to fall by 130.0 billion yen and 20.0 billion yen, respectively, in the second quarter ended September 30, 2020.
Next, I would like to explain the financial condition by segment.
Operating revenues from the mobile communications business segment decreased but operating income increased year-on-year, as mentioned in the recent announcement of the financial results of NTT DOCOMO. For this segment, operating income increased from the previous fiscal year as the reduction in revenues from sales of terminal devices and decline in revenues from mobile communications services resulting from a decrease in international roaming revenues were offset by an increase in revenues from the smart life business.
The regional communications business segment saw decreases in revenues from voice-related services and revenues from hospitals partly due to the impact of COVID-19, resulting in decreases in both operating revenues and operating income. However, in the second quarter, operating revenues and operating income started to improve on increased revenues resulting from a net increase in Fiber to the Home (FTTH) services, an area in which NTT East and NTT West have had strong performance, as well as increases in subsidiaries' revenues and reductions in cost.
Operating revenues from the long-distance and international communications business segment decreased due to the impact of COVID-19 and the effects of foreign-exchange fluctuations in addition to the above-mentioned change of the revenue accounting processing method for some revenues at NTT Ltd. However, operating income had been improved through, among other things, structural reforms. As a result, operating revenues decreased year-on-year while operating income increased year-on-year.
The operating revenues and operating income of the data communications business segment remained mostly unchanged from the previous fiscal year, as stated in the announcement of the financial results of NTT DATA.
In the other business segment, the leasing business of NTT FINANCE was spun off, resulting in year-on-year declines in operating revenues and operating income for the segment.
Funds of roughly 4.3 trillion yen are required to make NTT DOCOMO a wholly owned subsidiary. This debt will be reduced through the July spin-off of the leasing business, worth approximately 1.1 trillion yen, and a future securitization of receivables, worth roughly one trillion yen, which will still result in a substantial debt increase of 2.2 trillion yen. On this basis, it is necessary to consider the choice of making a debt repayment of 0.9 trillion yen toward achievement of the targeted debt level of 6 trillion yen.
At the moment, our free cash flow amounts to 900 billion yen, reaching the scale of one trillion, and a free cash flow amount of approximately 500 billion yen is to remain available annually even after dividends are paid as before, which we are planning to use for shareholder returns and further investment. Therefore, we will maintain the same shareholder returns as before while repaying the debt according to plan.
In addition, no goodwill will be generated by the transaction to make NTT DOCOMO a wholly owned subsidiary as it is based on capital transactions.
Against this backdrop, we have resolved to buy back shares during this fiscal year as well, in order to improve our capital efficiency and enhance shareholder returns.
In a meeting of the Board of Directors today, a resolution was passed for a share buyback totaling up to 250.0 billion yen. Accordingly, with the number of months available for this buyback taken into consideration as the current fiscal year is already halfway through, the EPS (Earnings Per Share) target has been revised to 232 yen, an increase of one yen.
It is our basic shareholder return policy to continue to increase dividends into the future as we have done so far, while also flexibly implementing share buybacks. By so doing, we hope to improve our capital efficiency.
I will now explain some key topics.
I would like to introduce three topics, including our initiatives to create a remote world and our medium-term management strategy initiatives.
The first topic is about our services. We will create the new service brand called "Remote World". In order to provide customers with appropriate services both during and after COVID-19, we have created a lineup of services under this new service brand. With regard to the brand concept, you can see the brand logo contains various rectangles. These rectangles represent spaces and services created remotely, achieving a world where productivity can improve and innovation can thrive wherever an individual is.
Moreover, we are aiming at realizing a new space beyond face-to-face spaces, which will be sensed as a world where everyone can safely and securely work smoothly or receive fulfilling education, even remotely.
Let me introduce seven services in total divided into three categories.
The first service is under the category of expanding the types of work that can be done remotely. In an alliance with Ory Laboratories with the recently announced remote-controlled avatar robot "OriHime", we intend to utilize "OriHime" at DOCOMO Shops and sell it with service collaborations with NTT Group companies. The second service, provided by NTT Advanced Technology since July, is the "Comme@customer support" remote screen-sharing tool that facilitates giving explanations over the phone through simple operations from a website using video, screen sharing, chat and other functions.
Under the category of evolution of communication, the third service is "elgana" that NTT Neomeit has already been providing since April. A free plan that allows chat talk for an unlimited number of IDs was added in October. It is available for business use first, and we intend to roll it out for consumer use, such as for families, in the future. The fourth service, planned to launch in November through NTT DOCOMO, is a service that allows the user to view a video and switch viewpoints by swiping on the smartphone screen.
We will continue to expand the lineup by adding a variety of services to the "Remote World" brand.
The second topic is the launch on November 17 of our "Door" owned media, which utilizes 3D spaces to disseminate information for the worldview and contributions to social issues that NTT strives for. By providing venues where parties other than NTT-related entities can also participate, we will embody a worldview of the Remote World. In connection with the "NTT R&D Forum 2020 Connect" event to be held on November 17, we will remotely introduce this service through the media.
As the third and final topic, I would like to touch on the progress of the medium-term management strategy, accelerated by the transaction to make NTT DOCOMO a wholly owned subsidiary.
With regard to promoting the B2B2X model, the number of projects was 13 as of the fall of 2018 but has increased to 88 today, making smooth progress toward the target of 100 projects by FY2021.
Furthermore, NTT DOCOMO launched 5G services using millimeter waves in September 2020.
In terms of effective use of assets, we are promoting the conversion of station facilities into satellite offices. Starting with Noborito in October 2020, we aim to expand our number of satellite offices using our telephone stations, with a goal of opening 10 offices during the current fiscal year and 50 offices during FY2021.
In relation to our contributions to the vitalization of regional societies and economies, the cases of Yokosuka City and Nagasaki City are mentioned as examples.
Under the promotion of ESG management, we recently received Science Based Targets initiative certification. We announced our participation in initiatives to limit temperature rise to well below 2 degrees Celsius compared to pre-industrial temperatures and have been certified by the secretariat of the SBT initiative.
Additionally, although we already have a partnership with the ITER international organization, we recently entered into a cooperation agreement with the National Institutes for Quantum and Radiological Science and Technology in Japan to support its research into fusion energy. We believe this will be one of the use cases of IOWN (Innovative Optical and Wireless Network).
That concludes my explanations.