Environment and Energy Vision
We have formulated the Environment and Energy Vision in May 2020 and have declared to increase the proportion of renewable energy use by the NTT Group as a whole by 30% or more by FY 2031.
In September 2021, we have also formulated a new environment and energy vision "NTT Green Innovation toward 2040" to simultaneously achieve zero environmental impact and economic growth by "Reduction of Environmental Impact through Business Activities" and "Creation of Breakthrough Innovation". Based on this vision, our group aims to be carbon-neutral by FY 2040.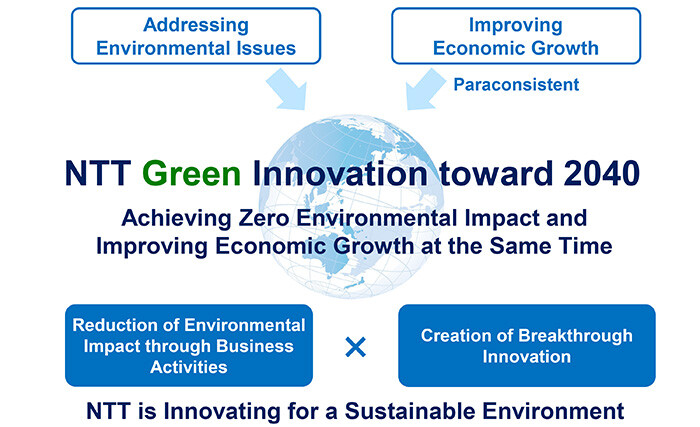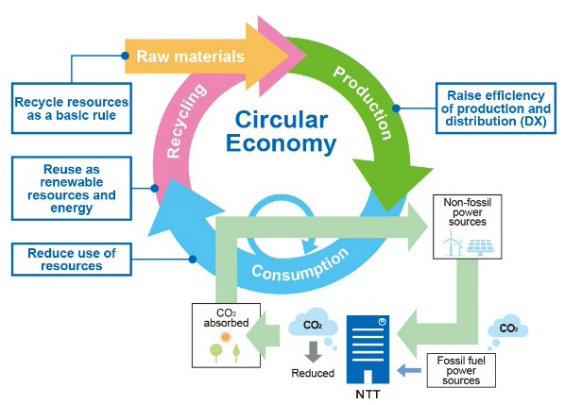 Goals under the "NTT Green Innovation toward 2040"
The NTT Group has set the following goals for FY 2030 and FY 2040.
Fiscal year
Main targets
2030
80% reduction of greenhouse gas emissions from FY 2013 for NTT Group
Carbon neutrality for mobile (NTT DOCOMO) and data centers sectors
2040
Carbon neutrality for NTT Group
(Targets of the above reduction objectives)
GHG protocol: Scope 1 (our own direct greenhouse gas emissions) and Scope 2 (indirect emissions associated with the purchase of electricity, heat and steam that are provided by other companies)
Mobile :15 companies in the NTT DOCOMO Group (as of September 28, 2021)
Main activities for achieving carbon neutrality by 2040
NTT Group will achieve carbon neutrality through a combination of
(1) Increased use of renewable energy: Reduce greenhouse gas emissions by 45 %
(2) Lower energy consumption with IOWN technologies: Reduce greenhouse gas emission by 45 %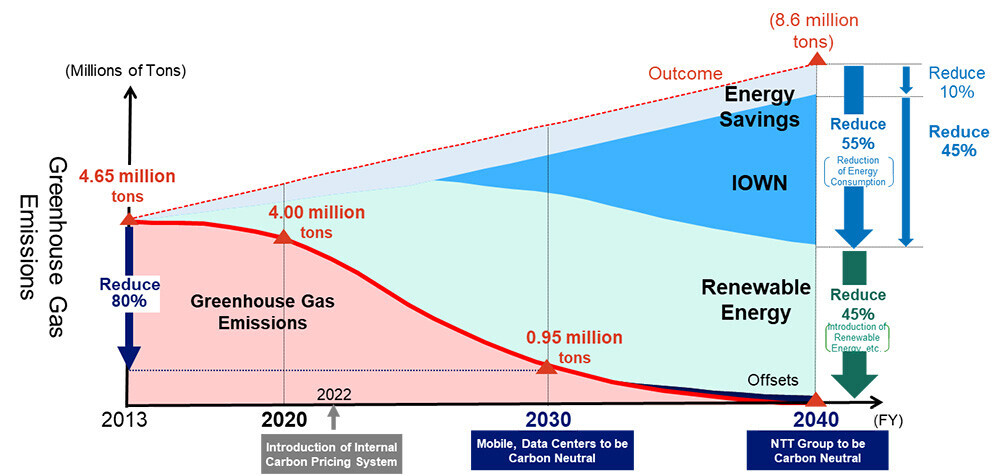 Illustration of NTT Group greenhouse gas emission reductions (domestic and overseas)
In addition, the NTT Group will contribute to achieving carbon neutrality to society by expanding adoption of IOWN technologies from the telecommunications filed to other industries, providing new services, and strengthening development and expanding introduction of renewable energy. This will to the realization of the Japanese government's declaration of "Carbon Neutrality by 2050".
(Reference) NTT's main initiatives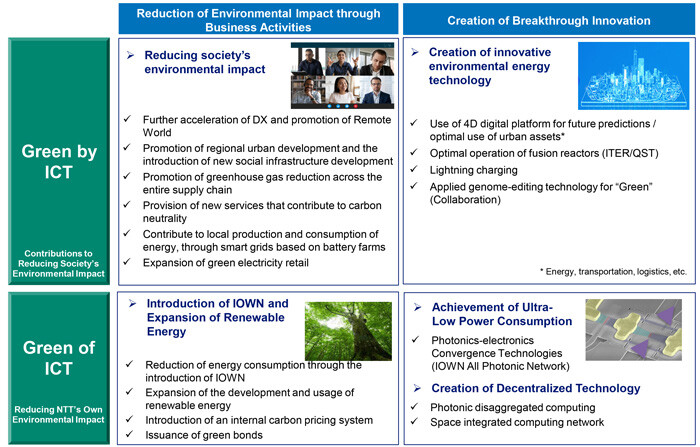 Participation in international initiatives
NTT Group's greenhouse gas emissions reduction targets
Scope 1 and 2*2 : 80% reduction by FY2030/31 from FY2018/19 base year (1.5°C level)
Scope 3*3 : 15% reduction by FY2030/31 from FY2018/19 base year
*1.Science Based Targets : Scientifically based greenhouse gas emission reduction targets for corporates in accordance with the Paris Agreement. The SBT initiative, a climate change initiative led by the United Nations Global Compact (UNGC), the CDP (formerly the Carbon Disclosure Project), the World Resources Institute (WRI), and the World Wide Fund for Nature (WWF), designates the targets.
*2.Scope 1 : Direct emissions of greenhouse gases by businesses, such as fuel combustion
Scope 2 : Indirect emissions from the use of electricity, heat and steam supplied by other companies
*3.Scope 3 : Indirect emissions other than Scope 1 and Scope 2 (Emissions in the supply chain related to business activities)
Participation in EP100*4 and EV100*5
NTT Group has participated in the EP100 and EV100 international initiatives for energy efficiency sponsored by The Climate Group. By participating in international initiatives like these, we will be declaring NTT Group's environmental initiatives to the outside world and expressing our stance toward addressing international environmental issues.
EP100 : We will double energy efficiency between fiscal 2018 and fiscal 2026 in our telecommunications business.
EV100 : We will have 50% of our vehicles be electric vehicles by 2025, and 100% by 2030.
*4.EP100 : An international initiative by which participating companies aim to double the energy efficiency of their businesses (through 50% improvement in energy consumption efficiency, etc.).
*5.EV100 : An international initiative to promote companies' use of electric vehicles and to improve the environment for electric vehicles.
Supporting the TCFD*6
We declared our support for the TCFD in May 2020 as part of our effort to promote ESG management, one of the pillars of our medium-term management strategy. We will be disclosing information related to climate change according to the TCFD recommendations.
*6Task Force on Climate-related Financial Disclosures established by the Financial Stability Board in response to a request from the G20 countries as a framework for corporate information disclosure on climate change initiatives.