Movies
First Exhibit at CES 2020, the world's largest Consumer Electronics Show
NTT Corporation (NTT) announces that it will exhibit for the first time at the CES 2020, the world's largest consumer electronics show, to be held in Las Vegas, USA, for 4 days from January 7th to 10th, 2020. At the exhibition booth, NTT will feature some use cases of the IOWN (*1) concept that NTT announced in May 2019, and the basic technologies that support the concept.
*1 IOWNstands for Innovative Optical and Wireless Network. IOWN is future communications infrastructure to realize a smart world by using cutting-edge technologies like photonics and computing technologies.
About NTT
Corporate Data
Press Release

※Booth design illustration. Design is subject to change.
Exhibition Map(Booth number, 16944)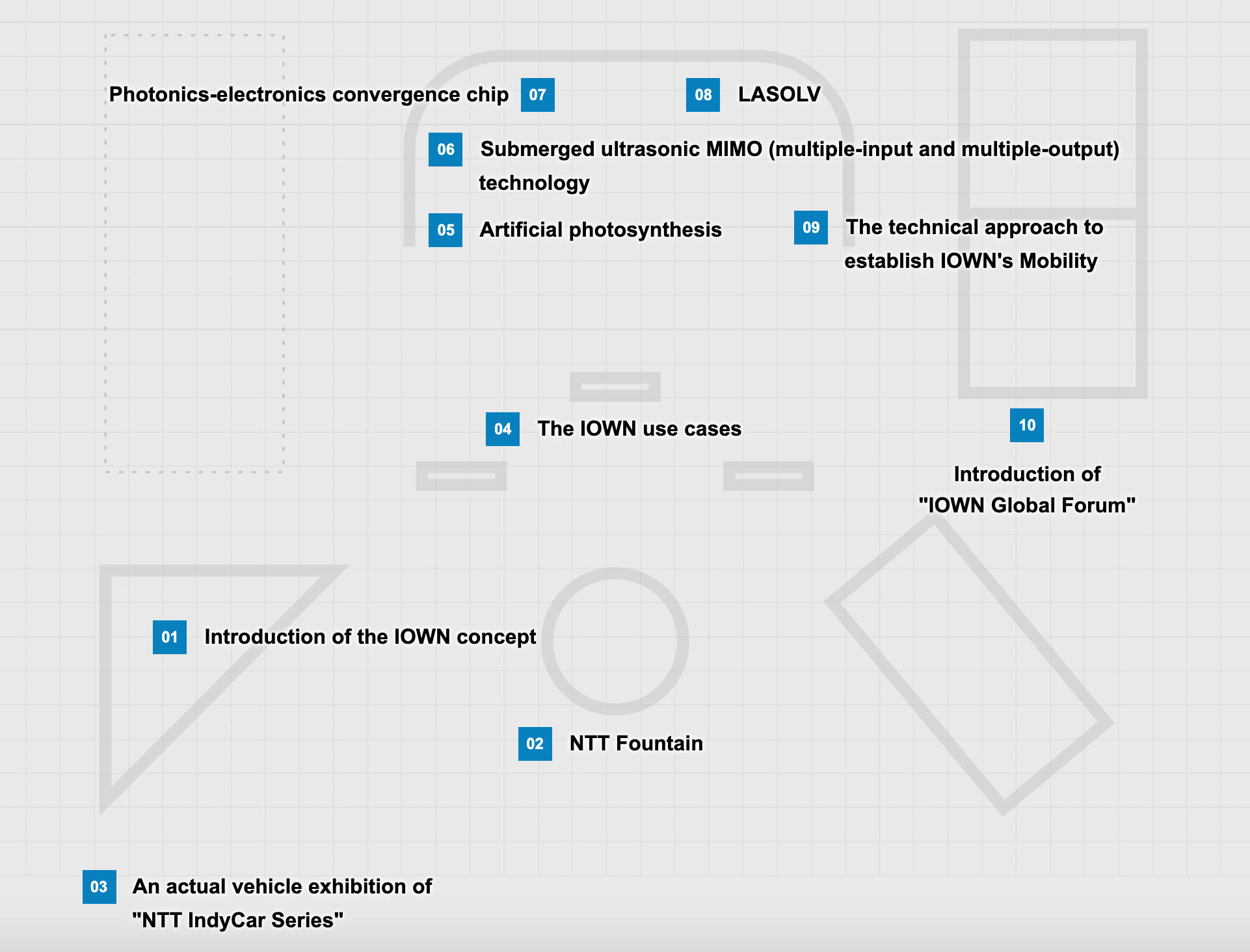 What's IOWN?
Overview of the IOWN concept through videos and presentation:
Introduction of three technical elements, All Photonics Network, Digital Twin Computing, and Cognitive Foundation that the IOWN concept comprises, and the worldviews that they create.
The world brought by the IOWN through the use case videos:
USE CASE 01Smart City/Smart Mobility
USE CASE 02Smart Healthcare
USE CASE 03Smart Life
IOWN R&D Lab
Introduction of basic technologies which sustain the IOWN concept through demonstrations and videos
"Photonics-electronics convergence chip", an information processing chip to achieve low power consumption and high-speed transactions.
"LASOLV", a new type of computer that enable to solve intractable problems with photonic technologies.
"Artificial photosynthesis", an artificial energy generator with photonics artificially.
"Submerged ultrasonic MIMO (multiple-input and multiple-output) technology", an undersea communication technology.
"Technical approach (High-precision positioning technologies, etc.)", an element technology of mobility in the IOWN Era.
Others
Others
Introduction of "IOWN Global Forum" *2 which was announced by NTT, Intel and Sony on October 30th, 2019.
Activities of NTT Research, Inc., which was established in Silicon Valley in July 2019 as NTT's North American research base.
An actual vehicle exhibition and VR demonstration of the "Indy Car Series" sponsored by NTT Group since 2019.
*2 http://www.iowngf.org