With eyes on 2020, we are supporting NTT affiliated athletes as they take on sporting challenges! In this report, through support efforts for para-badminton player Yuma YAMAZAKI, we present the passionate fight of top athletes aiming to be the world's best, as well as scenes of supporters' encouragement empowering athletes.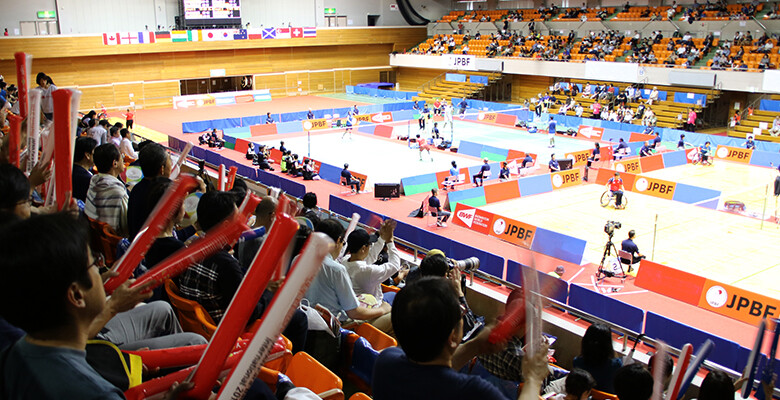 Winning an amazing 3 crown with overwhelming strength!: Yuma YAMAZAKI (Para Badminton)
Currently ranked No. 1 in the world in the WH2 class(as of September 2018), Yuma YAMAZAKI competed in the HULIC-DAIHATSU JAPAN Para Badminton International 2018, which was held at the Machida Gymnasium (Tokyo)on September 26 (Wed.)- 30(Sun.), 2018. Competing in three events--
Women's Doubles, Women's Singles, and Mixed Doubles--YAMAZAKI progressed steadily through the preliminary rounds to tackle the finals in all three events on the final day of the tournament.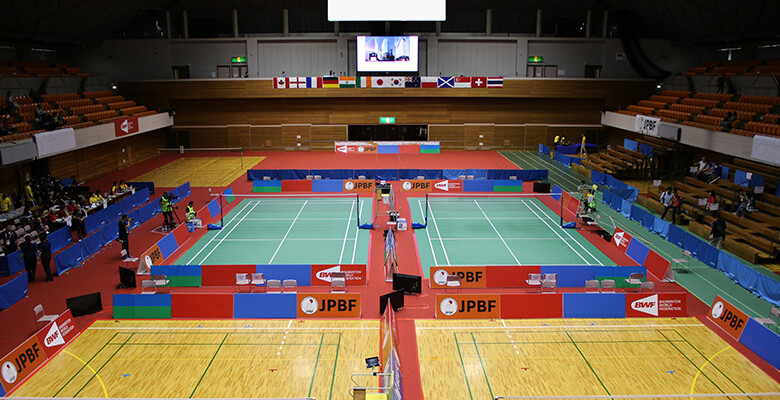 Standing Badminton courts with green flooring: Wheelchair Badminton courts with wooden flooring.
WH2 Class
"Wheelchair 2"Class: Player in this class could have impairment in one or both lower limbs and minimal or no impairment of the trunk.
WH1 Class
"Wheelchair 1"Class. Players in this class usually have impairment in both lower limbs and trunk function.
(From sport class classification regulations of the Badminton World Federation.)
TOPICS
Must-see rules for watching wheelchair badminton
Wheelchair badminton is played under slightly different rules to those of regular badminton.Shaking up their opponents with fast and slow shuttlecock strokes, making shots with sharp-angled trajectories--players' strategy and techniques are major must-see highlights.
≪Rules≫
In wheelchair badminton, at the moment a player strikes the shuttlecock, some part of the trunk must be in contact with the seat of the wheelchair
The height of the net is the same as for regular badminton.(1.524 m at the center; 1.550 m above the sidelines for doubles matches)
For singles matches, only half the court is used; the area from the net to the short service line is defined as "out".
(From the Japan Para Badminton Federation website)
On the final day of the tournament--the day the finals were held--it was reported that a typhoon was approaching the Kanto region, but despite this, many supporters flocked to the Machida Gymnasium to cheer YAMAZAKI on in her matches.
The first match of the day for YAMAZAKI was the Women's Doubles Final, for which she was paired with Sarina SATOMI. Although YAMAZAKI and SATOMI have only been paired for a short time, they played together with tenacity and tactical brilliance, steadily accumulating points. Wheelchair badminton players hold their racquet in one hand while maneuvering their wheelchair with exquisite precision using the other, arching their back as they stretch to receive shots and strategically predicting their opponents' moves, keeping spectators on the edge of their seats as they put on performances bursting with speed, intelligence, and power.
YAMAZAKI smiled the entire time she was playing as she constantly communicated with her partner. With their perfectly matched movements, the pair stole the first set with a score of 21-9, going on to with the second set with a score of 21-15, thereby brilliantly winning both the match and the tournament.
YAMAZAKI's next match was the WH2 Class Women's Singles Final. Boasting outstanding control skills, YAMAZAKI instantly drew thunderous applause and cheers from the crowd with a super shot dropping the shuttlecock just inside the sideline. Playing fast and slow shots and winning key points, YAMAZAKI kept the match moving at her own pace. Steadily building up points, she took the first set with a score of 21-13 and the second set with a score of 21-6 to again win the match and the tournament.
YAMAZAKI's final match of the day was the Mixed Doubles Final, for which she was paired with WH1 Class player Sam Seop LEE (ROK).
However, at the opening of the match, the pair was held down by the teamwork of their opponents and ended up losing the first set 19-21. As YAMAZAKI's supporters watched on with baited breath, the flow of the match changed with YAMAZAKI's play at the beginning of the second set. After an astute into the corner where the short service line and sideline meet, YAMAZAKI and LEE gradually regained their form. Winning the second set with a score of 21-14, the pair continued their momentum into the final set, which they ultimately won with a score of 21-15, thereby winning the match and giving YAMAZAKI her third crown at this tournament.
Beaming in response to questions from Kids' Reporters
After the tournament, YAMAZAKI answered questions from Kids' Reporters.
Kids' Reporter: How can you increase strength?

Train as hard as you can, and enjoy the sport! I think having fun is really important

Kids' Reporter: What is a good training method?

It depends on your level, but I think repetition training is probably a good method. I think that knock practice (where the player continuously returns the shuttlecock with the same action) is effective for improving accuracy.

Kids' Reporter: During a match, do you ever get panicky? If so, how do you calm yourself down?

I get panicky quiet a lot. When I make a mistake, or when there's only one point left in the match I tend to get nervous. It's good to create a routine to calm yourself in times like that. In my case, I tap my chest with my left hand and touch my earrings.
Incidentally, YAMAZAKI's earrings have a shuttlecock design, and apparently were a gift from her husband. What a lovely anecdote!"
With 3 gold medals hanging from her neck,
Yuma YAMAZAKI is beaming.

YAMAZAKI gifted the children with her autograph.
Said Yamazaki: "For this tournament, and especially for the Mixed Doubles, my partner encouraged me by telling me to 'Enjoy!' the match, and so I did approach my matches with an attitude of having fun. I think this approach is what lead to today's wins. The points race for 2020 will begin next year, and so I intend to set goals for each tournament and do my best sob that I can also accumulate points."
At Asia Para (the Asian Para Games 2018, held in October in Jakarta, Indonesia), YAMAZAKI won two bronze medals. Having achieved solid performances at both Asia Para and this tournament, YAMAZAKI is sure to dazzle spectators with brilliant play at numerous international events. Then in two years time, we highly anticipate that she will be winning medals at Tokyo2020! YAMAZAKI's outstanding contribution to Para Badminton will continue in the future.