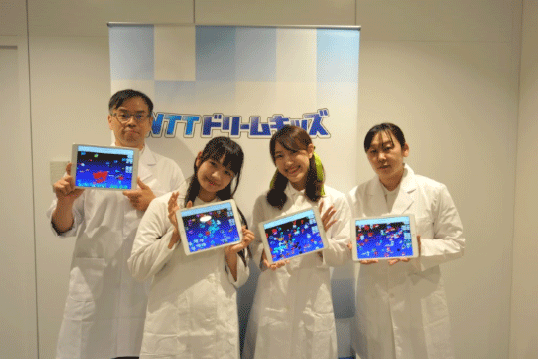 The NTT Group (including NTT, NTT Docomo, NTT Communications, NTT East Japan, NTT West Japan, and NTT Data) has been jointly organizing an annual summer hand-on learning event for children called "NTT Dream Kids" in major cities across the country since 2006. The event targets children in grades 2 to 6 and allows them to enjoyably learn about the latest ICT case studies as well as rules and manners for using information communication technologies.
1) "NTT Dream Kids 2023": Learning while Having Fun
NTT Dream Kids" is a hands-on learning event for children held every summer since 2006, aiming to help children understand the importance of "communication" as social infrastructure.
 How are cell phones, smartphones and tablets connected?
 The Internet is convenient, but how can we use it safely?
 What is an environmentally friendly green base station?
 Is programming easy to do?
"NTT DREAM KIDS" offers a fun way to learn about the structure and services of information and telecommunications.
2) "NTT DREAM KIDS 2023": Both In-Person and Online
NTT DREAM KIDS 2023" is being held for a limited period with the following three contents.
①Online Content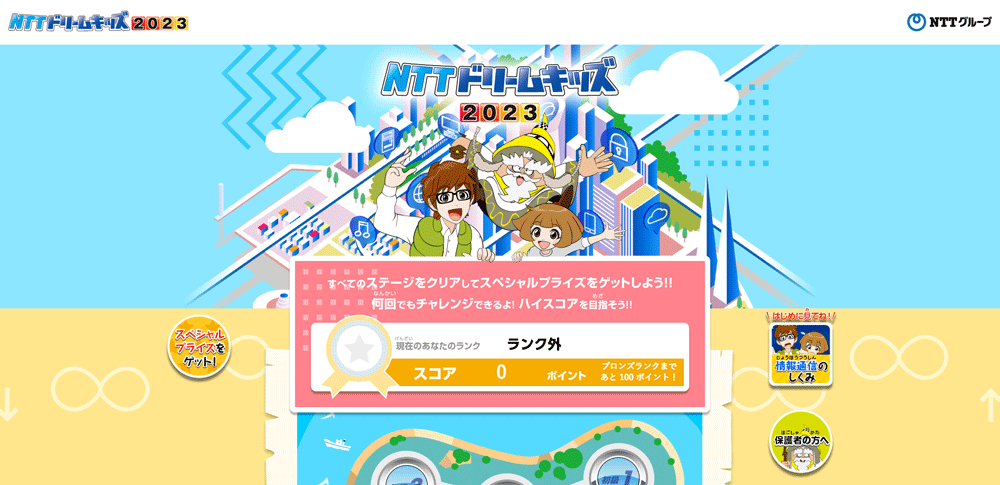 From July 3 to October 31, 2023, targeting children in grades 2 to 6 (recommended), in addition to explaining the fundamental mechanisms of how telecommunications works, online content is provided that allows participants to learn about cutting-edge information communication and digital technologies such as XR (a generic term for technologies that fuse the real and virtual worlds to perceive things that don't exist in reality) through game-like experiences, including viewing videos that simulate actual usage scenarios, and other missions provided by six NTT Group companies.
The online content will also provide information on NTT Group's initiatives in times of disaster, rules and manners for the safe and secure use of information and communication services, and sustainable initiatives such as greening the environment.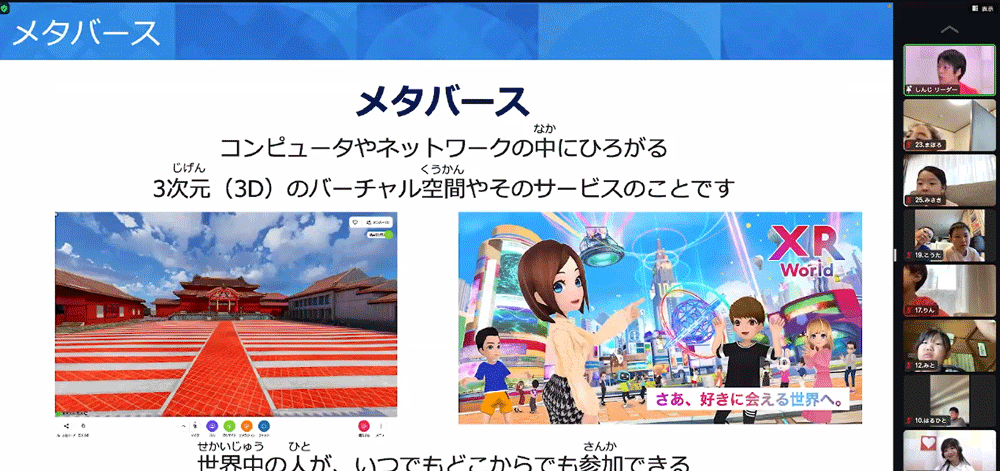 ②Online Programming Class
From August 12 - 15, 2023, an online programming class for 2nd - 6th graders will be held four times a day (about 70 minutes per class), each day, for children to experience programming while receiving lectures from instructors using a computer or tablet. Two courses are prepared to match the skill levels of the children.
The beginner course is designed for children who are new to programming, using "VISCUIT," a visual programming language developed by Yasunori Harada at NTT Laboratories in 2003.
The intermediate course is intended for children who have had some experience with programming using "VISCUIT" and can create basic games. Participants experience making simple games using multiple pictures created with "VISCUIT".
③Programming Class Real Event
A programming class will be held on October 1, 2023 at Akihabara UDX as part of the "AKIBA Manabi Festa," a STEAM education-themed event for elementary school students.
3) Create Your Own Game! Online Programming Class Report
Here's a report on the "NTT Dream Kids 2023" Online Programming Class held on August 12 and 15, 2023.
The theme for the beginner level was "Let's Move Things with Programming."
 About 20 elementary school students participated in each session and were taught how to operate "VISCUIT" by a leader. The students were then divided into four teams, and each team's teacher gave detailed instructions to the students.
The program used by the elementary school students on "VISCUIT" was a program that changes the shape on the left side of the glasses to the shape on the right side. The shapes can move, change shape, change color, and by using multiple pairs of glasses, they can even create shapes that move while changing shape.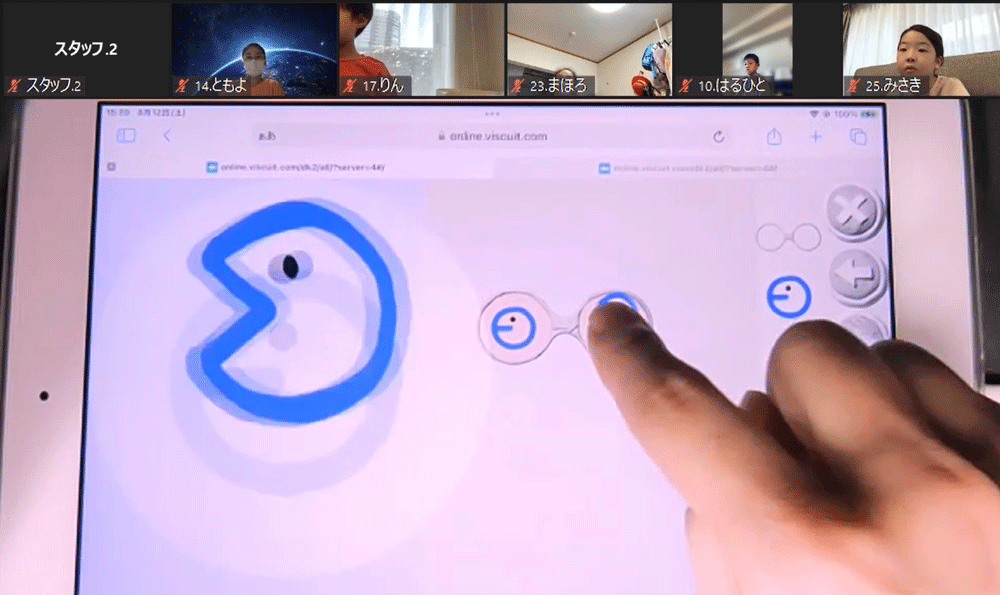 The elementary school students used this program to create a variety of sea creatures such as fish, crabs, squid, and sea anemones that freely moved around underwater. Each team brought their own colorful and cute creatures to create a very lively sea world.

The theme of the intermediate level is "Let's Make and Play a Game with Programming."
 In addition to the glasses used in the beginner level, there was a finger icon that changes the shape when touched. By placing it inside the glasses, actions like a bud blooming into a flower when touched became possible.

Using these programs, the students made basic game structures, such as moving people within multiple maze-like frames, displaying the word "goal" when reaching the endpoint, and disappearing people when they touch a moving ghost. Using this as a base, the elementary students added more original ideas. Each student was free to create a game with a high degree of perfection, for example, people become stronger when they get a sword, or being out if they reach a fake goal.

4) "It was fun!" Comments from the Online Classroom Participants
We asked elementary school students and their parents/guardians who participated in the NTT Dream Kids 2023 online programming class about their impressions of the class.
"It was fun to see my drawings move on the screen."
Many of the elementary school students who participated in the class said they had a lot of fun. Some of them said that they would like to become even better at programming and create games and animations in the future.
5) Challenge Various Missions Online Until October 31!
"NTT Dream Kids 2023" offers online content to enjoy until October 31, 2023. This includes programming experiences, fiber optic cable connection and Wi-Fi set-up experiences, mobile rules and manners experiences, and disaster survival experiences.
Check out this link for full details:
https://nttdreamkids.group.ntt/
6) NTT Group's Initiatives for Children
Through "NTT Dream Kids 2023," NTT Group will continue to promote activities to deliver a prosperous, convenient society and an exciting future for the children who will lead the next generation.
In the next issue, we'll report on the programming class held at "AKIBA Manabi Festa," an event themed on STEAM education for elementary school students to be held at Akihabara UDX on October 1, 2023.
Further links:
NTT Dream Kids 2023
https://group.ntt/jp/kids/2023/
VISCUIT visual programming language
https://www.viscuit.com/
News Release
https://group.ntt/jp/newsrelease/2023/07/03/230703a.html
NTT Group Activities for Children
https://group.ntt/jp/kids/index.html