Interop Tokyo 2023 was held from Wednesday, June 14th to Friday, June 16th, 2023 at Makuhari Messe and is an event that showcases the latest ICT and its solutions. Interop Tokyo was held for the first time in Japan in 1994, and this year marked its 30th anniversary. Each year, hundreds of companies and organizations from Japan and abroad participate in the event, introducing technology trends and business applications through on-site demonstrations and seminars. We would like to report on the event that has been held, along with the history of the Internet and technological innovations in Japan.
1)Keynote Speech "The Global Situation and the Future of IOWN
Jun Sawada, Executive Chairman of the Board of Directors, NTT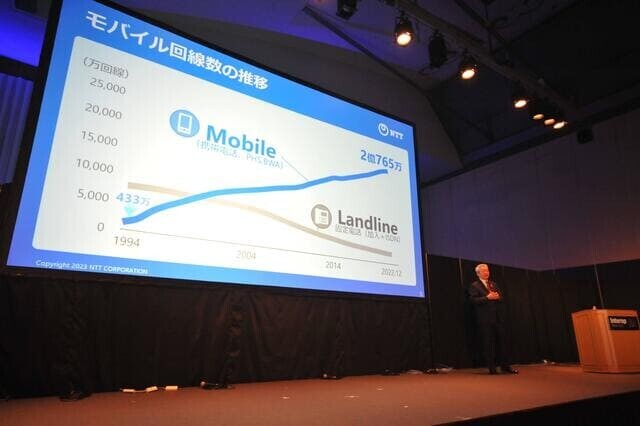 When the first Interop was held in 1994, NTT was experimenting with various types of mass media under its basic multimedia concept. Many, even within NTT, did not understand the term "Internet" and not many believed there would be a time when everyone would have a personal computer. However, in the past 30 years it has become commonplace for each person to own one or more devices, and data transmission speeds have increased 500,000-fold.
In February 2023, NTT held an experimental classical concert using the All Photonics Network (APN
), an IOWN
network that NTT is working on. Orchestra performers were dispersed to venues in Tokyo, Kanagawa, Chiba, and Osaka, and shared their sounds via APN, performing simultaneously at locations approximately 500 km apart. The performers said that they did not feel any delay at all with the APN, and that it was as if everyone was performing at the same place.
With a level of latency that is almost imperceptible to the human senses, APN is extremely effective in applications such as smart factories, where decentralized factories are operated remotely, and in e-sports, where even a moment's delay is not allowed. We also see tremendous potential for data center-to-data center networks and inner networks within data centers. In addition, APN is scheduled to be installed not only in NTT-related booths at the Expo 2025 Osaka, Kansai, but also throughout the entire venue. We are targeting that time frame to connect Tokyo-Osaka and eventually other major cities.
In an age when the world's population is peaking and energy issues must be seriously addressed, everyone needs to recognize a world of maximum happiness, where the happiness of people from various walks of life is gathered together to maximize its maximum value. NTT's concept of "Self as We" proposes to society that it is necessary to think about the relationship between people and human society and the way it should be in the midst of digital development. This is a challenge to the world.
NTT would like to change the game once again and take on the challenge of building infrastructure services and businesses that originate in Japan and spread throughout the world, together with you all.
For more information on Self as We, please see NTT's Vision of a Sustainable Society: "Self as We".
https://group.ntt/en/csr/selfaswe/
2)Lecture on IOWN "Interop and IOWN"
Tatsuya Yamashita, NTT Communications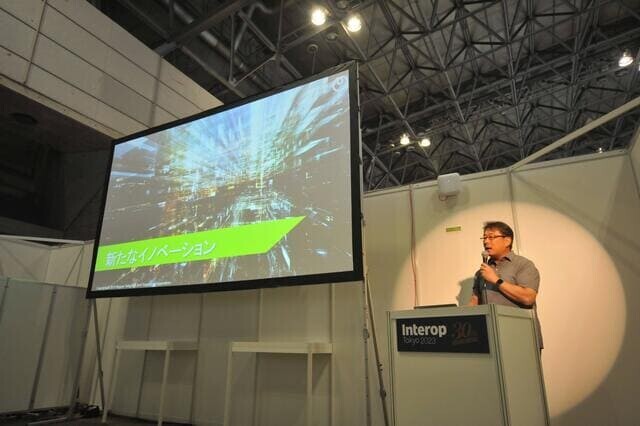 The connection between Interop and IOWN goes back to Interop held in 2019. The then-president, Jun Sawada, delivered a keynote speech on the theme "Beyond the Internet" and announced the "IOWN Concept" for the first time in a public forum. The following year, in 2020, he gave a lecture at a conference titled "The Overall Picture of the IOWN Concept and its NTT's Advanced Technologies' Support" and in 2021, he gave a lecture titled "The World Changed by IOWN - IOWN Global Forum," inviting engineers not only from NTT but also from other companies. In this year's keynote speech, the word "concept" was removed for the first time, indicating that IOWN has entered the stage of full-scale realization, and this year marked the first year of collaboration between Interop and IOWN in a real sense, as NEC Abiko Plant and Otemachi Data Center are connected by APN.
3)IOWN Demonstration
At NTT's IOWN booth, a demonstration of remote robot operation using APN, which features high capacity and low latency, was held.
"Remote robot operation."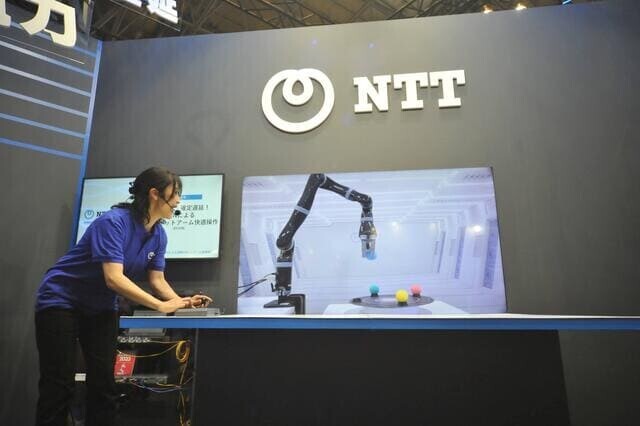 The challenge was to catch a moving colored ball by remotely controlling a robot arm installed at NEC Abiko Plant, which is about 100 km away by optical fiber, with a controller at the IOWN booth at Makuhari Messe. Initially, the challenge was conducted using conventional internet lines, but due to delays, the ball could not be caught as expected.
When the line was switched to APN, there was no delay at all and the ball was successfully caught by remote operation by the robot. The people who took up the challenge said that it was hard to believe that they were 100 kilometers away, and that they were able to operate the robot as if it were at their fingertips.
Virtual Table Tennis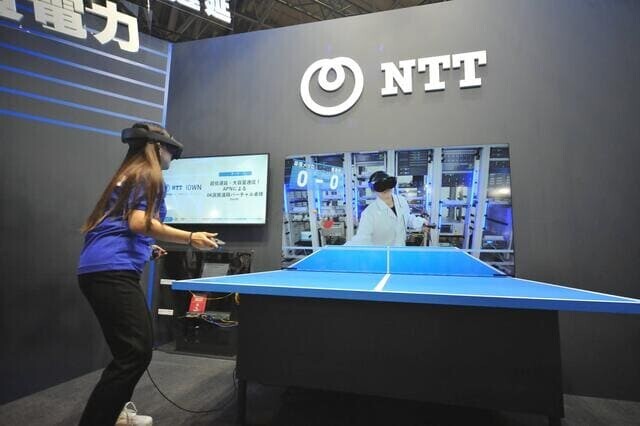 The NEC Abiko Plant and the Makuhari Messe IOWN booth were connected by APN to play virtual table tennis. Table tennis moves very fast, so if there is even a momentary delay in the video, it is impossible to play. However, once the match began, the game progressed as well as a normal table tennis game. Lively rallies continued as if two players were in the same place. The result was a 3-2 win for the Makuhari player. They said they felt like they were playing table tennis in real life.
4)ShowNet and IOWN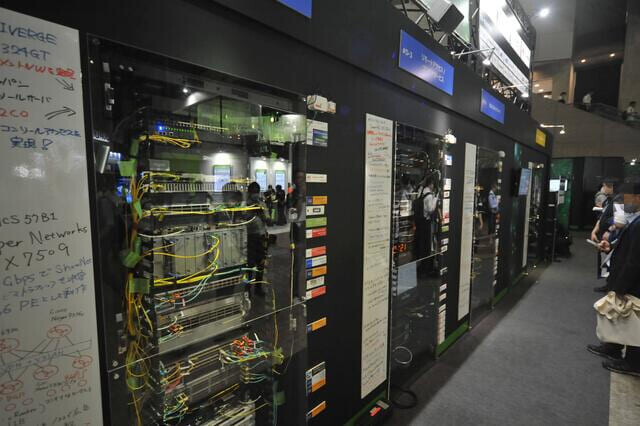 ShowNet is a project in which each company brings its own equipment to build a network to be used at the venue. The project demonstrated multi-vendor equipment connectivity, multipoint connectivity, and virtual separation of networks by wavelength.
This time, we pulled a 1.1 Tbps line of IOWN's 8 wavelengths here. In the server racks that make up ShowNet in the booth, the server racks for outbound connections were lined with devices receiving Open APN, and APN devices were also lined up in the transmission layer racks without terminating the APN there, allowing optical signals to reach the inside of ShowNet.
5)Interop Tokyo 2023 and NTT's Challenge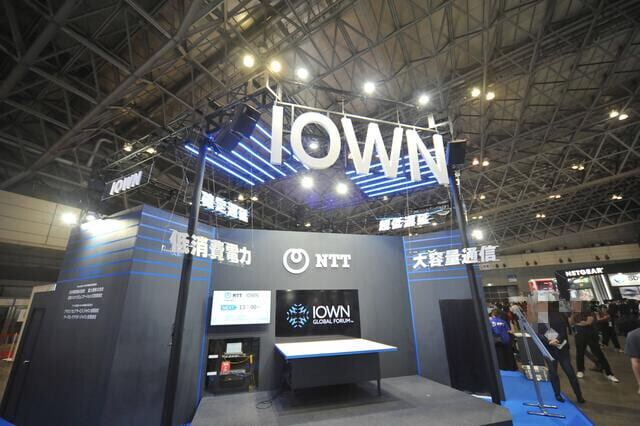 The term "concept" has been removed from the "IOWN vision" and IOWN has truly moved into the stage of actual realization, which we were able to witness at the 30th Interop Tokyo. By around 2030, we will be able to transmit and receive a large amount of information in real time and without discrimination. It will be possible to share what others are seeing and experiencing now, as if you were there.
We believe that IOWN will create new value that will make our lives more convenient and comfortable, accelerate the recycling of resources among various industries and further regional development, and realize a sustainable society. NTT will continue to take on the challenge of creating new value that will make our lives more convenient and comfortable through IOWN.
NTT Group Medium-Term Management Strategy (May 12, 2023)
『New Value Creation & Sustainability 2027 Powered by IOWN』
https://group.ntt/en/ir/mgt/managementstrategy/
Press release: IOWN APN to be exhibited at Interop Tokyo 2023 (June 12, 2023)
Demonstration of next-generation APN at ShowNet,: A demo unique to low latency and fixed latency at the exhibition booth
https://group.ntt/jp/newsrelease/2023/06/12/230612b.html
Interop Tokyo 2023
https://www.interop.jp/2023/en/