NTT has pioneered the first-ever information presentation interface--"MagneShape"-- which offers rich expressivity without causing any adverse environmental effects. The uniqueness of the breakthrough's interface lies in its non-electrical information presentation technology, where a magnetically actuated pin display is able to give both visual and tactile information. Its groundbreaking innovation lies in the fact that, unlike traditional pin displays, it utilizes magnetic field patterns inscribed on a magnetic sheet to control the pin's movements, doing away with the need for electrical actuators altogether.
NTT sees magnetic materials as key elements in the future development of interaction characterized by physicality. The research undertaken by NTT comes from a desire to simplify existing pin-based shape-changing displays, which dynamically alter their shape by controlling a multitude of pins. Traditionally, these devices utilized motors as actuators for pin operation, necessitating intricate electrical and mechanical structures that were resource-intensive and required extensive engineering knowledge. This, however, was a limitation, curtailing the technology's mass adoption. NTT's aim was to create not just exclusive high-end models, but to commoditize the technology for casual use, thus paving the way for new dimensions of communication.
To realize this, the NTT Communication Science Basic Research Institute (NTT CS Research) has focused on developing devices that can create S-pole and N-pole magnetic field patterns on a magnetic sheet. Using this magnetic sheet and the technology derived from their research, they have brought to life the MagneShape, a pin display technology that uses magnetic fields to control the elevation and depression of pins.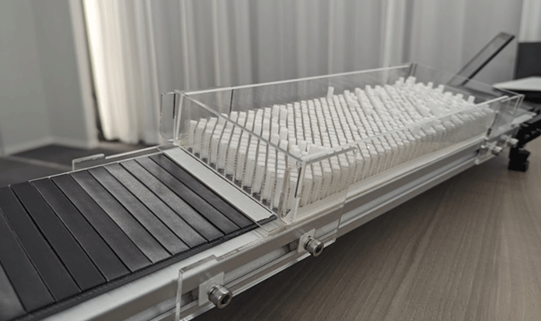 The MagneShape stands out with its minimalistic design, comprising only a magnetic sheet, magnetic pins, and a housing. It negates the need for wiring, a power source, or even a special manufacturing environment. The system can be assembled using a hole punch and a magnet sheet. Furthermore, its non-electrical nature eliminates the need for soldering or programming, providing considerable flexibility in pin placement and offering low maintenance costs. The presentation content changes based on the magnetic field patterns inscribed on the magnetic sheet, which can be conveniently rewritten to present characters, symbols, waves, and shapes.
That said, designing MagneShape was not without a number of challenges. The magnetic pins, consisting of a plastic straw body with a magnet inserted at the bottom, can potentially cause interference with their magnetic forces if they are too strong or too closely placed. Hence, pot magnets were used, which are permanent magnets encased in high-permeability material, like iron, concentrating the magnetic flux downwards, thus ensuring that each pin functions independently.
Two alternative methods were devised to construct these magnetic pins considering the market limitations on pot magnets' size, type, and cost. The "pot-like method" involves using commercially available iron parts to create a pot-like structure, and the "punch sheet method" uses a hole punch and a magnet sheet. These methods, despite requiring assembly, offer the flexibility to create pins of varying sizes, weights, and magnetic forces.
The interface also comes with a program that can generate magnetic field patterns based on the desired information. It also provides a tool to simulate the movement of magnetic pins. Once mastered, these tools can be used to express animations, characters, shapes, waves, heart shapes, and circular ripples. The magnetic field patterns can be easily rewritten using neodymium magnets, facilitating immediate corrections to the presented content.
It sounds good, but does it mean anything? The potential applications of this technology are manifold--from use in educational settings and as accessories for small robots, to tactile displays that require no power source. The overarching goal of this research is not only to further sustainability in information presentation technology, but also to offer diverse communication options to children and students at a relatively low cost. Future NTT research will aim to refine the control of these pins, present longer pin strokes, and achieve higher pin resolution, revolutionizing the realm of tactile information presentation.
NTT--Innovating the Future