A new rice cultivation method born from an encounter
Minamisanriku Town in Miyagi was one of the areas devastated by the Great East Japan Earthquake in 2011. DOCOMO began environment-orientated rice cultivation in this region in 2012 with the objective of paving the way for the future for Minamisanriku Town, where reconstruction continues
Aiming to revive cultivation of the sasanishiki rice variety (which originated in Miyagi) as a pride of the region, DOCOMO is working together with full-time farmer Hiroyuki ABE, who practices pesticide-free and fertilizer-free rice cultivation, through repeated trial and error, while DOCOMO's ICT technology provides support for town development that is considerate of the rich local environment.
Sasanishiki is a rice variety that in the past was known as one of the representative varieties in Tohoku region . Because this variety is easily impacted by cold weather and is unsuitable for modern-day cultivation methods (which use pesticides and fertilizer), production declined steadily until sasanishiki became a "phantom rice". Mr. ABE feels a strong attachment to sasanishiki rice, which is a Miyagi's pride as well as the starting point for Mr. ABE himself. However, cultivating rice without using pesticides nor fertilizer is a battle with weeds, and how many weeds can be removed directly affects the amount of rice harvested. In the first year, there was a bumper crop, but after that, harvest volume declined.
The key to completely natural cultivation: ICT plus deep-water farming
「Just when Mr. ABE was wondering, "Should I give up?" he came across "deep-water farming". Unlike with general rice cultivation, where water levels are maintained at depths of 4 to 5 centimeters, in deep-water rice cultivation water levels are maintained at deeper depths than is conventional, which controls the growth of oval-leafed pondweed and other weeds. ICT sensors developed by NTT DOCOMO manages the water level to ensure that it remains at a constant depth, thereby successfully controlling weed growth.
For pesticide-free, fertilizer-free rice cultivation that does not use herbicides, it is extremely important to utilize "water" to the utmost advantage. It is said that the reason rice culture has been passed down continuously from ancient times to the present day is that it utilizes the power of water to the maximum, and it is no exaggeration to say that how "water" can best be utilized is an essential element in pesticide-free, fertilizer-free rice cultivation.
Water management is essential to rice cultivation.
Paddy Watch , DOCOMO's rice paddy sensors, visualize paddy water level and temperature information, measuring water level, water temperature, and air temperature, and displaying any changes in graph form. This technology makes it possible to check paddy conditions anywhere, at anytime, on a smartphone or tablet, and it is possible to implement thorough management based on this information in accordance with weather conditions or rice plant growth status, such as maintaining optimum paddy water level.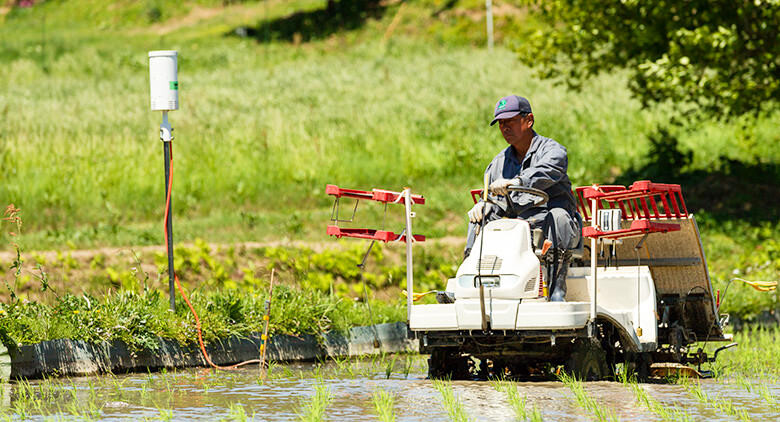 Planting each seedling firmly in the mud: DOCOMO's rice paddy sensors monitor water level, water temperature, and air temperature.
"May we have a crop of delicious rice"
--A smile comes naturally to Mr. Abe's face.

Having reached a height of approx. 20 cm,
the sasanishiki seedlings are ready for planning in the paddies.
Mr. Abe says, "Before I adopted the deep-water farming method, there were various problems such as irregular weather and outbreaks of rice blight, and I was unable to get a good crop despite the hardships. These outcomes were disheartening, and my heart was beginning to break. I think that deep-water farming has shown me a bright path forward".
Rice paddies create abundant nature. In order to produce delicious rice, DOCOMO's ICT technology is being used to support the maintenance of optimal water level and seedling growth while at the same time it protects the beautiful and abundant natural environment.
Creating a new future in which humans and technology intersect
A member of DOCOMO's TOHOKU Reconstruction Support Office staff says, "In order to be sustainable, agriculture of the future must achieve balance among environmental protection, food safety, and productivity. Even with low-volume production, produce whose distinguishing characteristics are fully utilized should resolve various issues, leading to regional revitalization."
Through rice cultivation--Japan's representative primary industry--we are endeavoring to invigorate farming communities with high-value agricultural products. We believe that these efforts will lead to community regeneration and invigoration (which are issues for Mountainous area settlements), thereby contributing to Japan's regional revitalization.
Through visualization (using DOCOMO ICT) of technology that has until now relied on the instincts and experience of farmers, cultivation environment data delivered via rice paddy sensors and communications networks is leading to the stabilization of crop yields and quality, broadening new possibilities.
DOCOMO's rice paddy sensor measures water level,
water temperature, and air temperature.

With a fresh heart, Mr. Abe plants rice seedlings
for the second year using the deep-water farming methods.
"These are no longer just our rice paddies--they are filled with the hopes and desires of many people. I will keep on trying until we get results that everyone will be overjoyed with", says Mr. Abe.
Reviving sasanishiki--a Miyagi-born rice variety beloved by many people--in Minamisanriku Town and communicating images of the town's vitality restored through food, DOCOMO will continue to support agricultural product activities in the future while staying close to the passionate determination of those who are taking on this challenge.