At the official Trade Show (Venue: Austin Convention Center, March 11 - 14, 2018) of SXSW 2018, Nippon Telegraph and Telephone Corporation (NTT; Head Office: Chiyoda-ku, Tokyo; Hiroo Unoura, President and CEO) will demonstrate a "Comptics(*1)" prototype that provides the opportunity to design haptic contents synchronized with music and videos and experience them.
Concept of Comptics
NTT has developed a new protocol and a wearable haptic device that allows users to see videos and hear music with a haptic experience and create haptic contents. This concept, called "Comptics", aims to realize three experiences as follows:
1.

Music and videos with haptic experience

You can add a haptic content to the music you listen to, videos you watch, and games you play, which enriches the experience.
2.

Making haptic experience

You can create and edit haptic experiences on your smartphone and computer and try them.
The ease of creating and editing them contributes to raising creativity in making new experiences.
3.

Sharing haptic experience

You can interact with people all over the world via haptic content by sharing the haptic content you made. This makes it possible to experience many kinds of created contents and extends the possibilities of new experiences.
To realize this concept, NTT developed 1) a system that allows users to edit haptic experiences on consumer music/video editing software by embedding haptic information as a specific sound in the content, 2) a technology for extracting the haptic information in the content and converting it to electrical stimulation, and 3) a prototype of this concept. Furthermore, conductive textile hitoe®(*2) is used as the input interface, and NTT proposes further usage scenarios for hitoe®.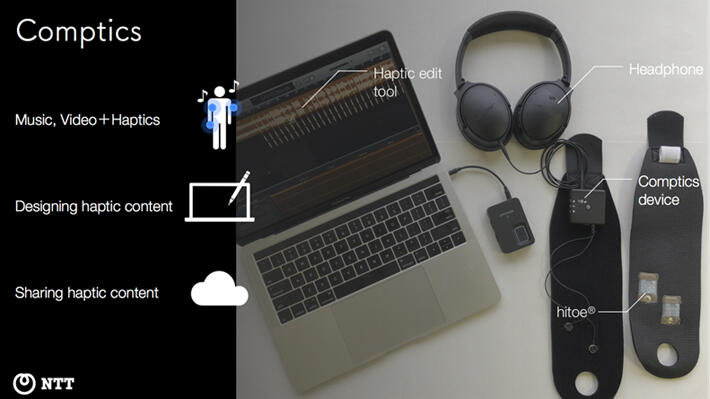 Concept and prototype
Comptics at SXSW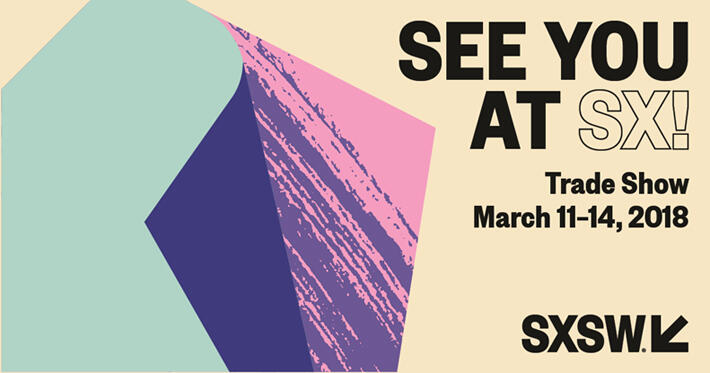 NTT will demonstrate Comptics and the prototype at SXSW2018. At the Trade Show held from March 11- 14, 2018. Visitors will be able to try haptic contents synchronized with music and video and edit the haptic contents.
Through this exhibition, NTT will validate the concept and receive valuable feedback from visitors for future research and development.
SXSW2018
| | | |
| --- | --- | --- |
| Date | : | March 9 - 18, 2018 |
| Location | : | Austin, Texas, United States |
| Booth number | : | #1436 at Trade Show |
| Detail | : | SXSW is a creative business festival whose themes are Music, Film, and Interactive. It began as a music festival in 1987, and has continued to grow in both scope and size every year. Now it is the world's largest festival of its type, attracting tens of thousands from all over the world. In recent years, IT services such as Twitter has become a global service from SXSW exhibition, and attention has gathered that more than 800 participants come from Japan in 2017. |
*1

Comptics, a word blending "computer" and "haptics", aims to realize a world in which everyone can experience haptic contents and makes creating them like creating computer music (making music on a computer)

*2

The functional material hitoe® was developed by TORAY and NTT.
Appendix: Detailed Specifications of Comptics Technologies
1.

Protocol of haptic desig

The protocol allows the user to edit a haptic experience as if the user were editing music. By embedding haptic information as a specific sound in the content, the user can edit the timing, strength, frequency, and inflections on consumer music / video editing software and enjoy music and movies and a haptic experience simultaneously. Only the specific sound transmitted to the device side is converted into electrical stimulation to create a haptic experience.
2.

Time-division control technology

This technology realizes simultaneous haptic experiences with time-division electrical stimulation when electrical stimulation is output from multiple channels (e.g., stereo output). This control technology is based on a human mechanism by which we feel one stimulus when two stimuli are input in a short interval over our time resolution. Since this technology does not output multiple stimuli at the same time, we were able make it wearable by downsizing the device and reducing the load on the circuit and power supply.