NTT Corporation (NTT) started the official operation at NTT reception using the avatar robot "OriHime-D" *1 remotely controlled by people with disabilities from July 1st, 2020, after the trail conducted since February 2020.
During the trial period*2, we conducted technical and operational verifications and confirmed the effectiveness and feasibilities of the avatar robot "OriHime-D" at reception. With the results of the trial, we hired two persons with disabilities who were difficult to go outside, who had remotely controlled "OriHime-D" during the trial period ("pilot"). And we decided to carry out full operation with "OriHime-D" at NTT reception officially. This is the first-time for the "OriHime-D" to work at an actual workplace.
We believe that it's a concrete example of how ICT expands our possibilities and of how we make diversity and inclusion a reality at NTT. And through this initiative, we can contribute to promote social participation of people with disabilities, and show how we respond to Remote World.
1. Background
It has been difficult for people with disabilities who have difficulty going out to get a job and to participate in society. Also, due to the spread of new coronavirus infection, the infection risk for receptionist increases since they need to correspond many people at reception.
Therefore, NTT has conducted trials, using the avatar robot "OriHime-D" to enable people with disabilities to work remotely, which expands the opportunities for people with disabilities to contribute to the society, and which reduces risk of infection for receptionist.
Through the trial, "OriHime-D" performed for 84 guests in 37 days (business days), and we found effectiveness and feasibilities at reception. Therefore, we hired the two pilots and started full operation of "OriHime-D" at NTT reception.
2. Reception work summary
The avatar robot "OriHime-D" performs the following reception tasks.
Leading guests to a meeting room
Responding to inquiries from visitors etc.
Reception time: Weekdays from 9am to 5pm
Reception place: The 14th floor of NTT headquarters (Otemachi First Square East Tower 1-5-1 Otemachi, Chiyoda-ku, Tokyo)
4 people with disabilities work with shift as a "Pilot" of "OriHime-D"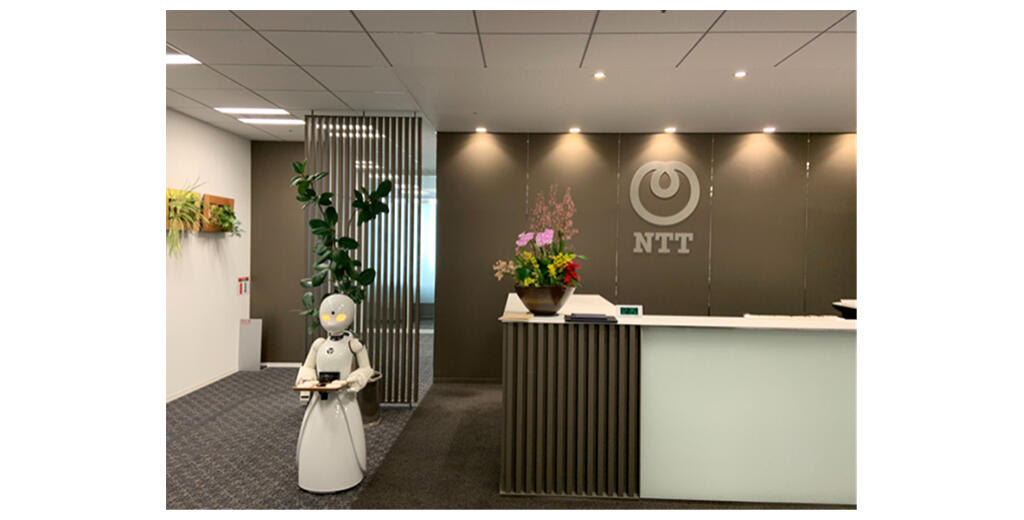 Image at reception
3. Future plans
We continue to expand the possibilities of using avatar robots like "OriHime-D" to other places and other jobs, and NTT group will continue to promote "Diversity and Inclusion" towards employees, including those with disabilities, and aim to increase its corporate value.
Avatar robots with a length of 1.2 meters tall, is developed by ORI Research Institute. "OriHime-D" can be controlled remotely to carry out tasks that involve physical labor, such as guiding customers to destinations and carrying things. Those robots are used at the café called "DAWN" which is conducted with NTT's special sponsor.
People who are physical disabilities or who have difficulty going outside become remote operators of avatar robots (commonly known as "pilots") remotely operate the robots and communicate with guests who visit NTT reception, and lead them to meeting room. The trial was conducted from February 20, 2020 to April 13, 2020 (including the temporary suspension period at NTT reception due to the spread of new coronavirus infection). This is the first attempt for people with a disability to use "OriHime-D" at actual working office.
"OriHime" and "avatar robot café DAWN" are registered trademark of ORI Research Institute, Inc.
About NTT
NTT believes in resolving social issues through our business operations by applying technology for good. We help clients accelerate growth and innovate for current and new business models. Our services include digital business consulting, technology and managed services for cybersecurity, applications, workplace, cloud, datacenter and networks all supported by our deep industry expertise and innovation.
As a top 5 global technology and business solutions provider, our diverse teams operate in 80+ countries and regions and deliver services to over 190 of them. We serve over 80% of Fortune Global 100 companies and thousands of other clients and communities around the world.
For more information on NTT, visit www.global.ntt/
.