Tokyo - June 2, 2021 - NTT Corporation (TYO:9432), Orange, Telefónica, and Telia Company have successfully completed a joint experiment on automatic network control in an open transmission and transfer technology. This joint experiment is promoted by Converged Architectures for Network Disaggregation & Integration (CANDI), which was jointly established by NTT and Telefónica in October 2018 within the Open Optical Packet Transport (OOPT)1 project of the Telecom Infra Project (TIP). The objective of this experiment is to create an open market for disaggregated components as well as to achieve large-scale economics for some devices through developing an open and general-purpose network. After the first experiment (1st proof of concept (PoC)) in 2019, this experiment (PoC 2021) verified the requirements, specifications, use cases, and scenarios by applying the technical elements that each participating carrier emphasizes to the common situation of "Autonomous Intra-Carrier Integrated DCI Transport Infrastructure".
1. Evolution of open disaggregation technology
CANDI promotes integrated control of both transmission and transfer, centering on various transmission and transfer disaggregation products created by each subgroup of OOPT, and demonstration of the use cases of participating carriers. Our main initiatives are
(1) Automation and Advancement of multi-vendor interconnection and service provisioning,
(2) Automation and Advancement of manufacturer-independent migration on a per-part basis.
In the 1st PoC, both experiments were successful, but from the perspective of (1), provisioning was based on a prior design, and from the perspective of (2), migration was successful, but only semi-automation was required for on-site construction.
 CANDI worked to solve the problems identified in the 1st PoC and established the breakthrough technology. Specifically, CANDI (1) realized service provisioning by automatically grasping the network (NW) state, (2) worked on multi-vendor software migration with full remote operation, and started the demonstration experiment of migration PoC and packet PoC as PoC 2021, and have already succeeded in the experiments (Figure 1). In terms of the ecosystem, the previous experiment centered on 2 carriers was greatly expanded, and an ecosystem was established with more than 10 companies in total.

Figure 1 Overview of PoC 2021
2. Progress of proof of concept
i. Service provisioning by automatically detecting the NW state
In recent years, the internet protocol (IP) transport has been changed to a NW based on segment routing (SR), which enables simple and flexible configuration. In this experiment, we demonstrated a scenario in which a path that meets the service level agreement (SLA) of a service is automatically set on the basis of the state of the NW, such as the amount of delay, in this SR-based NW. We also confirmed the "Closed Loop Control" in which the controller recalculates the path that meets the SLA during a service in accordance with the amount of delay of the NW measured in real time and automatically switches the path. NTT's high-precision NW monitoring and control technology (HANMOC)2, 3 has enabled us to grasp the NW status. Orange4, a partner of NTT in R & D and one of the main contributors of the OpenDaylight (ODL)5 project (an open source software (OSS) project for software defined networking (SDN) controllers), contributed to the implementation of the controllers using ODL. Using NTT's delay measurement technology, an OSS controller provided by Orange, and a white box switch provided by TIP products, four companies have established collaborative workflows and interfaces, and have succeeded in operating them in actual equipment (Figure 2).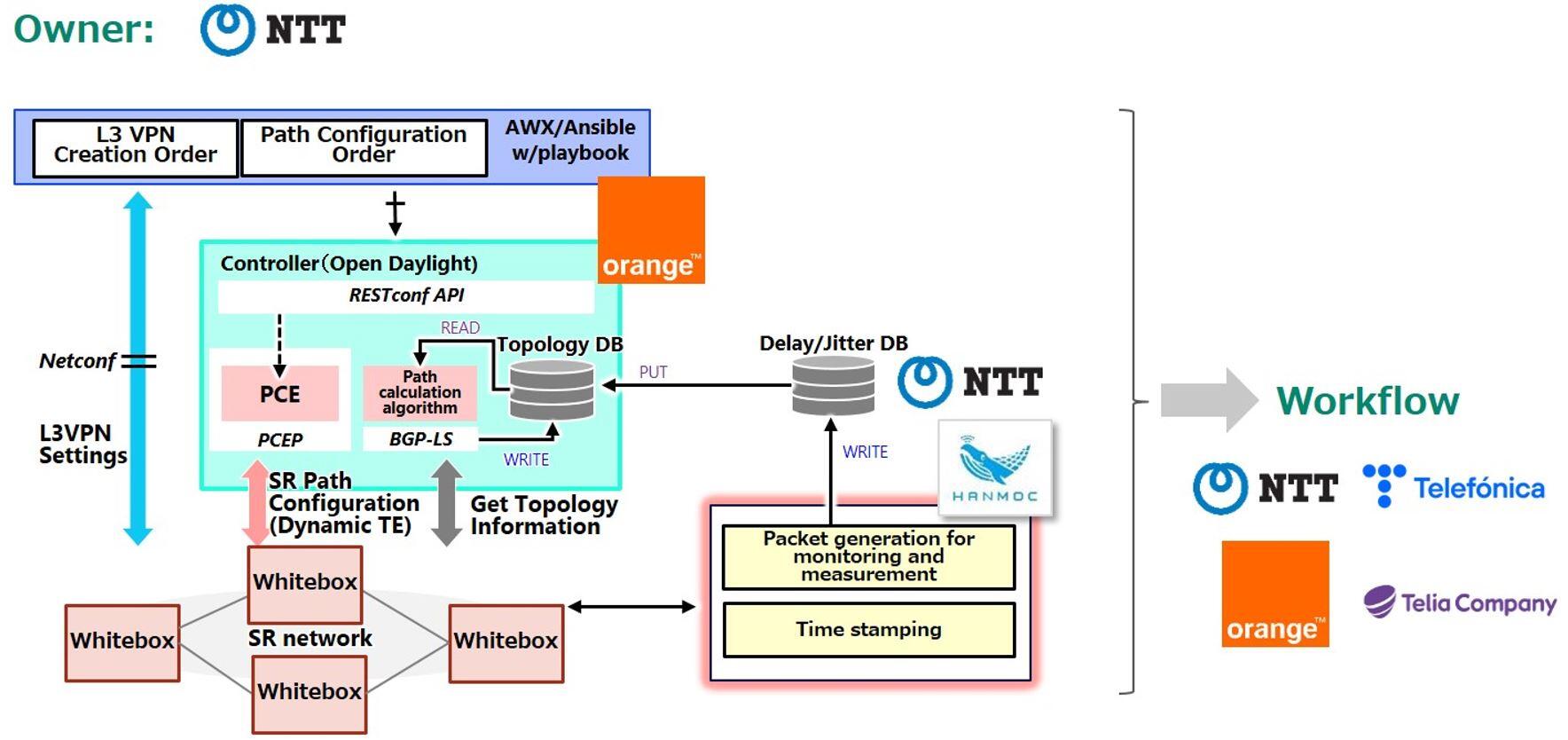 Figure 2 Service provisioning by automatically grasping the NW state
ii.Multi-vendor software migration with full remote operation
We demonstrated a scenario in which the network operating system (OS) of a white box switch is automatically and remotely migrated in a data center network consisting of a white box switch with separate hardware and software while the service continues. This scenario is effective when a network OS failure occurs or ends of life (EoLs) of hardware and software are different. We took a close look at the progress of the network OS (OS delete using OSS platform, intra-cluster routing, automatic OS installation, etc.) and created a workflow that combines them. The workflow was realized by NTT's in-house OS (Beluganos)6 and UBiqube's controller (MSActivator), which integrates and automates the data center network. By achieving full automation, we confirmed that the work can be carried out in a shorter time than the migration work including manual operation.
CANDI also successfully completed an optical PoC. The results and issues gained from these experiments will be fed back to the Mandatory Use Case Requirements for SDN for Transport (MUST) subgroup, which specifies the TIP standards, and to external communities such as ODL and the Open Compute Project (OCP) within the TIP OOPT.
3. Development of the ecosystem
In the previous experiment, NTT and Telefónica combined assets from two carriers. This time, in the London Community Lab provided by TIP, more than 10 community partners provided hardware and software to build the ecosystem with technical support from each company (table 1). Working in collaboration with NTT DATA UK and the TIP Community Lab, we built and integrated the network components and validated the network workflow in the ecosystem.
Table 1 Development of the ecosystem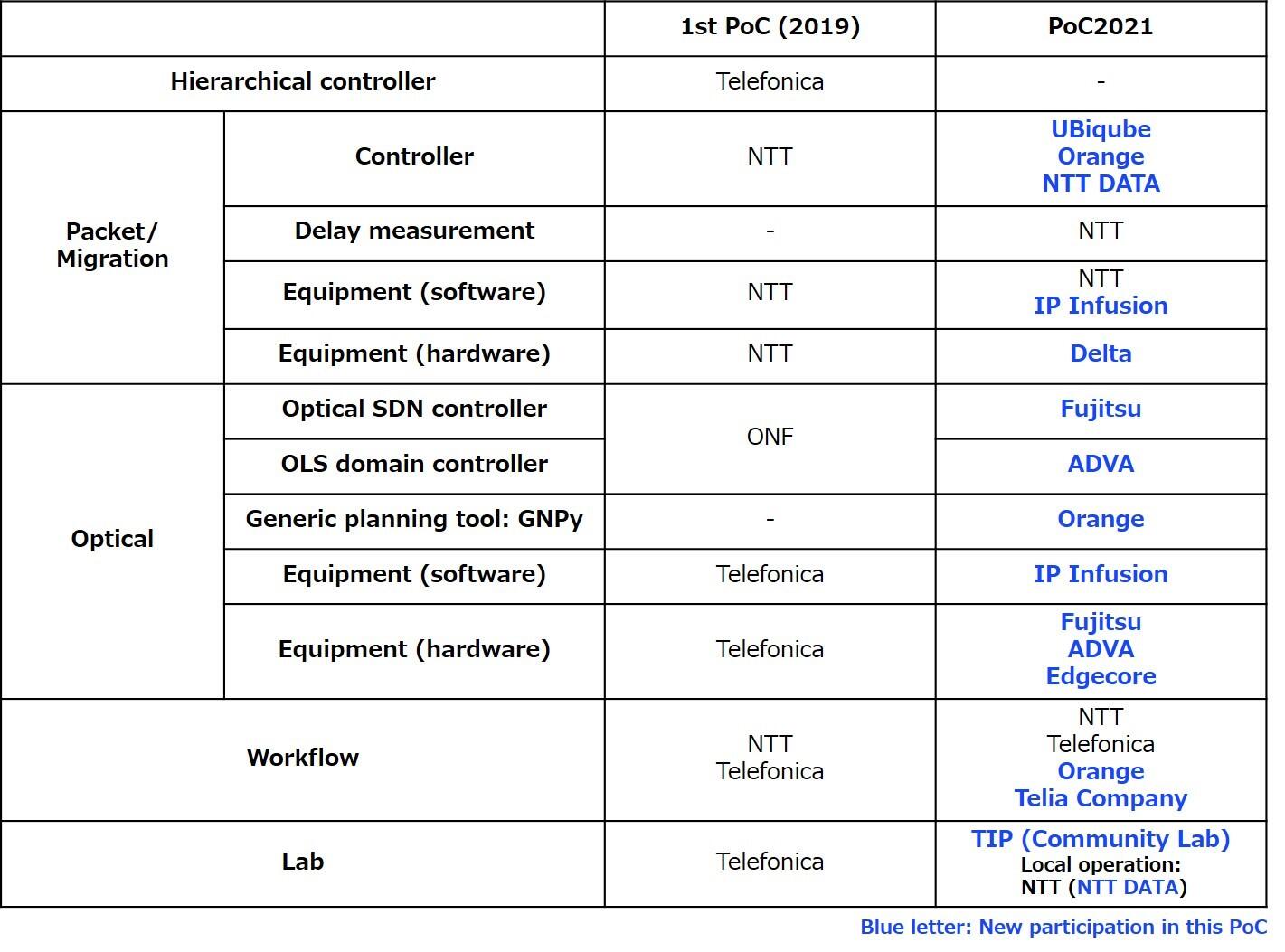 4. Future plans
We have almost completed experiments for PoC 2021. In the future, scenarios related to data center connection via a wide area network (WAN) will be conducted, and experimental results for all scenarios will be published as white papers. The scenarios demonstrated in this PoC provide a mechanism to automatically provide customers with optimal NWs for SLAs that vary from service to application, even for open and disaggregated NWs. For example, when NW with low delay and high quality is required, such as telemedicine and automatic operation, we shorten the delay measurement and control cycle and provide it to customers. The automatic control also enables customers to start using NW in a short period of time at a cost commensurate with NW quality.
 For a final experiment, we aim to demonstrate integrated control of transmission and transfer. We will contribute to the realization of Innovative Optical and Wireless Network (IOWN) by further promoting open disaggregation in the transmission and transmission areas and developing automatic path control in optical networks.
1TIP OOPT
https://telecominfraproject.com/oopt/
2HANMOC (High-Accuracy Network MOnitoring and Control)
https://www.rd.ntt/e/research/NS0030.html
3March 18, 2021 NTT Group Topics "NTT Laboratories wins MEF 3.0 Proof of Concept Showcase Innovation Award"
https://group.ntt/en/topics/2021/03/18/mef2021/index.html
At the virtual event "MEF 3.0 Proof of Concept Showcase" hosted by the MEF Forum (a networking technology standards organization in the United States), NTT demonstrated the concept of service provisioning based on automatic NW status identification by using more concrete service use cases. The TIP OOPT CANDI uses more open and disaggregated components, focusing on integrated control of each function, and conducts experiments. We are also challenging a new workflow for automatic path switching (Closed Loop Control) during operation.
4Press release on February 20, 2019 "Orange and NTT sign strategic R&D framework agreement to accelerate digital and network transformation in 5G, AI, IoT cybersecurity and beyond"
https://group.ntt/en/newsrelease/2019/02/20/190220a.html
5OpenDaylight
https://www.opendaylight.org/

Launched by the Linux Foundation in April 2013, it is an open community developed by leading networking vendors. OpenDaylight (ODL) is a modular, open platform for customizing and automating networks of all sizes.
6Beluganos
https://www.rd.ntt/e/research/NS0029.html
About NTT
NTT believes in resolving social issues through our business operations by applying technology for good. We help clients accelerate growth and innovate for current and new business models. Our services include digital business consulting, technology and managed services for cybersecurity, applications, workplace, cloud, data center and networks all supported by our deep industry expertise and innovation. As a top 5 global technology and business solutions provider, our diverse teams operate in 80+ countries and regions and deliver services to over 190 of them. We serve over 80% of Fortune Global 100 companies and thousands of other clients and communities around the world. For more information on NTT, visit www.global.ntt/
.