Inclusive optical fiber network for diversified services
Tokyo - June 18, 2021 - NTT Corporation (Head Office: Chiyoda-ku, Tokyo; President and CEO: Jun Sawada, hereinafter "NTT") today announced that optical access network design theory based on concatenated loop topology was established for supporting IOWN (Innovative Optical and Wireless Network). This theory helps us to design optical fiber cable route in access network, and provides high reliability, tolerance for demand variation1, and scalable path selectivity. This theory enables us to meet various kinds of demands from service providers.
 This optical access network consists of concatenated optical fiber cable loops which is characterized by optical path duplexing, flexible fiber reassigning, and optional cable routes. Moreover, optimum parameters for designing it, including loop size and number of reassignable fibers in concatenated loops, were derived with theoretical calculation. This optical access network design theory supports "All-Photonics Network" in IOWN, and helps us to deploy inclusive optical fiber network for diversified services.
Background
Optical access network is a part of optical fiber network, which connects optical fiber cables to user sites. Since 2001, when NTT's first FTTH (Fiber-to-the-Home) service "B-Flet's" was launched, NTT has deployed optical access networks all over Japan based on the star topology2 optimized for providing FTTH services economically. In recent years, 5G (5th generation mobile communication) services have been launched, and R&D for Beyond 5G have been already started. Network services including 5G and Beyond 5G, and optical fiber demands for supporting them, will be increasingly diversified in the next decade and beyond. However, conventional star topology-based access networks will be difficult to meet their higher reliability requirements and uncertainly varied demands. For supporting them with B2B2X business model, new optical access network design which flexibly meets diversified and varied demands will be required. Hence, NTT Access Network Service Systems Laboratories (hereinafter "NTT AS Labs.") considered future vision of optical access network, and set three development goals described below (Fig. 1):
Reliability: Optical path duplexing for supporting ultra-reliable services,
Tolerance for demand variation: Fiber reassignment for meeting uncertain demands,
Path selectivity: Optional cable routes for directly connecting decentralized base stations.
Technical Points
NTT AS Labs. invented optical access network design based on concatenated loop topology (Fig. 2). Loop topology3 is known as a highly reliable and flexible wiring topology, however, conventional loop topology cannot provide its benefit to users distantly located from loop cables. NTT AS Labs. solved this problem by concatenating multiple loops. Concatenated loop topology does not only provide high reliability and tolerance for demand variation over wide area, but increase number of optional cable route compared with conventional loop topology. Therefore, this optical access network design achieves three goals described above simultaneously. Moreover, onsite works for switching fibers at interfaces of concatenated loops can be reduced with fiber cross connection device, which leads to efficient network operation. This newly designed optical access network would be overlaid4 on conventional network for coexisting without interfering with conventional FTTH services.
 For designing concatenated loop topology, new designing parameters including loop size and number of reassignable fibers in concatenated loops are necessary. NTT AS Labs. derived optimum values of them with theoretical calculation based on reliability engineering and probability theory. For example, loop size was determined by availability5 calculation (Fig. 3), and number of reassignable fibers in concatenated loops was determined by modeling and simulating fiber demand accumulation process of with probability function (Fig. 4). These calculations provide new insights into optical access network design, and emphasize inclusiveness and versatility for diversified services. NTT AS Labs summarized these results as a new network design theory for supporting IOWN.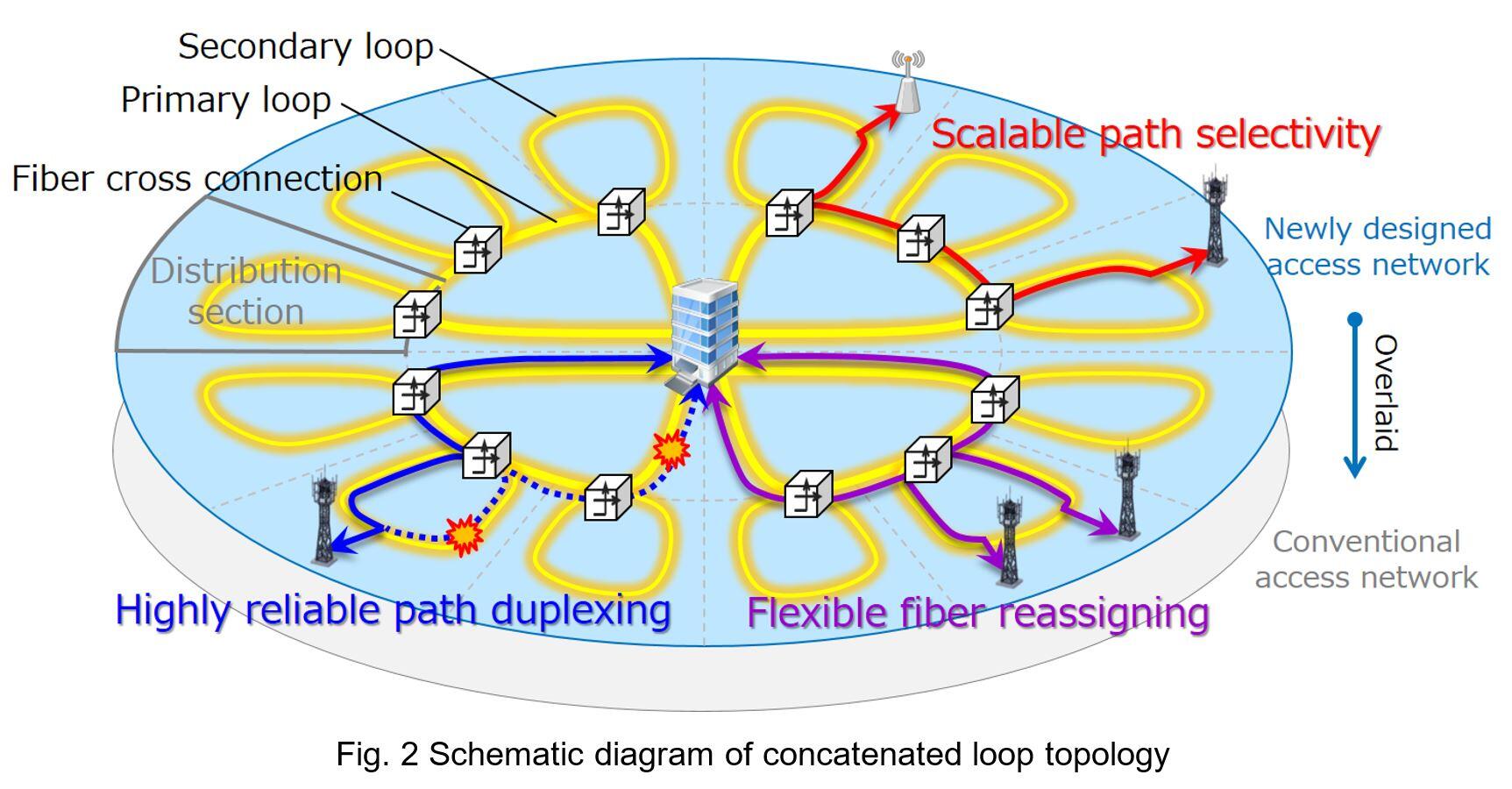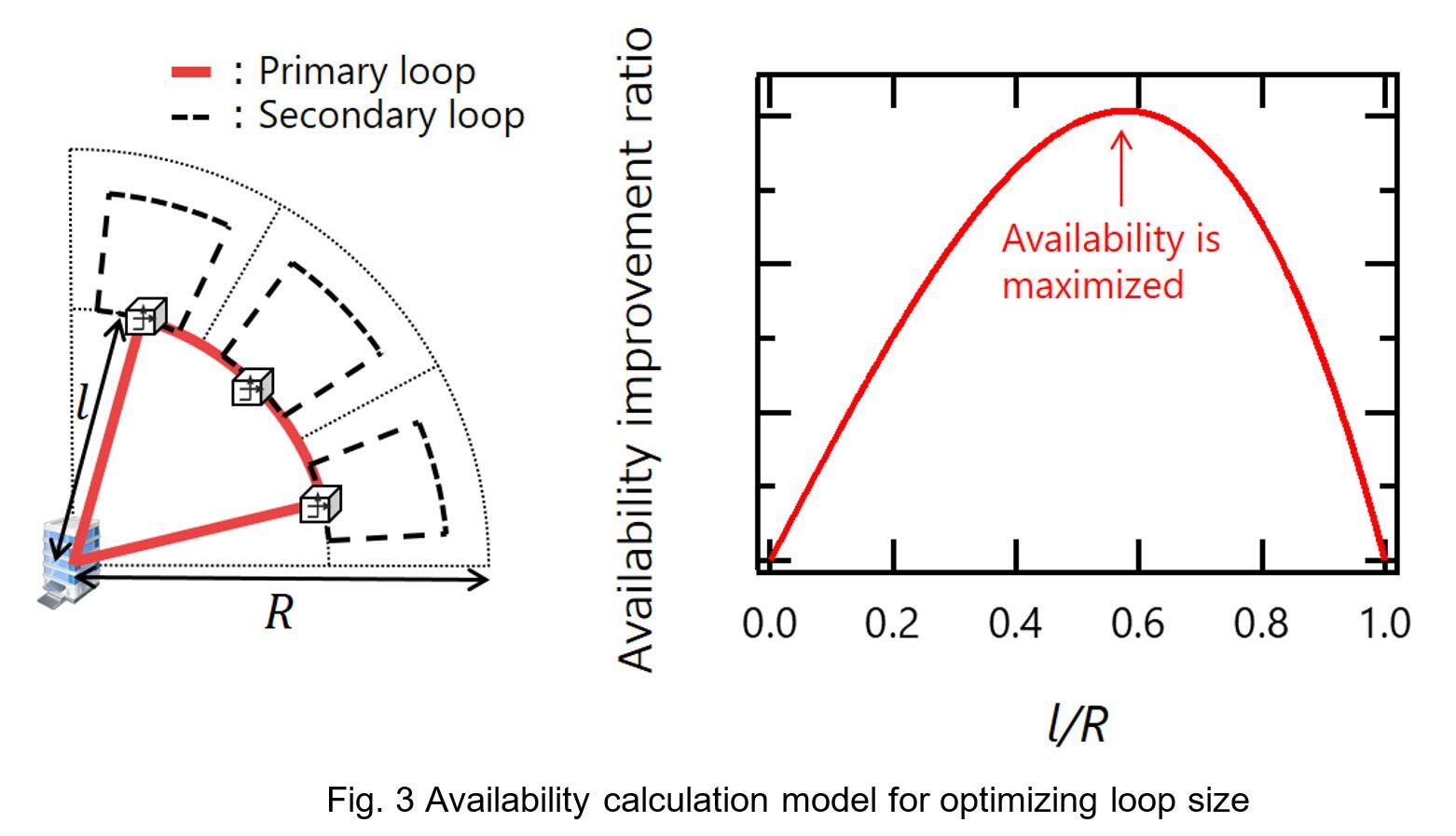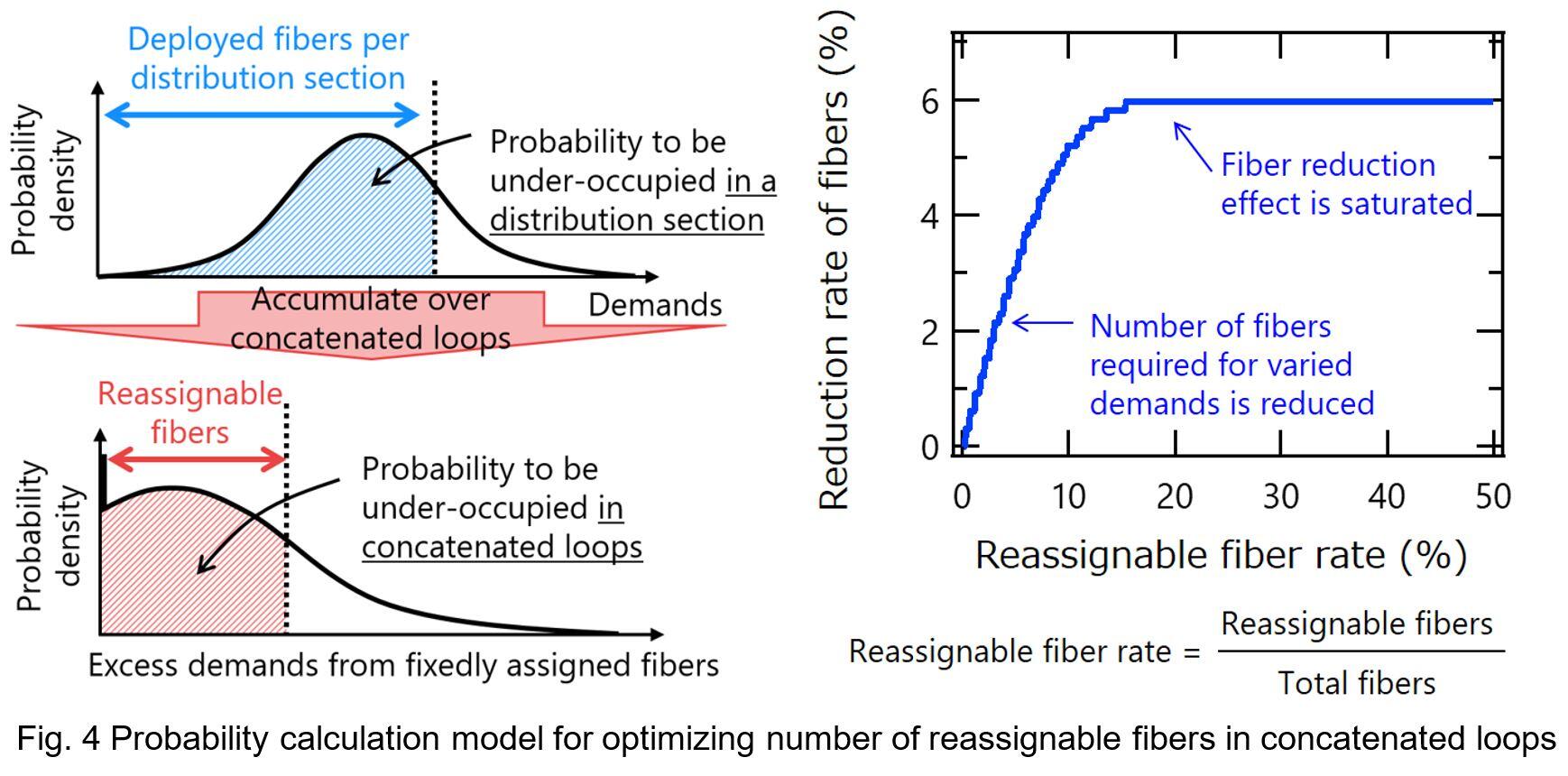 Outlook
NTT will confirm the feasibility of this optical access network by designing it with existing infrastructure and smart cities, and establish operation scheme for supporting diversified network services. NTT also develops associated technologies including remote operated optical fiber switching technology for efficient operation of this optical access network, and continuously conduct R&D for realizing IOWN.
Glossary
1Tolerance for demand variation:
Access network capability to utilize deployed facilities efficiently and suppress repetitive deployment work in the case where actual fiber demands are different from the predicted values.
2Star topology:
Cable wiring topology characterized by radially deployed cable from central office. There is single cable route between central office and user site. Compared with loop topology3, star topology is initially deployable at low cost, but its reliability and tolerance for demand variation is lower.
3Loop topology:
Cable wiring topology characterized by circularly deployed cable. There are two different cable routes between central office and a user site, resulting to high reliability and tolerance for demand variation.
4Overlay
Network deployment without any changes to existing networks.
5Availability:
Ratio of the uptime to the total (up & down) time of a system, which reflects the reliability.
About NTT
NTT believes in resolving social issues through our business operations by applying technology for good. We help clients accelerate growth and innovate for current and new business models. Our services include digital business consulting, technology and managed services for cybersecurity, applications, workplace, cloud, data center and networks all supported by our deep industry expertise and innovation. As a top 5 global technology and business solutions provider, our diverse teams operate in 80+ countries and regions and deliver services to over 190 of them. We serve over 80% of Fortune Global 100 companies and thousands of other clients and communities around the world. For more information on NTT, visit www.global.ntt/
.