SHINMEI Holdings Co.,LTD(headquartered in Kobe-shi ,Hyogo: Mitsuo Fujio,President and CEO ;"Shinmei HD"), Toka Osaka Co., Ltd. (headquartered in Osaka-shi ,Osaka:Kazuo Yoshikawa,President and CEO" Toka Osaka"), Nippon Telegraph and Telephone Corporation (headquartered in Chiyoda-ku , Tokyo:Jun Sawada,President and CEO;"NTT"), Nippon Telegraph and Telephone West Corporation (headquartered in Osaka-shi , Osaka:Mitsuyoshi Kobayashi,President and CEO" NTT West"), NTT AgriTechnology Corporation(headquartered in Shinjyuku-ku , Tokyo:Taiga Sakai,President and CEO "Agritechnology") builds a virtual market in cyber space and predicts the future using digital twin computing (Note 2) of IOWN (Note 1) related technology envisioned by NTT. Agreed to contribute to the reduction of global environmental destruction such as reduction of distribution costs, food loss and Greenhouse gases emissions by conducting digital transformation (DX) in the distribution of agricultural products by conducting transactions before the agricultural products are brought to the market.The above companies have started a joint experiment. This result will be exhibited at the NTT R&D Forum to be held from November 16th to 19th, 2021.
1. Background
Agricultural product distribution is classified into market distribution that passes through the wholesale market and off-market distribution in which producers directly deal with purchasers. Market distribution plays an important role in the distribution of Japanese agricultural products, as about 86% of domestic fruits and vegetables are bought and sold through market distribution (Note 3).
On the other hand, because stakeholders involved in market distribution are not able to share information with each other, producers first transport crops to large urban markets, and if too many crops are gathered, prices fall and surplus crops are transferred to the surrounding markets. As a result, in addition to increased transportation costs and a decline in freshness, delivery itself has become difficult due to the recent sharp increase in personal delivery, work style reforms, and a shortage of drivers (Note 4). There are also environmental impacts due to inefficient transportation. In addition, the spread of the new coronavirus has worsened the situation, increasing the need for change. Therefore, it is necessary to have a new type of logistics system centered around information (rather then purely moving products) especially during and post-corona.
2. Outline of efforts
Agricultural product distribution DX consists of the following (1) to (3)
(1) Virtual world (cyberspace)
We will build a virtual market and conduct virtual bilateral transactions (Note 5) and virtual auctions (Note 6) using forecasting technology based on digital twin computing.
In virtual bilateral transactions, in addition to general production forecasts based on transaction data and weather information gathered in the wholesale market, complex intertwined factors such as sudden events, price fluctuations between markets, and changes in consumption trends during Covid, we will use information and forecasts to connect sellers and buyers in the virtual space, and complete sales several days to one week before the actual desired transaction date.
In virtual auctions, information necessary to determine the value of crops, such as color, shape and luster, sugar content, acidity, lycopene is provided such that buyers are able to judge the quality of agricultural products from a remote location and trade high-value-added products without having to visit the site each time.
(2) Real world (real space)
We will establish a processing factory near the market that centrally processes agricultural products (cutting, packaging, etc.) and we will work in advance based on forecast information using digital twin computing. We will work to improve labor efficiency, such as securing personnel and maintenance of distribution bases.
(3) Food Value Chain Exchange
The information collected in the real space is passed to the virtual market, and the results of the predictions and analyses are fed back to the real space again.
Fusing the above three elements will bring various benefits to the stakeholders. For example, producers will be able to produce agricultural products according to demand and reduce distribution costs while stabilizing profits, and wholesalers will be able to systematically allocate personnel to operations. Retailers and consumers will be able make sales plans based on production information, earn stable income, and obtain fresh agricultural products.
In the future, in line with the above efforts, we will consider providing new value to consumers by utilizing market-linked food delivery services and d POINT as the demand for meals at home increases.
Figure 1. Overview of agricultural product distribution DX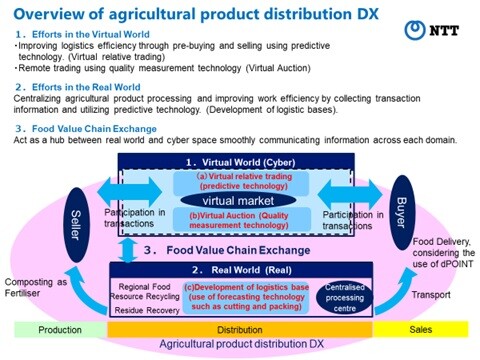 3. Specific efforts
In this demonstration, stakeholders involved in the food value chain, such as producers, wholesalers and retailers, will participate in the efforts toward the agricultural product distribution DX, and the following contents will be verified and evaluated.
(1) Virtual world (cyberspace)
Verification of future prediction technology: Comparison, analysis / verification, prediction of actual crop distribution volume and forecast distribution volume. Improvement of distribution accuracy.
(2) Real world (real space)
·Efficiency of processing personnel arrangement: Reduction rate of processing personnel in the market by utilizing forecasting technology
·Improved vehicle allocation efficiency: Improvement of truck loading rate and reduction rate of vehicles by utilizing this technology
(3) Food Value Chain Exchange
Verification of quality evaluation technology: Measurement of taste elements (sweetness, saltiness, acidity, etc.) and functionality, transmission of measurement results in cyberspace, evaluation of availability for virtual auctions
Figure 2. Overview of future prediction technology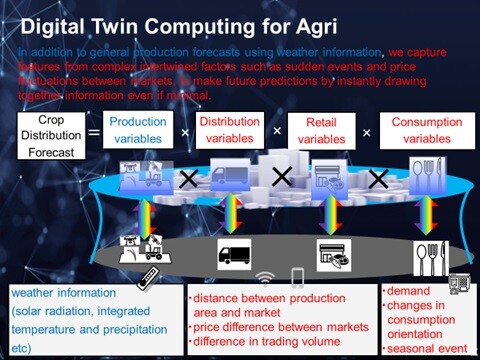 4. Contribution to the environment
Agricultural product distribution DX not only optimizes the entire food value chain, but also reduces Greenhouse gases and waste, contributing to the environment.
 Regarding Greenhouse gases , we will start commercializing the agricultural product distribution DX service in 2024. There will be a reduction in Greenhouse gases generated through electrification of transportation trucks (we aim to reduce the total transportation volume by about 35%) and utilization of renewable energy. We will improve the loading rate of trucks, optimize distribution routes, and reduce carbon emissions by reusing waste. This will contribute towards realizing Japan's 2050 carbon neutrality goals.
Regarding waste, we will better match supplies to consumer demand and collect surplus food in the market and processing factories to make compost. We will also utilize NTT West's regional food resource recycling solution (Note 8), which provides farmers with support for vegetable production, composting and reproduction of agricultural products.
5. Participating companies
Since its founding in 1902, the Shinmei Group has been based on the corporate philosophy of "We will protect wonderful Japanese rice fields and culture through rice, create deliciousness and happiness, and contribute to people's bright eating habits." We are engaged in the rice wholesale business and are currently expanding our business domain in Japan and overseas to expand rice consumption, such as manufacturing and selling processed foods such as sterile packaged rice and cooked rice and developing a restaurant business. In recent years, we have expanded our business in all food fields such as fruits and vegetables, and marine products, etc. By aiming to build a complete "chain" from sellers to buyers, we are contributing to improving Japan's food self-sufficiency rate and responding to the global food crisis.
Toka Osaka has been operating for 50 years as a fruit and vegetable wholesaler in the eastern market (which is one of the central wholesale markets in Osaka City) based on the basic philosophy of "protecting and nurturing Japanese agriculture and realizing a stable supply for the future". We have continued to deliver agricultural products to Japanese dining tables by connecting people and consumers. We are also working to secure a stable fruit and vegetable procurement route even in the face of drastic changes in the environment, such as the diversification of consumer needs due to recent lifestyle changes, the shortage of drivers, and the spread of new coronavirus infections.
As "Your Value Partner", the NTT Group promotes digital transformation while collaborating with partners and utilizing various management resources and abilities such as research and development, ICT infrastructure, and human resources through business activities. We are aiming to solve various social issues. We have positioned agriculture as one of our priority sectors, and are promoting community-based initiatives with NTT Laboratories, group companies, and key partners in agriculture, distribution / sales, consumption / food.
(Detailed division of roles is attached 1)
6. Next steps
Going forward, Shinmei HD, Toka Osaka, and NTT Group will collaborate to deepen this initiative, expand the number of collaborative partners, and expand nationwide and globally, while ensuring human food issues, food security, and environmental issues are addressed and progressed. We will contribute to solving social issues with SDGs.
7. Inquiries regarding this matter:
SHINMEI Holdings Co.,LTD
Administration Headquarters Administration Department General Affairs and Personnel Planning Division
Person in charge: General Affairs and Personnel Planning Section Manager Miyahara
E-mail: miyahara-takuya@akafuji.co.jp
Toka Osaka Co., Ltd.
General Affairs Department
Person in charge: Executive Officer General Manager of General Affairs Department
TEL: +81-6-6756-1111 / E-mail: mitsuki.shunsuke@toka-osaka.co.jp
Nippon Telegraph and Telephone Corporation
Public Relations Office
Contact: E-mail: ntt-pr@ntt.com
Nippon Telegraph and Telephone West Corporation
Corporate Planning Department Public Relations Office
Person in charge: Iwahashi
TEL: +81-6-4793-2311
NTT AgriTechnology Corporation
Digital Farming Development
TEL: +81-3-5359-4831 / Email: contact@nttagritechnology.com
Attachment 1.
Participating companies, etc.
Outline of charge
Shinmei HD
·Shinmei Group cooperation support
Toka Osaka
·Providing detailed information and data on existing fruit and vegetable distribution, extracting issues
·Proposal / examination of ideal fruit and vegetable distribution
·Preparation for demonstration experiment
NTT
·Development of prediction technology, accuracy evaluation, problem extraction
·Evaluation of quality measurement technology
NTT West
·Provision of information distribution infrastructure, cooperation with forecasting technology · Result distribution
·Verification of application of regional food resource recycling solutions
·Demonstration experiment Evaluation item creation and evaluation
Agritechnology
Demonstration experiment evaluation (mainly on the production side)
others
·JA Aso, JA Tsumagoi Village, JA Fuefuki Ichinomiya Branch, and other JA2 unions
: Shipment of agricultural products, provision of shipping information
·Two retailers: Fruit and vegetable distribution, demand information provision
·DoCoMo (d point, home delivery food cooperation)
(Note 1)NTT's current concept of an innovative optical-based network IOWN "Innovative Optical & Wireless Network"
URL: https://group.ntt/jp/newsrelease/2019/05/09/190509b.html
(Note 2)By developing the concept of digital twins (the virtual and real worlds) and performing calculations of various industries and goods and human life, we have comprehensively organised humans and automobiles in cities. Technology that accurately reproduces combinations that could not previously be achieved and further predicts the future. Future prediction and optimization using this technology will be studied mainly by the NTT Smart Data Science Center.
URL: https://www.rd.ntt/iown/0003.html
(Note 3)NTT R&D forum - Road to IOWN 2021
https://www.rd.ntt/forum/
(Note 4)Ministry of Agriculture, Forestry and Fisheries: Economic calculation of agriculture and food-related industries
https://www.maff.go.jp/j/tokei/kouhyou/keizai_keisan/index.html
(Note 5) Improving the working environment of people who carry products from producers to consumers
(Note 6)A method in which a wholesaler and a buyer negotiate the selling price and quantity before selling.
(Note 7)The seller (wholesale trader)'s auctioneer makes many buyers (intermediary wholesalers and trading participants) competitively price at the wholesale market and sells to the person who has the highest price.
(Note 8)Regional food resource recycling solution
https://www.nttbizsol.jp/service/foodwaste-recyclingsolution/